DAY ONE OF TWO IN INDIANA — Chocolate with a spicy kick or Nutella crepe? Apple ginger sauerkraut, fresh-baked cookies, homemade hummus and every variety of smoothie.
The historic Indianapolis City Market—it dates back to 1821 when the city was new—is full of good eats, even 16 taps of Indiana craft beer at the Tomlinson Tap Room.
But what I didn't expect was that it would be a place of second and third acts in life—successful second and third acts. I love that local farmers markets (there's one just outside the door certain days of the week) and city markets like this give you a chance to meet locals wherever you are.
Take Julie Bolejack whose artisanal chocolates—the secret is using high quality chocolate, she explains, was an Indianapolis executive when she decided to turn her love of chocolate into a new career. Now her Chocolate for the Spirit is winning prizes at chocolate shows . (I loved her Mayan spice bar!)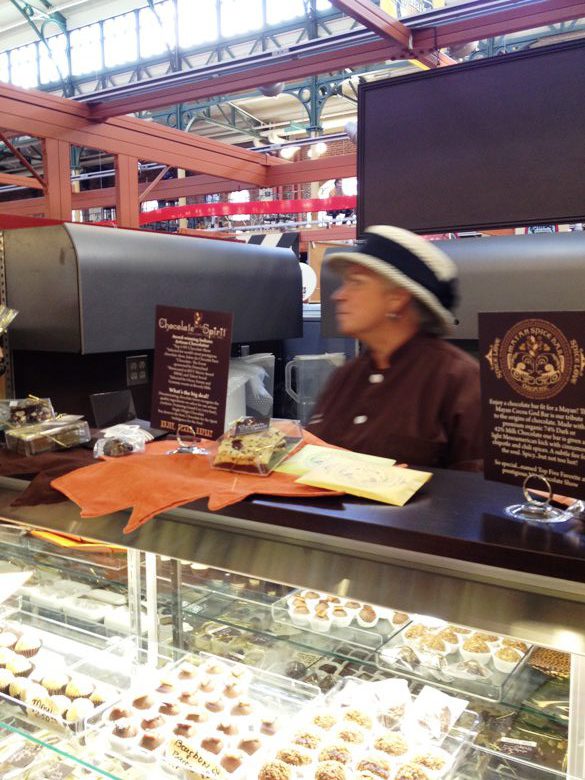 Laura Beatus was raised in Indianapolis but had spent many years away from the Midwest when she and her husband Corey decided to return to open Natural Born Juicers here.."There is so much going on here," she said. "There is life outside of NYC!" Their business is thriving.
I meet Cindy Hawkins who quit her day job to go to culinary school and now whips up amazing pastries at Circle City Sweets. Her macaroons are delicious!
Colleen Dobbs, meanwhile, got the idea for her crepes stand 3 Days in Paris wile vacationing with her family in Paris.
Brad Gates, a local chef and caterer who spent 14 years in New York gives us a cooking demonstration—preparing the creamiest most decadent mac and cheese I've ever tasted and a tomato salad with local tomatoes so juicy, he says "they're like water balloons!"
Now inside, some 30 purveyors are successfully turning their passion into business. Larry Carman claims a "higher power" told him to make potato chips and his Amazing Potato Chip Company is now winning prizes.
Emily Gillum, who spent 20 years at hoe raising eight kids, now offers fresh produce-I and wraps at Emily's Market Street Produce .
I loved Fermenti Artisan which cures its own hams and has all varieties of sauerkraut and U-Relish where owner Cara Dafforn has come up with a new tea that she promises has a variety of health properties for new moms.
Since its creation in 1821, the Indianapolis City Market has featured fresh locally grown produce—the farmer's market is just outside certain days of the week. I loved the farmer who employs those with special challenges and sells his produce to all the local restaurants. (www.alpineindiana.org)
When I interviewed Mrs. Obama last summer about how parents might encourage kids to eat healthier and expand their food choices on vacation, she suggested visiting farmers markets so kids could see where their food comes from and talk to local farms.
The Indianapolis City market is a great place to do that—and learn a little history too. It's long been a community gathering place and a place to buy produce, meat dairy and more from local farmers
Take a tour of the Catacombs underneath (or other historic landmarks with Indiana Landmarks. Some think these catacombs are haunted!
The market, is experiencing a resurgence as locals and visitors embrace fresh, artisan-crafted foods from local ingredients. "We always used local ingredients," says chef Brad Gates.
You'll also find vendors offering antique and re-purposed furniture, vintage clothing and collectibles—loved the bags made from leather jackets!
At Tomlinson Tap Room we meet Clay Robinson who is credited with helping to start the craft beer movement here with his Sun King Brewing Company (I loved the grapefruit beer!) He almost decamped to Denver, he said, but realized he could have more of an impact at home in Indiana.
I bet all the aficionados of his brewery—who race to bars when they get a twitter message of a keg being uncorked—are glad he made that decision.
Another thing about this market: All of the vendors are smiling. I guess that's what happens when the second acts are a hit.