By Eileen Ogintz
UNCASVILLE, CT — Fifth generation Balinese Healer Guru Made Sumantra smiles and tells me my "Passageways are blocked."
He ties a thin multicolored string around my wrist and instructs me to drink water in a cup in which he's dipped the string.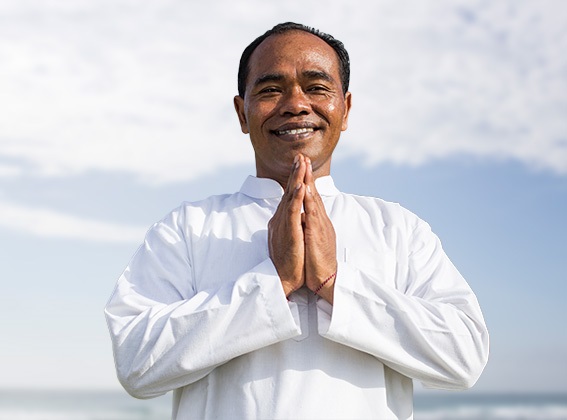 Truth be told, I was feeling pretty relaxed after just having enjoyed a terrific massage at the Mohegan Sun Resort Elemis Spa in Connecticut which, I learn, will open a second branch within the gargantuan resort next year in the new tower now under construction.
So I'm game. The spa, also known as Mandara Spa, started in Bali and now in major resorts and cruise ships worldwide, is celebrating two decades of pioneering a multi-cultural spa experience by sending Guru Sumantra on a world tour to underscore the brand's efforts to combine ancient healing traditions with the most modern health and beauty trends.
Just two weeks earlier, I had a disappointing experience at a Mandara Spa aboard the Norwegian Gem when a man in the next treatment room talked loudly in the next room—so loudly that he was asked to leave. The spa director insisted I come back for a second treatment at no charge as "We want our guests to be completely satisfied," she said. And I was.
I admit I'm not much for eastern healing practices, though I did encourage my sister in law to try acupuncture for her arthritis aboard the cruise ship with Dr. Han Yang, a Chinese doctor and resident acupuncturist. Yes, the spa arranged acupuncture appointments, along with a variety of other treatments to relieve stress and increase your metabolism. No, she didn't think it had helped.
So here I am with the Guru, chosen by his grandfather to become a healer when he expressed interest as a young boy. He never stops smiling. He has me lay down and lays his hands on certain pressure points, pulls my legs, and positions my arms.
Does it help my "blocked passageways"? I have no idea. It's a nice gesture that as part of the Spa's anniversary celebration, the company is fundraising at its spas for the Bali Children's Project (BCP), a non-profit charity that works to ensure Indonesian children in rural poverty receive an education.
I am a fan of spas—especially on vacation—as a way for moms (and dads) to decompress and get some much needed "me time." I wish every resort would do what the Walt Disney Swan and Dolphin does—offer free kids' club attendance—if you are visiting the Mandara Spa there or having dinner in the hotel.
I also like that there is an emphasis on healing and wellness as well as relaxation. Mandara Spas are found in cities, islands and on cruise ships around the world — from the Atlantis Paradise Island, Hilton Hotels and Resorts, Loews Hotels and Resorts, Marriott Hotels and Resorts, Starwood Hotels and Resorts, Westin Hotels and Resorts, Wyndham Hotels & Resorts, and more.
Aboard the Norwegian Gem, the spa was busy, it seemed, all the time. One woman I met had a treatment every day. "I don't have time at home," she said. There were more than 50 treatments to choose from—spa seaweed massages (said to combine the power of the ocean with the healing effects of aromatherapy) to anti-aging facials, Botox. body wraps, even a complimentary pulse analysis.
I'm more of a basic massage and facial girl myself and at the Mohegan Sun, which is also celebrating its 20th anniversary, the massage didn't disappoint. In fact, it may have been one of the best I've had in a long time, helping the pinched nerve in my neck. This spa is huge—22,000 feet with the requisite hot tubs, sauna, steam and treatments including "Recharge," starting an Exotic Lime and Ginger Salt Glow, massage and breakout-busting facial.
The name Mandara, I learn, comes from a Sanskrit legend about a god's quest to find the secret to eternal youth and beauty at a mythical mountain Mandara that unearths the water of life where ultimate renewal is possible. Today, the company aims to offer its spa clients that sense of inner peace and tranquility—at least for an hour or so.
Guru Made Sumantra is at the end of his four-month tour of six countries to introduce energy and yoga healing. He was born in the village of Banjar Payogan, Ubud, Bali where the Mandara Spa brand originated and grew up in a family of traditional Balinese Shaman healers (Balian).
He's still smiling when he leaves me. I'm feeling pretty good. Was it the massage? The healing?
Who cares. I leave smiling too.