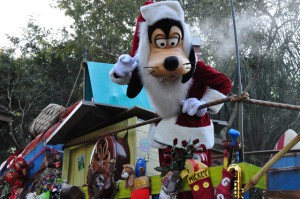 By Mike Sitzman
Day 4 in Orlando with the Sitzman family — When we were planning our Holiday vacation, we wanted to have a special, keystone event—besides, I had convinced five-year old Hannah that we weren't going to put up a Christmas tree since I had called ahead and Mickey was going to go ahead and decorate for us. We were glad that we were able to get tickets (this event sells out, so be sure to get your tickets early!) to the last night of Mickey's Very Merry Christmas Party—which runs from early November through mid December.
We decided that we would spend the day preceding the evening's events at the Magic Kingdom—enjoying all it has to offer and then cap it off with Mickey's Party. We had a great time throughout the day, again getting our FastPass first thing for Space Mountain. Hannah and Ethan loved all of the Christmas decorations, the holiday music piped in throughout the park, and the overall holiday atmosphere. Ethan was intent on getting a Santa hat that said "Grumpy" on it in honor of one of the seven dwarfs from Sleeping Beauty lore. Hannah decided that a candy-cane themed set of mouse ears was more here style.
Mickey's Very Merry Christmas Party was set to begin at 7:00, and since we were already in the Magic Kingdom, we headed over to get our wristbands, which provided proof that we had tickets for the event that night. According to the Disney cast members, all special events work this way, so be sure to get your wristbands as early as possible as the line grows the closer to the event start time.
Prior to the festivities, we ate dinner at the Liberty Tree Tavern and enjoyed some of the best food we've ever had while at Disney. Plus, it was quite inside and we didn't feel rushed whatsoever. Reservations are necessary at this 18th-century themed eatery.
Disney does a great job with creating holiday magic for families, and the we were treated to Mickey's Once Upon A Christmastime Parade, the most amazing fireworks display we've ever seen, multiple character and Christmas shows, and of course, magical snow on Main Street USA. A nice touch was the free hot cocoa and cookies as the temperature was chilly that night and besides the new sweaters and shirts we layered on, it helped to keep us warm for the parade. The parade itself was wonderful and the kids got an up-close look at all of their favorite Disney characters. Mickey's Very Merry Christmas Party tied a nice bow on our holiday vacation and as we carried to very happy, but asleep kids to the car, we knew that we had treated our kids to a very special holiday this year.