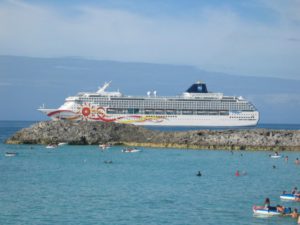 DAY FOUR (March 3, 2009) — The sun is shining and everyone on board is taking full advantage –especially on Norwegian's private Bahamian Island Great Stirrup Cay.
Kids are snorkeling in the turquoise clear water while parents catch some rays. There's a beach volleyball game in full swing and a barbeque going. Bahamian music is playing and the Bahama Mamas are flowing.
I get a massage on the beach — right in the middle of all the action. At first, I thought the beach massages would be in a secluded area but then I realized it's kind of fun to simply tune out and listen to all the activity swirling around you — one person talking about how glad they are to be away from the snow, another feeding a baby (there are 25 children under two on board!).
One grandmother is flying a kite with her grandson. A teen snoozes in the hammock. It could be any beach on a busy summer weekend except we're in the Bahamas and there isn't anyone here except the passengers on the Norwegian Gem. We don't need money either — our room cards suffice to pay for drinks or snorkel gear or parasailing. You only need money if you want to buy a tee shirt from the locals selling them.
"I love this cruise," says Eleni Rabbini, who is on the beach with her family — and on her first cruise. The best part, the Montreal mom of two says, is the food — and not having to cook it herself!
I ask Monica Evans how she's managing with three young children — including an infant. She's traveling with her extended family. "Going good," she reports, as the older kids chow down on hot dogs, corn on the cob and burgers. And despite the chilly weather, her girls got in the ocean. They live in Salt Lake City, after all, and don't often get the chance.
If only it were a few degrees warmer! "Better last year," one grandmother from Connecticut tells me.
But the chilly weather doesn't stop anyone from having fun or the kids from going in the water either on the island or on the water slide on board, where the were lined up before 9 a.m.!
The thing about a cruise ship is there is always plenty to do, no matter the weather. For example, I drop in on LEGO master builder Dan Steininger who is hard at work — with kids' help — putting together a huge LEGO mosaic in one small room while at another table; other kids are building their own "freestyle" creations.
Women and men are signing up for various spa treatments — even teeth whitening. There's ping pong, chess, basketball, bridge and bowling, limbo, Pilates and — this seems an oxymoron on a cruise ship — a seminar on how to eat more to weigh less! There is organized supervised day care but because we are in port, there is a charge. Most kids seem to be with their parents today.
Todd and Mindy Hawkins are building LEGOS with their three year old Ava. Their 18 month old son is home, they tell me with their other grandparents, while they joined her family on this trip. "He wouldn't have enjoyed it and we would have been miserable," she explains.
Todd adds that he's not really a cruiser — he grew up taking road trips and RVing. When you get married, he added, you've got to merge your vacation styles as well as your families.
"I wouldn't have chosen this," he says, "But I'm having fun."
And that's what counts.
Now what should I have for lunch? Sushi anybody?