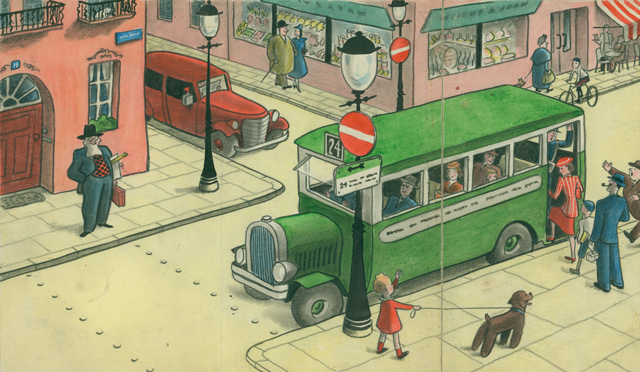 DAY 3 — Who says you have to spend hours in a museum?
Sometimes, even an hour is enough—especially with kids. While in Manhattan, I stopped in late in the afternoon at The Jewish Museum (http://www.thejewishmuseum.org/) especially to see one exhibit—Curious George Saves the Day: The Art of Margret and H.A. Rey.
Other families had the same idea, with some kids sprawled on pillows reading some of the beloved Curious George tales about the impish monkey who invariably got into all sorts of scrapes but in the end, saved the day whether calling the fire department while playing with the phone, going up in the air with a bunch of balloons or falling into the water.
The exhibit recounts how the character literally saved the day—and the lives of his creators, the husband and wife team Margret and H.A. Rey as they fled Paris—peddling out of the city on bicycles hours before the Nazis marched in June 1940, their drawings for their children's stories strapped to the back.
Not only did they have the characters in their minds, but the drawings helped them convince authorities to let them go and, museum officials say, that may be why saving the day after a narrow escape ultimately became the premise of most of the Curious George stories.
There are nearly 80 original drawings and watercolors of Curious George and other characters, many of which have never been on display, as well as diaries and photographs in the exhibit. The couple's escape took them four months across France, Spain, Portugal and Brazil before they finally settled in New York. They wrote and illustrated more than 30 books, seven of them starring Curious George.
I loved the interactive timeline accessed with a touch-screen that chronicles the Reys' pleasant life in France through their escape on bikes. Following New York, the exhibit will open at the Contemporary Jewish Museum in San Francisco in November.
I smiled at the drawings, marveled at the Reys fortitude (H.A. Ray built the bikes from parts that they used to escape Paris) and smiled watching the kids. No one was whining they wanted to leave—the exhibit was just short enough to keep their interest.
Me too!