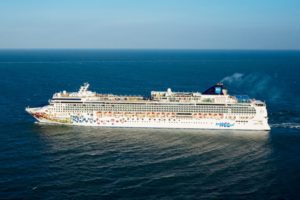 Now's your chance.
National Cruise Vacation week is Oct 21-27, the cruise industry's largest sale with savings on more than 200 cruise ships—everything from significant on-ship credits to free airfare and two-for-one pricing.
For example:
Carnival is offering up to $200 cash back per stateroom and reduced deposits on select sailings through Dec next year as well as upgrades and reduced departures.
Receive $75 on board credit per ocean view and verandah stateroom on a 4- or 5-night Bahamian or Western Caribbean cruise aboard Disney Cruise Lines' Disney Wonder departing from Miami Jan. 5 – March 30, 2013 as long as you book Oct. 21 – Oct. 27, 2012
Save $1500 per couple on seven 2013 Avalon Waterways Europe river cruises2012.
Sail 7 nights or greater on a Celebrity Cruises Alaska, Caribbean, Bermuda or Europe cruise from Jan 1, 2013 to April 30, 2014 and receive up to $250 On board Credit as long as you book Oct. 21-27.
Visit www.cruising.org/vacation/welcome for more deals and to find a Cruise Lines International Association certified travel agent.
If you never use a travel agent or don't think you need one, I'm convinced you do—especially after spending a few days last week at the CruiseOne and Cruises INC National Conference which drew over 750 cruise agents to what has become one of the cruise industry's hottest events.
The sister companies (www.cruiseOne.com and www.cruisesInc.com) are the largest cruise sellers in north America, selling well over 100,000 cruises a year, says Dwain Wall, the senior vice president and general manager.
That obviously includes a lot of families: 1/3 of cruisers are now cruising with kids—well over a million kids a year. That's probably why the conference invited me to speak to the agents about booking multigenerational trips.
Multigenerational groups, in fact, represent a huge market for cruise lines and it's easy to see why—activities for every age, meals to satisfy the pickiest eaters as well as the foodies in the group, space to gather and get some alone time and most important, one price paid up front—especially appealing to the grandparents who are often picking up the tab.
I think it's hard to find a better value: Wall says a family of four could cruise for less than $90 a day per person including port charges and taxes. No wonder cruise bookings are strong for 2013. The industry seems to be rebounding after the Costa Concordia disaster that kept many from booking cruises for months.
So why do you need a travel agent? "You don't want to make a mistake on your special 25th anniversary cruise or family reunion," says Theresa Masek, editor-in-chief of Vacation Agent Magazine who is seeing more consumers turn to travel agents, especially when booking cruises. "People get overwhelmed on the internet with the sheer volume of information," she says.
In fact, says cruise agent Amber Blecker, people usually call her after they've spent hours researching themselves. "The more they research, the more confused they get," says Blecker.
There are so many ships, so many itineraries, so many classes of cabins. How do you know what is right for your family?
That's where someone like Blecker, a Colorado and Florida based cruise agent, comes in. She knows the cruise industry inside out. She's got the highest level of cruise counselor certification and was recognized by USA Today as one of the country's top 10 cruise specialist. "Your time is so valuable…why would you not want a travel advocate on your side,?" she asks, especially since you aren't paying their commissions. (The cruise lines are.)
"A lot of cruise rookies don't even know the right questions to ask," adds Becky Piper, a Cruise One agent from Ohio who says the majority of her business in the Cleveland suburbs is families. "My role is to give them a road map so they don't miss anything. People don't know what they don't know," she continues. They don't know the questions to ask." They don't realize that the older and cheaper ships don't have all the amenities they see advertised on commercials. They don't understand all the dining options on these floating cities where you can't simply walk into a specialty restaurant with your group of 12 or 18 and get seated.
And nothing can derail a cruise vacation faster than being on the wrong ship (no child care for your toddler! No tween club! No casino for the gamblers! )
Not only can an agent make sure you are on the right ship and get the best deal—even after you've booked if the prices drop—but they can help if you get stuck because of bad weather (Blecker has booked hotel rooms for stranded clients and the friends they met on board in Baltimore) and gotten people home from the Caribbean quickly in the wake of a family emergency.
They can tell you which lines are best for teens and for babies (a growing number of lines including Disney and Royal Caribbean have nurseries) , for history buffs and those wanting nothing more than to relax. They'll explain the pros and cons of springing for a balcony cabin or a suite where the family can gather or saving some bucks by booking the teens inside berths. .
They can arrange private shore excursions for your group and dinners so your entire group of 26 doesn't have to wait for tables.
Even before you call a travel agent ask your selves these questions:
Do you stay in luxury hotels or budget motels?
Does your gang like to see sites or head to a beach?
What ages are the kids and do you want a ship that offers supervised programming for them the entire cruise? (Some even offer programming during shore visits.)
Do you all want to gather for dinner every night?
Do you want a lot of night life?
What does your group want to splurge on and where are they willing to compromise to cut costs?
"The key is the right ship and the right itinerary for your family," says Amber Blecker.
The right travel agent too.