Chrisco and Trotter carry our gear and prove to be amazing companions in the Medicine Bow National Forest
By Eileen Ogintz
I've just polished off a gourmet lunch (a chicken club sandwich accompanied by a variety of homemade salads and chocolate chip cookies). I'm staring out at pristine Dipper Lake at 10,600 feet in the Medicine Bow Forest.
My husband is trying his hand at fly fishing with our guide Austin Griffith while my new pals, Chrisco and Trotter snack nearby of the luscious grass and mountain sage. I'm stretched out on a portable camp chair resting after the 2.5-mile uphill hike.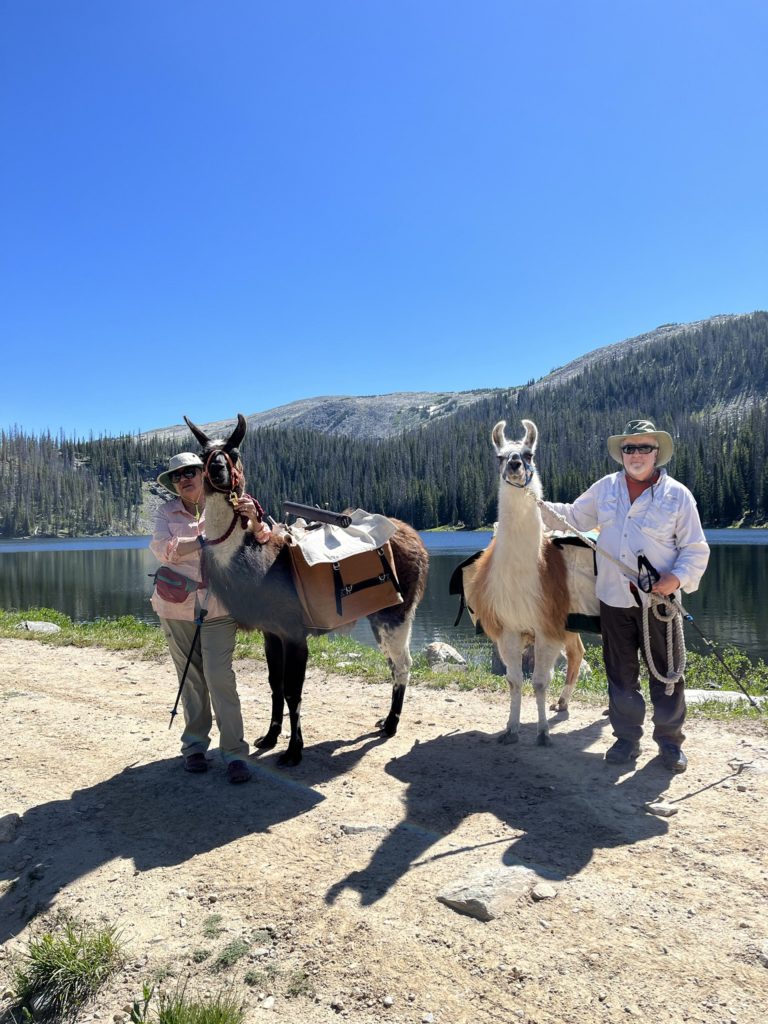 But I didn't carry anything–not lunch, not the chair, not even a water bottle. That was Trotter and Chrisco's job. They are llamas and can carry up to 80 pounds each. They are very docile and adorable.
Griffith explained that Brush Creek Ranch has added llama experiences this summer and they are already proving a hit. They are also increasingly popular for backpackers and hunters in the mountainous states. "You can go farther and stay longer," he explains, with the llamas carrying your gear, even ice and a cooler. How about a cocktail at 10,000 feet? A steak on a back packing trip? Griffith and a partner recently started 307 Llama Company, where you can rent the creatures for camping trips or special events.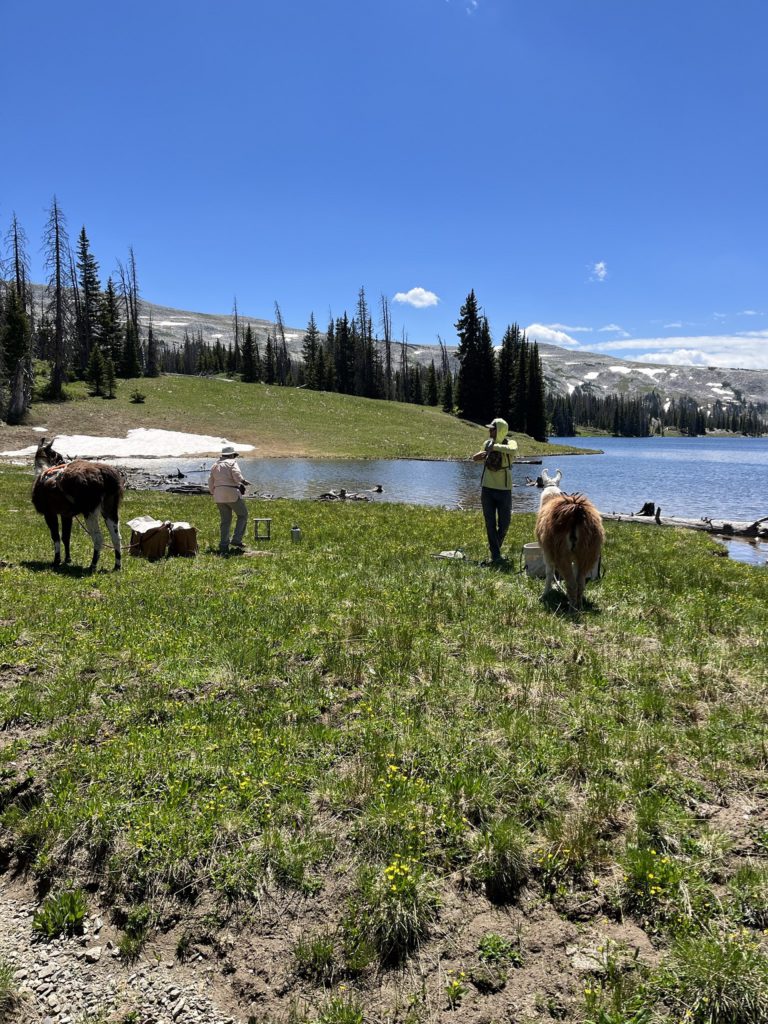 Llamas can go days without water (like their distant camel relatives) and are happy to graze on the grass along the way. People don't realize there isn't really a learning curve to trekking with llamas, Griffith explained. I led Trotter 2.5 miles on the way up and Chrisco on the way back down the trail. They happily follow me, even as a navigate stream crossings (with Griffith's assistance).
"A short explanation and you are good to go," says Griffith. "You don't need experience to lead a llama, not like a horse or a mule."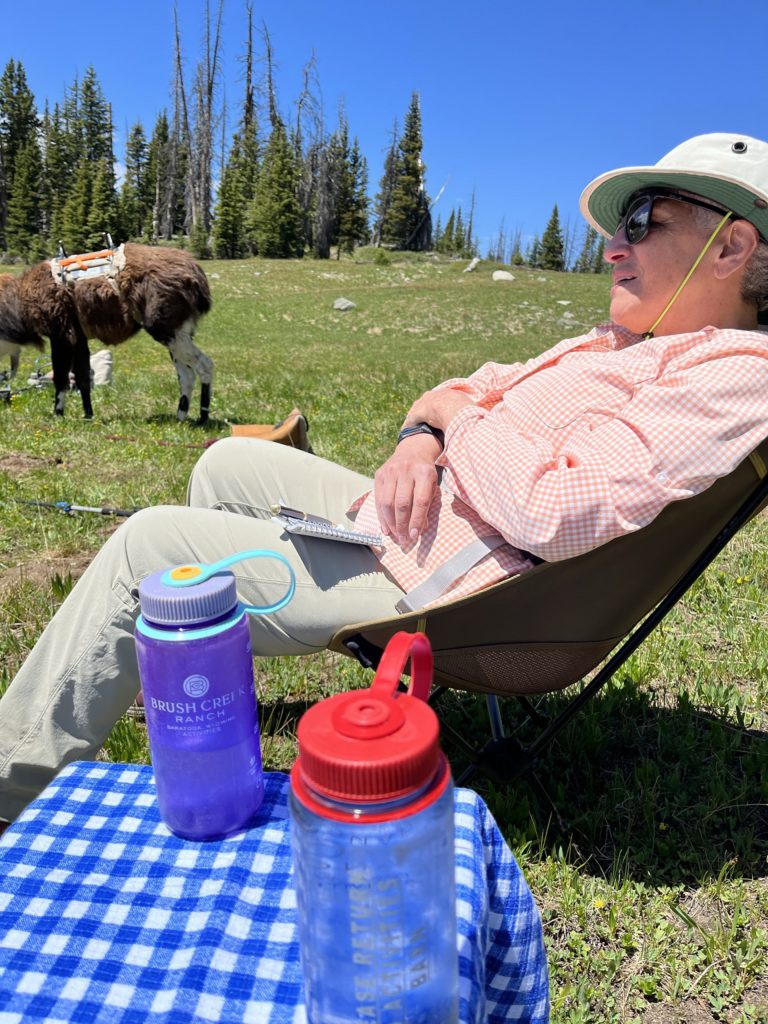 Some of the llama hikes are on Green Mountain on the ranch, where there is a cat skiing operation in the winter No lift lines…no lifts…deep powder.
Our llama hike was in Medicine Bow National Forest about a 30 minute drive from Brush Creek Ranch and we have passed Keystone Lake and Ryan Brothers Lake before we take a break to eat and fish at Dipper Lake. Those in ATVs lumber by, also planning to fish, but we don't meet another hiker, though it is beautiful country–snowcapped peaks, towering fir trees, grassy meadows… other fly fishermen in the distance.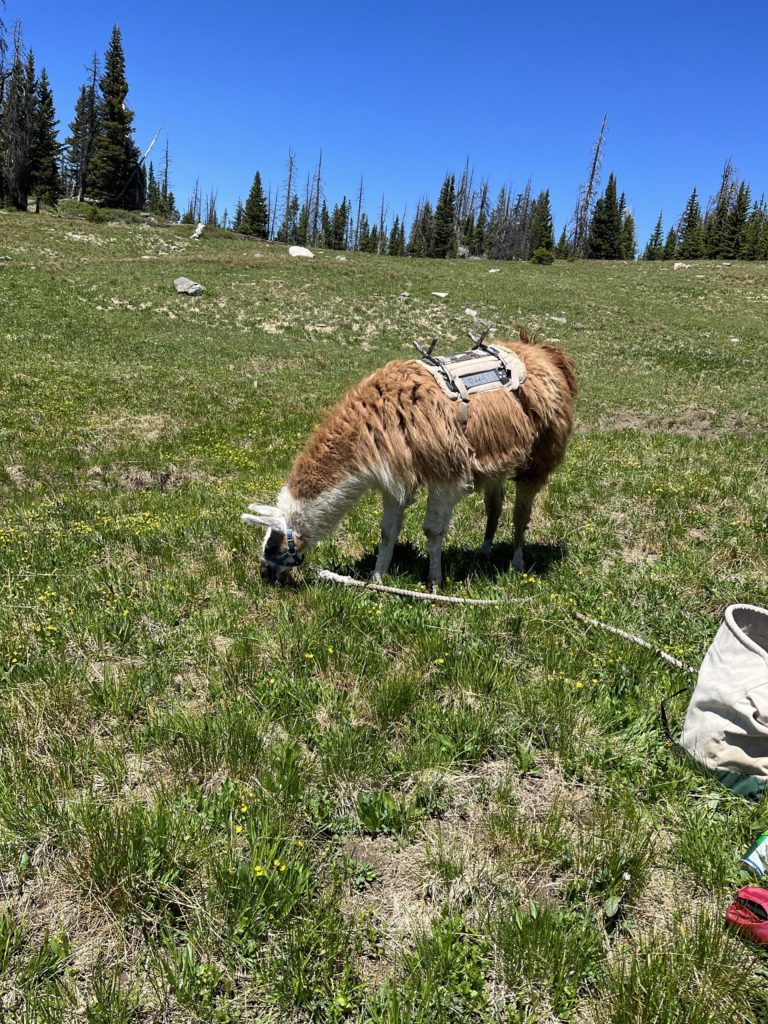 Here, you are permitted to keep some of your trout, but the ranch guests catch and release only. Still, my husband is pleased he got several on his line and caught one.
Fly fishing is one of the most popular ranch activities, Griffith said, with options to float down a river and fish. What is the appeal? "It is such a learning process," Griffith said. Learning to cast, to tie flies, to mimic a fly landing on the water, and attracting a trout to the surface. Some repeat guests at the ranch come to fly fish every day, he said.
"One good cast will keep you coming back for life," he said, adding that with kids, the key is to get fish in the net and "make it fun." It also teaches life skills like patience and connects you with nature at its best.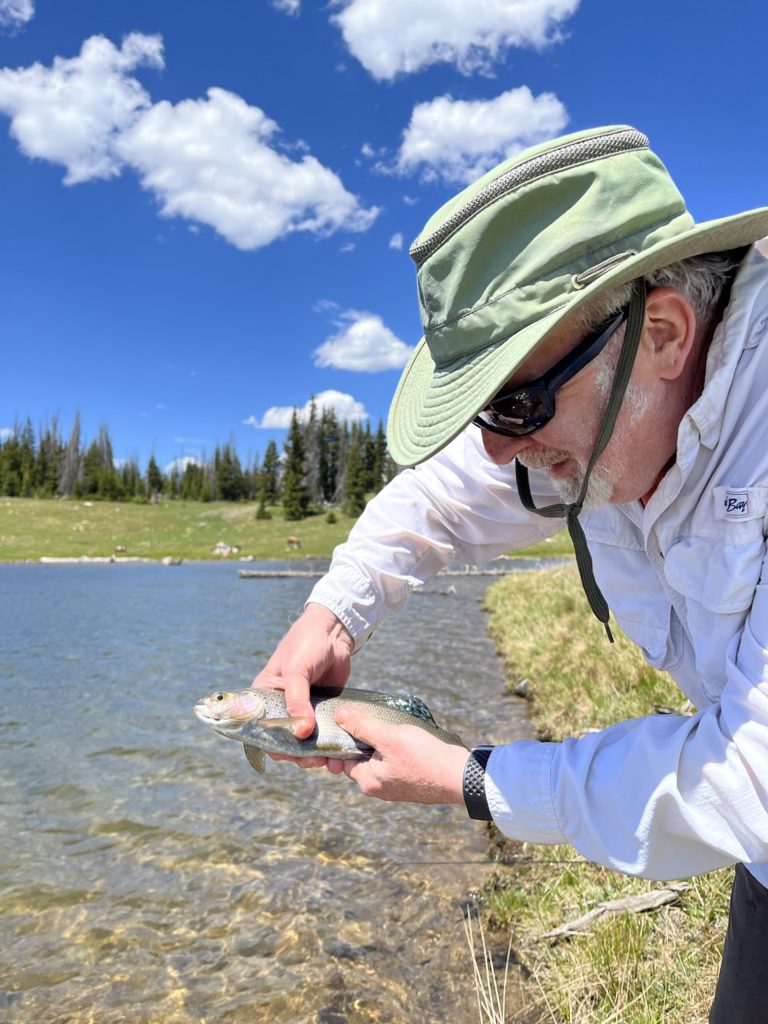 Of course if kids get tired of fishing, they won't get bored… not with a lake ideal to skip stones, a meadow to run through, pick flowers or turn cartwheels. And then there are the llamas happy to be petted. Just not on their ears! (their most sensitive spot.)
I was happy to sit and watch "they boys" graze while my husband, Andy, and Austin fish. I hated it when the time came to pack up and head back down the trail.
"Trout live in such beautiful places," observes Griffith. "And we are in one of the best fly-fishing areas in the country."
And one great for Llama treks too.