By Eileen Ogintz
VANCOUVER, British Columbia — Dried gecko anyone? Maybe dried sea cucumber or snake?
We are in a Chinese herbal medicine store, one of 11 here in Vancouver's bustling Chinatown, which is one of the largest in North America. There are fish bladders, all varieties of ginger, hair moss, ginseng… the list goes on and on.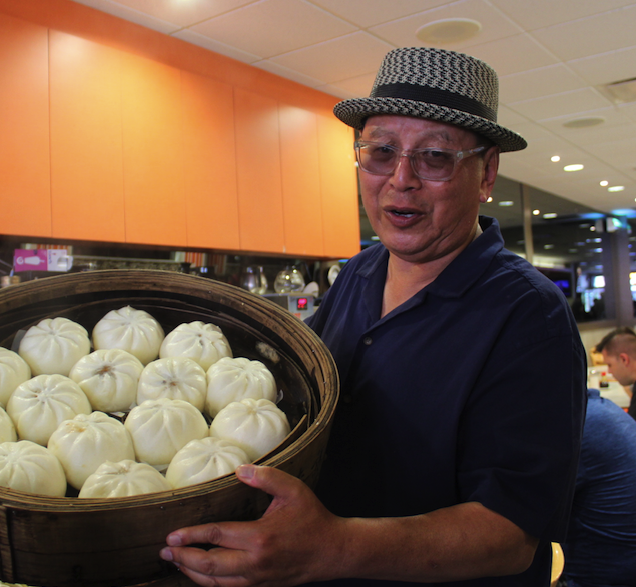 "People come here for a remedy, not a cure," says Robert Sung, a third-generation Chinese-Canadian whose family has always lived here in this city where now there are 700,000 Chinese in this city of 2.6 million.
Sung explains that people first discuss their ailments with a healer here, who prescribes …perhaps ginseng for men's vigor, certain dried mushrooms for a low immune system, salted plum for a sore throat, that dried Gecko Lizard is for asthma and the dried sea cucumber has collagen good for the skin.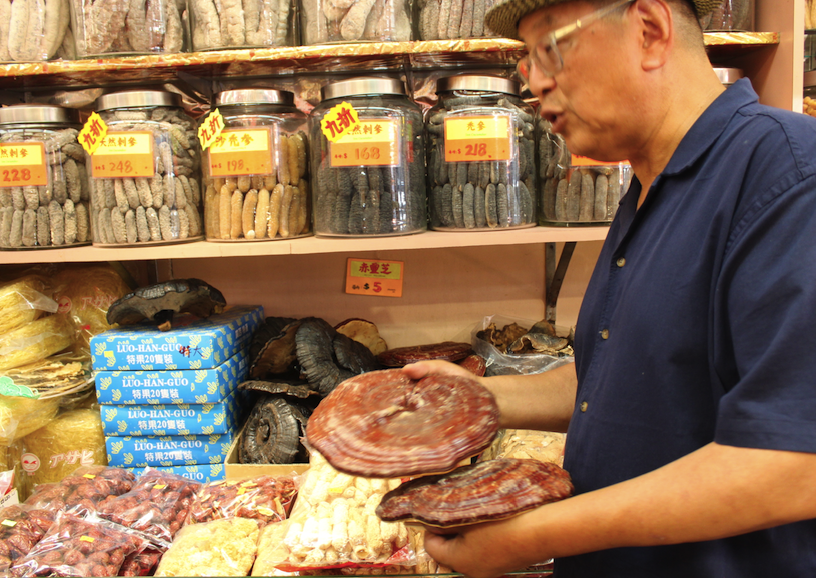 The "prescription" is prepared on brown paper so that the patient can go home and make it into a soup, albeit a bitter one concedes Sung. There are teas for everything for gout, cramps, to "flush the liver,"
We in Vancouver for two days prior to an Alaska cruise, staying at the Fairmont Waterfront Hotel next to the ship terminal. We spent our first afternoon on a food-oriented walking tour of Chinatown with Sung, whose company is appropriately called A Wok Around.
"China 101 through food," he explains, hoping food will provide a good entrée for visitors to the vibrant Chinese culture here.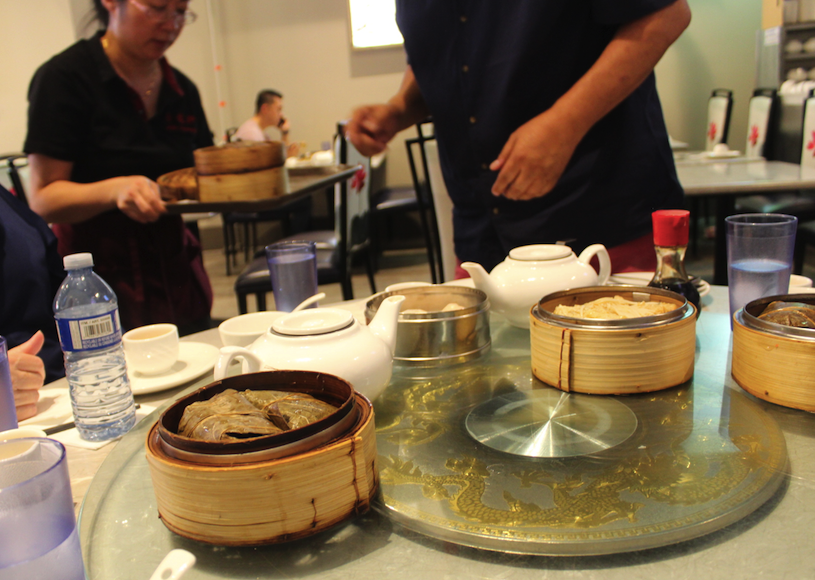 We start with a Dim Sum lunch at the Jade Dynasty, an unassuming restaurant with Formica tables and a large glass lazy susan to make it easy to share dishes. Dim Sum, of course, is a variety of small dishes eaten for lunch and dinner. I've been in Dim Sum restaurants where the staff rush around with aluminum carts, barely avoiding each other. Here, Sung checks off a list and shows us pictures of what he is ordering — shrimp dumplings, sticky rice wrapped in lotus leaf, pan-fried daikon radish cake, a bean curd wrap…. pot stickers… yum! We also learn that, according to Chinese etiquette, a tablemate should always pour your tea; you should reciprocate, and then you should say what's on your mind.
For five of us lunch cost roughly $60 Canadian ($45 US). And we were stuffed!
But not to stuffed to pass up an apple tart across the street at New Town, a bakery that serves up 1,000 of these warm balls of goodness — kind of like an apple fritter daily along with almond cookies, custard tarts, red bean cakes, coconut tart, lotus seed cake… and much more. The place was packed with mid-afternoon knoshers.
Families with older kids who appreciate food and where it comes from would love this tour.
Good thing this is a walking tour! We stop at a Chinese grocery; a fishmonger (fish is a symbol of prosperity; noodles longevity, rice fertility); a store where a pig is roasted daily and roasted ducks hang in the window; another where everything from paper "money" to Dim Sum to paper iPhones are sold to be burned at cemeteries — to make sure those buried there have all they need in the next life.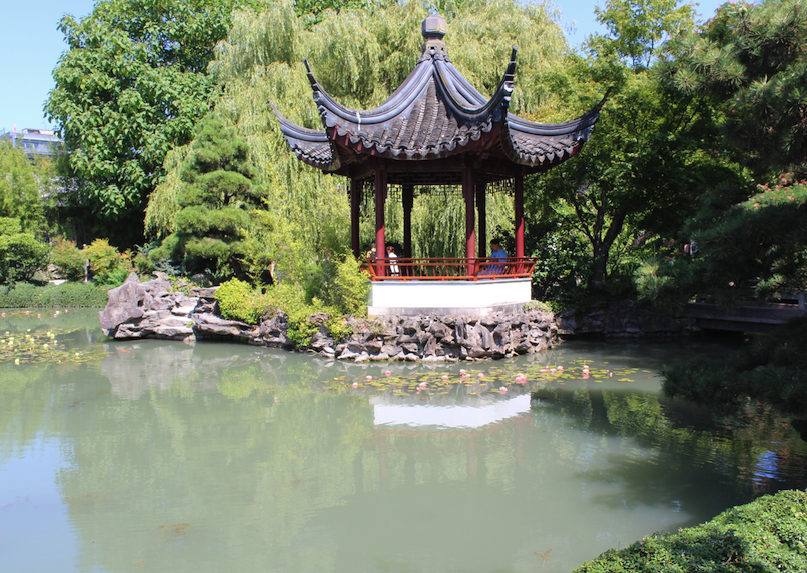 We visit a lovely garden that commemorates Dr. Sun Yat Sun's brief residency in Vancouver before he led the revolution that ousted the centuries old dynasties that rules China and set up its first republic in the early 20thCentury. He lived in Vancouver while raising funds for the revolution in North America.
We slurped specially prepared teas at Daniel Liu's The Chinese Tea Shop, where he brews tiny cups of tea for us from an impossibly small tea pot — the size little girls might use for their tea parties. The pots and accessories he sells in the shop are custom crafted by Chinese artisans.
It's all about Kung Fu, Liu explains, which literally means "great skill." No sugar or cream needed. "A good tea has natural sweetness," he says. "People should have the experience to taste the quality." He fills the tiny pot – once – with tea leaves, then pours in hot water, then strains the tea — and does it again…and again… That one pot of leaves can be used a dozen or more times, he explains, producing subtly different flavors each time.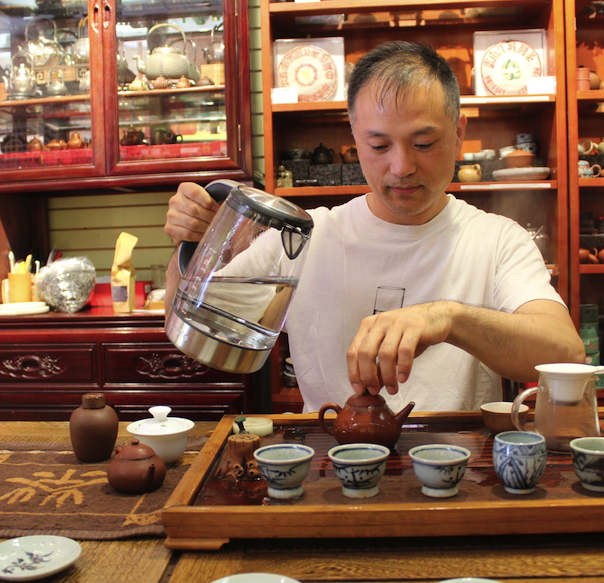 Sung says like in other cities, there are good Chinese restaurants all over the city — more than 800 in fact, including a "satellite," Chinatown in the Richmond neighborhood near the airport.
I'm glad we got to visit this one. We toast with our tea at lunch. Sung says, "Success to our friends, confusion to our enemies!"