By Eileen Ogintz
Tribune Content Agency
What's first the new, super-fast waterslide, IMAX movie or SkyRide attraction?
If you pick SkyRide, you get bragging rights for being among the first to ride a bike on an 800-foot track suspended 150 feet above the ocean. "You're strapped in so it wasn't scary," reported Thomas Skeen, 11. If that doesn't get your adrenalin pumping sufficiently, there's a SkyCourse, a suspended ropes course and the first IMAX theater at sea showing both documentaries and the latest popular films like "The Jungle Book"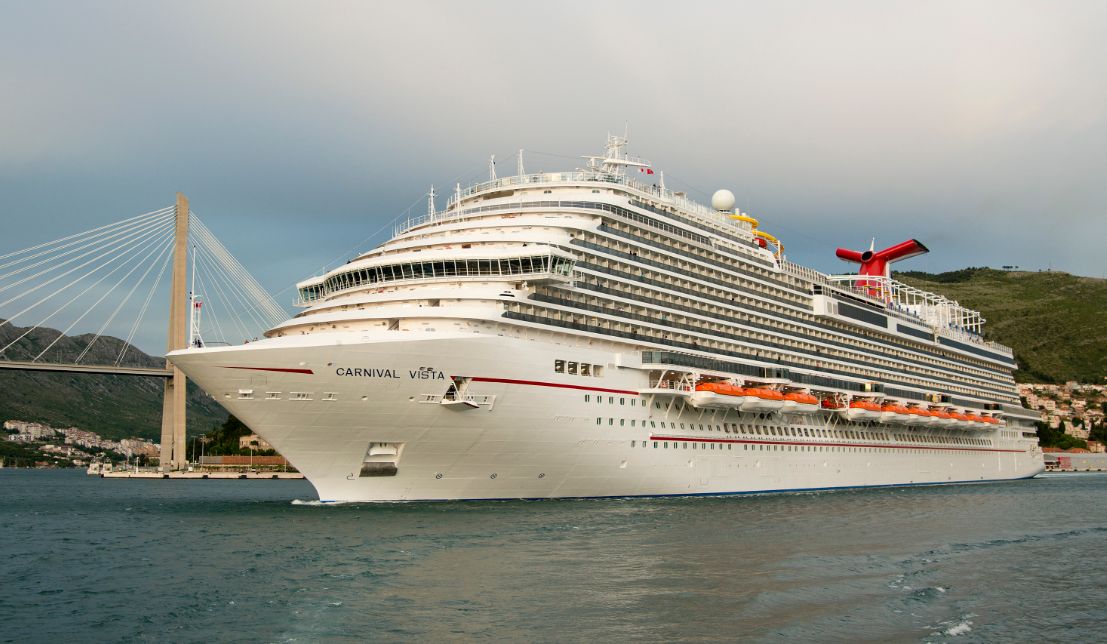 Welcome aboard Carnival's newest, biggest ship VISTA, with nearly 5,000 guests and 1,450 crew members. (Passengers love the towel animals left each evening.) Carnival, however, doesn't win the prize for the largest ship at sea. That belongs to Royal Caribbean's Harmony of the Seas, also new this summer with a total capacity of nearly 9,000 passengers and crew.
But Carnival wins the prize for carrying the most kids at sea — more than 700,000 on 25 ships. Just on Vista, as many as 1,400 youngsters will be sailing each week in the summer. And after spending 10 days aboard Vista in the Mediterranean, it is clear Carnival knows how to please everyone in the family, whatever their ages. This ship, declared Christine Duffy, president of Carnival Cruise Line, reflects what guests have told them they want — everything from more outdoor dining options to designated family cabins. There are so many options — a two-story spa, Clubhouse at SportSquare with everything from Ping-Pong to mini-golf to basketball, the chance to watch a movie poolside or escape kids entirely at the Serenity Adults-only area, eating options (even a Seafood Shack with lobster rolls), all kinds of shows — that it never seemed crowded. (Read my trip diaries at ttk-old.o2dev.net.)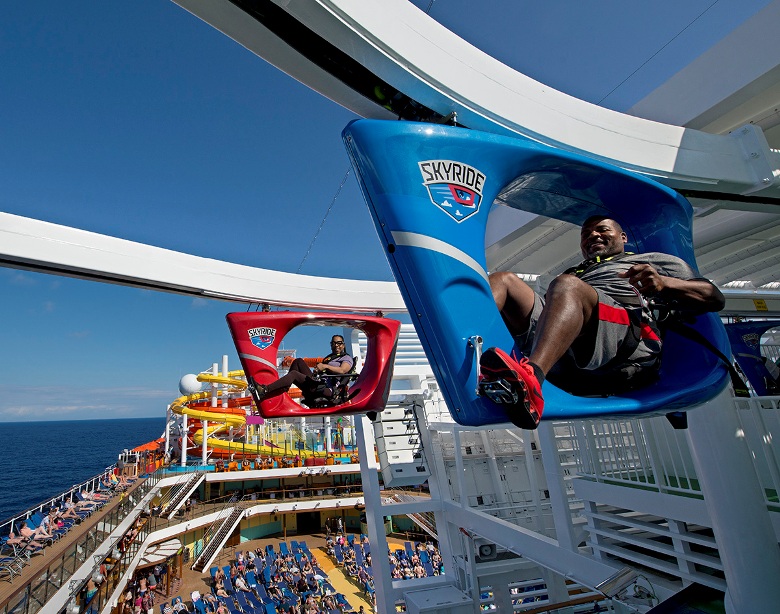 No wonder Morgan Hutchinson, 3, and his family were having their best vacation ever. Joanna Hutchinson, Morgan's mom, said she never expected to be having such a good time and, in fact, like many moms of young kids, wondered why they were spending the money for the cruise at all. "I thought I'd be chasing the kids around just like I do at home," said Hutchinson, who is from Wales. "But I'm getting a vacation too … definitely our best vacation since having kids!"
She, her husband and other families gave a decided thumbs-up to the new Family Harbor rooms and suites — 96 specially designed cabins, some with tubs (so much easier to bathe a young child) and a dedicated Family Harbor Lounge steps away from where they can grab breakfast in their PJs or an afternoon snack (ice cream anytime), whether or not they are traveling with kids. The suites, like suite hotels, have a separate sleeping nook (and TV) for the kids.
Camp Ocean with 4,000 well-designed square feet (there are separate staffed clubs on different decks for teens and tweens, complete with interactive dance floor) guarantees parents get a break during the day and evening, also on shore days. Activities start at age 2; the staff members all have college degrees, are CPR and First Aid certified and have experience working with kids.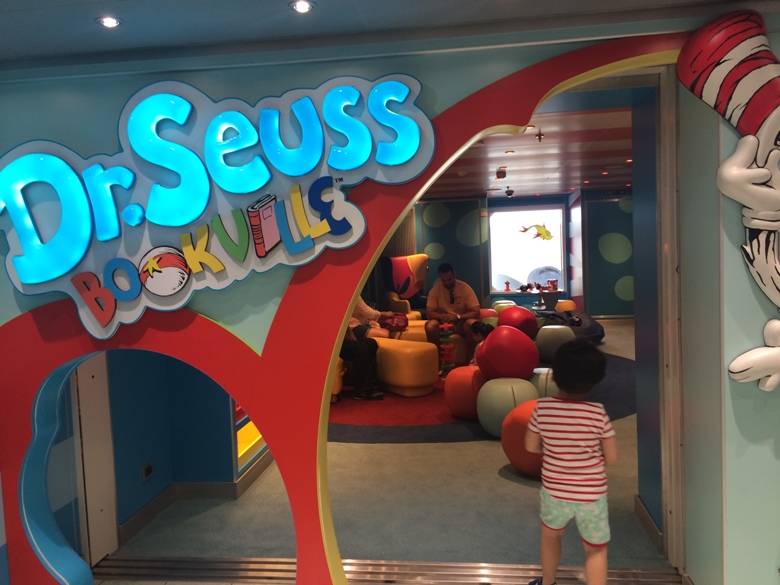 Some little things can make a big difference — the Dr. Seuss Bookville with comfy couches where families can drop in for a story, the kids' dinners, in case parents want an adult evening at one of the specialty restaurants (how about the Chef's Table in the galley?) or a couple of drinks at one of the two dozen bars on board. Parents get the entire kids' schedule of activities at the beginning of the sailing so they can choose not-to-miss activities (the magic show, the Knight's Night in Rome).
There are designated babysitting hours for the under-two crowd and late-night programming(at an extra charge) so parents can enjoy more of the adult amenities — the adult comedy shows, the casinos, perhaps a drink made to order by a mixologist. "We don't get to do that very often at home," said Aimee Arillo, traveling from Miami with her husband and two young children.
The one big drawback, guests said, on a port-heavy itinerary like in the Mediterranean, is that there wasn't nearly enough time to experience the on-board amenities and attractions — like the largest WaterWorks water park in the fleet with Kaleid-O-Slide, the line's first water tube attraction (think hopping on an inflatable raft for twists, turns and plenty of visual effects). There's also a SplashZone with mini slides and plenty of water play for the littlest cruisers. Some savvy cruisers gave up an ancient site or two to spend more time on the ship.
Families traveling abroad with their kids for the first time also extol the benefits of having to unpack and pack once, of bringing kids back to their "comfort zone" after excursions to see great sites — and all the culture they could take — where people spoke English, they could get a burger (at Guy's Burger Joint) or a pizza (made to order in the specially designed pizza oven from Naples). They also make friends with kids — and counselors — from around the world, observed Ana Klacinski, who oversees the ship's youth programs. Her tip: Bring the kids to Camp Ocean as soon as they board — and make sure teens and tweens visit their lounges "so they get to know each other and make friends."
Then, if you're lucky, it's literally smooth sailing. "Camp was the best," reported Julie Bogle, 12, from Philadelphia. "You get to hang out with people from all over who don't speak the same language. That's cool."
And it's an important travel lesson too.
(For more Taking the Kids, visit ttk-old.o2dev.net and also follow "taking the kids" on www.twitter.com, where Eileen Ogintz welcomes your questions and comments.)
© 2016 EILEEN OGINTZ
DISTRIBUTED BY TRIBUNE CONTENT AGENCY, LLC.