By Eileen Ogintz
Good or Evil? I'm aboard the Walt Disney World Star Wars: Galactic Starcruiser. The "ship" is the well-appointed Halcyon, celebrating its 275th anniversary! This is the vessel on which Princess Lea and Hans Solo honeymooned.
But it's not just a vacation. I'm beseeched by blue-faced Captain Riyolok Keevan and Cruise Director Lenka Rok to help the Resistance. That's because the overbearing Lt. Herman Croy and his storm troopers from the First Order have foisted themselves onboard, trying to ferret out Resistance spies.
The kids onboard love badgering Croy and the storm troopers! Croy acts befuddled by their insolence.
"I hope you trust there is always a plan," Captain Keevan assured the roughly 300 travelers, from babies to seniors on board.
For the uninitiated, the First Order is a totalitarian state in the Galaxy, successor to the Evil Empire. The Resistance, of course, is a coalition of freedom fighters in the tradition of Luke Skywalker and Hans Solo.
Of course most aboard—who have paid roughly $5K a couple for the two-night voyage—are well-versed in everything Star Wars, sporting robes and tunics evocative of their favorite characters. This includes Twi'lek "lekku" head tails of the striped montrals of a Togruta. A Loth-cat crew meet up was even scheduled on board.
"The boys love Star Wars and I do too," said Jake Pietro, here with his wife and three sons, aged nine, eight, and six, from Texas." I'm passionate," said Clint Parry, here with his wife Amanda to celebrate their 10th anniversary. "This is a way to be immersed in Star Wars in a new way," he said.
Indeed. There are new characters, like Gaya the galactic musician superstar, and familiar ones like Chewbacca, the Wookie. There are lessons playing Sabacc or Light Saber training.
"Focus and engage, our instructor Sajax Marnix tells our group as we learn ancient combat defense moves. "Remember this is a light saber, not a wand."
He has a message that after this year's elections maybe we all should here. "We are all connected… we are together as one," he reminds our group, many decked out in Star Wars costumes." Trust that the force will guide you."
Every crew member remains in character. When we tell one bartender we are from Earth, he replied, "Never heard of it… I think you are making that up!"
The experience, Disney promises, is a first-of-its-kind, as guests become heroes of their own individual adventure. They interact with the characters in different ways, while staying in well-appointed rooms. Our in-room droid can sing us a lullaby or renew our wedding vows. We even have a large window to see what we're passing on our voyage – asteroid fields, planets, even a swarm of Tie Fighters.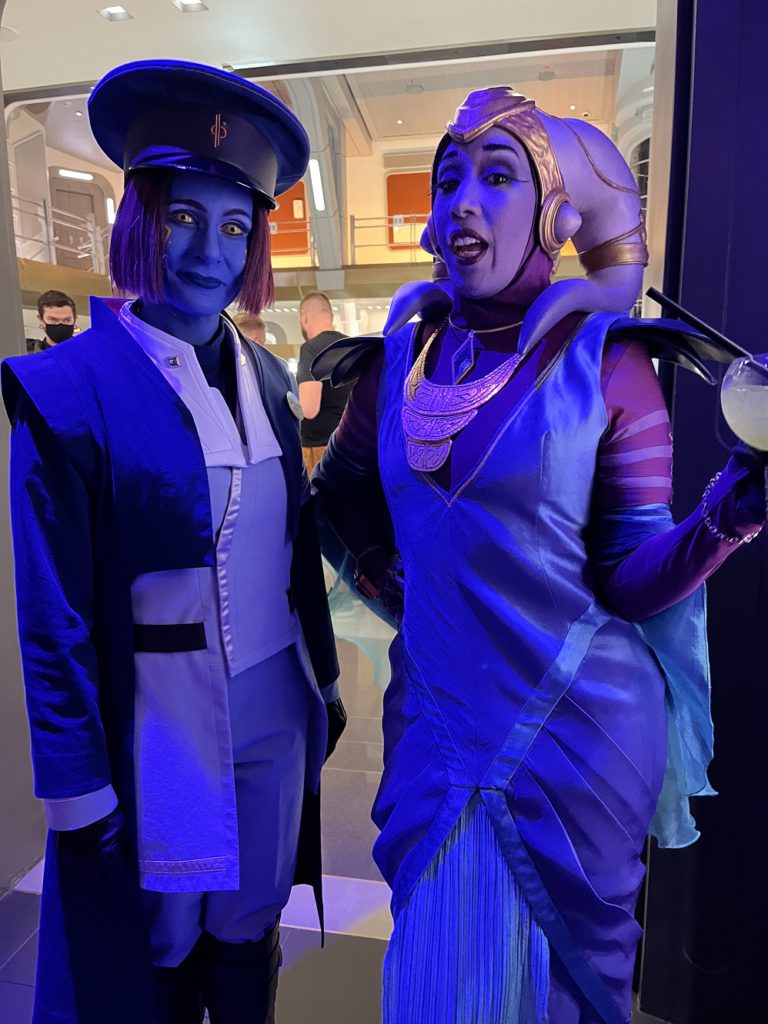 One character may ask you to keep a secret. A another beseeches you to deliver a message, defend the ship, or turn in a Resistance fighter. My husband aided in a heist of fuel for the Resistance. Keep that on the QT please.
"You really feel like you are in space. I absolutely love how interactive everything is," offered Ella, 12, with her family from Toronto. "Everything is so detailed."
Her younger brother Chase, eight, was transfixed by his phone, aka the Data Pad app by which he could send and receive messages to the characters. And to make sure no one runs out of juice, Disney gives guests portable chargers, so they don't miss anything.
"So thoughtful," a guest said, adding "It is really great, just like walking right into the movie."
On Day 2 of the voyage board a "transporter" to explore the planet Batuu, which is at the edge of the galaxy. Batuu is also one of the Star Wars Galaxy's Edge signature attractions at Disney World's Hollywood Studies.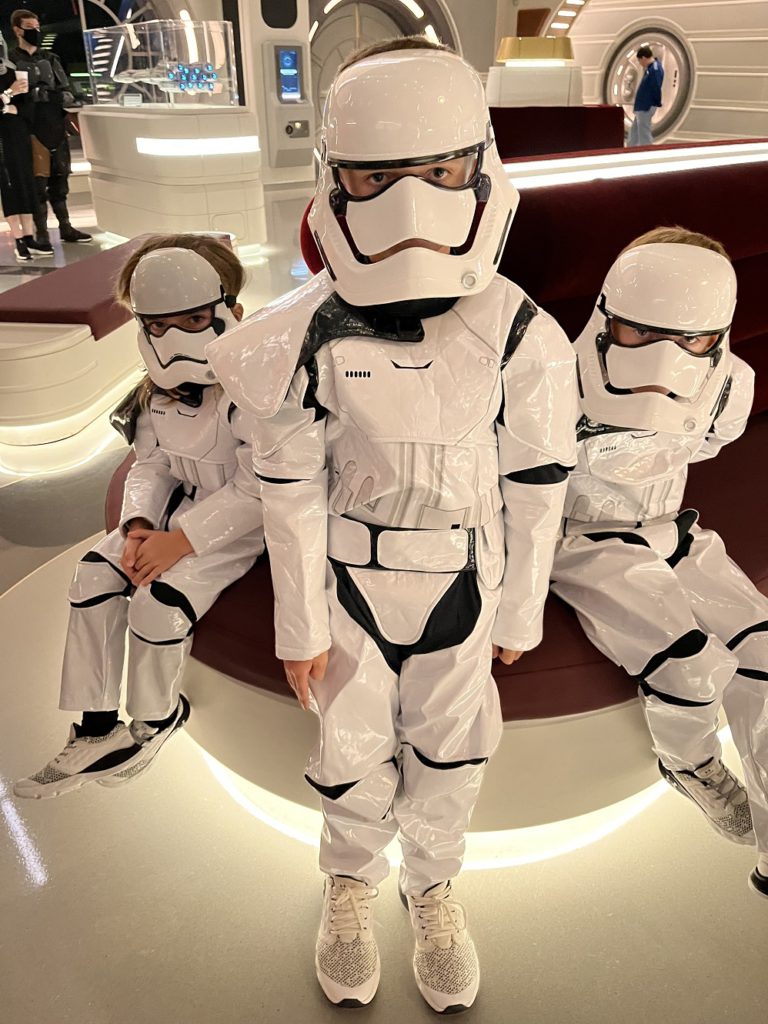 The lines for the rides are well over an hour but we are whisked right in to Star Wars: Rise of the Resistance and Millennium Falcon. We don't have to wait long either to get into Olga's popular Cantina. There, over drinks, all varieties of nefarious galactic deals are made. Those who were so inclined could also get reservations to Savi's Workshop to make their own light sabers, or to the Droid Workshop packed with fans creating their own droids.
"Be careful," we are warned. "They let anyone into Batuu, and Olga is not a nice woman."
We have arrived on Batuu sporting a special Halcyon pins that identify us as passengers on the Starcruiser. Nice!
The park is jammed and some aboard Starcruiser said they had decided to come after first experiencing the park attractions.
"I have been a huge Star Wars fan my entire life," said Pedro Rodriguez, whose wife Adriana surprised him with the voyage for his 35th birthday. Their three-year-old son AJ is decked out in a Darth Vader costume. "You really do feel like you are away from earth," he declared at dinner, eating Galactic dishes including Bantha filets (steak), Mekooro Glazed tiptip (chicken), fluffy herbed rice and coconut curry shrimp.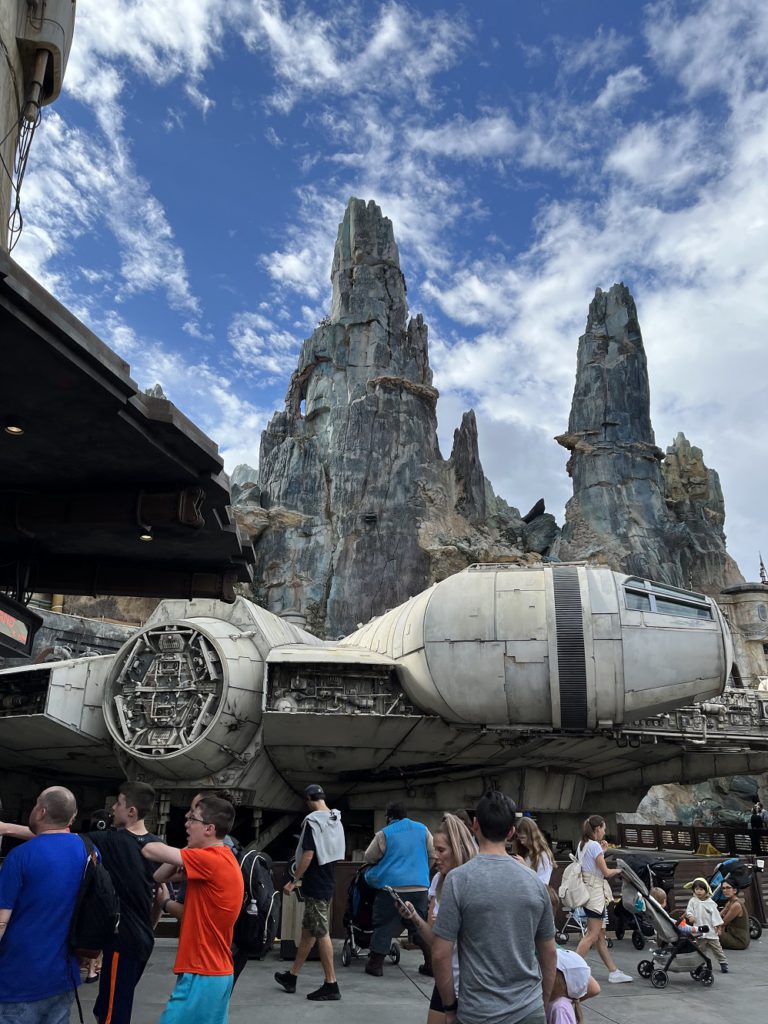 The dishes likely are somewhat out of any diners' comfort zones (think a Blue Milk whip (kind of yogurt like) among the breakfast offerings. At lunch there's Blue Focaccia and sausage along with Passion Fruit curd and Matcha crumble. "Everyone cleans their plates," said our server Benjamin, adding there is a kids' menu for the pickiest young eaters. Little A.J. meanwhile, chowed down on tiny portions of what his parents were enjoying.
The Sublight Lounge features signature cocktails including the Hoth Icebreaker (vodka, lemon, sugar and a vanilla-lemon foam) and non-alcoholic Muja Twist (watermelon, herbal blend, mint and bubbles) as well as snacks. Crispy-dried green beans or Mustafar tuber chips dusted with charcoal vinegar perhaps?
"The new characters, the challenges and the secondary stories are all awesome," said Rodriguez, here just for this experience from Bogota, Columbia.
Our second night, we are treated to dishes from around the Galaxy, as cruisers might be aboard a ship showcasing food from the region where they are sailing.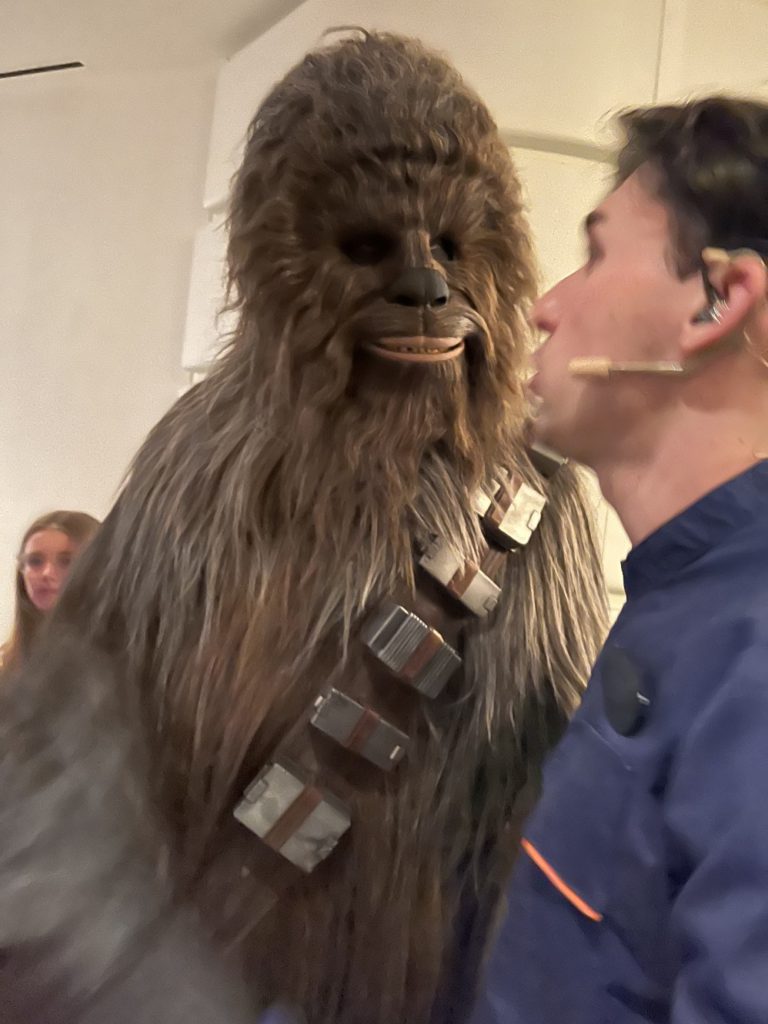 The cabins not only have an ever-changing viewport out into space but sleeping berths (for kids!) like those seen on Star Wars ships.
Those on board certainly seem to be having a great time—and to believe this journey is money well spent.
Explained Amanda Parry, here from Detroit celebrating her 10th anniversary with her husband Clint: "We're not about buying things. This is about sharing the experience together."
Afterword: The Resistance prevails, sending Lt. Croy and his storm troopers packing over dessert at the last evening's dinner. Chewbacca and the starcruiser's novice Enginneer, Sammie, are instrumental in the rescue. Actually, I think the Resistance Kids did the heavy lifting.