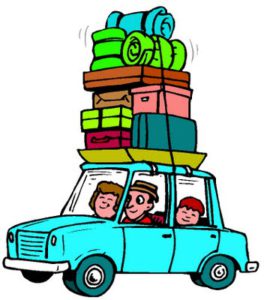 (sponsored content)
By Dale Cooper
A family vehicle is much more than a mode of transportation; for some, it's a second home. And like a home, the family vehicle has to be personalized to your family's needs. Here are a few family vehicle accessories that can help make your car, van or SUV match your family's lifestyle.
Car seat: If you have young children, a car seat is the most important accessory in your family vehicle. There are several types of car seats to choose from, so shop around to find one that fits your vehicle and your growing child. When securing the car seat, pay careful attention to the installation instructions. Incorrectly securing the car seat can cause it to shift or come loose while driving. And never install the car seat in the front passenger seat of your vehicle. In the event of an accident, the airbag can be a danger to your child.
Dash cameras can come in handy for long road trips and they can reduce your car insurance costs too!
Storage: There are several ways to add some extra storage to your family vehicle, which makes activities such as camping and biking much easier. Here are a few car storage accessories you can add to your vehicle:
Bike rack: Whether on the roof or trunk of your car, a bike rack allows you to take cycling trips away from home.
Roof storage: Adding a rooftop storage unit will drastically increase the amount of cargo you can take in your family vehicle. This can be especially useful on camping or road trips.
Hitch and trailer: For even more storage space, you may be able to install a hitch to your family vehicle. The hitch will allow you to haul various car accessories such as a trailer or even a camper.
Entertainment: If your family frequently takes long trips, you should consider installing a few car accessories that make those long drives a little easier. A small television and DVD player can be installed to occupy the kids, who can become restless on long trips. You can also get various electronic devices and adaptors that will allow you to play your favorite music player through the car's speakers. These car accessories are relatively inexpensive, and can make a long road trip go more smoothly.
The most important car accessory for your family vehicle is automotive insurance. To find an insurance policy that best meets your family's needs, compare auto insurance quotes from several providers and choose one that offers great coverage at a reasonable price.