By Eileen Ogintz
ABOARD THE REGENT SEVEN SEAS MARINER, in Southeast Alaska — No wonder the fitness center is so busy at 7 am—when people are on vacation.
That's because aboard the Regent Seven Seas Mariner the food is not only plentiful but delicious.
"And they kept refilling my wine glass so I couldn't keep track of how much I was drinking," laughed Laura Bittman, cruising with her husband Jim and daughter Grace, 16, from suburban Chicago to celebrate the couple's 20thanniversary.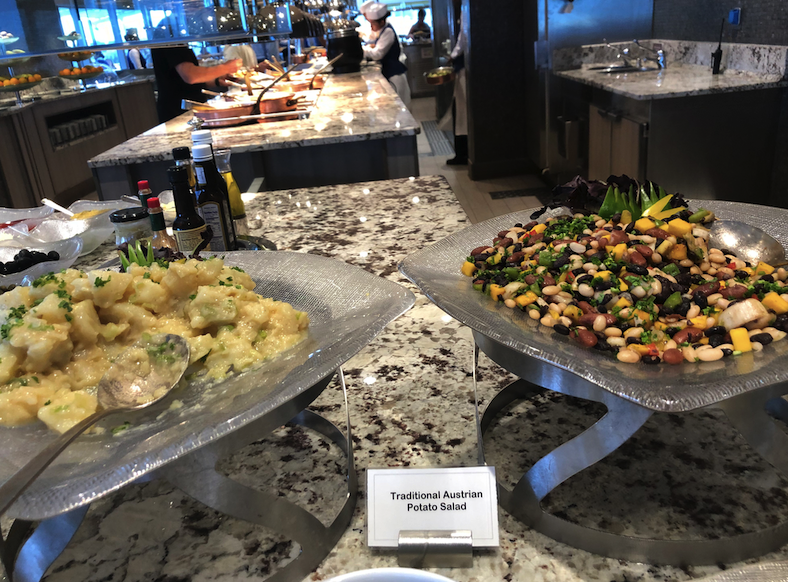 Bittman said their family has never cruised, preferring to travel independently renting an apartment. "But Alaska is different… and this is so decadent!"
Grace Bittman is enjoying room service whenever she likes and the white-table cloth dinners. "You have what you want and you don't have to pay extra," she said.
Regent is all inclusive which means there is no charge for the two specialty restaurats, Prime for Steaks and Chartreuse, modern French, as well as for top-shelf liquor, mocktails for the kids, smoothies, tea every day with pastries and 24-seven room service.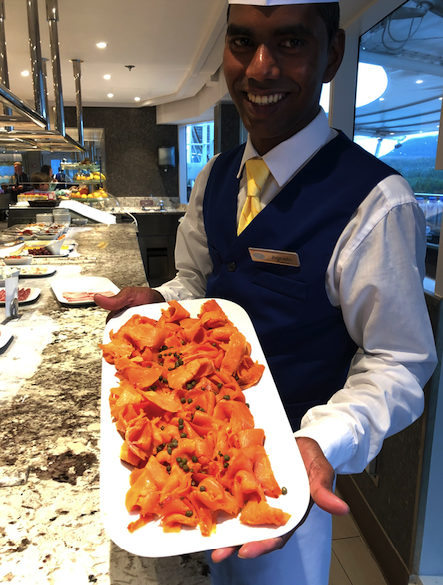 Grace Bittman for her part, liked the chance to try foods (though some, like Pate, once was enough) knowing she could order something else if she didn't like what she'd chosen. That is a real plus on cruises, suggested Executive Chef Kelly Cochrane. "They can always get something else. "All they have to do is ask." He explained that wherever in the world Regent ships are, Chefs source local food. In Alaska, of course, that means lots of seafood.
On the first sea day, for example, there was an "Fish al Fresco," lunch pool-side with grilled fish—snapper, salmon and halibut—ceviche, smoked trout and salmon, shrimp and crabs legs and a salmon baked into a pastry crust with rice and onions.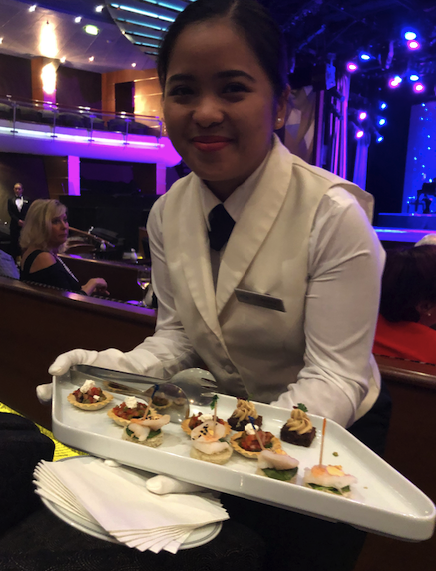 Of course there were plenty of other choices—freshly made pasta, burgers, pizza, hot dogs and fries, salads of all kind—greens, bean salad, coleslaw, tomato salad, rice salad… chefs slicing roast pork, baked fish….
And for dessert, besides the array of cookies, cakes and pies there is plenty of ice cream (everything fro vanilla and chocolate to dulce de Lech and Pear Williams and Rosemary sorbet) with lots of toppings.
In the Compass Rose Dining Room, there is a Canyon Ranch menu at every meal—the spa on board is a Canyon Ranch with lots of fitness classes and wellness seminars—for those who want to watch their calories and fat in take. One night for example, that was a salad with vine ripened tomatoes, shallots, arugula, aged balsamic vinegar and extra virgin olive oil, cream of asparagus soup and a steamed Maine lobster tail with vegetable couscous. The calories, fat grams and fiber grams are provided.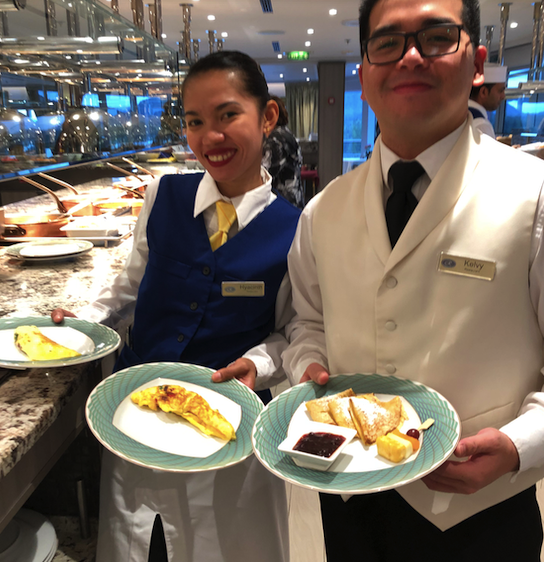 Besides Compass Rose where you see large multigenerational families, guests enjoy Prime 7, a steak house with eight USDA Prime dry-aged steaks as well sa lamb pork poultry and seafood.
Chartreuse features a classic French menu "with a modern twist" — we started with an Emmental-Blue Cheese soufflé and a tri color beet salad followed by halibut and veal fillet with bacon and prunes and apple tart for desert.
Dinner was so good—and as there isn't an extra charge—we already booked a second dinner because we wanted to sample more of what the menu offered—maybe rack of lamb, Dover Sole or scallops…
The kids menu offers iceberg salad, fresh fruit cocktail or tomato soup, pasta of the day, pizza, fish sticks, Canyon Ranch chicken tenderloin and Canyon Ranch Mac and Cheese as well as a burger and hot dog. But older kids typically order from the adult menu.
In Compass Rose, for example, you can order your choice of fish, shrimp, chicken or beef , lamb with your choice of sauce (or not) –garlic butter or Chimichurri, Thai Sweet Chili or BBQ among them and sides—pasta, sweet potato fries, potato gratin, mashed potatos, spinach or asparagus….
Of course there are vegetarian options and of course special diets can be accommodated.
There's also Sette Mari La Veranda—what is the buffet at breakfast and lunch transforms into authentic antipasti and Italian specialties paired with Italian wines; Burgers, sandwiches hot dogs, fruit, ice cream and smoothies are available until 9 p.m. – ideal for teenaged boys who are always hungry. There's also 24-hour room service.
And should you have one of the 92 butler suites, your butler–there are 11 on board–will make sure you have whatever food you want, wherever you want, even a meal from one of the specialty restaurants served in your expansive suite. "That's our job," says Premkumar Gajabathy, the chief butler. He said when he has time, he will even play a board game or cards with the kids staying in one of the suites in his charge. Another time, he bought souvenirs at an African market for a woman who was mobility challenged and was worried she didn't have gifts for her grand kids.
" We try to think from the guests' point of view," he said.
But wherever you are staying on board, the staff seems to anticipate your every need—and remember even when the ship is full (750 guests) there are some 450 crew to take care of everyone.
It's all very relaxed, as only the two specialty restaurants require reservations.
Said Robin Dashe, on her second Regent Cruise, "This is so good, I'm afraid to try another cruise line."