By Eileen Ogintz
ALTA, UTAH — Alf Engen showed them.
Six months after he emigrated to the United States in 1929, Engen was invited to a fledgling ski jumping event in Milwaukee, WI. Unbeknownst to the event organizers, Engen was a Norwegian champion jumper.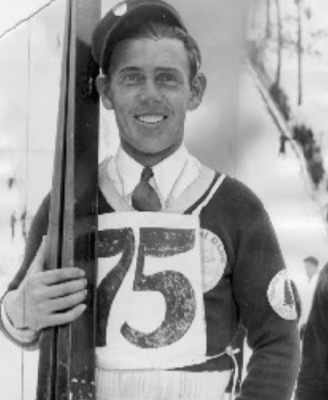 Dressed in street clothes, Engen asked a bystander to borrow his skis, tying them to his shoes. People laughed—until they saw him jump. By the end of the day, the 20-year-old Engen was invited to join a new professional ski-jumping club, touring the West, including Utah.
By 1935, the U.S. Forest Service hired Engen to hike into Alta, once a mining community, to see if it would have potential as a ski area.
Four years later, the second chairlift in the U.S.—made from surplus mining equipment—had been installed and Alta opened to skiers in January, 1939, offering a single ride for 25 cents and making it one of the first ski areas in the country.
Located in Little Cottonwood Canyon, Alta is about 30 miles from Salt Lake City and enjoys a unique micro climate characterized by over 547 inches of snow each year. Engen helped establish the ski school at Alta and helped create 30 other snow resorts in the West. (There is an Alf Engen Ski Museum at Utah Olympic Park in nearby Park City.)
Today, Alta attracts skiers—not snowboarders—from around the world who come for the snow and the traditional ambiance reminiscent of snow resorts in the Alps. The resort is one of only three in the country (the other two are Deer Valley in Utah and Mad River Glen in Vermont) that don't permit snowboarding.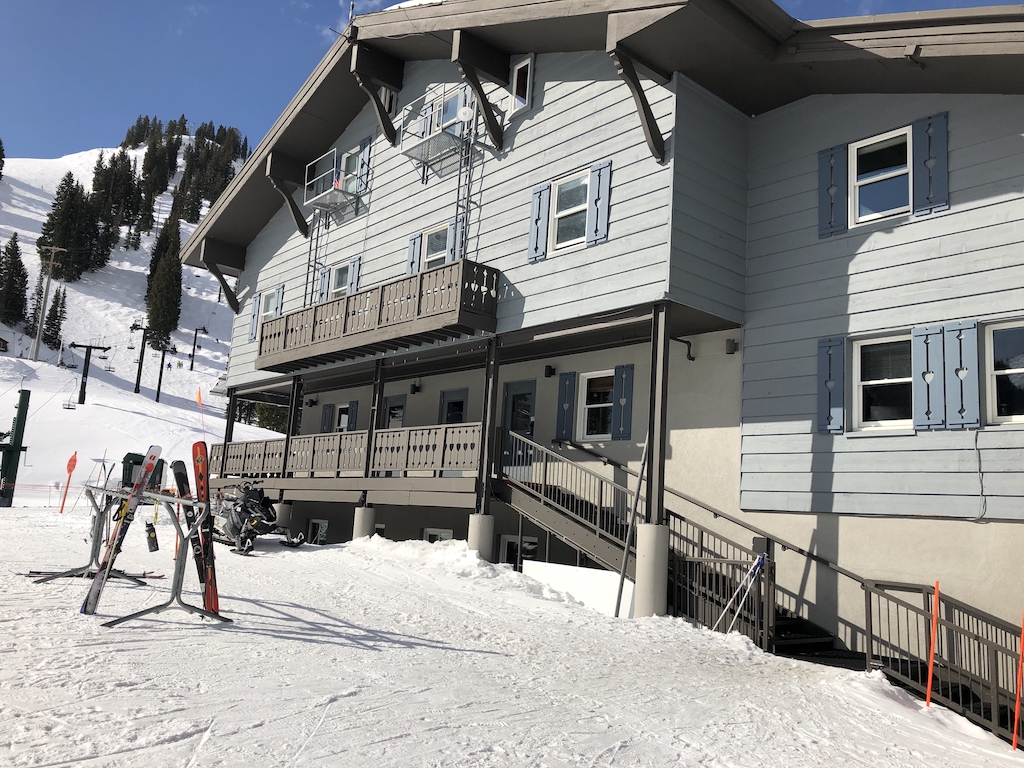 Alta is known for its the traditional lodges—like the Alta Lodge, where we are staying, the oldest at the resort established in 1940 is a European slope side model with no TVs in the rooms and guests being served first-class dinners and breakfasts. No wonder 75 percent are repeat guests, some coming for generations. "Some families come the same week every year and book when they leave for the next year," said Spokesman Rosie O'Grady. Even in this COVID year, half the guests are returnees, she said.
The new Alta Ski Area Ski School Director, Scott Mather, explained that like at other snow resorts, this has been a different season.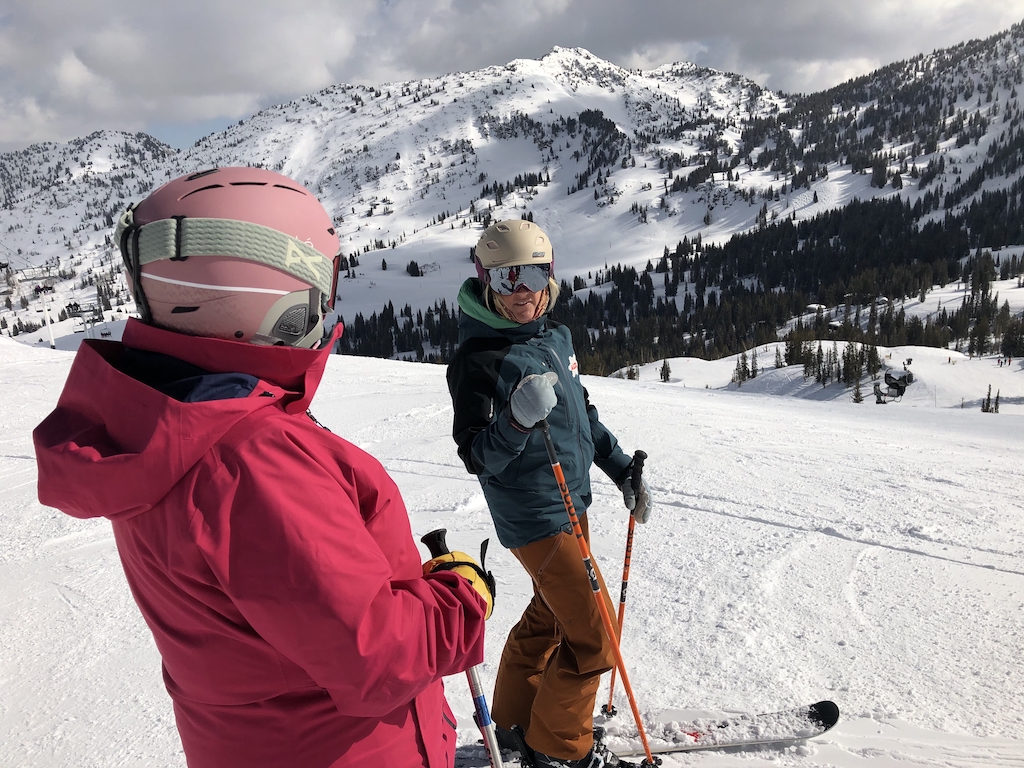 "We've learned that more families are willing to pay for private lessons, (at $115 an hour, with a minimum of two hours) he said, as there were no group lessons this year. But he expects next season to return to the group model where kids' classes max out at eight but typically are smaller.
What do you say to a parent, boyfriend, spouse who thinks they can teach skiing to young kids?
"Even if the 'family' member has expertise as a professional instructor," Mather said, "the emotional connection does not create the best learning environment. Usually the teacher is impatient and the learner takes that personally."
Besides, noted ski school supervisor Jodi McLoughlin, "Kids have more fun with ski instructors."
As for leaving crying young kids at ski school, Julien Cordova, Mather's deputy, noted that most times, the kids are fine once the parents leave. There's a lot for young children to absorb, he explained—their first time in ski boots; their first time seeing snow!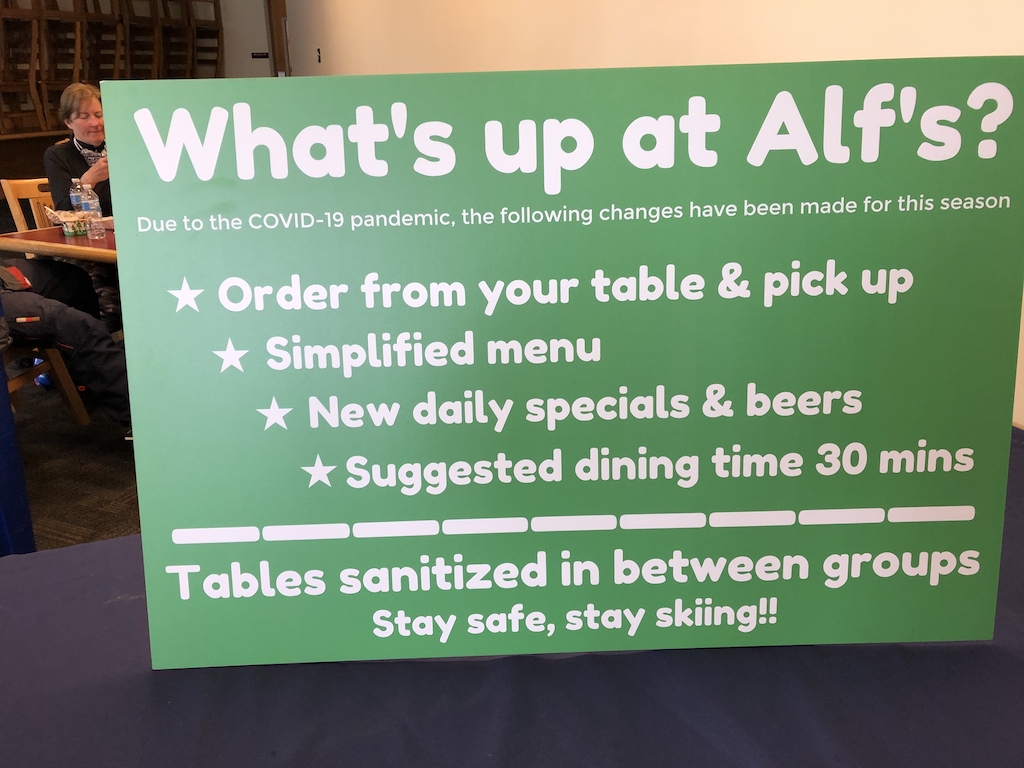 "We encourage the parents to leave and we do our best to get the kids going," he said. "And if that doesn't work, we can call the parents back."
Mather and Cordova note that while many parents are anxious to get their pre-schoolers on skis and on difficult terrain, that might not be the best idea. "Very small children take the longest to get from raw beginner to skiing on green (easiest) runs," Mather said, noting that those who are aged 9-12 actually progress faster than anyone else.
The Ski School pros here are glad to see how many of us have turned to mountain sports this season—often for the first time. Hopefully, they said, they will return. Many are encouraged to try new areas because of the multi-resort passes—like the IKON PASS and Mountain Collective that can be used at Alta as well as resorts including Aspen/Snowmass, Deer Valley, Taos, Winter Park, Steamboat and many more at a significant discount.
Because of COVID, Alta has limited capacity – on the lifts and in the restaurants. And despite a more limited fare, its mountain dining is still a-ok.
We lunched at Alf's, of course, on burgers, salads, veggie chili and great French fries – that had a backstory.
When we last skied and stayed here – 25 years ago – our youngest child, Melanie Yemma, now 30 and a town planner in Crested Butte CO – arrived with us, after a long journey, tired and on the verge of a "hangry meltdown" on the first ski run. Dad spotted a little hut, Watsons, and took her there and they shared a memorable cup of the best French fries ever. Mel enjoyed the rest of the day and the stay. Sadly, Watson's Hut burned down awhile back but has been replaced with a modern restaurant, where we plan to lunch on our last day here.
The COVID ski season has been a bit weird everywhere, but there's still spring season to be had. Alta is one of the last to close with skiing until April 18. Check it out!