By Eileen Ogintz
ATHENS, Greece — What's on the menu this Friday night in Athens?
A traditional menu says Katia Iordanidou. An eggplant salad, fried cheese, Greek salad followed by stuffed tomatoes and peppers and a traditional dessert–mini fried donuts topped with honey and almonds.
"We always had them when I was growing up," said Iordanidou, as her partner Thanos Nikopoulos serves refreshing gin cocktails garnished with cucumber.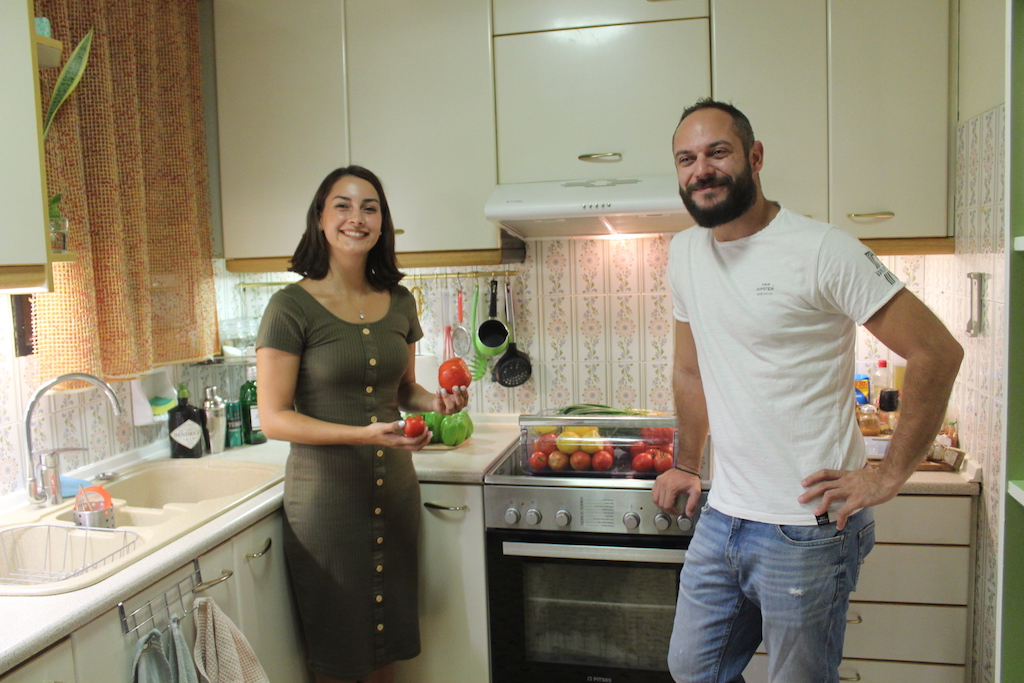 But we aren't in a trendy Athens restaurant. We're in the young couple's apartment in the middle-class Byronus neighborhood east of the city center. Before we arrived, we'd never met the couple yet they were hosting us for dinner—a dinner we would help prepare in their small kitchen.
The travel company Abercrombie & Kent organized this dinner-with-locals experience that was especially popular pre pandemic. The couple hopes these dinners will return. (The hosts fully vaccinated, except their two cats.)
Iordanidou explains that she has always loved cooking with her grandmothers, since she was a kid growing up in Thessalonicki in northern Greece, about four hours from Athens. In fact, we will use some tomatoes from their garden, she explains, as she visited last weekend. "We cook what is in season and what's fresh," she said.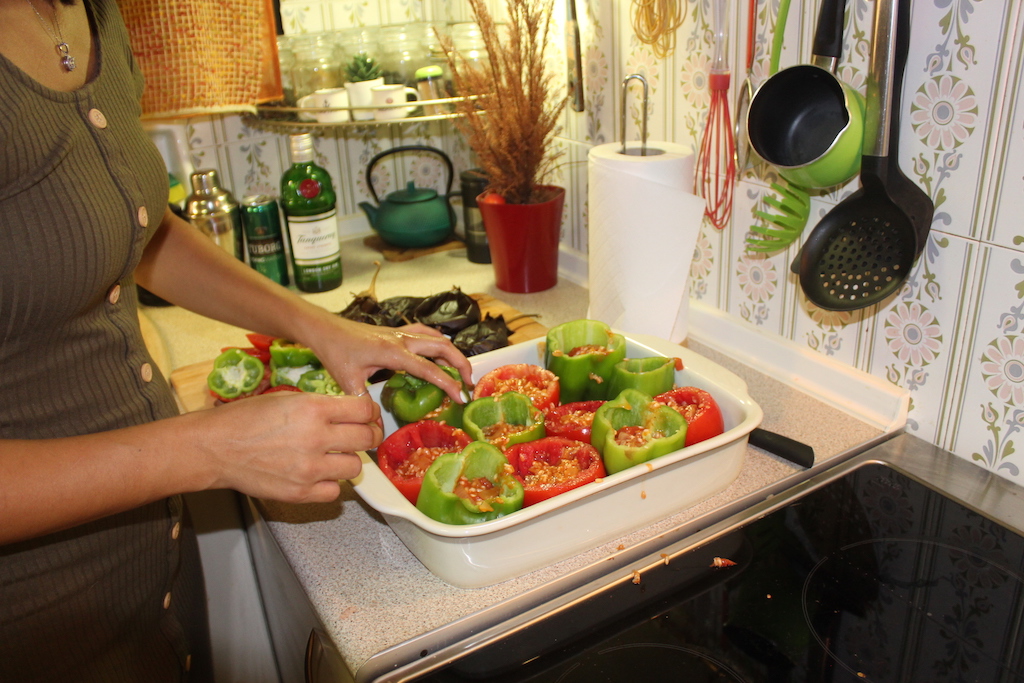 She has already baked the eggplants, which are definitely in season. I get busy scooping out the flesh, chopping onions, garlic and parsley as Iordanidou drizzles olive oil, vinegar and salt. I tell her in the New York suburbs, my mom and grandmother also prepared eggplant salad for family holidays when I was a kid.
My husband Andy scoops out the green peppers and tomatoes and stuffs them with rice mixed in a tomato sauce before they go in the oven for an hour.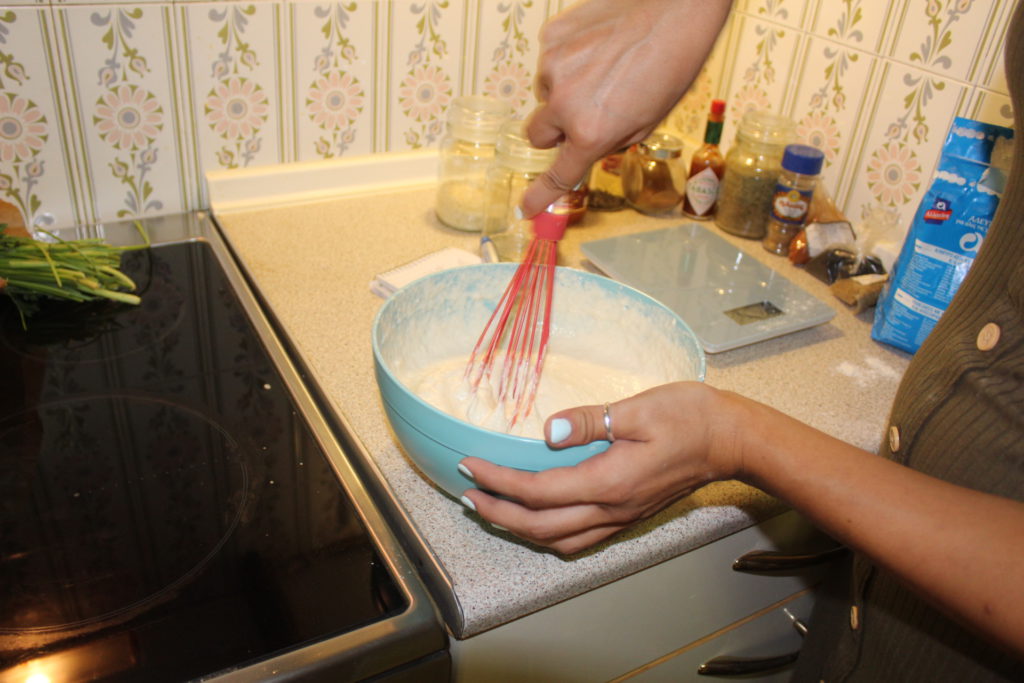 I chop cucumber, onions and tomatoes for a Greek Salad, slicing Feta, sprinkling oregano and olives before Iordanidou pours olive oil on top. "You know we Greeks love our olive oil," she says with a laugh.
She and Andy dip the cheese in water, then flour, before frying. They also prepare the dough for the donuts, mixing yeast and flour in lukewarm water and letting it rise for about half an hour.
Though we were strangers an hour before, we are chatting companionably, following the couple's directions, sharing stories about the way we cook at home and how cooking together with our families is a cornerstone of family celebrations. Andy and Thanos discover they like the same movie genres and share some old favorites.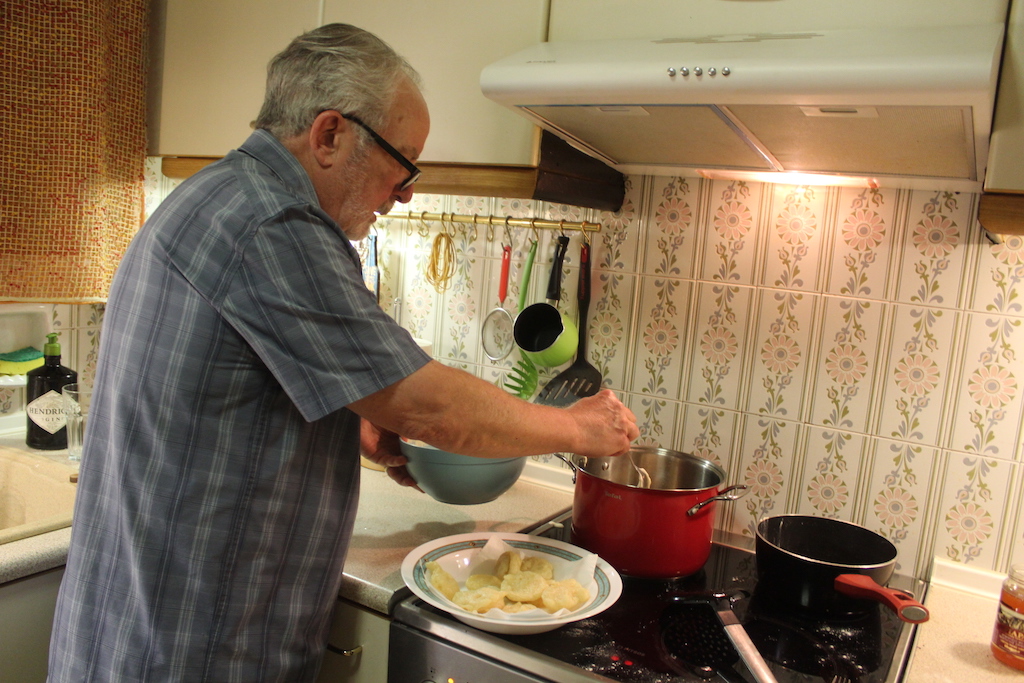 Food, of course, is a great introduction to a new culture, whether at a restaurant, a market or a food tour, such as the company Alternative Athens offers. Like us, Iordanidou seeks out food tours and markets—like Athens Central Markets—when she travels. But this is a special experience, all the more so because we have been deprived sharing meals with friends and neighbors for much of the Pandemic.
The couple, who both work in the travel industry, tell us Greeks typically eat their big meal at lunch, often taking something from home, while their dinner would be more like what Americans might have for lunch–a pizza (homemade, if they are home), a salad, bread and cheese. They eat lunch midafternoon and dinner late—usually around 9 pm
In fact, it is close to 9 when we sit down for our feast. Delicious! My husband tells them he is going to make the vegetarian stuffed peppers and tomatoes for our vegan daughter and son-in-law; Nikopoulos notes we can always add chopped meat if we like.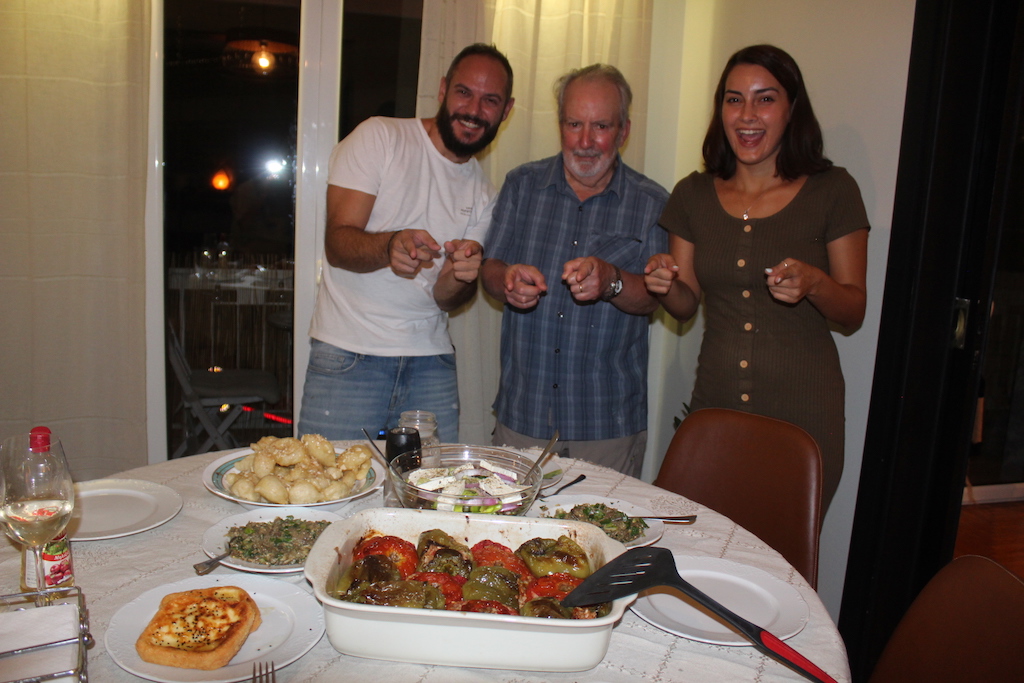 He and my husband share recommendations for World War II movies; Iordanidou offers suggestions for the Greek island we will visit in the coming week. They ask the best time of year to visit America and we promise to help them plan.
As if dinner wasn't enough, they offer us gifts—homemade jam Iordanidou's dad has made, Greek pasta, oregano, sesame, candy. We had brought a bottle of wine. I'm sorry I didn't think to bring something from home in Colorado.
We say goodbye smiling. Next time we will host you, we promise. And we will.