By Eileen Ogintz
ABOARD THE QUEEN MARY 2 ON AN ATLANTIC CROSSING — Line dancing? Or a lecture about Churchill offered by a renowned British Journalist?
Maybe a visit to the only Planetarium at Sea, a fitness seminar, a work out, a spa treatment or perhaps just relaxing with a book in the sunshine?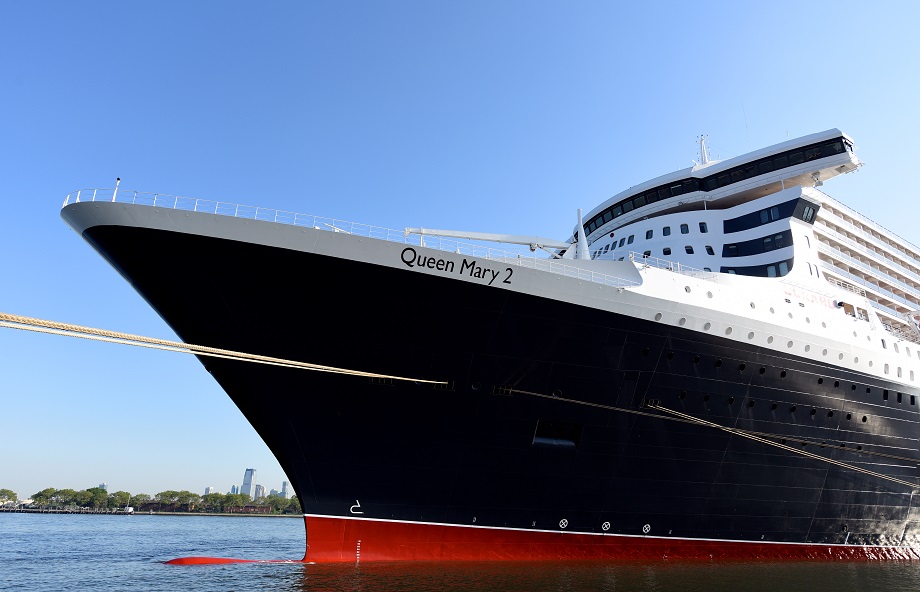 Welcome aboard Cunard's flagship Queen Mary 2 as she takes a week to sail the Atlantic from Southampton to New York. "It's nostalgia really—how you should cross the Atlantic," suggested Katherine Bowyer, on board—and on her first cruise–with her husband John, who said it took him ten years to convince her to try a cruise.
Other cruises, the couple, who live near Cambridge, England, suggested, are like "buses at sea, going from port to port." This is different, with the chance to relax. "Everyone is always in a rush," said Katherine Bowyer, as we waited for Sir Max Hastings to deliver his first lecture of the voyage. "We all lead very busy lives. This is a chance to reconnect and spend time together."
This ship is the only liner offering regularly scheduled transatlantic crossings between New York and Southampton as well as cruises to the Caribbean, Mediterranean, New England and Canada. There are just under 3,000 guests and there are some four legged ones as well as this ship offers the only kennel at sea.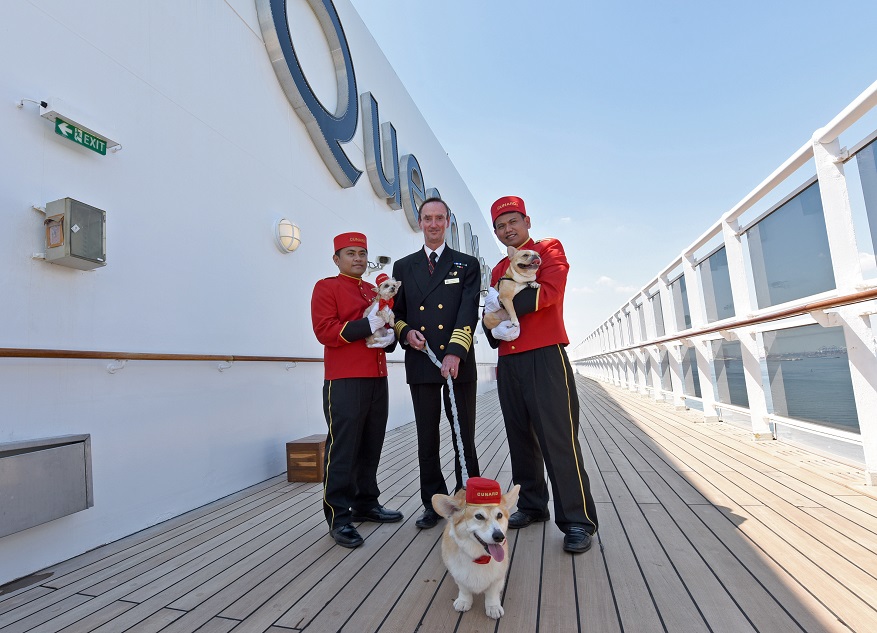 There are nearly 1,200 crew—almost one for every two guests. There are also a range of accommodations—even singles, most with balconies and even five two-story duplex apartments overlooking the ship's stern. As on other lines, those in the highest categories of cabins have their own restaurants.
Cunard line, now part of Carnival Corporation, dates back 176 years (there will be a lecture on this history too, of course!) and claims many firsts—even the first kids club (a kids playroom on the Arabia, which launched June 21, 1852).
The Bothnia (1874) featured the first library at sea and the Parthia (1882) the first daily newspaper at sea—what we're all accustomed to as a news digest. The Franconia (1911) was the first ship to have an onboard fitness center and hot and cold water in the cabins. It wasn't until 1969 and the Queen Elizabeth 2 that bathrooms were introduced in every cabin, the first large Atlantic liner to do so. Cunard pioneered world cruising and this year its ships will visit 49 countries and 109 destinations including 21 for the first time. For the first time in more than 20 years, Cunard sails to Alaska.
The Queen Mary 2 not only has the first Planetarium at Sea but the first cultural academy operated by the University of Oxford and the first Canyon Ranch Spa at sea. Besides a range of treatments, there are lectures on everything from Eastern Medicine to a flatter stomach.
From May-December this year, the Queen Mary 2 will make 22 transatlantic trips, including theme trips (one a celebration of the NY Times Crossword, another for Le Havre's 500th anniversary and one (Oct 6) celebrating World Space Week with experts including former astronaut Dr. Jeffrey Hoffman and Stephen Attenborough, the commercial director of Virgin Galactic.
A ship like this obviously isn't for everyone. Though there are two specialty restaurants (at an extra fee) and a bountiful buffet complete with pasta and pizza stations, there are two set dining times with guests assigned to specific tables and three formal nights where men must where either dark suits, dinner jackets or tuxedos and women gowns or cocktail attire. There is a dress code for the "informal nights in the dining room as well—no shorts, jeans and a jacket required for men.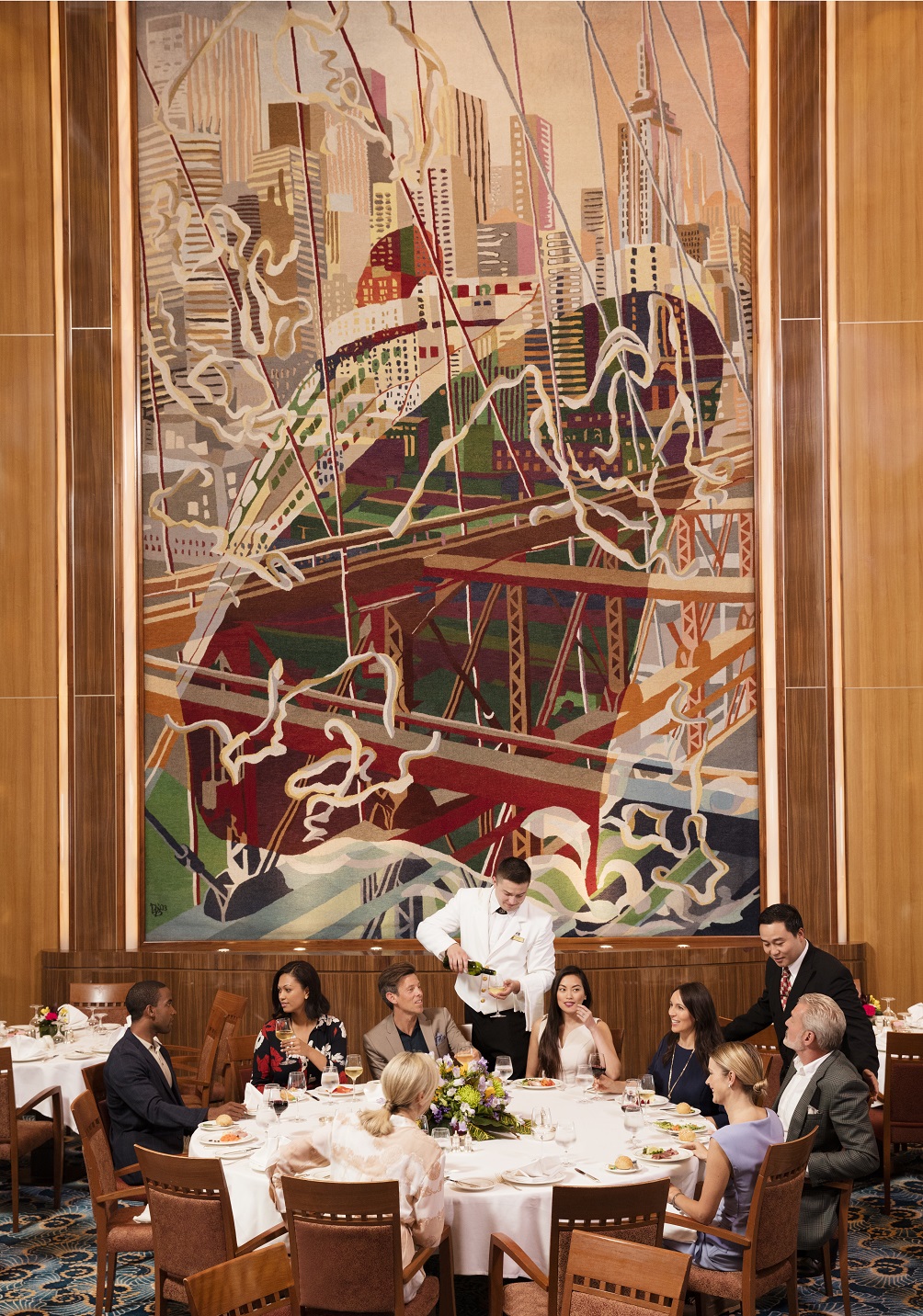 The main dining room, Britannia, is three decks high and the full width of the ship, complete with a big central staircase. You can't help but think about the first scenes in the movie Titanic. There was a low-calorie Canyon Ranch Spa dinner (cold sesame noodles, Szechuan chicken and even a poppy seed cake for desert (under 600 calories). Guests could feast on potato soup with cheddar and bacon, beef bourguignon or glazed pork loin and bananas foster or cheese cake for desert. Clyde Thom has a strict gluten and dairy free diet and the solicitous wait staff made sure he was happy and had him pre-order his dinner for the following night.
For those on board—and that includes kids (there is not only a kids' club but a nanny program)—dining is a big part of the experience.
Christopher Thom, 24, a graduate student traveling with his parents, suggested the trip to follow a busy sightseeing itinerary first in Iceland and then in and around London. "I thought it would be good after so much rushing around," he said. His dad Clyde, meanwhile, said they were just glad to spend some concentrated time with him as he goes to school in Philadelphia and they live in Cleveland.
Others on board, like Crystal and Douglas Law, from Edinburgh, simply hate to fly. They are en route to visit their son and baby grandson in North Carolina but will also take the ship back to Southampton in a couple of weeks—anything to avoid airports and long flights, Crystal Law said.
The hardest part—after figuring out your way around the ship—is deciding out how you want to spend your time as there are a half dozen or more activities every hour plus the casino, the huge library, tables set up with all varieties of games and jig saw puzzles, 11 bars an indoor and outdoor pool and hot tub.
How about a cha-cha lesson?
PS: According to CruiseCritic.com, Passports are required for any U.S. citizen whose cruise embarks or disembarks in a foreign country, including Canada.
You also will need a passport for certain shore excursions — such as Alaska's White Pass and Yukon Railway train ride and day trips to smaller Caribbean islands — that cross a land or sea border into a foreign country. Additionally, it's a good idea to check individual ports' entry requirements, as you might need a visa as well.
Remember, many countries will no longer accept a passport that is expiring within six months so don't wait until the last minute to check your documents! The good news is you can get a passport quickly—albeit at an extra fee, if needed. Check out the helpful blog Rush Passport Services that shows reviews of nationwide expediters, including Fastport Passport (877/910-7277), a family run operation based in Brooklyn who we've worked with. With the appropriate documents either sent overnight or hand-delivered, they can expedite a passport often within 48 hours, though that may cost a few hundred dollars on top of the Passport Agency Fees.
Cruisers are exempt from having to bring passports if they are on "closed loop" sailings — which start and finish in the same U.S. homeport and only travel to Canada, Mexico, the Caribbean and Bermuda, CruiseCritic.com reports. If you choose to travel without a passport, you still need to show a government-issued photo ID (such as a driver's license) and proof of citizenship (a certified copy of your birth certificate or similar documentation) to get back into the U.S. after your trip.
But, CruiseCritic.com warns, if you or a member of your family has an emergency in a foreign port or something at home requires you to leave the cruise, only an official passport will allow you to fly home. You would need to obtain a temporary passport that might take a few days.
Here are some tips and resources from the U.S. Passports and International Travel office