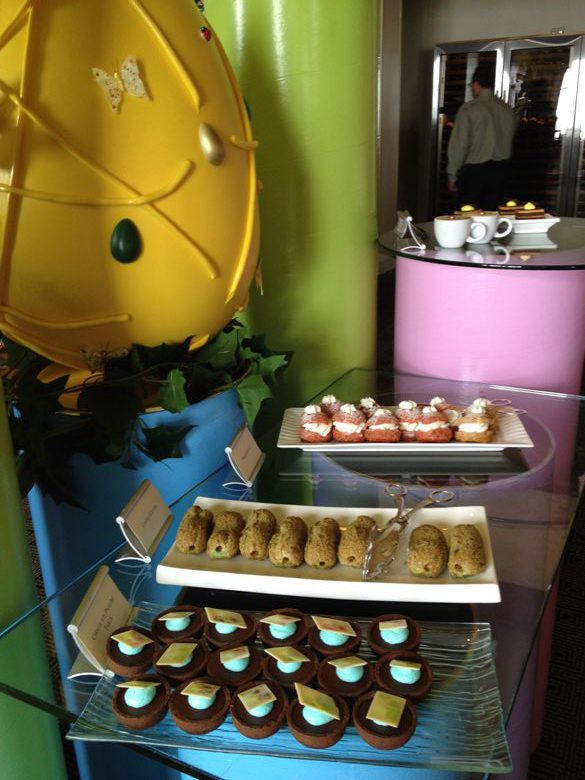 Sushi…dim sum…corn bisque, chilled mint pea soup… Peking Duck…roast beef, ham..Thai curry…freshly shucked oysters and shrimp
I don't know where to start.
We are at the Ritz Carlton Half Moon Bay's Sunday Brunch that is so popular in the Bay area that people drive an hour or more to indulge.
There are some 300 items to choose from and not a chicken finger in sight, says Executive Chef Xavier Salomon. Chef Salomon says at the brunch he doesn't do "kids food" and parents rarely ask for it—not when kids can eat delectable dim sum, mashed potatoes, roast beef, veggies in season, mini quiches.. "And of course they go crazy for the deserts," he says with a smile—nutella crepes, apple, blackberry and peach marshmallows, chocolate mousse, flan, tiny tarts , fresh berries and cream, miniature cakes too pretty to eat (chocolate raspberry dome anyone?)
Perhaps what makes this brunch different than those at most hotels is that much of the food is locally sourced—all the fruits, vegetables, the chicken, the beef, the ham, the lamb. Chef Salomon says he's most proud that the food at the brunch is so fresh coming from a dozen local farms and purveyors with 11 chefs cooking, slicing and serving as we eat—shucking oysters, carving beef, cutting chicken—so that nothing sits in chafing dishes.
The day we visited was Easter Sunday with little girls kids dressed in brightly colored dresses, boys in dress shirts and grownups sporting pink and purple bunny ears. There was an Easter Egg hunt going on outside and a visiting petting zoo with baby goats, chicks and bunnies. To whet our appetite for the brunch, we took a long walk along the Coastal Trail that is popular with dog owners and visitors with high cliffs, crashing surf, sea birds…
This is one of the best brunches I've ever experienced and I've seen a lot of them—likely because of the freshness of everything that is served. This is an area after also known for its farms and the variety of what is served from the Thai chicken curry to the seared miniature lamb chops and lavender honey glazed ham to Dungeness crab and baby carrots.
You've got to come hungry and plan to stay awhile which we do, taking in the spectacular Pacific Ocean views just outside.
That goes for kids too. "Parents want the kids to experience different foods," the chef says. Out of maybe 1000 covers on a Sunday, he says, he might have only two requests for chicken fingers or fries which he will of course bring. That's not the same for room service, he adds, when kids' items are far better sellers than the petite filet or broiled chicken breast that is on the kids' menu.
"I grew up in France," the Chef says."We never ate all of this fried food like they do here!" And with food like this, there's no need to. Pass the sushi.