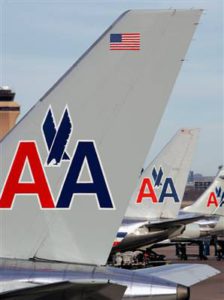 Sometimes you just don't know what to think.
We were comfortably ensconced in our seats on a nonstop American Airlines flight to Eagle County Regional Airport, the closest airport to Vail, CO, when the pilot announced we were making an unscheduled stop in Chicago.
Why? He said neither he nor the co-pilot were qualified to land at a mountain airport. The passengers were flabbergasted. Didn't he know where he was going when we took off from New York's LaGuardia Airport?
We'd all spent more money to fly nonstop to the mountains to avoid changing planes. We were also trying to avoid the drive to the mountains from Denver which can be arduous because of traffic, not to mention snow.
We were also concerned that a non-qualified pilot might be at the helm flying into the mountains. (As it turned out that day, winds were very high and landings in the mountains tricky.)
When we landed in Chicago—to change pilots and refuel—I called the American Airlines media relations folks. The explanation:  Because the pilot had been scheduled for this flight, he thought he was qualified to fly the route, though he didn't have the special qualifications needed for a mountain landing. It was a scheduling mistake — understandable, but scary at the same time. Why the pilot didn't check and the mistaken wasn't corrected before we were in the air, I couldn't discern.  Could it have anything to do with the airline going through bankruptcy and downsizing its operations?
We were delayed more than two hours, sitting at Chicago's O'Hare for more than 45 minutes. Sure we were annoyed but glad that our plane was now in the hands of a pilot experienced in mountain landings.
But it is what happened next that has made me realize when it comes to travel, you really have to stand up for yourself.
I asked the public relations representative what recourse the passengers had for the inconvenience and extra expense of paying for a nonstop flight to the mountains (at least $100 more per ticket) when, through no fault of their own, or the weather, or mechanical failure, it turned out to be anything but.  On the plane, the only thing we got offered was a free drink. The flight was so bumpy, few took advantage of it.
Contact customer service, I was told. My husband and grown son were on the flight with me so I had each contact customer service a few days later, detailing the scenario with the same flight number. They had separate reservation numbers and different addresses, though the same last name.  My husband was offered 5,000 Aadvantage miles; my son a $150 voucher.  When I asked why they weren't offered the same thing, they were each offered $100.
Finally, AA did right by us and gave us each a $250 in vouchers which was roughly the cost of the flight. But that never would have happened if I hadn't kept asking questions. And I have to wonder what they did for other passengers who might have paid much more for their tickets.  I asked how many passengers on our flight had complained but AA declined to tell me. I wondered how many thought it was worth the trouble.