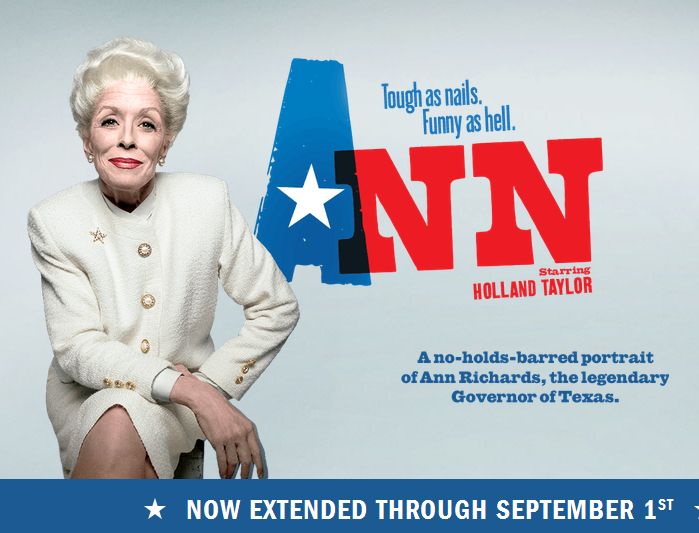 Talk about multi tasking.
Ann Richards was a wife, a mother, a Politian, a confidant of presidents and famously, the Governor of Texas from 1991 to 1995. She first came to national attention as the state treasurer, when she delivered the keynote address at the 1988 Democratic National Convention.
But as I was watching veteran actress, 70-year-old Holland Taylor perform the one-woman play (which she also wrote) Ann at Lincoln Center, I wasn't thinking about how powerful Richards was.
I was thinking of how she had to juggle the needs of her kids with her work—as we all do. One minute she's cajoling a son—she had four kids—to come to a family get-together; the next she is deciding whether to grant a death row inmate a reprieve, under pressure from the Vatican and Mother Theresa. She's asking for her staff's boot sizes so she can buy them all cowboy boots and criticizing a young staffer for her bangs. They weren't "serious" she said.
Understand that this is all a conversation heard from Richards' perspective mostly from her office. "Most of the play is based on years of overlapping stories told me in significant detail, including fragments of fabulous dialogue, by the players themselves," Taylor said in the author's notes.
The play is an admirable achievement for Taylor both as a writer and an actor. She's best known as the mother in the hit sitcom "Two and a half Men." I don't know how she performs it night after night and the run at the Vivian Beaumont Theater has just been extended.
She told the New York Times she'd researched and worked on this play for six years. Cecile Richards, one of the late governor's children, told the Times she had initially been apprehensive about Ms. Taylor's interest. "She didn't know anything about any of us," said Ms. Richards, who is the president of Planned Parenthood. "And now she is practically part of the family. I think she knows more about my mother than I do."
The play, along with a recent biography and documentary, the Times suggests, is part a resurgence of interest in Richards, the plain-spoken governor of Texas remembered for her famous takedown of George H. W. Bush at the 1988 convention, suggesting he had been born with a "silver foot in his mouth" – although that line is not used in the play, nor is the name Bush.
I love plays that inspire conversation afterward and Ann certainly does. How did she juggle so many balls at once? What must it have been like to have been the first woman elected in Texas to statewide office in more than fifty years?
She had her demons. She was an alcoholic (she recovered through AA). She got divorced. And she mediated her kids' squabbles, even when they were grown up.
Watching that play, I was thinking also of taking kids to see theater. This is a play to take a teenage daughter to see.
The smash hit from Britain Matilda the musical has just opened to rave reviews in New York. Based on the novel by best-selling author Roald Dahl, Matilda is the story of an extraordinary girl who dreams of a better life. It's appropriate for most kids—if you can get tickets.
There's Kinky Boots with the lyrics and music by Cyndi Lauper and crowd-pleasers like Mary Poppins, Wicked, Spiderman and The Lion King, which has been delighting audiences for nearly 16 years.
Hopefully, you can find discounted tickets at the TKTS Booth in Times Square to experience Broadway affordably.
But if time is short, splurge and ask your hotel concierge to get you tickets, if you haven't purchased them before you arrive.
The memories your kids will have seeing a Broadway production are worth the bucks. The conversations you'll have afterward too.