By Eileen Ogintz
ABOARD THE CELEBRITY APEX, Mediterranean Sea — "What's for Dinner?" can be a complicated question aboard the new Celebrity Apex with 10 restaurants to choose from.
These include the Oceanview Café Buffet, which offers a bewildering array whether you want a burger, a big salad, cheese and salamis, Mexican nachos and fajitas; Indian Curry, Greek mezez, Italian antipasto, Asian Stir fry, and every desert imaginable—coconut cake and panna cotta; mandarin trifle and apple crumble; churros with chocolate or strawberry sauce, and Scoops with all kinds of flavors of ice cream, frozen yogurt and sorbet with plenty of toppings. Maybe some jellybeans or rainbow sprinkles? Kids on board (and maybe some adults) might gravitate toward the area with burgers, fries, and chicken nuggets.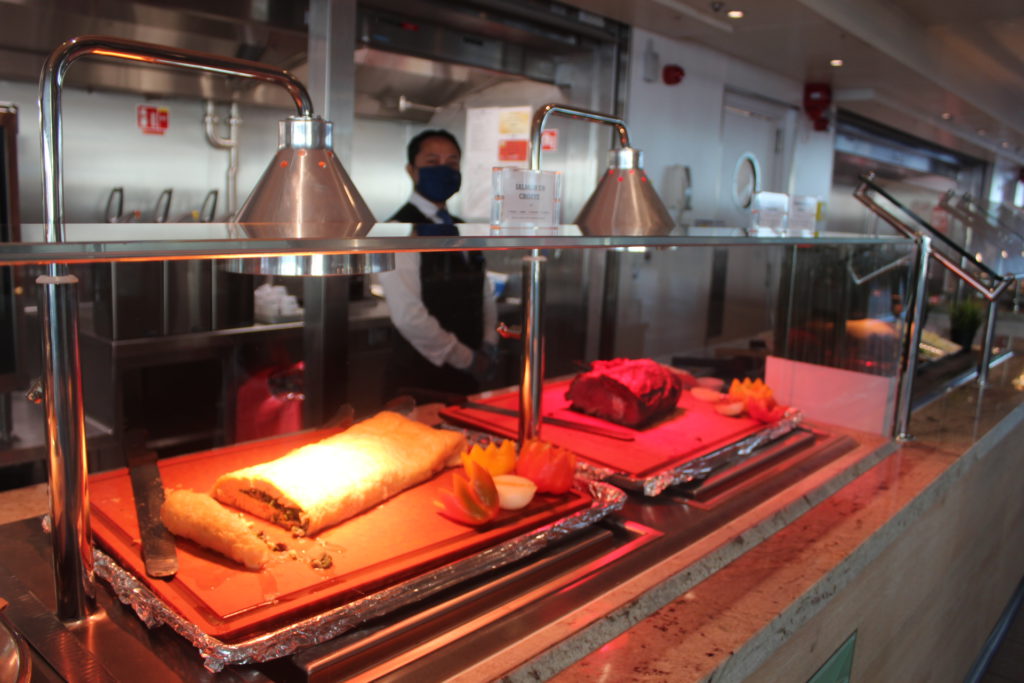 Lita King was enjoying the bountiful buffet breakfast with her husband Romeo and her friend Tamara Moffett, from New Orleans LA who had jumped through many extra hoops to join this cruise as a result of Hurricane Ida. She was delighted that Celebrity had upgraded her to a Sky Suite.
"I'm going to book them from now on," Mofett said.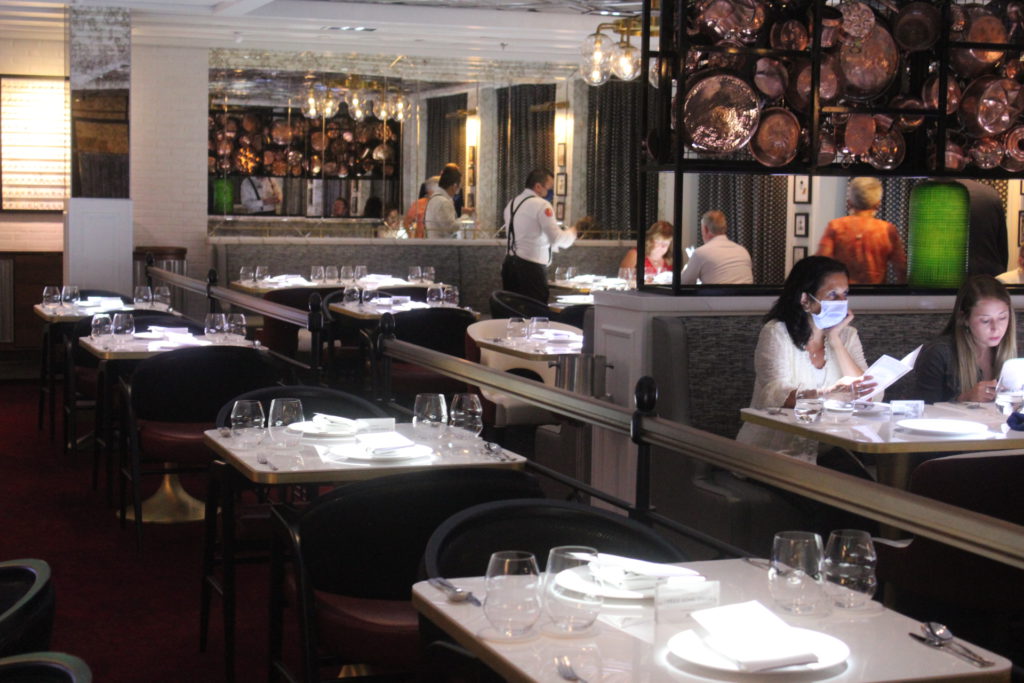 King, a veteran Celebrity cruiser from San Antonio TX said she liked the convenience of the buffet because "you can go when you want." However, she became an instant fan of Raw on Five (a la carte pricing) for everything from seafood sushi rolls and sashimi to pork belly skewers, chicken teriyaki, udon soup and more. "The food is awesome," she said. "I wouldn't mind going back again." The ship is beautiful, she added, but it's one drawback is there isn't a library. "Not everyone reads on a tablet," she said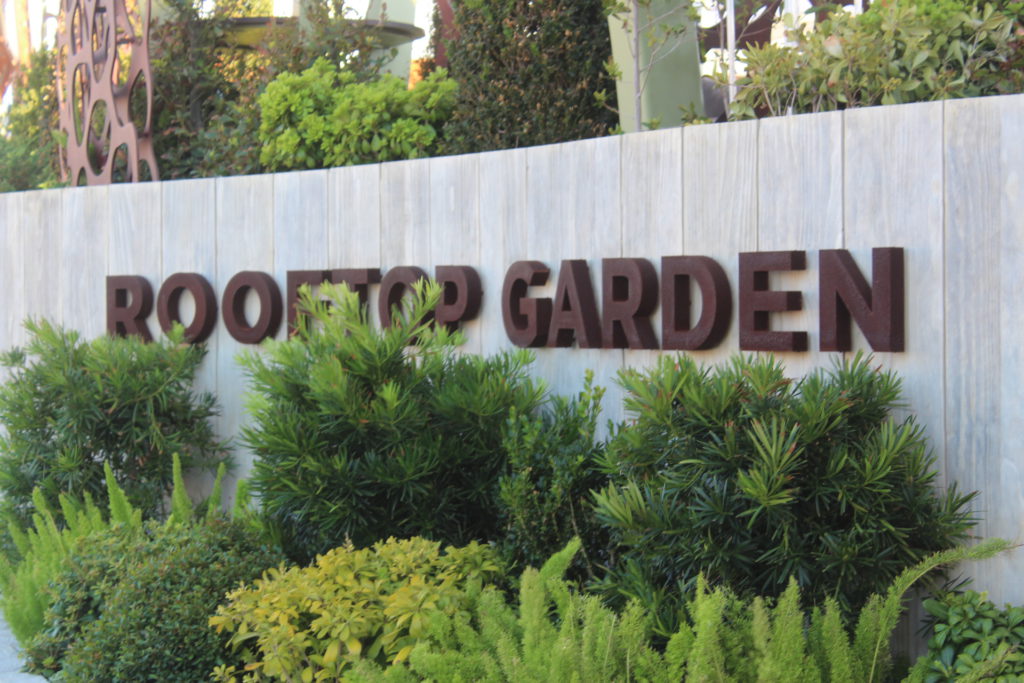 I got hungry last night just walking through the buffet but had to save my appetite for Le Petit Chef & Family ($55), which certainly would be a hit with kids if there were any onboard this trip (because of Covid, very few families are flying or cruising with children at the moment). But the adults at the restaurant certainly were enjoying the experience as animation and tiny animated characters took us through the seasons as they cooked. Just as each serving was completed by our tiny animated Le Petit Chef, the real food would appear on our plates—spring pea soup; king crab farfalle past with corn, basil, and cherry tomatoes for summer; grilled filet for fall with spiced pumpkin puree and a decadent brownie with vanilla gelato and caramelized marshmallow for winter.
There was also another menu option that included a lamb and asparagus salad for spring; duck breast for summer; seared halibut for fall, and cherry almond cake for winter but the animation went with the first menu. There are birds chirping and butterflies flying as the table turns into a garden with flowers moving and a mini picnic with the Le Petit Chef, followed by kids playing on donuts in a pool, crabs being discovered in the sand. The little kids grow through the seasons discovering crab in the sand, kids playing in the fall leaves…I t is charming for adults and kids alike.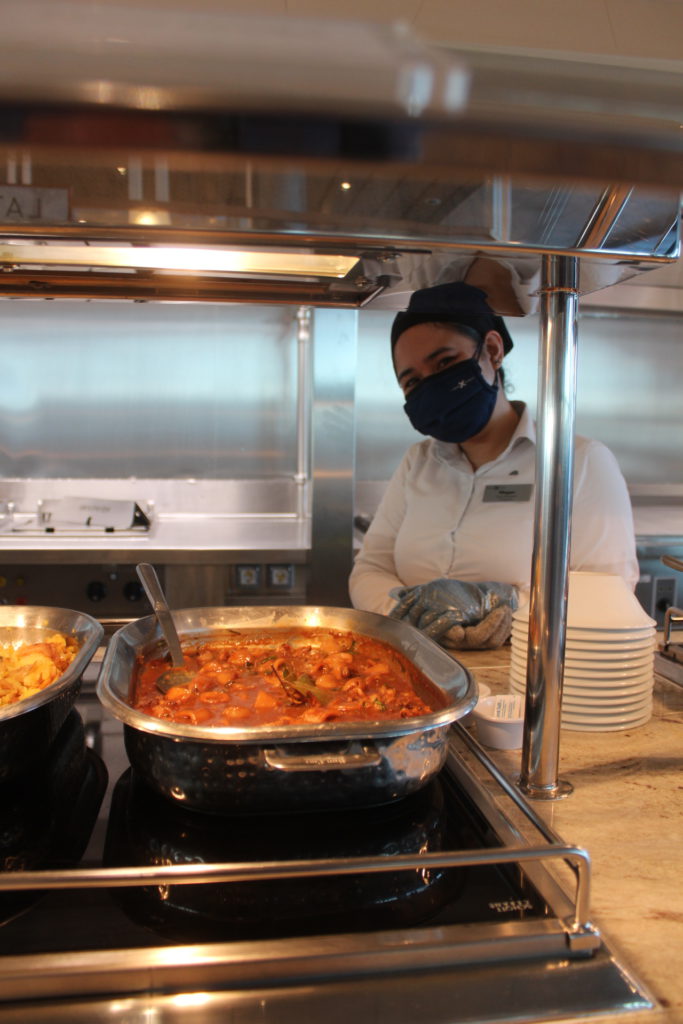 Everyone seems to have their favorite spot. "I love having our own restaurant… Luminae is great," said Linda Breihar from Austin TX. She and her husband have opted for sky suites which give them access to the Retreat lounge with late afternoon nibbles and cocktails, the sundeck for burgers and Luminae for breakfast and dinner. At Luminae, the menu changes nightly and features signature dishes created with Celebrity Chef Daniel Boulud–Moroccan chicken tangine with saffron couscous perhaps as well as homemade fettucine, grilled fish, steaks and vegetarian options.
"They do really nice steaks," said Pauline Morton, traveling with her husband and two grown sons from England.
Also very popular is Fine Cut Steakhouse ($45 for lunch, $55 for dinner) with a wide selection of steaks, seafood and the traditional starters (Jumbo Shrimp Cocktail, Crab Cake, Caesar Salad) a choice of toppings (Au Poivre or Black Truffle Butter perhaps) and sides (Gruyere Tater Tots and Creamed Spinach, cheesecake for dessert).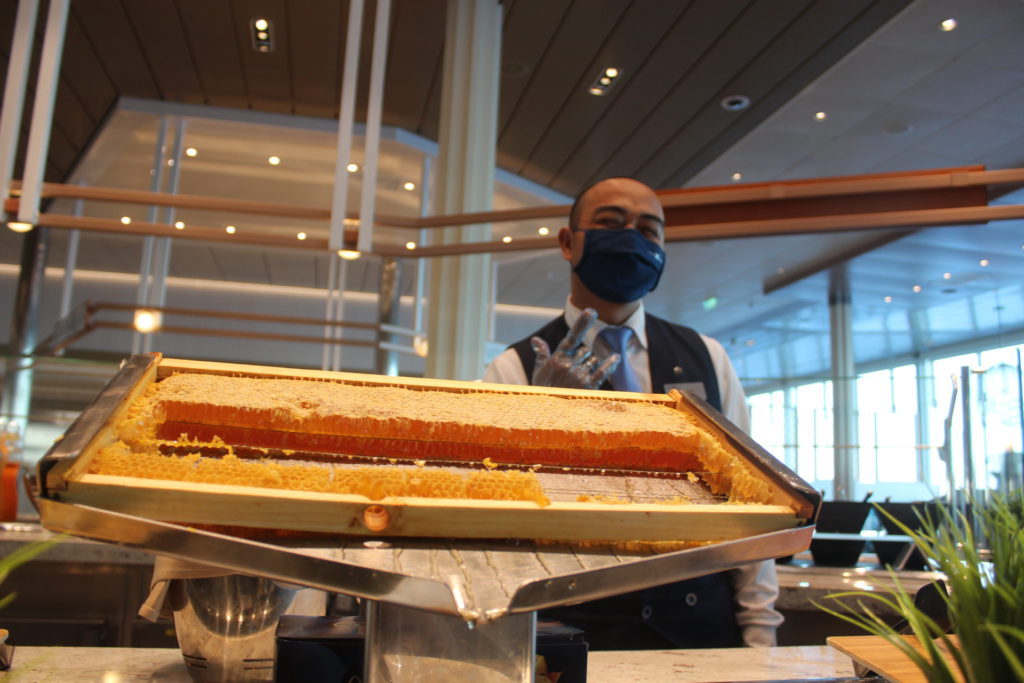 Her husband Paul Morton added that it's nice that everything is included (drinks, Wi-Fi, tips) on Celebrity. As for traveling during the Pandemic, "We had to take the plunge," he said. "We hadn't had a holiday in 18 months. The worry was you could come all this way and then test positive." Luckily that didn't happen for anyone on board. Morton also gave high marks to Blu, the contemporary restaurant reserved for suite and Aqua Class guests that feature Clean Cuisine (think zucchini carpaccio or pan seared snapper) as well as blue cheese souffle, grilled calamari, steaks and pasta.
The four main restaurants on board are themed—Cosmopolitan (global), Normandie (French), Tuscan (Italian) and Cypress (Mediterranean). Guests like that reservations aren't needed. Each restaurant has certain exclusive dishes (among them Cajun spiced fried chicken at Cosmopolitan; Lemon Dill Chicken Souvlaki at Cyprus; Baked Brie cheese at Normandie; Braised short rib pasta at Tuscan) along with a variety of other dishes.
Mary O'Reilly, cruising with her mom Susan Trempko from Chicago, lamented that as we are visiting three Greek Islands, she wished there was more Greek food on board. But her mom, on her first cruise, was totally satisfied. Her favorite spot on board: The Rooftop Garden. "It is so beautiful," she said, and the place to relax with a drink and watch a movie on the outdoor big screen. There's a Rooftop Garden Grill with BBQ and burgers ($25 for lunch; $45 for dinner) if you want to hang out in the evening. Though there are also burgers to be had at the Mast Grill, pizza on the Oceanview café and room service all day and all night.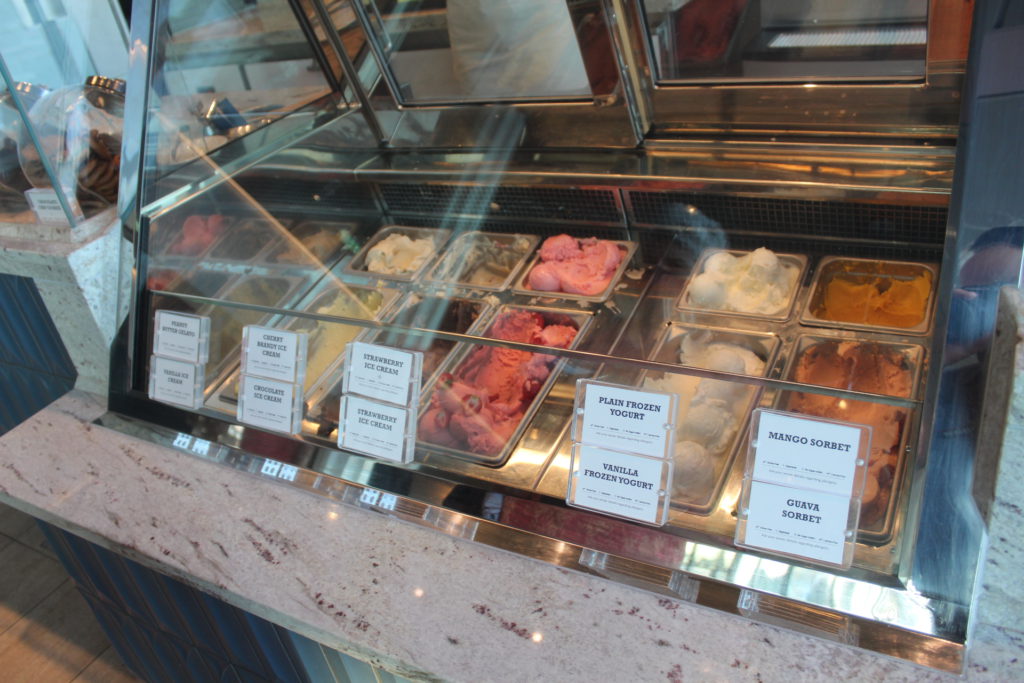 Eden, which costs $55, got high marks from Beki Hoxha and Maria Viores, a young couple cruising together for the first time from Las Vegas. "It was super diverse," said Viores. "And all the attention to details." With its open kitchen and experimental dishes in a setting inspired by nature, guests can try dishes like sheep's milk gnocchi, Reuben Raclette with homemade pickles, a lobster casserole or a steak and short rib Wellington, among the choices.
There are kid's menus, of course, though many kids like cruising for the chance to try different foods.
All I can say is it's great there is a big fitness center on board, an outdoor track that goes around the ship, and the seemingly miles it takes to get from one place to another.
I think it's time for lunch!