By Eileen Ogintz
ABOARD THE CELEBRITY APEX, Mediterranean Sea — The Captain made the announcement at cocktail hour: A vaccinated guest had tested positive for COVID-19.
He would leave the ship the next morning in Dubrovnik and according to government protocol, would go to the hospital here, though he wasn't very ill, said Christophe Belaubre, the Celebrity Apex Hotel Director.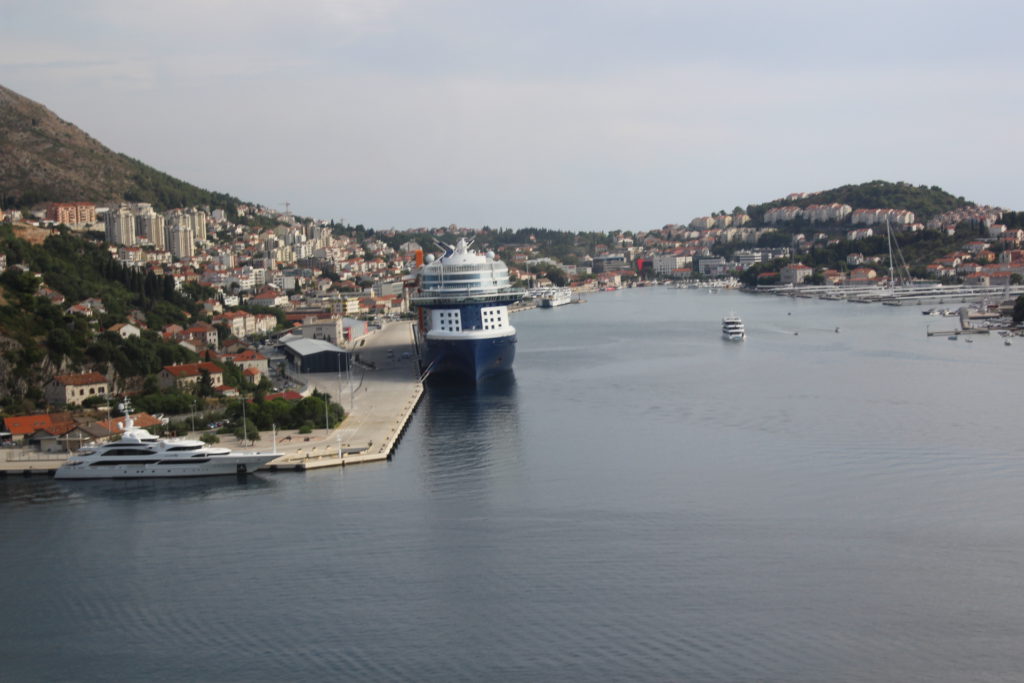 Now the race was on to prevent spread, even though the guests and crew were fully vaccinated. Belaubre explained Celebrity had introduced sophisticated facial recognition software to identify those who had been near the ill guest in the previous 48 hours. The guest had been moved to a "red zone" isolation room with special ventilation and without carpet on the floors to make it easier to clean.
His traveling partner, he said, if testing negative, would be able to remain on board but would have to stay in isolation for the rest of the cruise. Belaubre explained that the ill guest likely wouldn't have had as many close contacts as he might have on board pre-pandemic. Not only is the ship only operating with less than half the number of guests–some 1,100 as opposed to 2,950 and less than 1,000 crew as compared to 1,350 if the ship was full. People are maintaining social distancing (there are markers everywhere and seats marked off in the bars and restaurants and theaters). "People aren't gathering on board like they used to," Belaubre explained.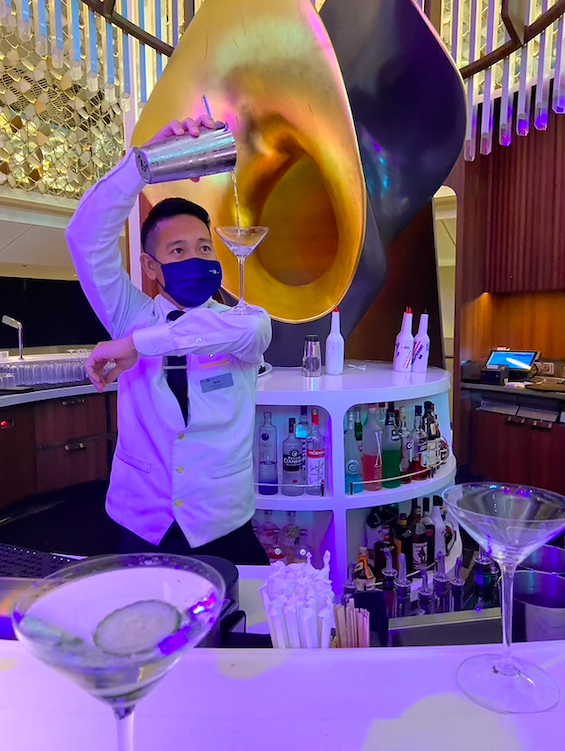 Since this ship's inaugural sailing in June, there have been just four Covid cases on board, Belaubre said. And since Celebrity started back, the line has hosted 50,000 guests on 8 ships there have been just 44 cases—a better record than any other line, he said, adding "we have gone above and beyond what is required." There have been no cases among the 570 kids and teens who have sailed Apex this summer. (There are only two children on this cruise.)
It helps that the guests comply, wearing masks, socially distancing. In Mykonos, Celebrity required that everyone who went ashore do so in a shore excursion and remain in their "bubble." They could go off on their own on other ports where caseloads were lower.
Guests actually are relieved by the protocols, many have told me. "The protocols make me feel better," said Kelly Dunkling, here on her honeymoon from Colorado.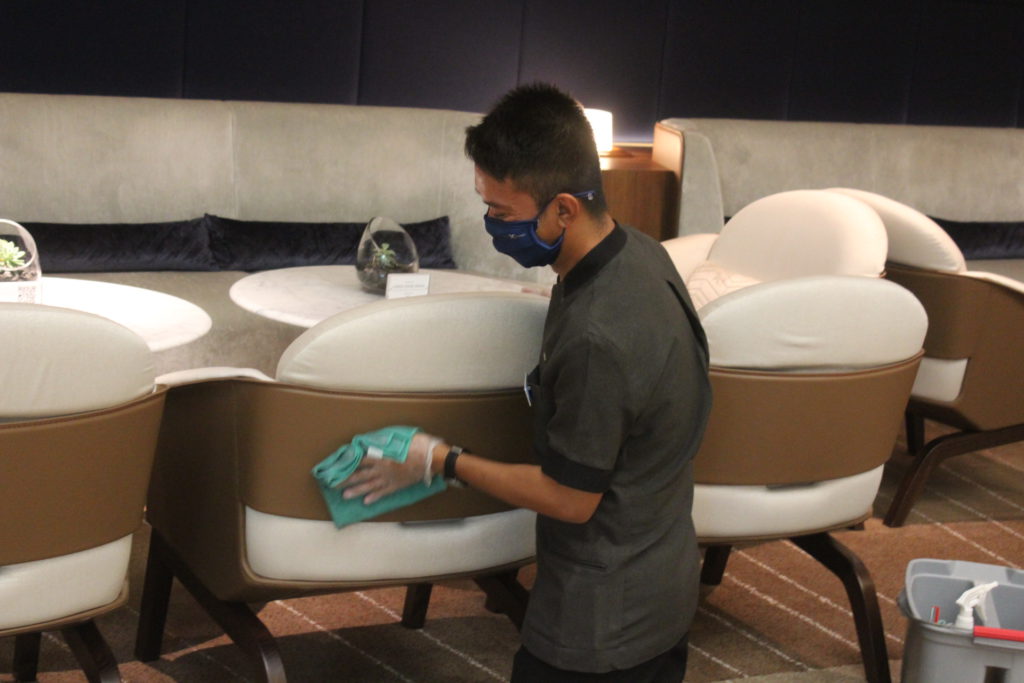 That's not to say the positive case didn't upset some on board. "I got freaked out by the announcement," said Carol Blondon, a just retired United flight attendant. "But with all the protocols, I'm feeling safer than in many places," said Blondon, who lives in Canada."
"We are sticking to ourselves," said John Liadis, a Greek American here from Detroit.
Twenty-four hours after the lone Covid diagnosis, there had been no other cases reported aboard the Apex.
Belaubre said that 99 percent of cases are discovered when guests are tested before they board and again before they leave (a negative Antigen test is required to return to the United States). In this case, the guest had gone to the medical facility on board.
He noted that there are now two ICU units on board, three ventilators, two doctors, three nurses and 8 people in charge of the testing, as well as the machine to analyze the results.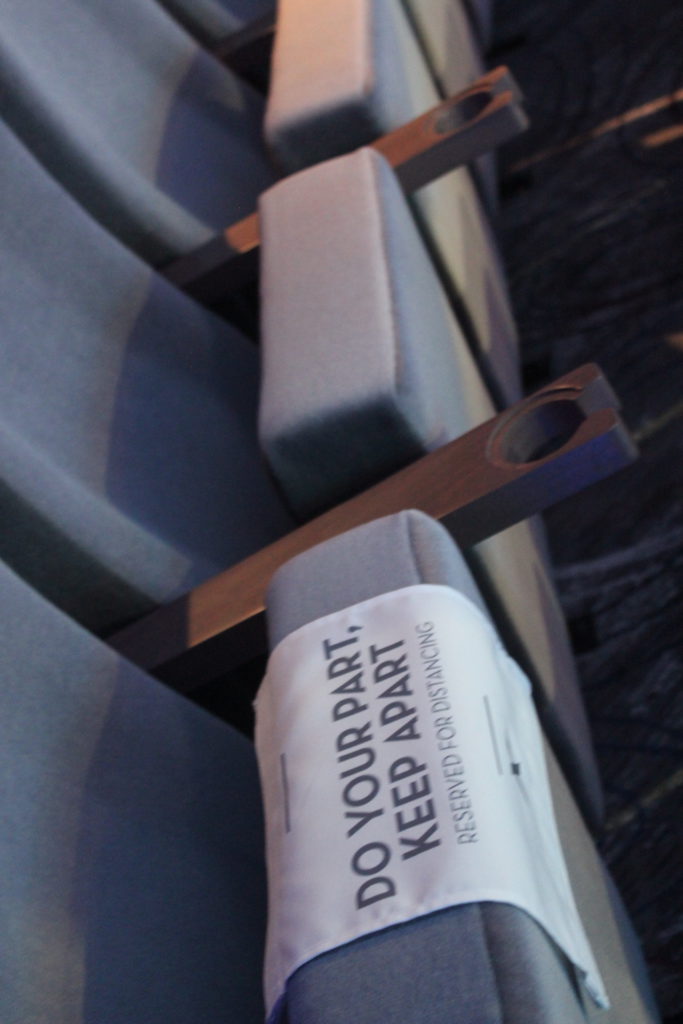 "Measures we have taken will stay–they are beneficial and we have had the opportunity to learn," said Belaubre. "The ship is safer than ever before."
Obviously, because of the Pandemic we all have to go through hoops with extra forms to fill out and tests to take to board a ship or a plane and to enter some countries. It's part of the price of traveling again in the pandemic era, but we feel it's worth it. Most guests we have talked with say they feel safer wearing the required mask in indoor areas even though they are vaccinated.
Belaubre said noted that a positive case actually helps the crew and officers to master the process and make sure what they have planned works in real time.
"We have it get used to it," he said. "It's not going to go away."