By Eileen Ogintz
ABOARD THE CELEBRITY APEX, Mediterranean Sea — UH OH… It is our second and last day at sea in the Mediterranean Sea on Celebrity's new APEX — and it's raining. Pouring actually.
Catrin Thomas and Stuart McNary are waiting out the downpour in the comfortable—and indoor–Solarium. "We're British and we follow the sun," said McNary. The couple headed outdoors to the pool as soon as the rain stopped. The crew obligingly had wiped off the chairs and mopped the floors.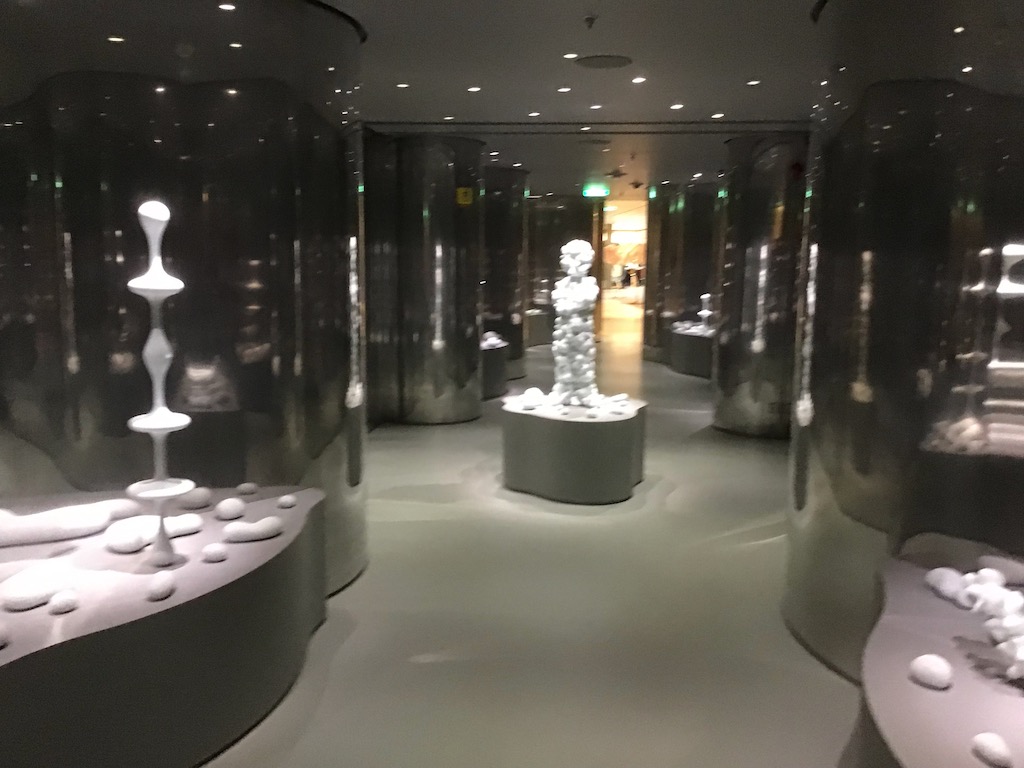 Steve Khanoyan, cruising with friends from Austin TX, was hoping the outdoor track—scenic around the ship—would be dry enough. One of his friends, Allison Granger was enjoying a massage, hoping to de-stress after hearing there was a positive COVID-19 case on board two days earlier. (According to Celebrity protocol, that guest was isolated and was disembarked in Dubrovnik as was his wife who tested negative; While she returned home, he would have to quarantine—with Celebrity covering most of the tab—for two weeks.)
Even with the less than perfect weather, there was plenty to do—more than 60 activities. Paul Pawlowski, traveling with his partner Glen Dillard from Houston, planned to go to a yoga class, a session at the Spa on upping his metabolism, the large—and not-crowded indoor Solarium Hot Tub and the popular Martini Bar when it would open at 1 p.m. (The nightly shows put on by the bartenders get high marks!)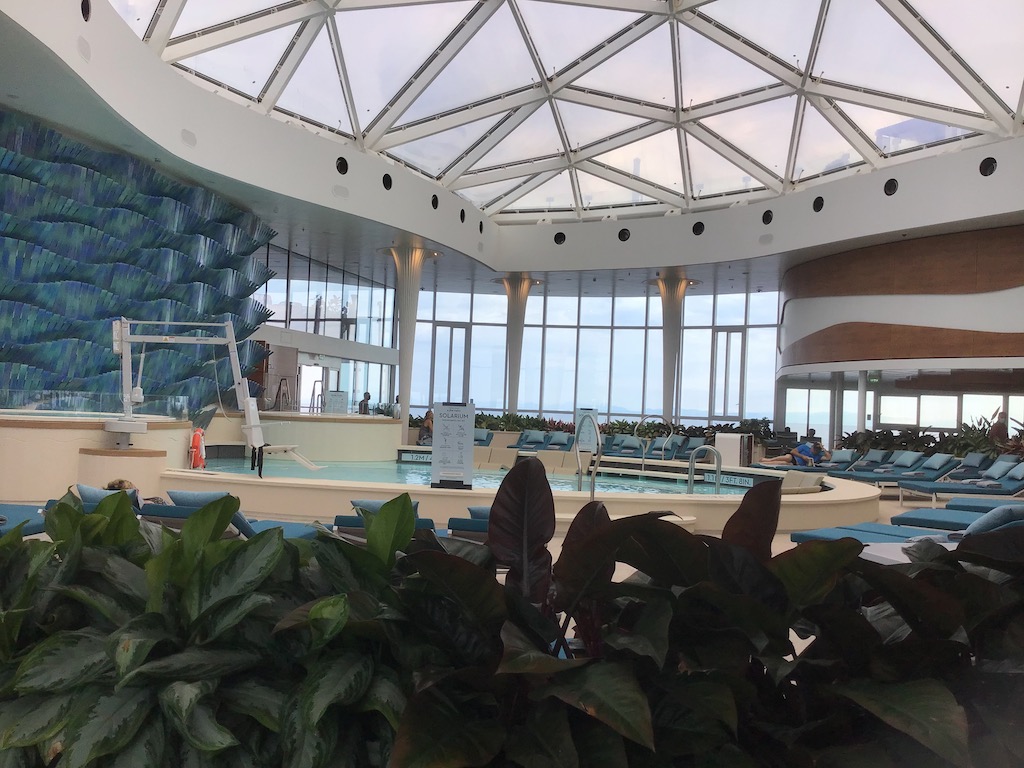 He's also hoping to book a massage but the Spa is fully booked today, with more than 100 treatments offered (including one for me!) as well as the Sea Thermal Suite that now requires reservations to keep the numbers down with its Crystalarium Energy Healing room, a Desert Infrared Sauna where state of the art technology heats the air, a Float Zone (cocoon in a nested basket chair), light steam in the Hammam Turkish Bath, heated loungers that enable you to relax taking in the sea view, Mist Aroma Steam, Rainfall Water Therapy in a simulated rain shower and INhale Salt Therapy room with natural salt.
"I love the spa," said Carol Blondon, just retiring as a United flight attendant after 40 years. She said the Salt Wall has really helped her asthma.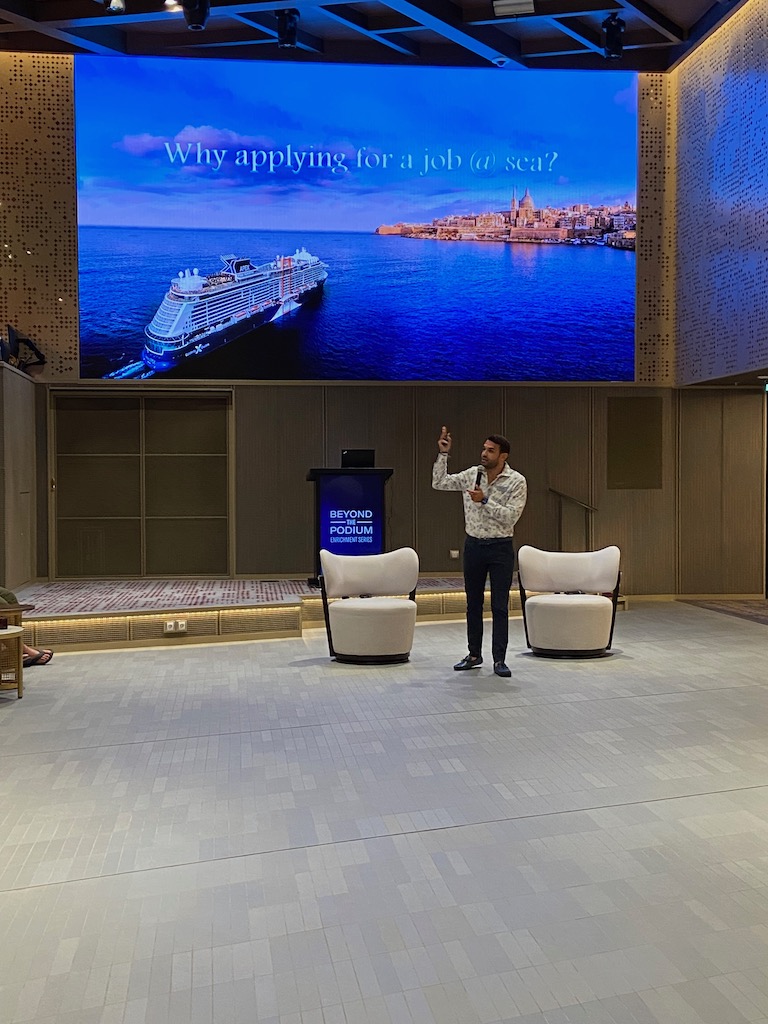 The passengers are a mixed group—retirees like Blondon; honeymooners; young couples and those traveling with grown kids. They are mostly Americans though there are those from other countries as well. Many, it seems, have cruised Celebrity before but there are first timers too.
There just are two kids aboard and they haven't found their way to the Camp at Sea, though Seon McDonald, the program director on board, has offered activities. He said there are COVID protocols for teens and younger children as there are for all guests, with programs limited to half the regular numbers (13 for 6-9 year-olds or 17 for 10-12 year-olds, for example) spaces are sanitized frequently—after every time a child uses a remote control. The programs for toddlers have been suspended, as have "sharing toys," though families can borrow them for their cabin at no expense.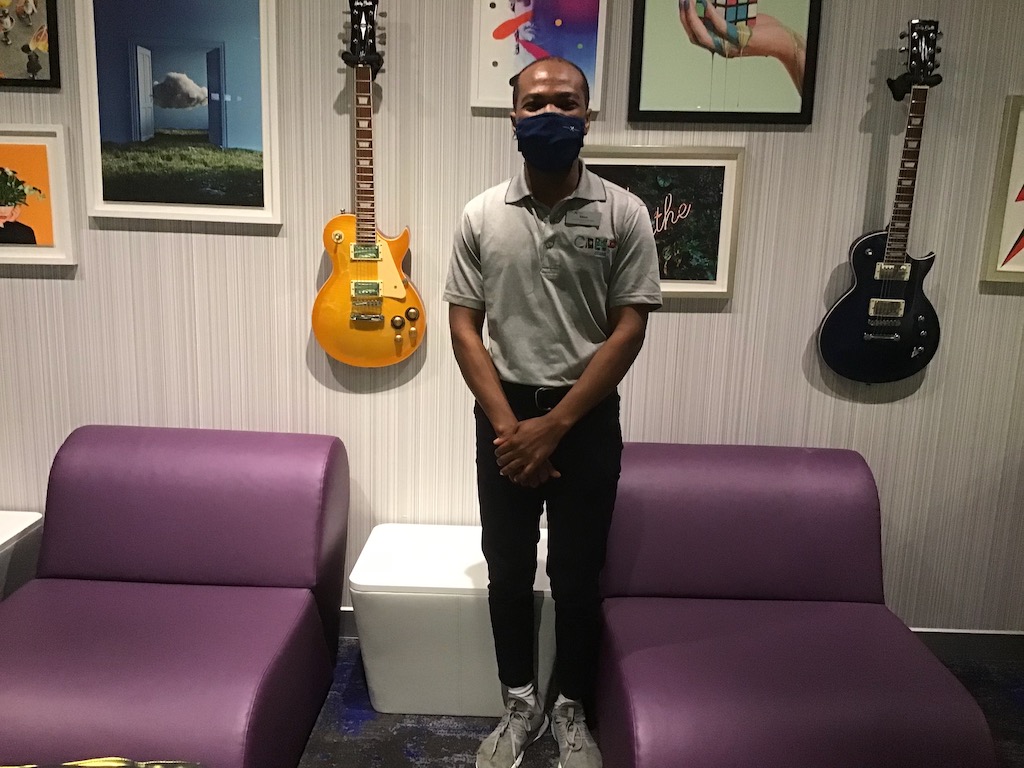 Typically there would be youth activities all over the ship but as younger kids aren't vaccinated, "We create a bubble in the kids' club," McDonald said. Think more individual crafts—making lanyards, bracelets, sand art and other jewelry, for example—than shared games. And as parents may want to explore on their own off the ship—and unvaccinated kids are limited to cruise shore excursions—parents leave their kids in the kids' club. The only charge is for their lunch. Often, if parents want to enjoy the late night shows, gamble or a specialty restaurant, they can leave the kids until 10 pm at no charge and until 1 am at $6 per child.
The teens have their own "Basement" club, complete with Karaoke, ping pong table, X Box and Big Screen TV. "At first it's difficult to get the teens involved but once they come, but once they come, they don't want to leave," said McDonald.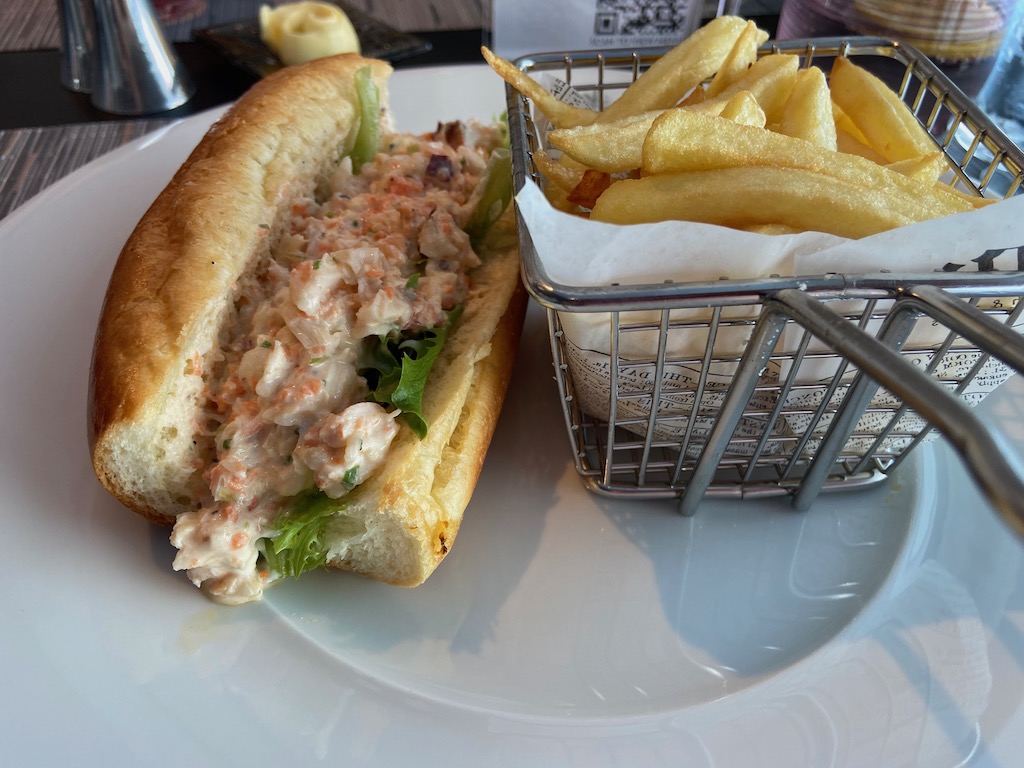 A plus for a ship like Apex—It may not have on-board roller coasters or water slides, but it also won't have as many kids—even in pre- and hopefully post-Covid times. That's one reason Celebrity can offer "Interest Categories," targeted activities for those interested in Art (create a custom stuffed animal) a Challenge Series that focuses on teamwork and STEM (Science, Technology, Engineering and Math with exclusive experiences to entertain and inform kids with experiments and demonstrations, thanks to partnerships with Anturus and Lonely Planet.
Celebrity typically hosts more teens than the youngest kids and in normal times, could have as many as 400 on a summer or holiday cruise while Royal Caribbean might have far more.
Around the ship, there are talks on whether Santorini, which we will visit tomorrow, is really the lost Atlantis (no evidence despite long held beliefs, said historian Cathy Dunn.) The Cruise Director Giuseppe Moschella leads a popular talk on what it's like to serve aboard Apex. "You have free room and board and walk to work," he said. The crew, who have often signed on to travel, are unfortunately limited to getting off the ship only once a week on a supervised activity right now.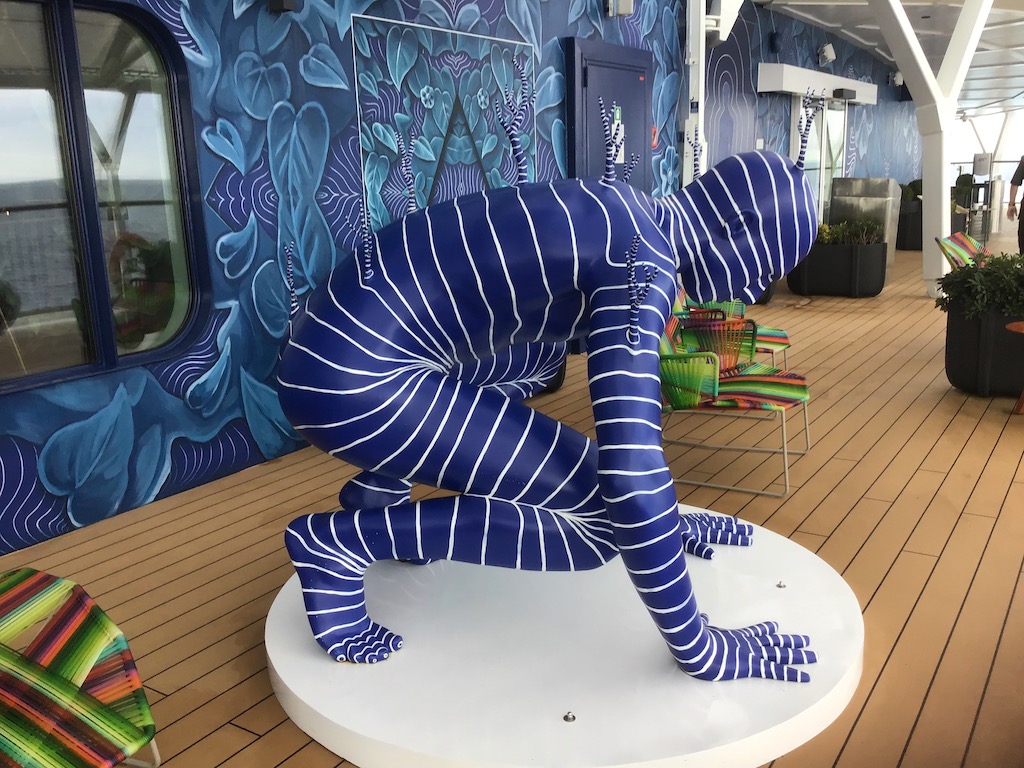 There are sessions on making jewelry, learning more about Chinese Herbal remedies, special "Deal or no Deal" card games and "yes or no" game show, even an escape room experience and since we are in Greece, Greek Mythology trivia among the offerings, not to mention a three course lunch in the main restaurants, a burger at Mast Grill, pizza, a salad or Asian stir fry at the Oceanview Cafe , soup at Eden with its gorgeous décor at the back of the ship, or perhaps Sushi and Dubrovnik oysters in Raw on 5 or coq au Vin and Steak Frites at Le Grand Bistro.
We checked out Luminae at the Retreat for suite guests and enjoyed ceviche followed by a first-rate burger and lobster roll with fries. (Truffle fries anyone?) Sadly, we were too full for dessert.
But some on board are just happy for the chance to relax, no matter what the weather. "I just want to get in the hot tub (there is a large one in the indoor Solarium) and have a drink without having to look at my phone every minute," said Tony Aillaci, an attorney from Austin.
And there's no better day to do just that!