By Eileen Ogintz
DAY THREE (OF FOUR) – Martha's Vineyard, MA — How about some Swiss chard for lunch?
Of course it's got to be harvested first. One group of kids at the Farm Institute summer camp are getting ready to do just that.
"It looks like lettuce," one of the campers suggests, but with a red stem.
Their counselor suggests that once it is sautéed with some butter, it won't be as crunchy or bitter.
They are getting ready to harvest the Swiss chard in a bountiful garden where broccoli, onions, fava beans, cucumbers, green beans are all growing—labeled to help those who don't know what they look like outside of a supermarket.
And there are many of those visitors too—some 1400 visitors every summer find their way to the Institute to check out the garden, the baby ducklings, the chickens, cows and sheep, the pigs and turkeys. The neighboring Winnetu Oceanside Resort brings kids from
its own complimentary summer camp program every week. "The Institute is wonderful," said Winnetu General Manager Daniel Scully.
These 180 acres at the edge of Edgartown has been farmed since the first Europeans arrived in the 17th Century and before that by the local Wampanoag. It is the flattest area of Martha's Vineyard. That nearly changed when about 20 years ago, there were plans to develop the land and build houses here. A successful effort not only blocked the development, but provided for the land to be permanently protected for agricultural education and agricultural use. It is partly owned by the town of Edgartown and partly by the state of Massachusetts. The not-for-profit Farm Institute moved here a decade ago and has flourished ever since.
Every week in summer, upwards of 100 kids from four year old "Sprouts" to teen Educators in Training—connect kids to agriculture, teaching them where their food comes from and how it gets from the ground and the animals to the table. The program is accessible to kids of all special needs as well
"This program takes them from the dirt in the garden to butter in the pan. Kids need to learn where the food comes from, how it grows, why it is good for you, how to prepare it and how to share it," explains Jon Previant, who oversees the Institute.
The kids this Friday are no different than those here other Fridays—they can't wait to help cook for the Friday Fiesta, said Previant.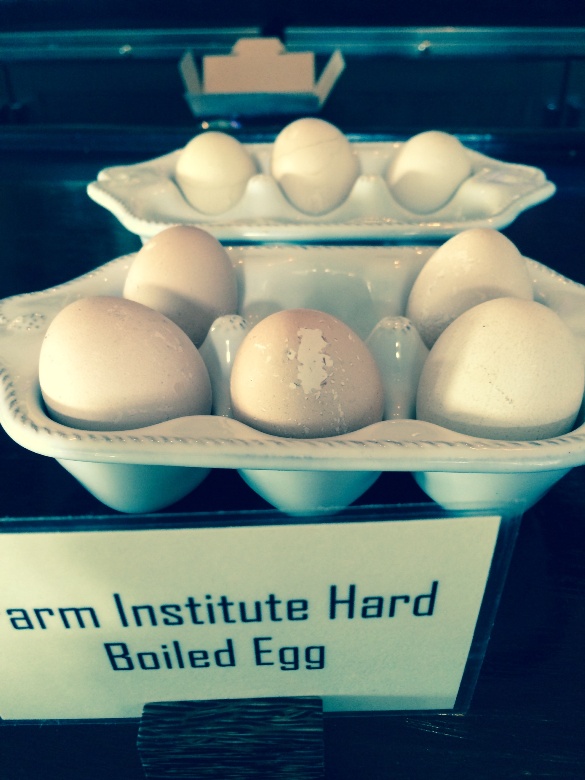 To that end, the Institute is launching a $1.5 million campaign so they can expand their cooking program with a large 1,000-plus square foot Teaching Kitchen with room for 70 youngsters at a time —not a professional kitchen, he explains, but a kitchen with tools and utensils kids would find in their own kitchens at home. "I learned to make scones this week," declared Sophie, 8.
Pre-schoolers, meanwhile, in the "Wee Farmer" program are gathering eggs, their parents looking on. "We live in Brooklyn," said Allyson Lorenzo, whose son Isaac, 3, was busy feeding chickens and then triumphantly bringing an over an egg he had gathered. "He talks about this at home—where eggs come from. It's super fun and he's learning a lot."
Another plus: The program attracts a mix of local Martha's Vineyard kids and those either spending the summer here or on vacation. Some come for a week; some all summer and return season after season. There are scholarships available and in the off season, there are programs that bring inner city kids for a few days at a time.
"What do they learn?
"I learned cows can't see in front, just to the side," said eight year old Abby.
"I learned to make butter and that pigs don't sweat. That's why they need to roll around in the mud to cool off," said Karinne, 10.
"I learned you have to be calm and quiet around bunnies or they will run away," said Ricky, 6.
A group of tweens was readying a skit to the theme that "everything poops!"
Most important, the kids see that farm work is fun," says Christina Pereira, who oversees the camp program staffed with those who have educational as well as agriculture backgrounds. "The kids have responsibilities—sweeping, watering and feeding the animals, weeding the garden.
"There aren't a lot of places where kids have real responsibilities," she said.
No wonder they are all having such a good time.