By Eileen Ogintz
SYRINGA, IDAHO (July 3, 2020) — One, Two, three… Bald Eagles overhead, swooping into the river for fish; flying from tree to tree, putting on a show just for us!
No, We're not in Alaska. We're actually in Idaho floating in rafts down the Selway River, about to stop for lunch on an island.
We're spending a couple of days in a cabin at River Dance Lodge, part of the Row Adventures portfolio, known for their rafting and sea kayaking trips.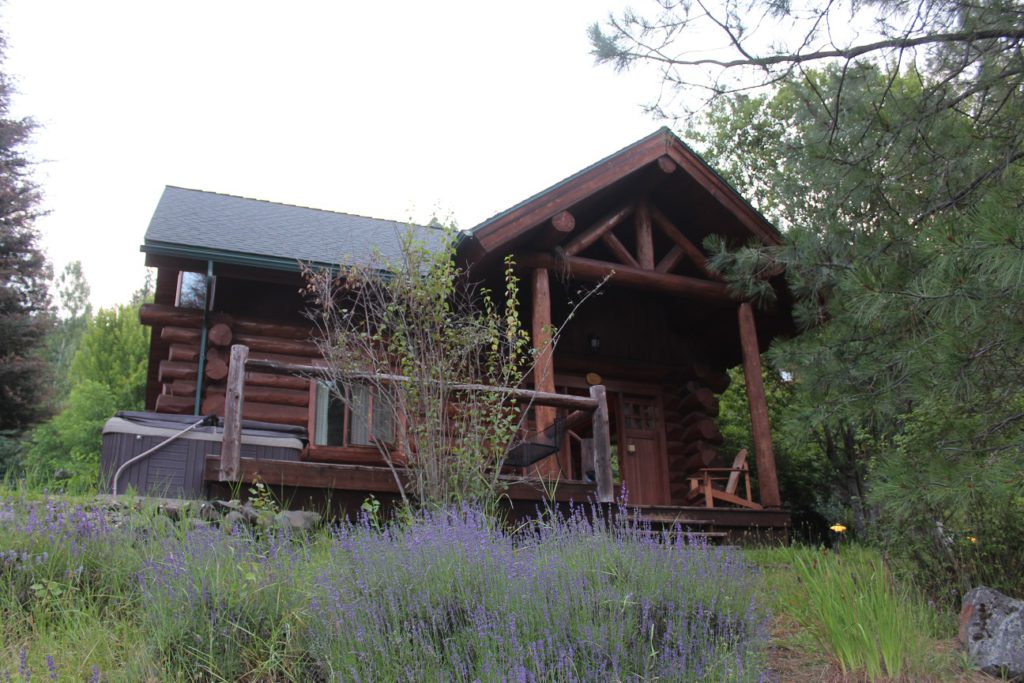 There are just eight cabins here—four sleep 12 and four sleep six–and three glamping tents complete with outdoor soaking tubs. That there is a shared outhouse and showers for the tents doesn't seem a deterrent, though people are booking last minute, said Lodge Manager Jodi Leeper. (The glamping tents—no electricity–are $135 a night; the cabins start at $235). No one seems bothered either that there is no WiFi or cell service (except for texting at the cafe). "It's like that gives people permission to do something else," said Leeper.
The McDaniels, who live two hours away in Clarkson, WA, were excited to get the last tent for this July 4 weekend—and they just booked a few days ago. Rebecca McDaniel explained that because of the Pandemic, they couldn't take their annual family trip to visit Family in Florida. "Instead, we're taking several small trips," she said. They had their own raft to float down the river and an ATV.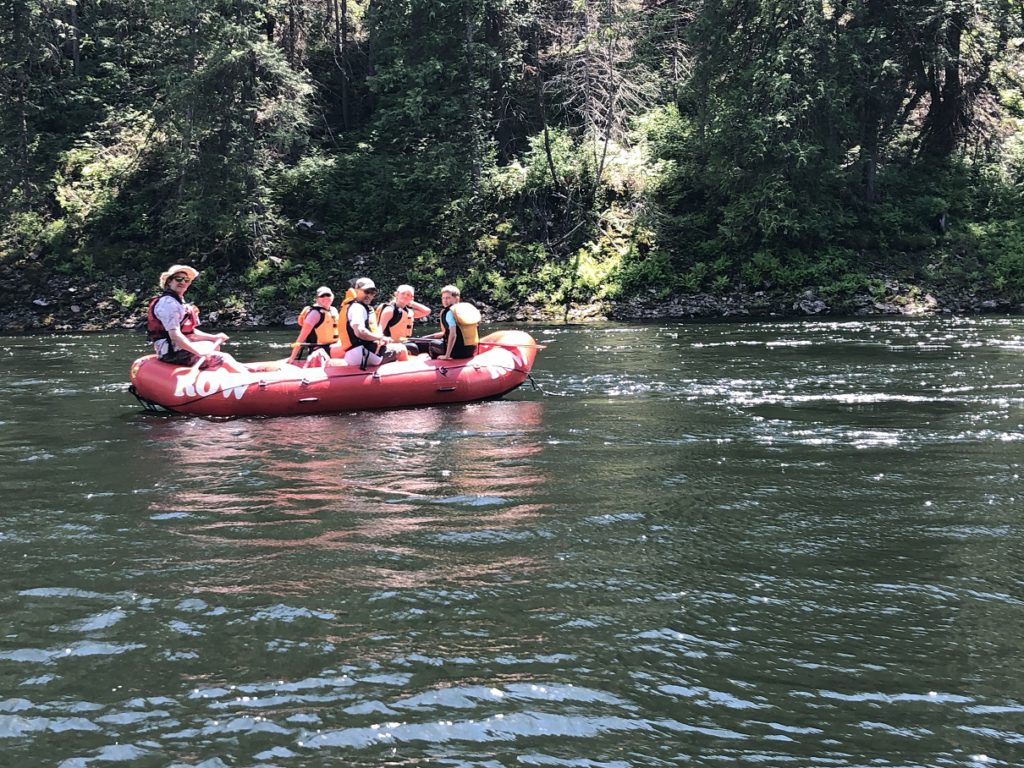 "We wouldn't go to the city," her husband Robert said, "But it's fine out in the country and the kids have been stuck inside for the last few months."
River Dance Lodge is along the Wild and Scenic Clearwater River in North Central Idaho just three miles from the historic Lewis and Clark Trail and close to the 13 million-acre Selway Bitterroot Wilderness—one of the largest wilderness areas in the lower 48 states. The nearest town is Kooskia, about 15 miles away.
This is a place to hike, fish, float and kayak. The cozy cabins don't have a cook top—just a microwave, mini fridge, and outdoor grill—so no cooking except grilling! Those who opt for an all-inclusive package have dinner at the Syringa Café with breakfast baskets delivered to the cabins. (The salmon I had was first rate—and enough for a second dinner tonight.)
We floated about 15 miles— partly on the Selway River and the rest on the Clearwater River. There were a few small rapids-only the very last one did we get soaked. We stopped just after locals' favorite Three Devils' Beach so Jack Casler, 12, and his dad, Dan Casler, could jump from a rock into the cold water—several times for Jack.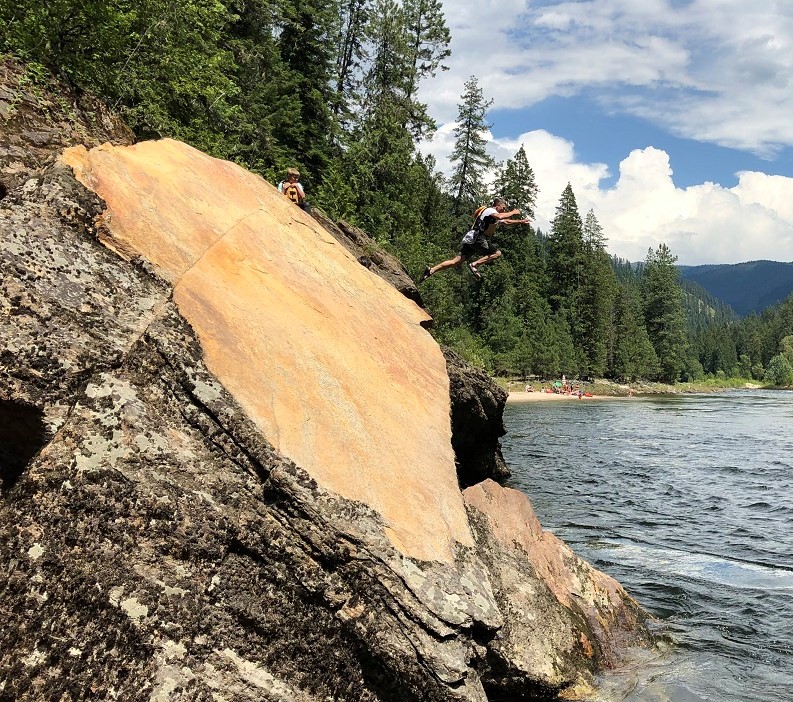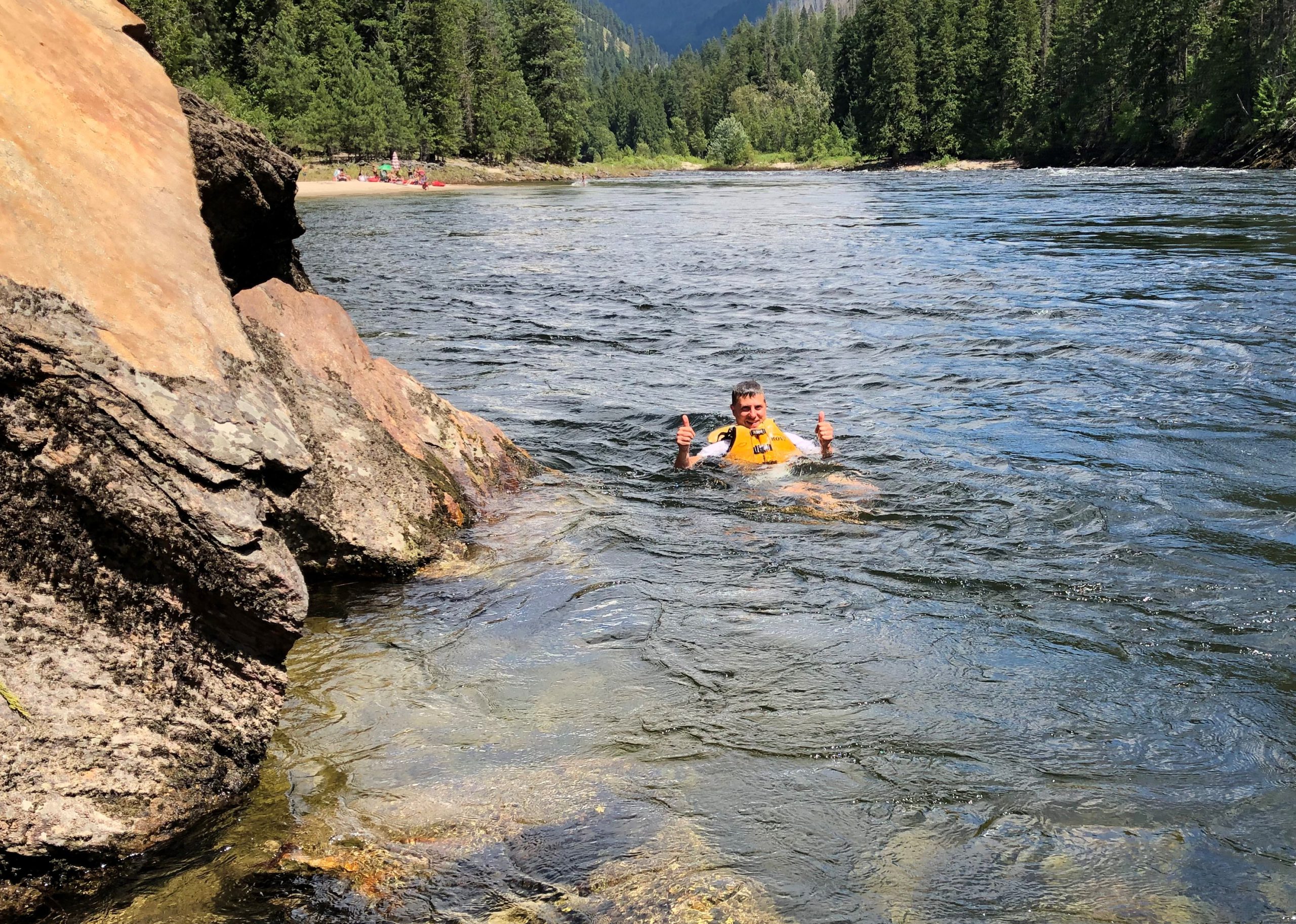 The Caslers, from Olympia Washington, are taking a two-week trip in a 24-foot camper they just bought this spring.
"COVID certainly contributed to the decision to get the camper," said Jennifer Casler, a Physician's Assistant who has been furloughed but expects to go back to work next month. Dan Casler, a teacher, said they had the time this summer for a long road trip. Much to their daughter Mia's chagrin—she just turned 16—getting her drivers license has been postponed.
A tip for those heading out in an RV or camper for the first time: Get mattress toppers for the beds. "Much more comfortable," said Jennifer Casler. And keep meals simple.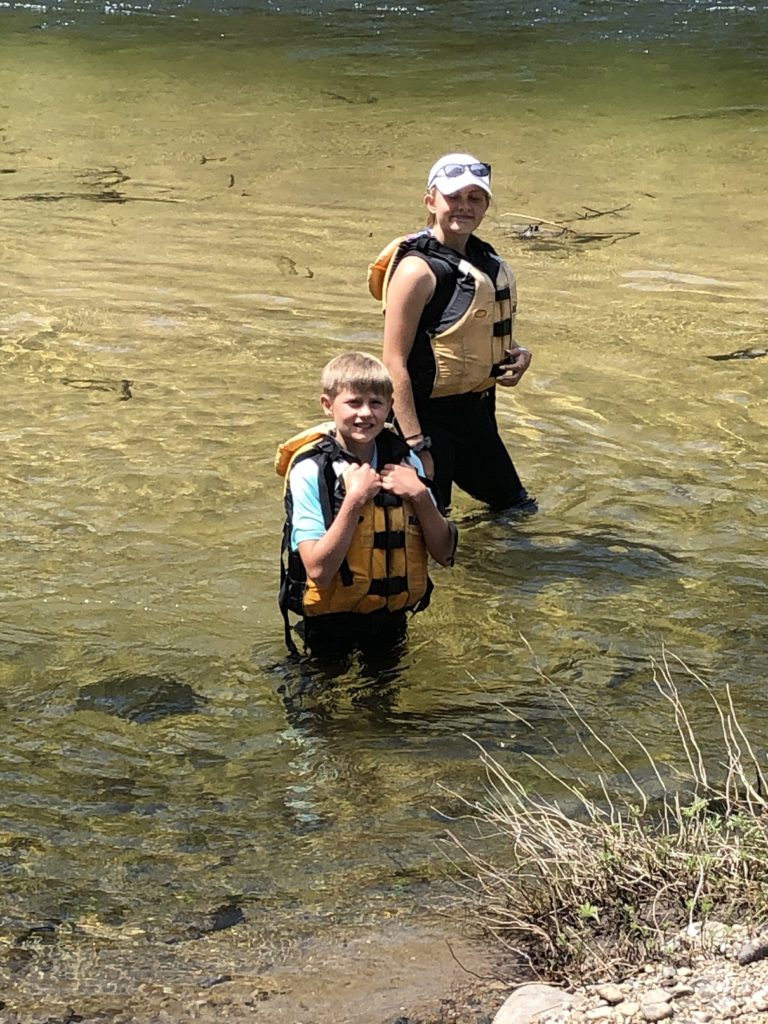 Jack's favorite RV meal was pasta with garlic bread. Mia's was Mac and Cheese "out of the box on this trip, homemade at home," she said.
The float trip was the perfect way to spend an afternoon—and the beginning of an unusual July 4th weekend. We saw barely anyone else floating or kayaking and no one when we stopped for our picnic lunch, or later at the "jumping" rock, a tradition to jump said our affable guide Chris Wilkerson.
"We had a blast," said Dan Casler, as we got off the river across the road from River Dance Lodge. "We've wanted to do this for a long time."
And one for the vacation memory books—especially this summer.