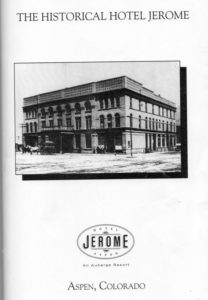 DAY 5 — It's great when you can step out of the frenzied 21st century—for a little while, especially on vacation.
Welcome to Aspen's historic Hotel Jerome  with its view of the famous iconic mountain. The glitterati of the day came from around the country for the opening on Thanksgiving eve 1889. The hot and cold running water, flush toilets and electric lights were the ultimate in luxury for a town used to icy outhouses and miner's camps.
Jerome Wheeler, president of Macy's, first came west for his wife's health—the mountain air was considered therapeutic. He was persuaded to invest in Aspen's mines and by 1885, he'd financed the first hydroelectric camp and Aspen's first bank. Wheeler agreed to finance the Hotel Jerome built to rival big city hotels.    
It rose three stories at a time when the first skyscraper was just being built in Chicago; The central rotunda over the main drawing room was with colorful glass; walls were frescoed and fireplaces ornately carved. Once the hotel was built, wealthy Easterners and Midwesterners would travel by train to see their mining investments and the Hotel Jerome was the center of it all.
Sadly, Wheeler eventually went bankrupt and lost the Jerome. The hotel became a boarding house for many years. The men of the 10th Mountain Division bivouacked here during their training during World War II.
With a new owner after the war,  the hotel was again the center of things–the site of the founding of the Aspen institute, the Aspen Music Festival and the Aspen Ski Company—as well as a favorite of movie stars who hob-nobbed with ski instructors and locals.
We sit in the Library under the spectacular tin roof, sipping cocktails and nibbling buffalo sliders, trying to imagine the scene during the hotel's heyday.
Now a new renovation, expected to be completed by Christmas, should restore the Jerome to all its former glory.
I can't wait to return to see it.