By Eileen Ogintz
PORT CANAVERAL, FL — Thirteen ships—including the brand new flagship Carnival Mardi Gras—are sailing from six US ports. And that's just four months into Carnival Cruise Line's restart, said Carnival Cruise Line President Christine Duffy at the official naming of Mardi Gras, the first ship in the US powered by eco-friendly Liquified Natural Gas and the first to feature a much-anticipated roller coaster.
By December, Duffy said, 17 ships will be sailing from US ports; by February 19: "We make our way back to our full fleet of 24."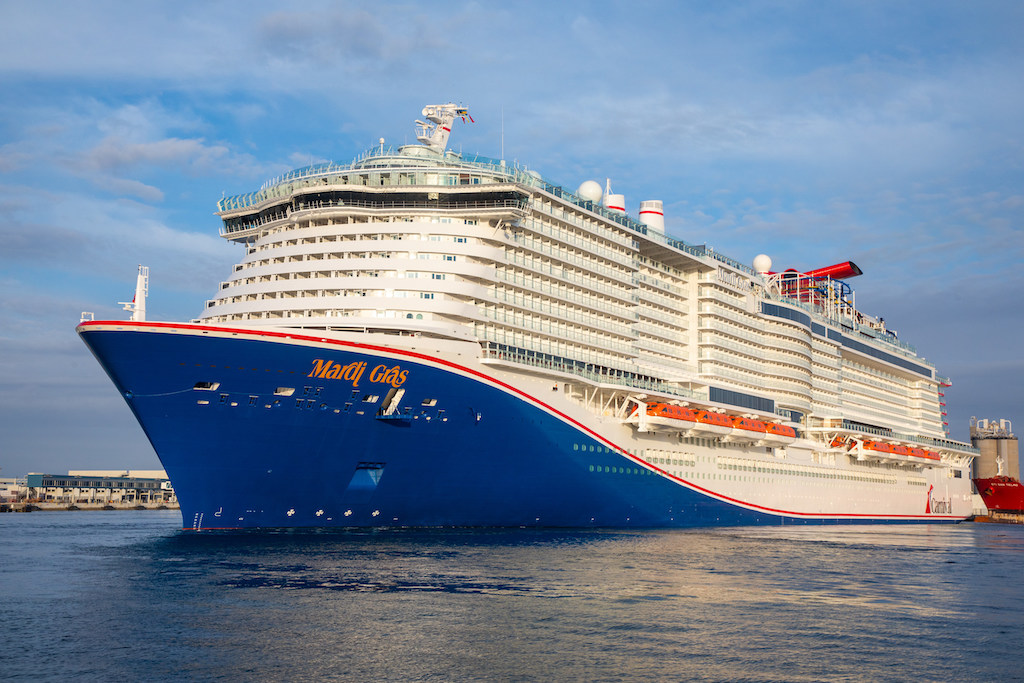 Mardi Gras, sailing at 70 per cent capacity–the most in the US—with 4,300 passengers and 1,700 crew from 120 countries, is named for the first Carnival ship. The late Ted Arison founded the company that went on to explosive growth. Ted's son Micky is now Chairman of the Board of Directors of Carnival Corporation, now with nine cruise brands. He and Arnold Donald, Carnival Corp's President and CEO, steered the enterprise through the pandemic-caused shutdown in 2020 and the recent restart of operations.
"Mardi Gras was five years in the making and worth waiting for," said Duffy, noting that a half million guests will sail her on an annual basis. "This is far more than a ship to us," she said. "It celebrates our past and heralds our future. It's fun for our guests, jobs for our crew and economic activity for the ports."
Crew members carrying flags from some of their countries—Brazil, Thailand, St. Lucia, Italy (the captain is Italian), Tunisia, the Philippines, Mexico, Ukraine, Peru, Croatia among them—marched onto the stage. "We celebrate our diversity," said Duffy. "It makes us a better company and better human beings."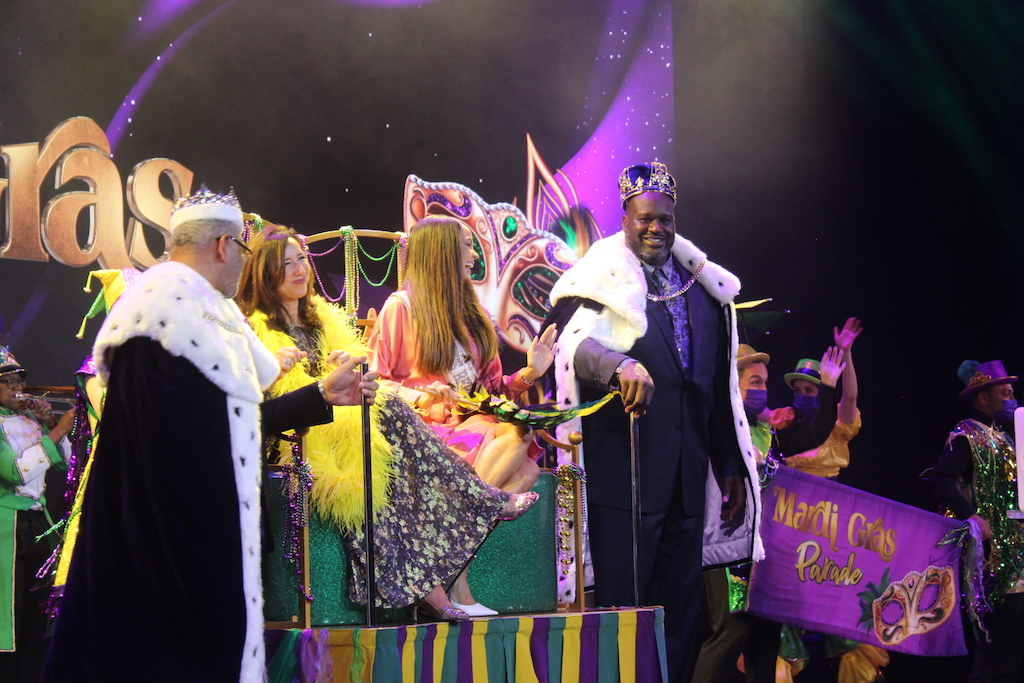 The ship's godmother is Kimberly Jimenez, Miss Universe Dominican Republic, who was raised by women and is the oldest of seven sisters. She was chosen to showcase women's empowerment—and the DR, where the ship stops at Amber Cove. She blessed the ship and pressed a button that sent a champaign bottle swinging and breaking over the hull.
There was a Mardi Gras-like celebration with a parade, a band and bright costumes. Still there are COVID protocols—mask-wearing indoors and even fully vaccinated guests must show proof of a negative test taken no more than three days before sailing. Buffets are now manned by servers.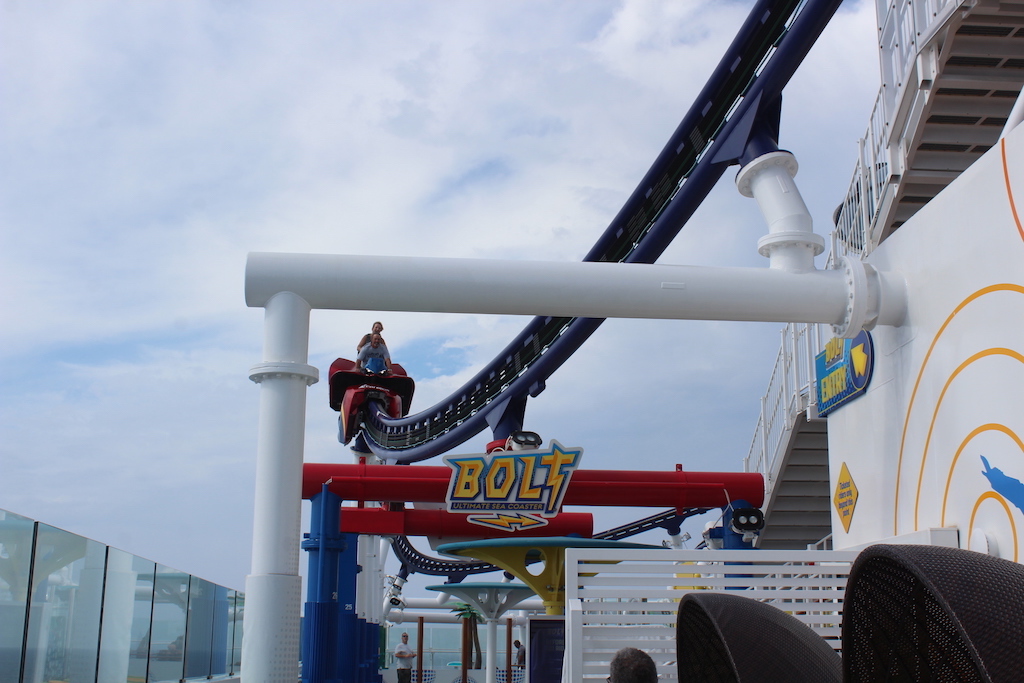 But clearly guests think it is worth the health and safety protocols to be on board this spanking new ship with six distinct themed zones, the first shipboard version of the hit TV show Family Feud and more than two dozen restaurants–with venues from Guy Fieri, Emeril Lagasse, Rui Sodiman and the line's Chief Fun Officer, Shaquille O'Neal, who was on board to cut the ribbon of his new—and sure to be popular–Big Chicken, with breakfast biscuits chicken sandwiches and juicy fried chicken baskets and fries.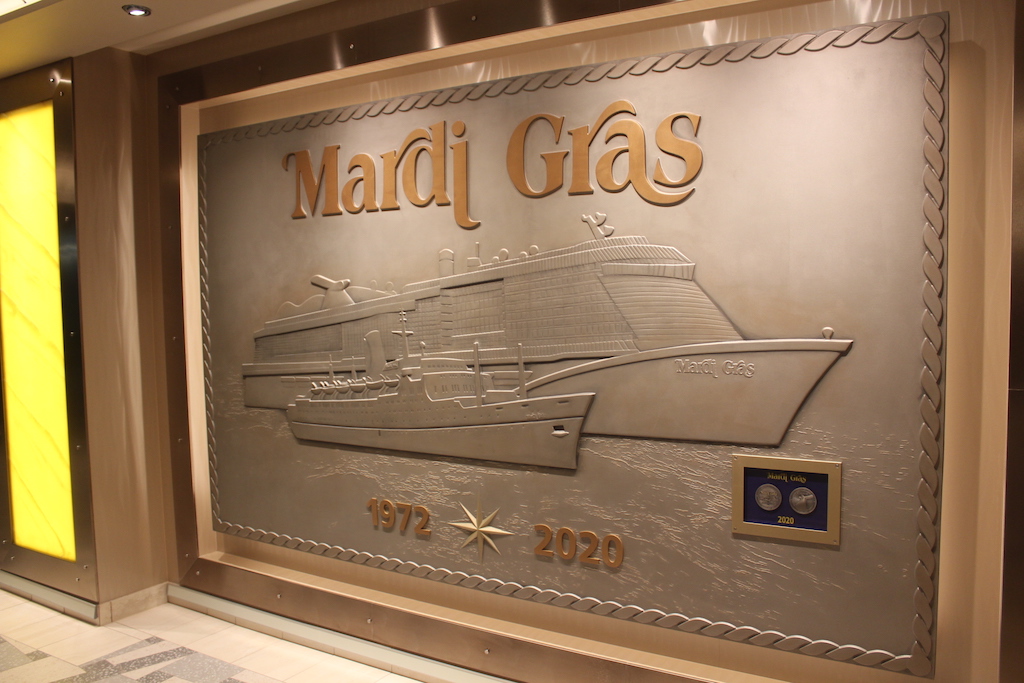 Carnival carries more veterans than any other line, supporting their families with a new Heroes Tribute Lounge with proceeds going to Operation Home Front. The ship also features sculptures created and inspired by drawings done by young patients at St. Jude Children's Research Hospital. Carnival has donated 22 million dollars to St. Jude, Duffy said.
"Look how far we've come in 50 years," said Carnival Corporation President and CEO Arnold Donald.
This ship, the Carnival executives promise, will carry on the tradition of creating joyful memories for all who sail on her.
Let the fun begin!