By Eileen Ogintz
Lei making, hula lesson jumping in the big waves or racing down a water slide?
"I love the big waves," says Zeke Smith, 7. "And shave ice."
Shave ice, for the uninitiated, is the quintessential Hawaiian treat, with a mound of chopped ice covered with different flavor syrup.
"My favorite is the water slide," declared Brielle, 6, here with her mom and grandma.
We are at the expansive Grand Hyatt Kauai Resort on the island's South Shore that offers something for everyone from kids to those on honeymoons, celebrating anniversaries or a multi-generational vacation. Kauai is just a short plane hop from the other islands of Hawaii.
"My dad and his wife honeymooned here, and he wanted us all to see it," explained Baylee Cain, 27. She and her "plus one," Drew Biernacki, are part of a 13-member group ranging from 55 to five years-old. "This is the best hotel I've ever been," said Cain. "It's a very special trip."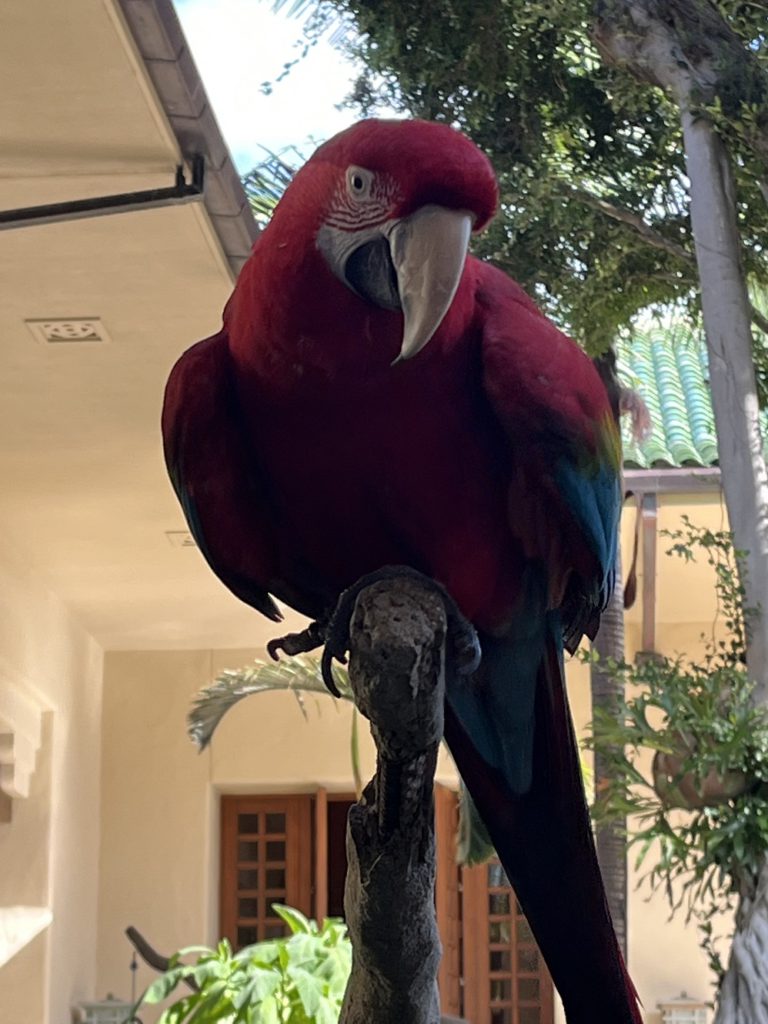 On the way here we detoured to see Kauai's famous Waimea Canyon — but it was raining so hard that we could not get out of the rental car. Luckily we met John Hurley from Maryland at the Hyatt later who lent us a spectacular photo. We learned that it's almost always raining at the top of the canyon, elevation nearly 5000 feet.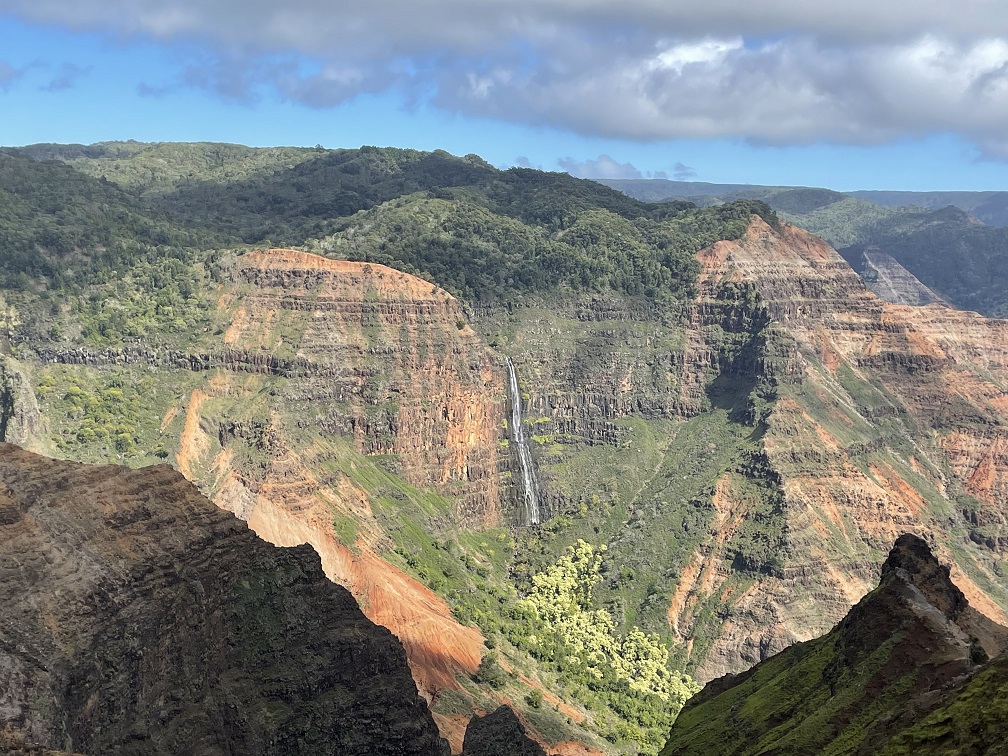 There's so much to do, no matter what your age—a freshwater pool, salt water lagoon, adult pool, lazy river, waterslide and Keoneloa Bay Beach, fitness center. Not to mention spa, golf and restaurants ranging from Tidepools, considered among the best on the island, to Stevenson's Sushi. Poolside service is yummy too — great quesadillas and fish tacos!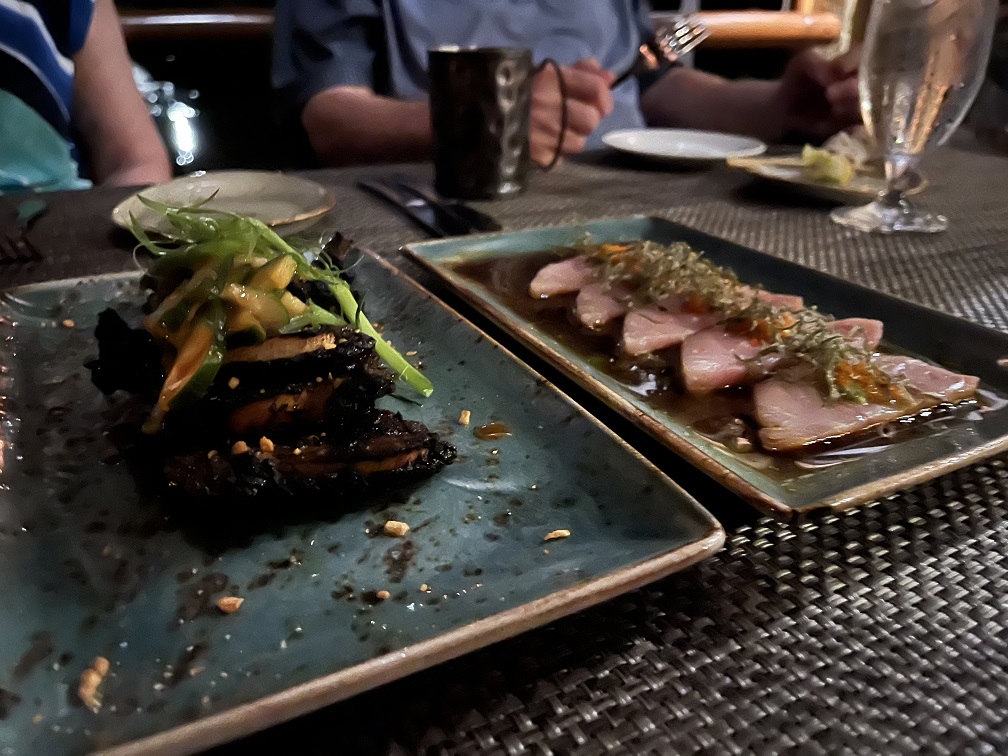 "We like staying right here at the Lagoon rather than going on excursions, " acknowledged Ashley Donnelly, Brielle's mom. "It isn't just a pool, it's unique," with waterfalls, rock formations and more.
New is the Hawaiian Cultural Center with hands-on classes How about learning to play a ukulele or make a kukui nut bracelet? You can "talk story" with the Moani, the Manager of Hawaiian Culture. At the same time, local artisans are showcasing their wares daily in the lobby—everything from Hawaiian Palm Baskets, tropical pet accessories, island art, orchid flower jewelry, shell art and more. Little girls will love the Hawaiian dresses and leis for their dolls!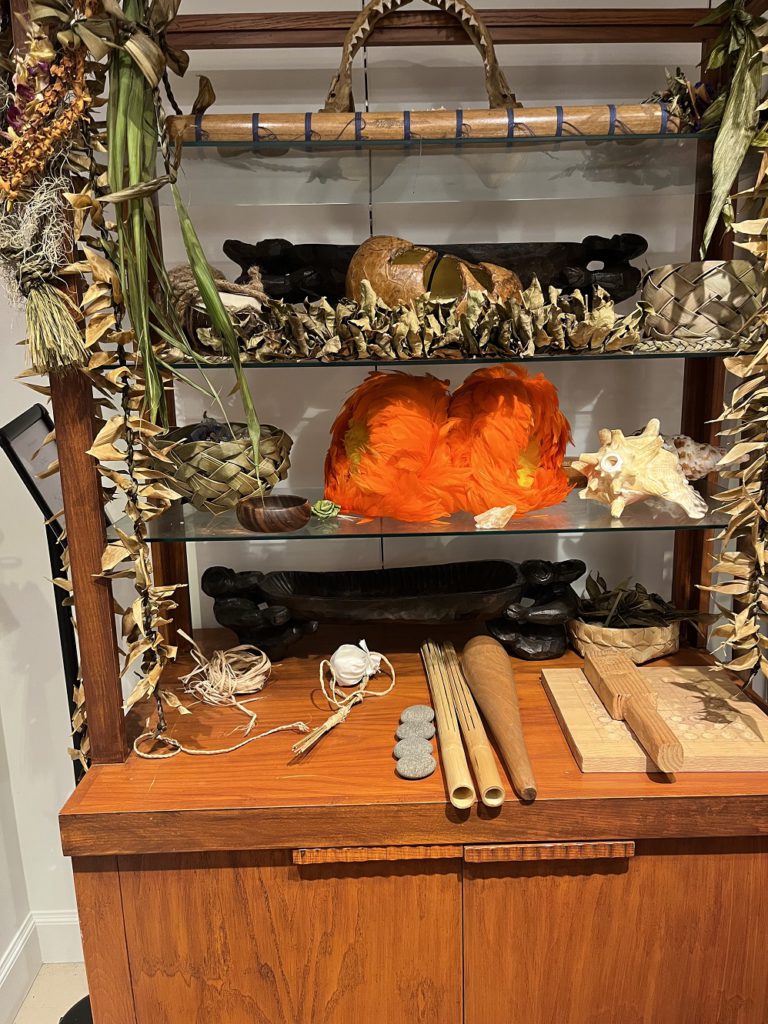 Hyatt hotels have long been known to be family friendly and amenities that once were the purview of frequent travelers now have become family central. For example: the Grand Club Lounge, an amenity for frequent guests and available to others for an upcharge. It serves breakfast, snacks, evening appetizers bountiful enough for dinner (pasta, salad, cheese and crackers…) and then dessert. Families love it because they can feed kids quickly without waiting—and typically spend less as the upcharge is per room, not per person. Drinks are less than half the price at resort bars. There even are Mai Tais!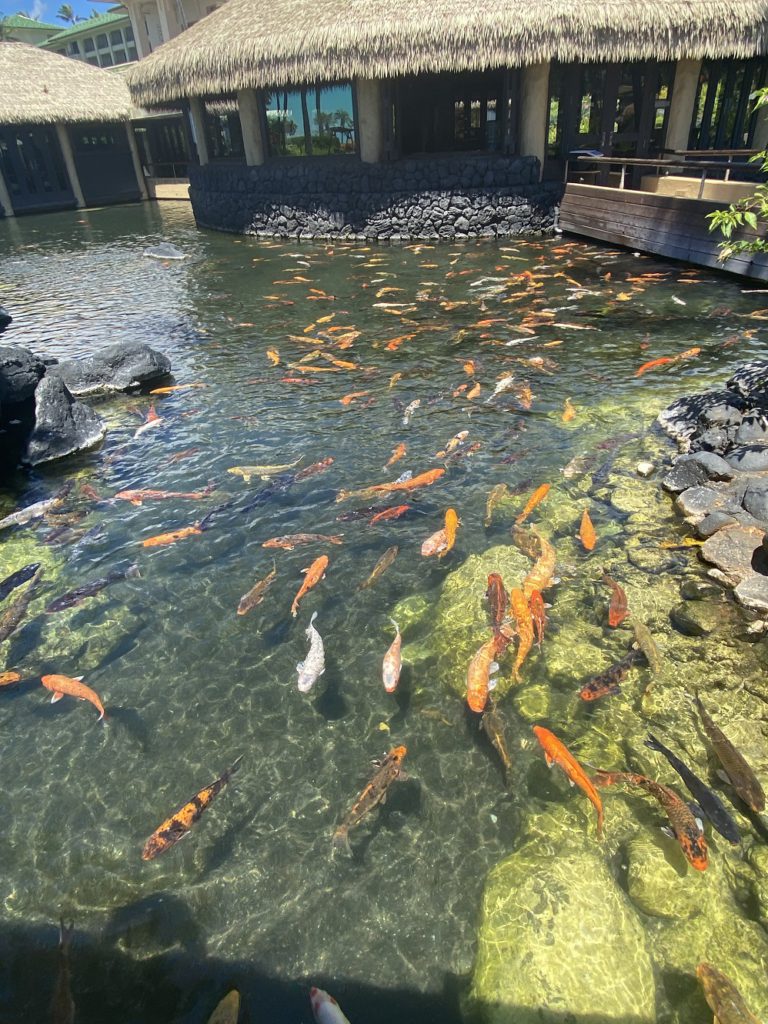 At Tidepools, sitting in open air thatched bungalows above a koi pond, we feasted on Macadamia crusted Mahi, Hawaiian catch including ahi, shri, scallops, and seared Hawaiian Ahi. There are steaks, salads from the resort hydroponic garden and a kids menu including banana or pineapple smoothies, grilled teriyaki chicken, grilled ono and steak.
Make sure to leave room for dessert! (Molten chocolate lava cake anyone?}
"All of the food is awesome," said Jessica Carter.
"But," added Roxy Wacker, "The best part is all the family bonding time here."