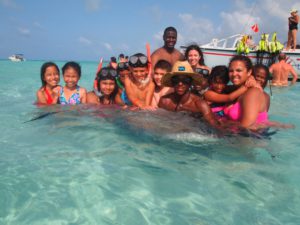 Fresh Air Fund kids in the Cayman Islands 2012
(Note from Eileen: Massou is 12 years old and, thanks to the Fresh Air Fund, was hosted by my good friend and neighbor Martha Mintzer in Weston CT this past week.  Earlier this summer Massou visited the Cayman Islands thanks to the special program she writes about in this blog below. The program is, in essence, a special exchange program. This year was the sixth consecutive collaboration between The Cayman Islands Department of Tourism and the Fresh Air Fund, giving 10 lucky inner-city New York kids the opportunity to visit The Cayman Islands and eight Caymanian children the opportunity to visit New York. For many of these children, it was their first time away from home and their first plane ride. All travel expenses were covered by The Cayman Islands Department of Tourism and Cayman Airways.  The New York children immersed themselves in Caymanian culture, visiting the Cayman Turtle Farm, Stingray City and the Blue Recovery Program. In upstate New York, the Caymanian children experienced summer camp and spend three days in  New York City, seeing the Statue of Liberty, Times Square and a Broadway show. )
By Massou Traore 8th Grader, New York City
The Fresh Air Fund has been serving children from imperfect communities in New York City with free summer vacation since 1877, so they have  chance to explore other communities. Up to 9,000 children join The Fresh Air Fund annually.
In 2007, The Fresh Air Fund decided to team up with the Department of Tourism of the Cayman Islandsand go international with children ages 7-12 (I was one of 10 lucky few to come on this trip) to explore outside the U.S and have a fun filled 9 days of vacation with a bunch of activities to enjoy and landmarks to learn about.
When I first heard that I was going to the Cayman Islands, I jumped out of my seat and beamed with joy because this was my first time going on a plane and seeing a palm tree!
The Cayman Islands are the beautiful Islands. The biggest island is Grand Cayman, which is the island that where we mostly stay and relax under the sun surrounded by big beautiful palm trees, blue crystal clear water and soft white sand. Picture yourself there already?
Wait, there's more! The next two islands are known as the Sister Islands (Cayman Brac and Little Cayman). For one day only, we got to experience on not one but two out of the three islands in Cayman
In Cayman Brac, we got to learn how most people lived in the 1800's and the history before The Sister Islands were born. Visiting Cayman Brac also included going on a few hikes and exploring caves from long ago.
In Grand Cayman, the activities included swimming with stingrays (which was kind of scary but they were friendly), snorkeling in the middle of the sea (sight of an sunken U.S Navy ship and many barracudas), exploring the Cayman national museum and gallery, a swim with the dolphins (They were so cute! I got to KISS one!), discovering the Cayman turtle farm, exploring the rocks that used to be the bottom of the sea (which is called "Hell") also water sports like Kayaking, Snorkeling, Paddle Boarding and Bicycling.
We each stayed with a host family. I stayed at a woman's house that had a beautiful view of the beach. And for the rest of the visit our host families dropped off the Fresh Air kids to the Marriott hotel (where 3 escorts from the Fresh Air stay) and had exciting adventures each and every day.
We were gifted with a disposable camera so we could capture our memories in the Cayman Islands, also we were provided with sunscreen so we could keep our skin protected from sunburn because it is very sunny in humid in the Cayman Islands. We were taken to several restaurants throughout our stay.