By Eileen Ogintz
BIGFORK, MONTANA (June 24, 2020) — Maybe it's the early-morning mountain air. Maybe it's the two miles up a rocky trail on horseback. Maybe it's the extra crispy bacon and pancakes cooked outdoors.
"The breakfast ride is my favorite thing at the ranch. Breakfast tastes so much better," says Sydney Byrne, 17, here with her family from Vegas and friends from California—their fifth visit in the last eight years.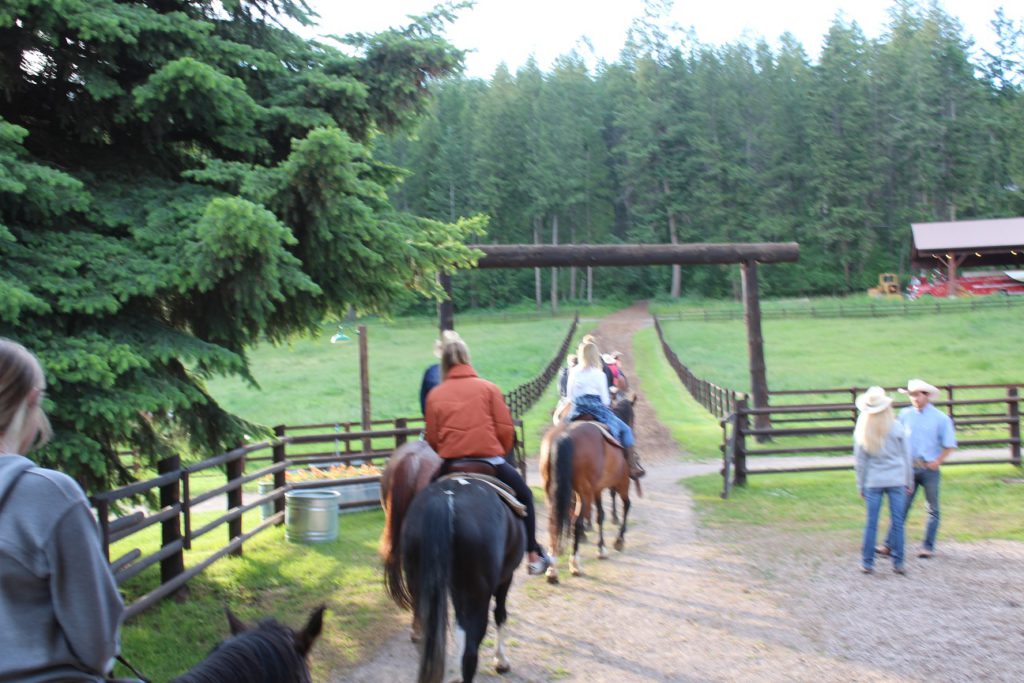 "This is a slice of heaven for our family," said Nicole Byrne, Sydney's mom. "We look forward to it all year."
A plus: While the kids are busy mountain biking, playing laser tag in the woods, wake boarding on the lake, Nicole Byrne gets to do what she wants—maybe yoga or a massage.
Along with a group of other Flathead Lake Lodge guests, we've opted for one of the ranch's popular early morning breakfast rides. We are in a clearing in the woods complete with chuckwagon and campfire; Martin Lewis, the Ranch's food and beverage manager is flipping pancakes—gluten free, chocolate chip or plain. There are scrambled eggs and the crispiest bacon I've ever had, coffee, tea, and hot chocolate.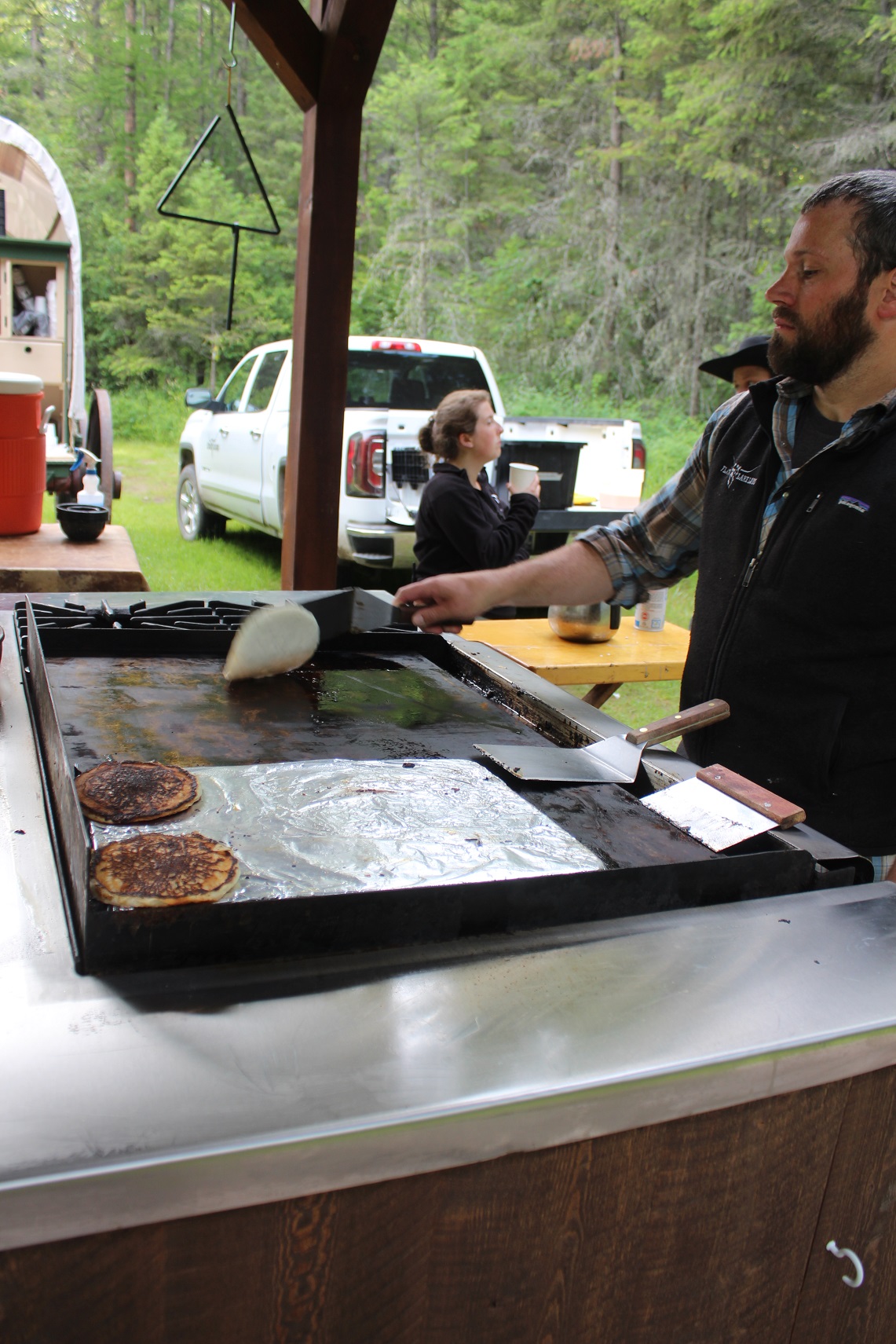 Lewis explains that the family owned ranch, celebrating its 75th anniversary, is focusing on locally sourced food as much as possible and elevating its offerings with a chef who like Lewis has trained at the Culinary Institute of America in New York. With the ranch's new 500-acre farm nearby, the plan is to show families where food comes from—perhaps have kids gather eggs for omelets, press cider, or see the beehives were the honey used at the ranch comes from.
There is a kids' dinner every night at 6 p.m., a half hour earlier than the adults. Nothing fancy—chicken strips and fries; grilled cheese and tomato soup another night. "For the kids, the food is in the way of their fun," said Lewis. "They just want to eat fast and go play."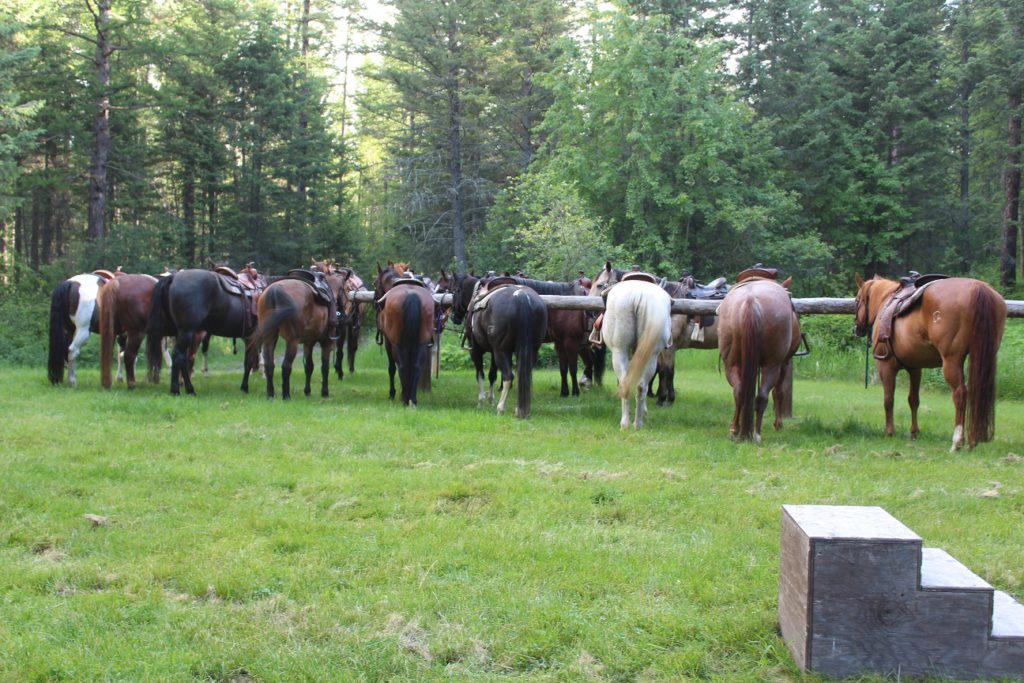 Tonight's dinner is a tradition—and a high point, return guests say – An outdoor Steak Fry that is reached on horseback (for the adults) or antique fire trucks (kids and any adults who don't want to ride)
"A steak fry is a traditional Montana picnic," said Lynn Husband, who grew up in Montana and his been a ranch guest for several years.
That means grilled steak, potato salad, Maureen Averill's baked beans–she and her husband Doug were the second generation to run the ranch; her son Chase and his wife Kate are the third—as well as cheddar bread and brownies for dessert.
"The food is really good," says Cole Herlean, 13, from California who is digging into his campfire breakfast.
Especially the crispy bacon, said Jack Byrne, 15.
For kids and teens, they say, Flathead Lake Ranch offers a variety of activities they can choose from—and the freedom to go from one to another at will.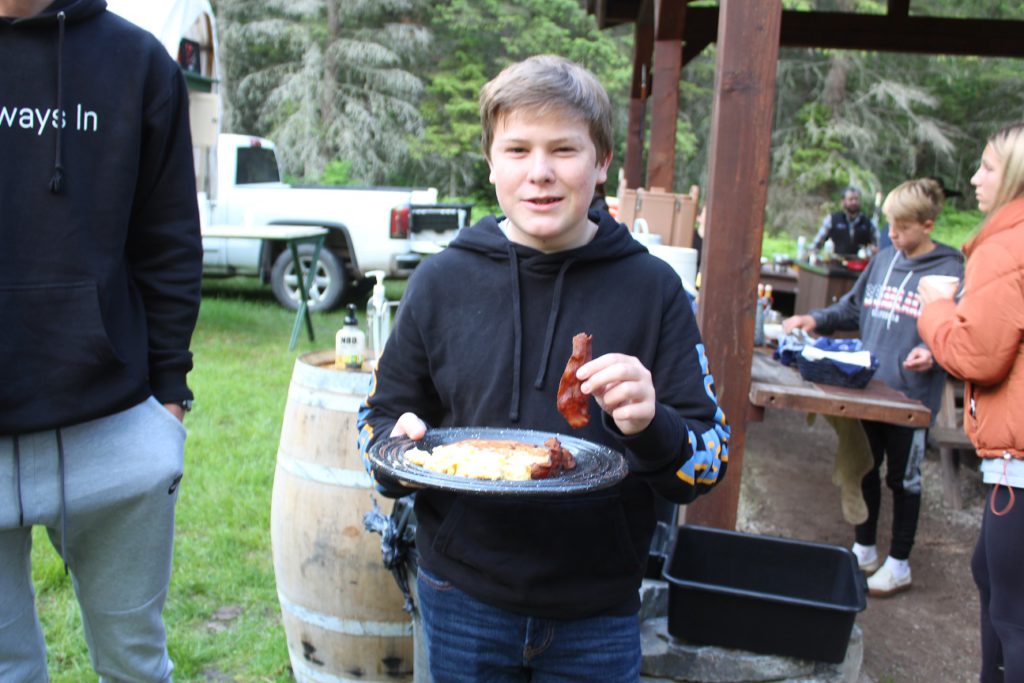 Some kids, like Sydney Byrne, are all about the horses. "I'm a horse girl," she said. Her younger brother Jack prefers the water sports. Others spend their time doing crafts—painting today, taking their pick of sun catchers, rocks from the lake, plaster horse heads.
Cash Herlean, 10, gives the laser tag in the woods especially high marks.
As for his older brother Carson, 17: "The cute workers are my favorite now."