By Eileen Ogintz
YELLOWSTONE NATIONAL PARK (June 19, 2020) — Wow! The geyser is spewing 25 feet in the air, hissing smoke. Everyone is mesmerized.
We're at Yellowstone National Park but we're not at Old Faithful. We're a few miles away at Lone Star Geyser that required a little over a two-mile hike—really a mellow walk along a beautiful stream.
"Too many people don't get off the boardwalks and away from the crowds," said Jared Theurer, visiting from Salt Lake City with his wife and two kids. The Theurers visit often, he said, because they have a cabin not far outside of the park.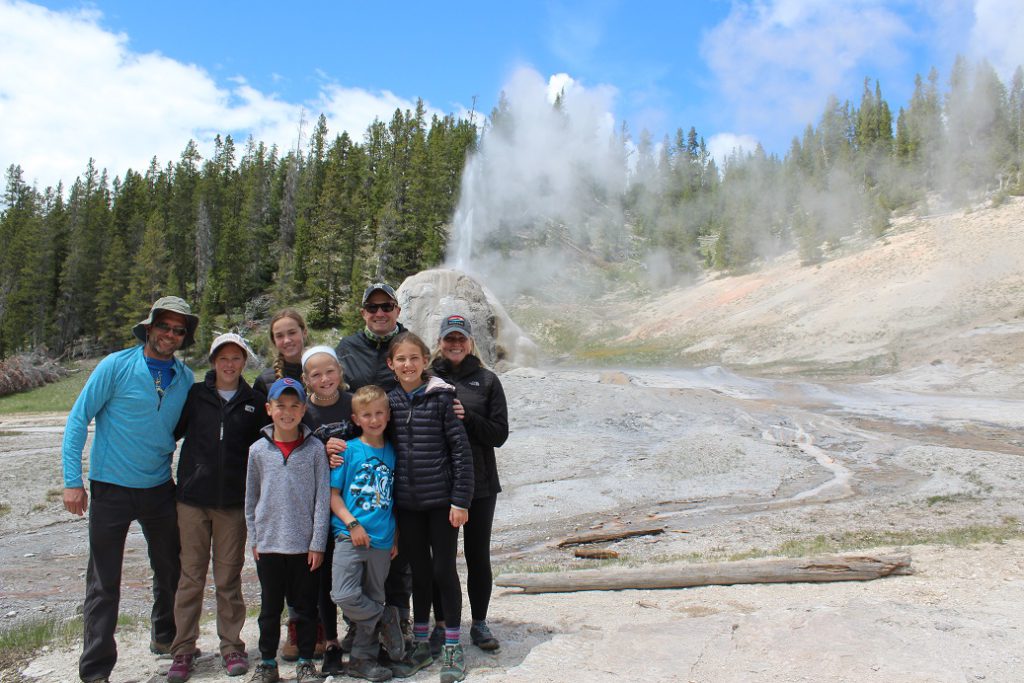 Yellowstone, incidentally the nation's first national park dating back to 1872 and home to more than half the world's hydrothermal features and most of the worlds geysers and hot springs—bubbling mudpots, fumaroles, boiling hot springs—is huge at 2.2 million acres with 900 miles of hiking trails, places to bike, fly-fish, camp and see wildlife—bison and bears, Grey Wolves and Elk, Moose and beaver….
Most visitors don't take the time to really explore one of America's greatest treasures.
Certainly, visiting this Pandemic summer is different—there is less lodging as historic places like Old Faithful Lodge are closed. There are fewer places to get food or souvenirs. There are no ranger programs; most visitor centers aren't open either.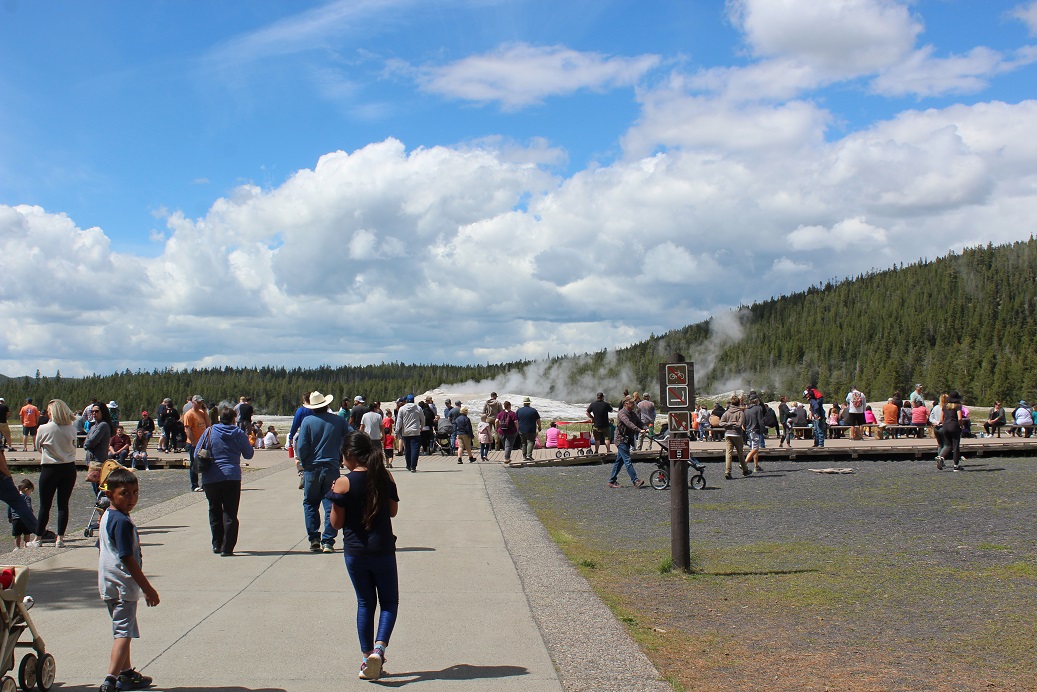 But there are also fewer visitors as there are no bus groups or those from overseas. Still, with so many places to social distance—like at Lone Star Geyser or having a picnic along the Firehole River where we had fly-fished–visitors were congregated at the most popular attractions like Old Faithful and the Grand Prismatic, the world's largest hot spring and deep blue.
Few were social distancing or wearing masks. "I feel totally comfortable," shrugged one mom from Minnesota.
"I really think it depends on where you come from," said Martha White, traveling with two friends and five teens from the Bay Area. They were sitting back from the Old Faithful crowd and wearing masks. "We're from California so we're cautious," she said. "But only the minority are wearing masks…and we do feel weird, but it is safe."
Like most we've met here, they are on a road trip—some in an RV, some staying in cabins. "It's just so nice to be outside after so long at home," said Alice White, 15.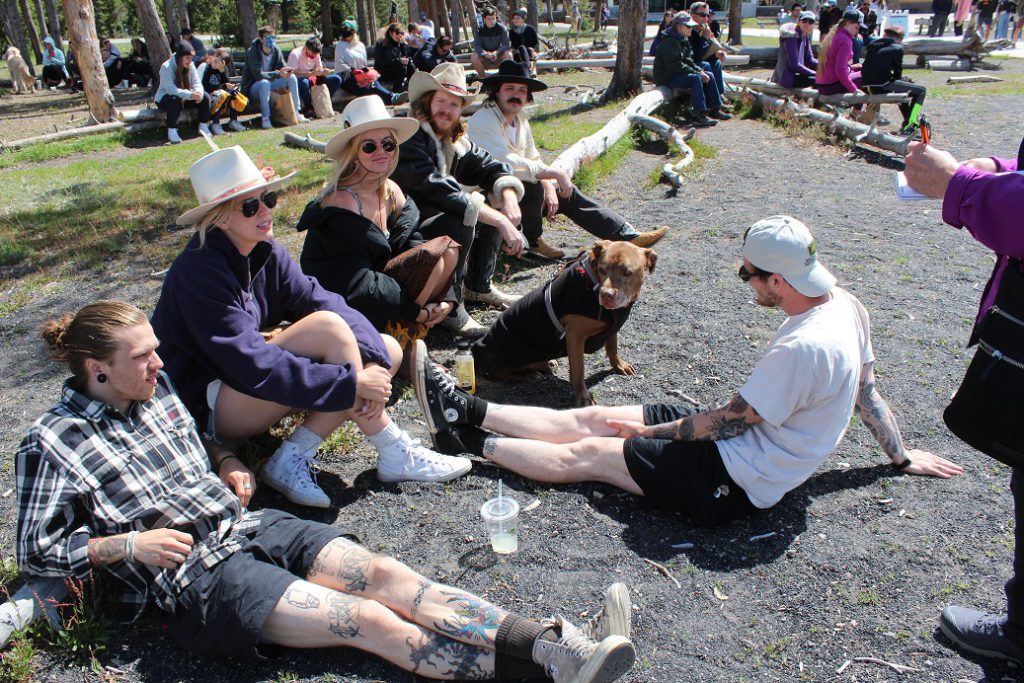 We opted for "glamping," just outside the park in West Yellowstone in a tent "village" inspired by the African Safari Experience. As I write this, I am sitting in a tent with wood floors on a comfortable bed with pillows and comforter- our own bathroom—even bathrobes! There are seven such enclaves including at Mount Rushmore, the Smoky Mountains and Grand Canyon.
Some families had planned their trip and made camping or cabin reservations before the Pandemic shut the country down and counted themselves lucky to arrive just after Yellowstone reopened. "The first night they were open was actually the first night of our reservation," said Sarah Greathouse, traveling with her family from Santa Cruz, CA on their first-ever RV trip.
Greathouse said she had an especially memorable trip to Yellowstone when she was a kid and wanted that experience for her sons 10 and five. That her older son just finished fourth grade and qualified for a Fourth Grade Passport, enabling the family to visit all national parks free for a year had spurred this trip and it has been packed with memories. "Elk and Bison came right into our campsite," said Sarah Greathouse.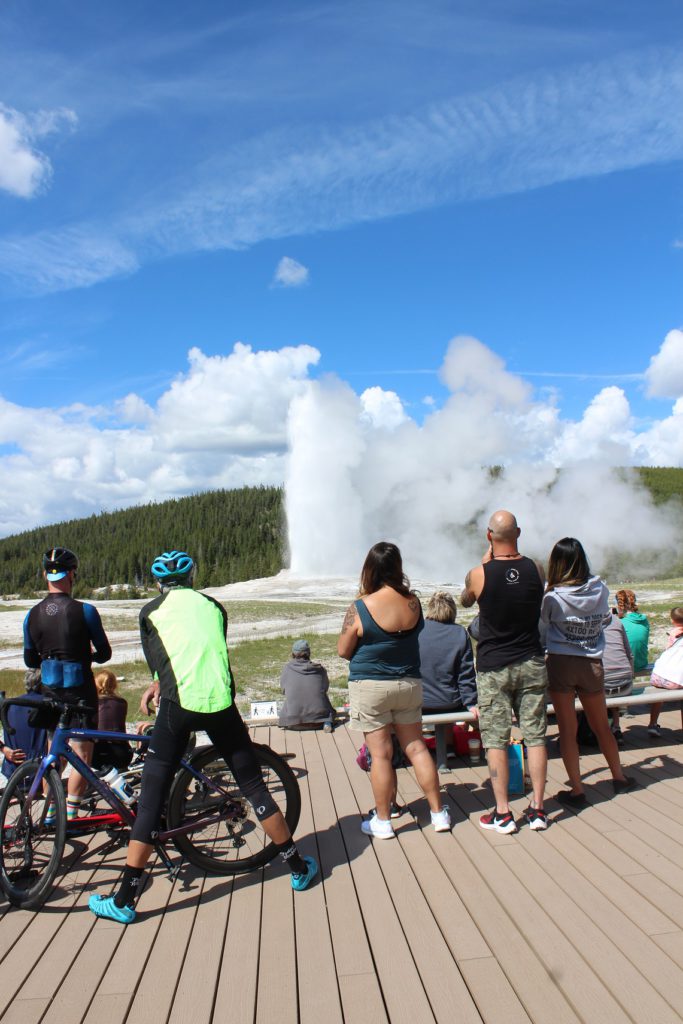 "Seeing the Bison was my favorite," Said Braenden,10, adding he is a fan of RVing now because he doesn't have to wear seatbelts and can find a space away from his younger brother. The boys also like that they have their bikes –they biked out to Lone Star Geyser—but can tool around the campgrounds.
"We brought all our food…the only store we went into was to get fishing poles for the boys," said Scott Greathouse, adding that this summer they are glad to have their own shower and bathroom as well as a fridge and cooktop, albeit small.
The Lloyd and Cross families had planned their traditional camping trip with seven kids months ago. When the time came, one mom, an infectious disease pharmacist in Tulsa, wasn't permitted to leave the state, her husband Buddy said, so he came with his two daughters aged 11 and 13, son Dashiell, 7, and left the two-year-old at home with mom.
Jessica Cross said they've been strategic when to stop for bathroom breaks on the road and being especially careful in campgrounds. No matter, the kids are having a blast.
"I've seen all the animals," declared Claire Lloyd, 13, even a baby moose.
Her sister Adrielle, 11, advised kids who are camping to make sure you have the right gear— a warm sleeping bag, liner, enough warm clothes, good hiking shoes and hiking socks and of course, plenty of fixings for s'mores.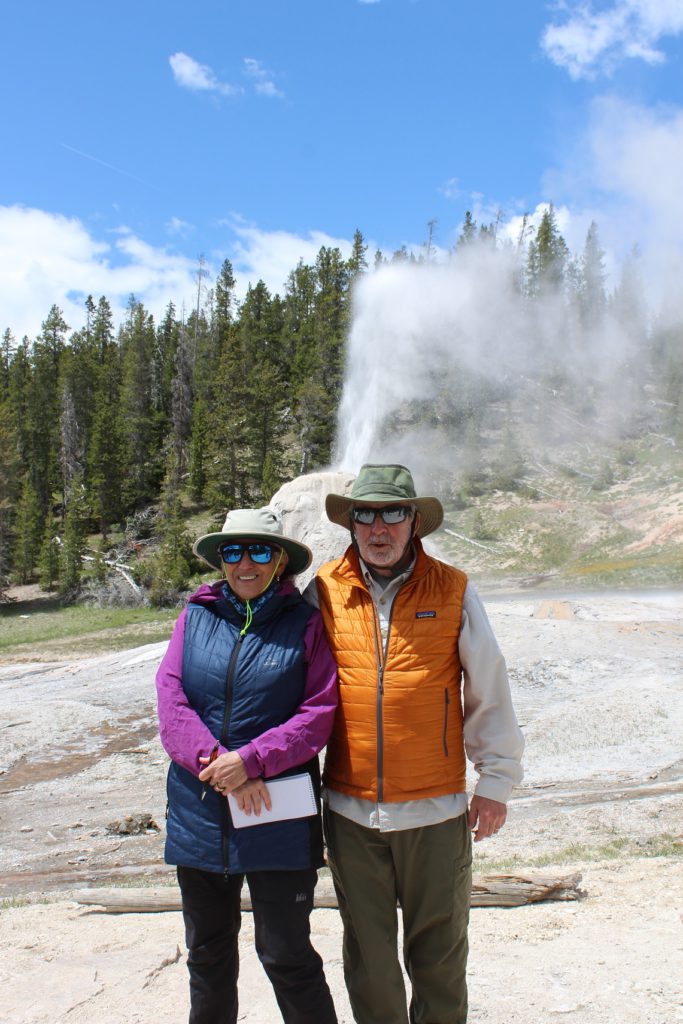 "I really like that there aren't a lot of people," said Yellowstone expert Libby Theurer, 9. "You get a lot of places to yourself and there isn't a traffic jam over one bison."
Added her dad Jared, "This certainly is a signature year to visit Yellowstone."
Just stay safe—and get off the crowded boardwalks.