By Eileen Ogintz
DID YOU KNOW: It takes an eight-mile hike to reach the famous and popular 98-foot high Havasu Falls, within Havasupai tribal lands within the Grand Canyon unless you are on a raft. Though Havasu Falls was closed this pandemic summer, there are a myriad of other spectacular Grand Canyon waterfalls reachable by raft and hike.
GRAND CANYON DAY FOUR
BREAKFAST: Blueberry pancakes, eggs and sausages
LUNCH: curry chicken salad in tortilla cones, fruit, cookies, Cremation. Mile 86
DINNER: Chicken fajitas, beans and rice, banana fosters and ice cream
CAMP: Bass, Mile 108
BEST SITE: Vishnu Schist rock that is 1.8 billion years-old
BEST RAPID: Hermit
WATERFALLS: Clear Creek and Shinumo Creek
"There is something universal about waterfalls. Everyone takes away good memories." Dr. Harold Pine, Houston, Sept. 2020
Rapids or waterfalls?
On day four of our Western River Expedition in the Grand Canyon we navigate more than two dozen rapids including "the big three," starting the day with Hance Rapid, which drops 30 feet over its length; Hermit with its 10 consecutive "haystick" waves, and Crystal rated a 10 (and famously featured in the book The Emerald Mile. We rock and roll through the famous Gems—Agate, Sapphire, Turquoise, Ruby as well as Grapevine (with a 17-foot drop!), Clear Creek, Horn Creek, Salt Creek and Granite (rated a nine out of ten!) among them.
There's also geology to be learned. We pass "The Great Uncomformity," so called because the bottom layer of rock, the Vishnu Schist, is 1.8 billion years old and the top layer of Kaibob Limestone is 500 million years old –1.3 billion years of geology missing!
"Be ready for real big!" says our Expedition Leader Ben Bressler. "These are the most major rapids we will experience in one day."
"I got completely hammered on Hermit, sitting in the front of the boat… It was the best! " said Emily Cleary, 18, the youngest on our trip. Hermit, incidentally, is named for Grand Canyon prospector and guide Louis Boucher, who during the late 19th Century lived like a hermit while in the Canyon, ultimately realizing that guiding tourists was more lucrative and safer than mining. There also is a Boucher rapid and a Hermit Trail named after him.
Crystal Rapid, meanwhile, is one of the most feared rapids on the Colorado River and relatively young, formed in 1966 after an intense rainstorm lingered over the North Rim, triggering a huge rockslide. At river mile 98, it is one of the few places in the Canyon where two side canyons converge at the same point, making it some of the most technically difficult rapids to navigate. In 1983, with heavy, fast-melting snowpack and a cool spring threatening the Glen Canyon Dam upstream, the Colorado River was running higher than anyone could remember. There was a three-story wave across the river at Crystal Rapid at 70,000 cubic feet per second, forcing the Park Superintendent to insist rafters walk around the rapid.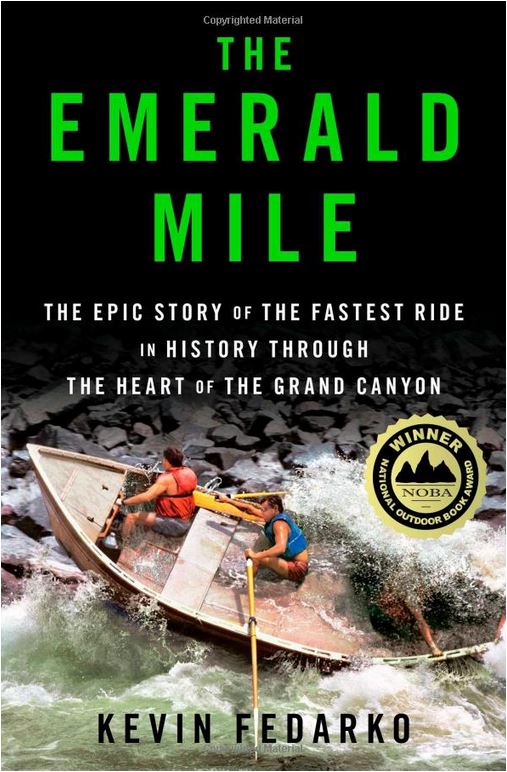 In The Emerald Mile: The Epic Story of the Fastest Ride in History through the Heart of the Grand Canyon–a must read for anyone rafting the Grand Canyon—Kevin Fedarko tells the amazing story of three veteran river guides—Kenton Grua, Rudi Petschek and Steve Reynolds who rode their wooden dory (christened: The Emerald Mile) on a record-setting 277-mile run down the Grand Canyon, from Lees Ferry to Grand Wash Cliffs. They flipped in Crystal Rapid but ultimately succeeded in 36 hours and 38 minutes, besting the time Petschek, Grua and Wally Rist had set three years earlier by more than 10 hours. (Kayakers have since broken those records.)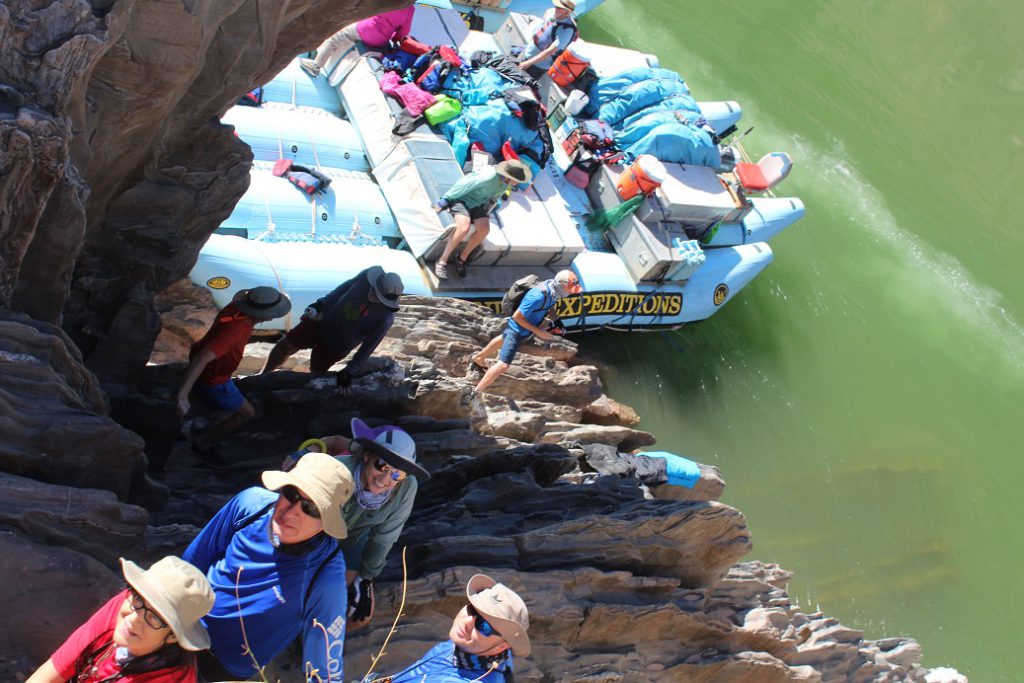 Our Expedition Leader, Ben Bressler recounts the story before we plow through Crystal Rapid which, our group thinks, wasn't as intense as some of the others that day.
But then there were the two waterfalls we experienced that day too—one at Clear Creek required scaling a 30-foot rock fin up and down to reach the creek bed and then a mile and a half hike.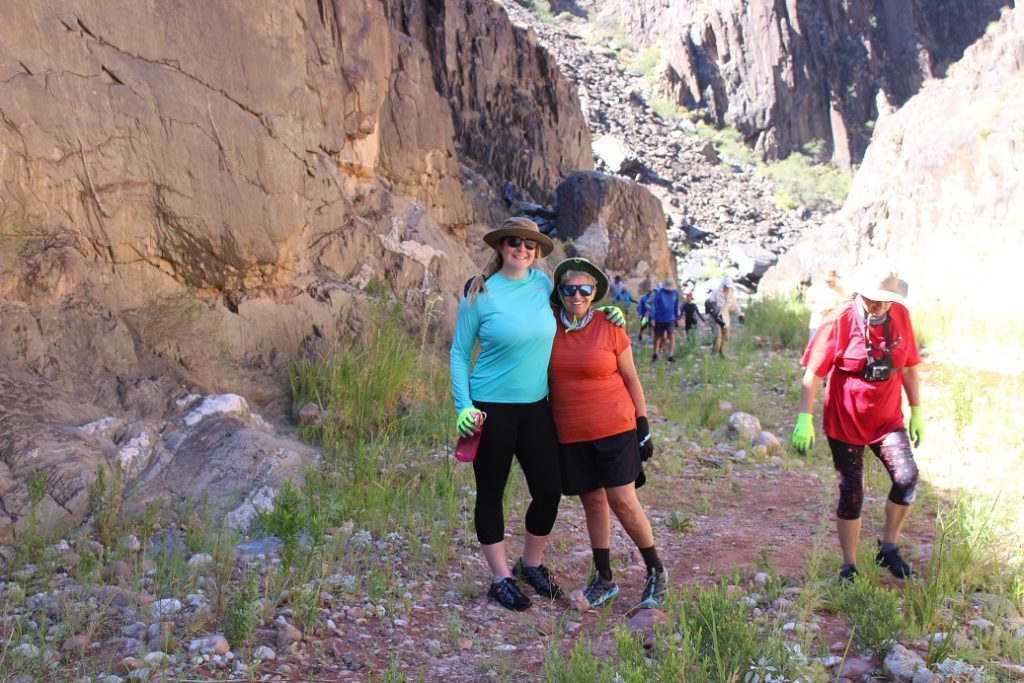 Jessica Evans, 29, became my hiking buddy and guide, helping me navigate foot and hand holds in the rocks.
We passed by a rattlesnake clinging to the rock along the way.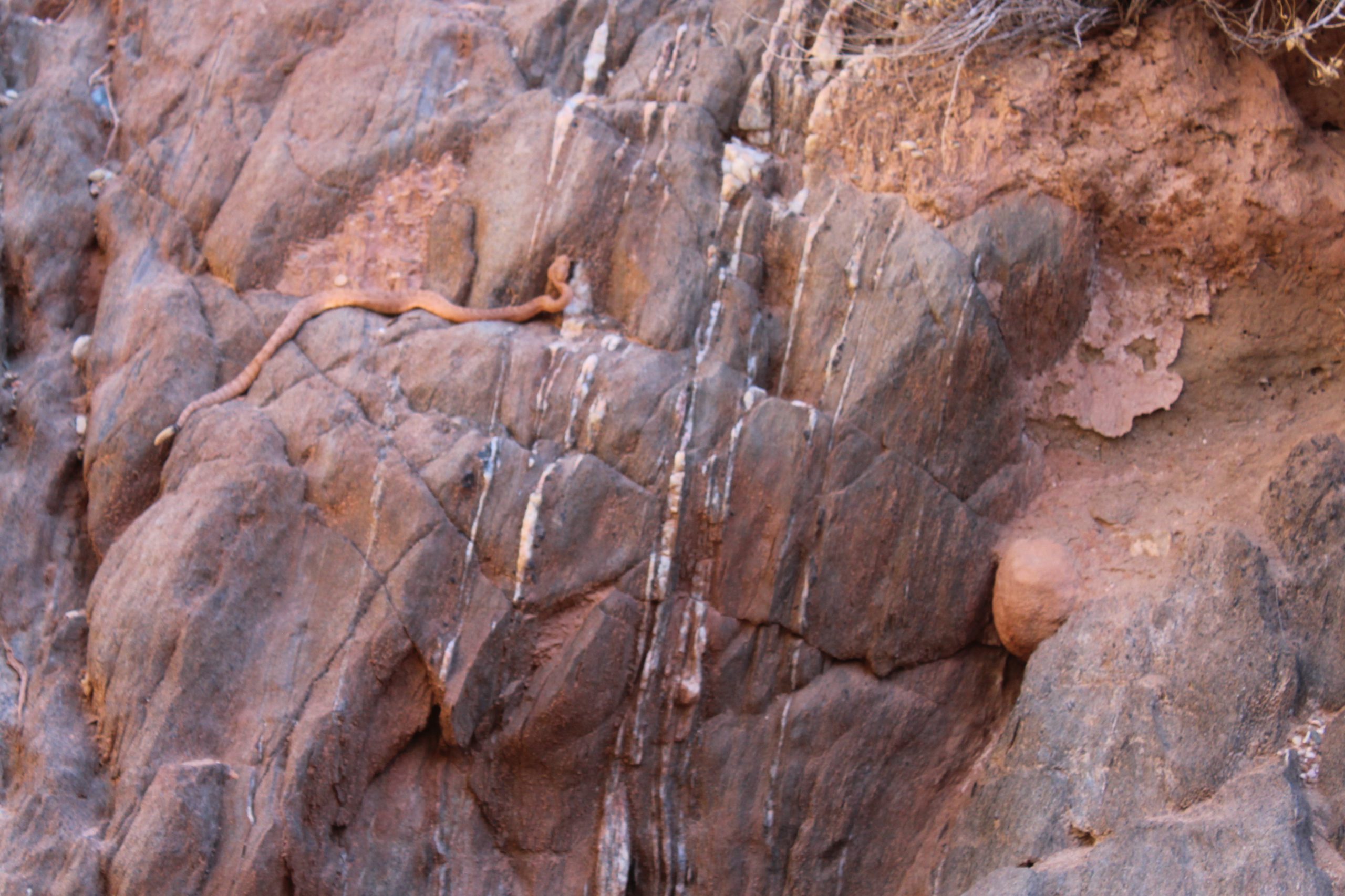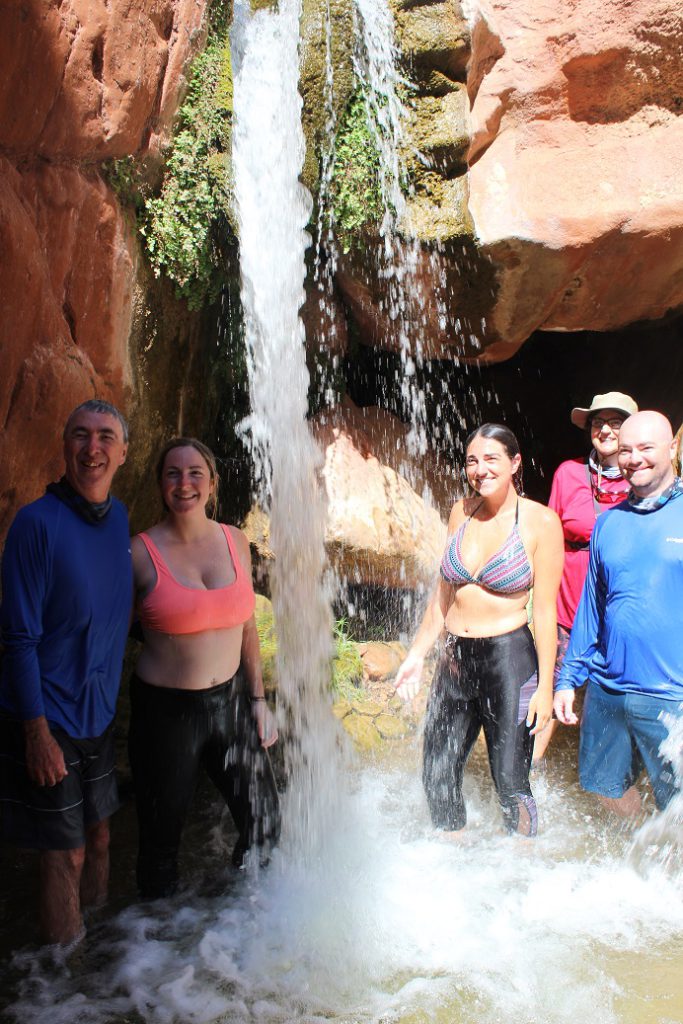 The second, Shinumo Creek, between mile 109 and 110, and around the bend from Bass Camp where we camped for the night, required just a half mile hike but with plenty of scrambling over rocks to the powerful waterfall with a tiny cave behind.
"I've never seen a waterfall I didn't love," said Dori Evans, who arranged this trip to celebrate her husband Dave's retirement with their three grown kids.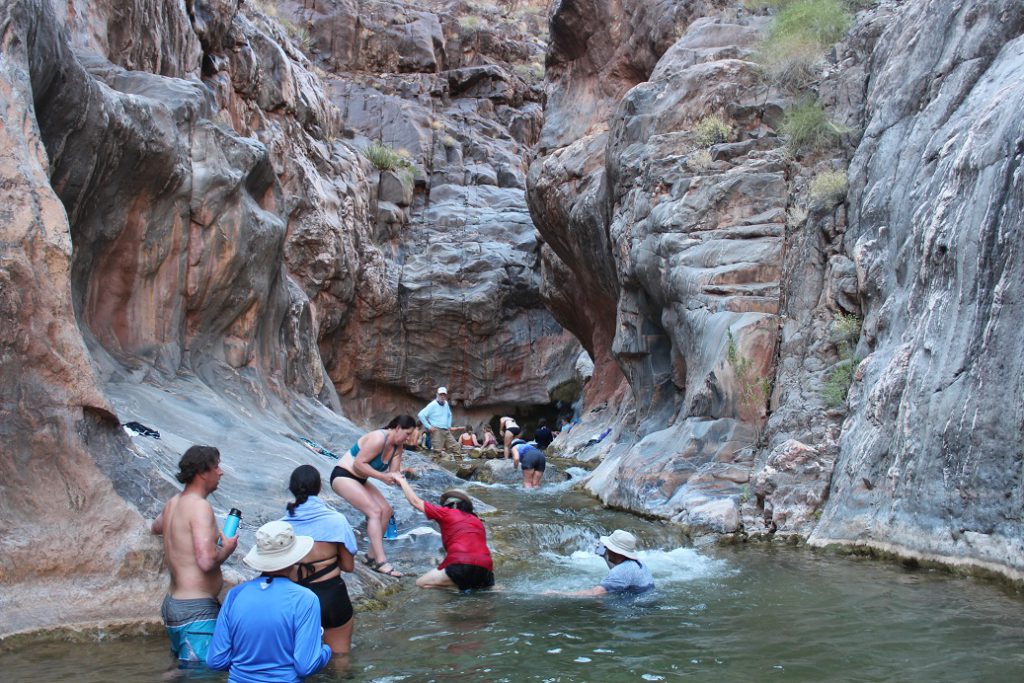 "There is something about water falls that are magical," agreed Jenni Buchanan.
I have to agree. Maybe it's the challenge of getting to them in the Grand Canyon. Maybe it's the warmer water that's fun to splash in, posing for photos under the powerful waterfall spray.
Maybe it's watching people of all ages laughing like little kids.