By Eileen Ogintz
BRECKENRIDGE, CO — Winter or summer?
Ask locals in a ski town like Breckenridge CO, home of one of the largest ski resorts in Colorado, and they will tell you they came for the winter but stayed for the summer. The wildflowers! The hiking! The river rafting and mountain biking!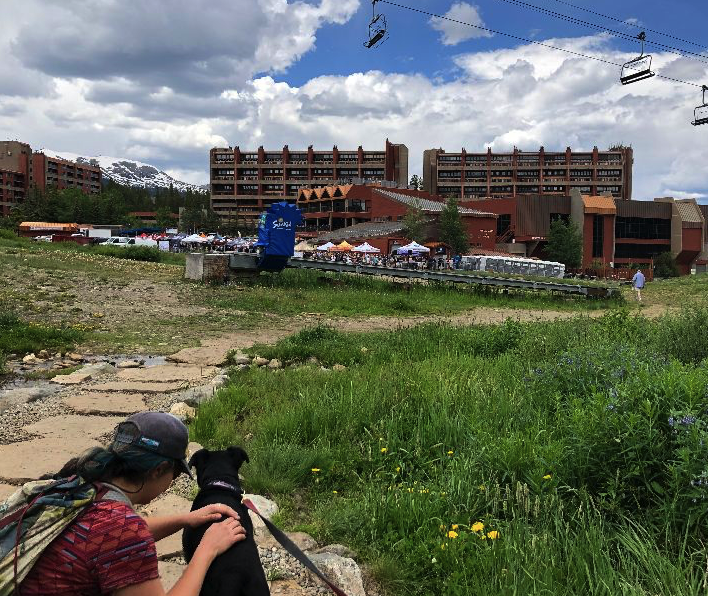 Not to mention it doesn't cost anything to hike or bike, once you have a bike. And lodging is nearly half off in summer and fall. (Come for some of the earliest fall foliage anywhere.)
I can't decide which season I prefer, especially when staying at Beaver Run Resort. In the winter, it's ski in-ski out. In the summer, we can head up the Burro Trail right from the resort. Just five minutes up the trail and we feel as if we are miles away from civilization. "The perfect hike," a local suggested as our dogs were playing in the creek. "It's shaded and there's water."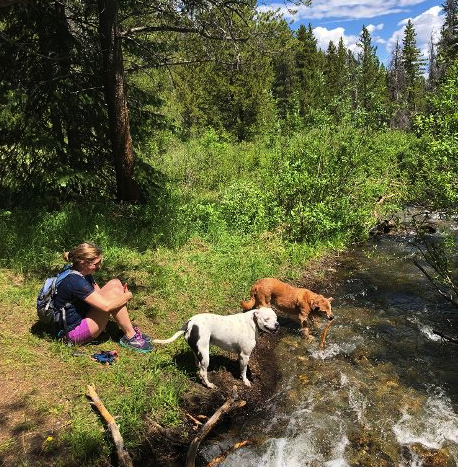 Lots of fast running water, in fact, after the record snow fall this winter. In fact, right from our window, we look out on snow-covered peaks. When we hiked yesterday on Hoosier Pass—about 20 minutes from Breckenridge – we even crossed a snowfield that our dog loved.
Of course we had to check out the popular new Trollstigen Trail. Isak Heartstone is a 15-foot tall wooden troll sculpture that was originally built last year for the Breckenridge International Festival of Arts by Danish Artist Thomas Dambo, known around the world for bringing awareness to recycling by making great thing—like this giant troll—from trash. He is on now the newly constructed Trollstigen Trail on the south end of Breckenridge in Illinois Gulch off of Boreas Pass Road. (It's an easy walk, bike or free public bus ride.)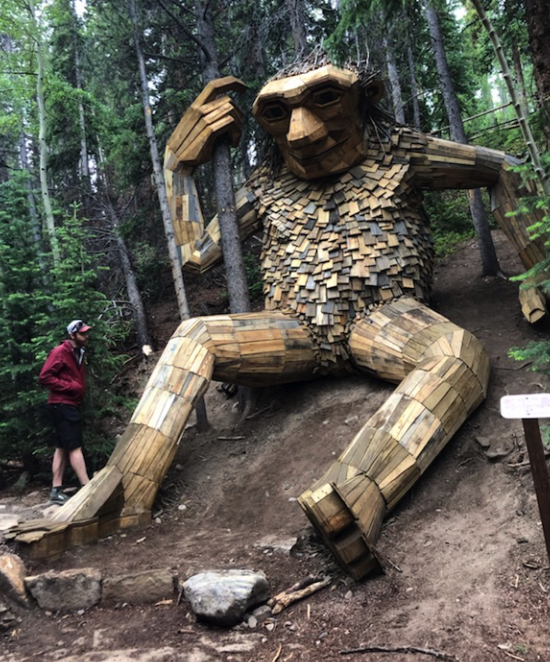 The kids staying at Beaver Run love the pools, the hot tubs (grown ups too) and for when those thunderstorms come in the late afternoon, the indoor arcade and put-put golf. Parents love the free shuttle so no one has to drive and hunt for parking places.
And just because the snow is (mostly) gone doesn't mean the mountain resort shuts down. In fact, all summer and including Labor Day weekend,The Mountain Resorthas a range of Epic Discovery activities guaranteed to please all ages. Just take a free gondola ride up to the Peak 8 Base. There's the Gold Runner Coaster, Alpine Slide, and an entire Kids Base Camp with a Lil' Climber Ropes Course, Lil' Flyer Zipliner, Mini Miner gemstone panning bungee trampoline, Mineshaft Maze and tubing. (There are different passes depending on how many activities you want to sample.
The adults can take the Colorado Super Chair (check out the view of three of Colorado's famous 14er mountains!) to reach Alpine Camp for the environmentally-inspired Alpineer Challenge Course, the Expedition Zipline Tour complete with a bridge walk, and plenty of hikes.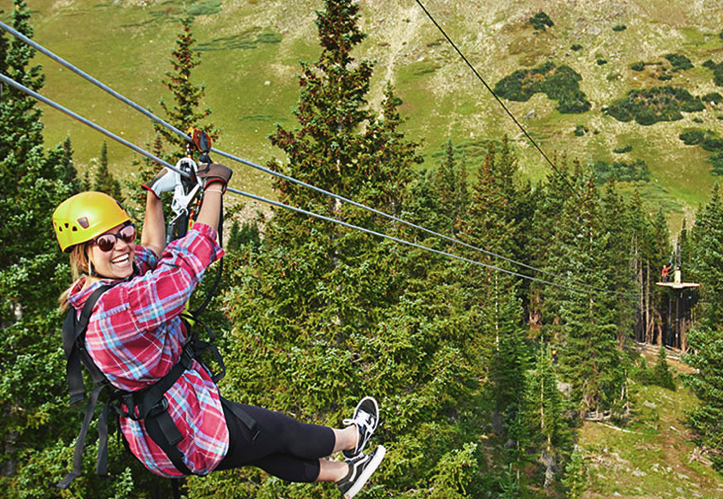 Breckenridge, of course is a famous historic mining town with brightly painted houses with its own (free) history museum at the Breckenridge Welcome Center, gold panning (check out Country Boy Mine), BreckCreate Art's District with workshops, and Riverwalk Center where kids love splashing in the water and everyone loves all of the public art in the heart of town.
Let's not forget all of the outdoor concerts, shopping, and all of the good eats and Happy Hour—some parents call it Happiest Hour because restaurants are kid-friendly and there are less expensive eats. The Broken Compass Brewing Company lets you bring your favorite four-legged friend too and has 12 taps with their original brews.
One of our favorites is the Breckenridge Distillery, where we had dinner last night. The World's Highest Distillery is known for its spirits, craft cocktails, and menu crafted by Chef David Burke. (Think a Barrel Smoked Mai Tai with Breckenridge Spices Rum, in house orange liqueur, in-house almond macadamia orgeat, fresh lime juice that is smoked in a barrel. Another plus: the Distillery runs its own free shuttle.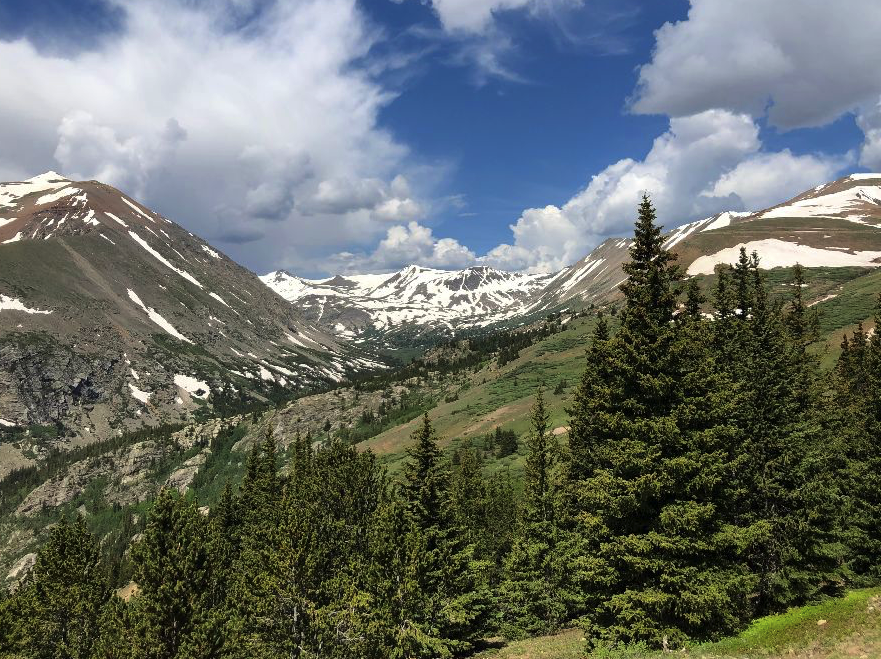 There are plenty of mocktails for kids and non-drinkers and a big patio with giant games for the kiddos. We feasted on Hipster Fries, Brussel Sprouts served up with bacon, apples, hazelnuts and Breckenridge Bourbon maple syrup, Caesar Salad with excellent deviled eggs, Tagliatelle with arugula pesto and the best Halibut I've had outside of Alaska served with lobster crepe. Of course we had room for desert — fresh fried mini "Drunken Doughnuts," served with signature sauces including chocolate sauce with Breckenridge Bourbon and raspberry marmalade with Breckenridge Pear Vodka. Yum!
Good thing there are so many biking and hiking trails!