By Christopher Morales, Taking the Kids Correspondent
LOS ANGELES — In the performance I attended recently, world renowned conductor Esa-Pekka Salonen was full of passion to lead to the Los Angeles Philharmonic orchestra in a lovely performance of Mother Goose, with installation.
As if the concert was not mesmerizing enough, they performed this concert on Valentine's Day. Couples of various ages, from elderly to teenagers, arrived at the Walt Disney Concert Hall. 68-year-old concert goer Arlene Dodd commented, "It's beautiful to go to a concert like this, especially on Valentine's Day because music is just so romantic."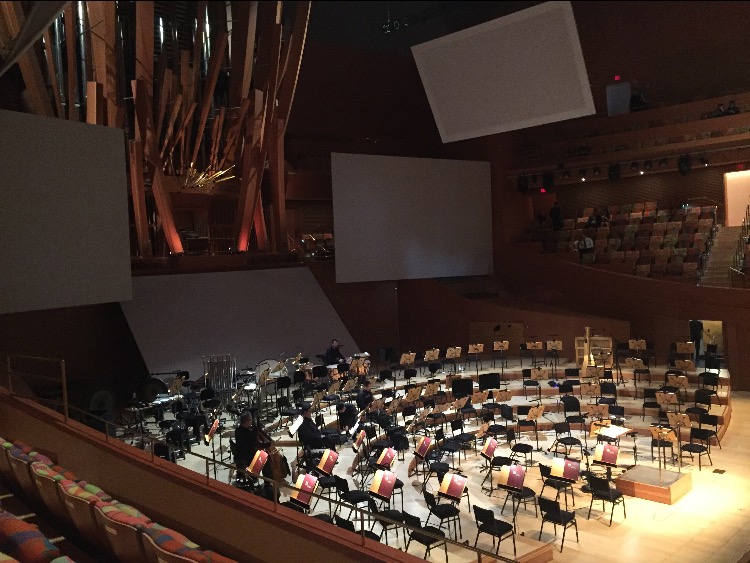 With romance already in the air, the music from composer Maurice Ravel's Mother Goose (Ma mère l'Oye) was ready to fill the Concert Hall. Immediately as Salonen stepped onto the stage, the audience was livid to welcome him on.
Salonen went to work conducting French composer Eric Tanguy's Affettuoso. In an interview with Performances Magazine, Tanguy dedicated his composition to French composer Henri Dutilleux, saying, "Beyond the great sadness felt by all those whom he had rewarded with his friendship, I tried to musically express in this work what I was left with after his passing away: a feeling of immense affection."
It was aspiring to see Salonen give up his body to the music, shifting left and right to make sure that he makes contact with every musician onto the stage.

Following Affettuoso, Salonen welcomed soprano Camilla Tilling to perform Dutilleux's Correspondances. The collaboration of an orchestra and a soprano were significant to set the tone for a unique storytelling. The music consisted of excerpts of letters from Alexander Solzhenitsyn to Mstislav and Galina Rostropovich, and Vincent Van Gogh to his brother Theo and poetry of Prithwindra Mukherjee and of Rainer Maria Rilke. Aside the music, telling about the misfortunes of Russia during that time period were never more impacting than now.
Resuming with grand dynamics, Salonen invited organist Vincent Dubois to perform Franics Poulnec's Organ Concerto in G Minor, which was inspired from a religious transformation nearing World War II. A camera was installed above Dubois's organ, and the audience had the chance to see Dubois's fingers in produce the magic we were listening to.
Following Organ Concerto in G Minor, it was time to experience Ravel's Mother Goose. The 20th century ballet was nothing short of charming, and the installation graphics on projector screens were quite intriguing to see above before learning information on them.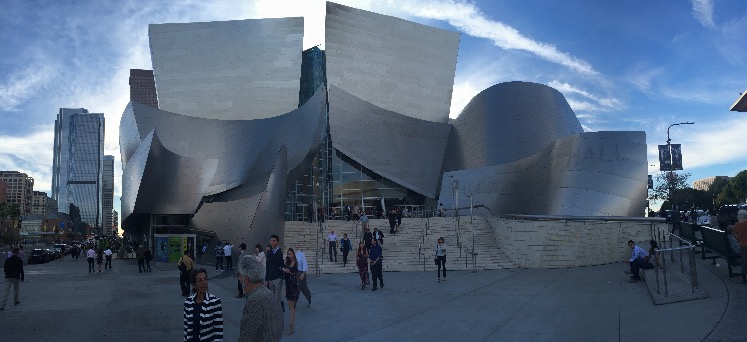 There was: Spinning Wheel Dance and Scene, Pavane of the Sleeping Beauty, Conversations Between Beauty and the Beast, Tom Thumb, Little Ugly One (Laideronette), Empress of the Pagodas, and The Fairy Garden. Each sequence was unique on its own, and I witnessed a family of four in front of me. The two little kids each leaned onto the warmth of their parents while their parents held hands over the children, a truly romantic scene.
Relating to the city of Paris, I found myself quite a few times reimagining what Paris truly was for me (I visited in July 2015), and repeatedly, I found myself on top of the Eiffel Tower, dancing on the side of the Seine river at night, or strolling for some of the freshest foods on Rue Montorgueil (1st and 2nd Arrondissement).
For 17-year old Angelica Soto, this was her very first time attending a concert at the Walt Disney Concert Hall (I attended a concert very young in elementary school). Soto commented, "It was my first time inside [the Walt Disney Concert Hall] , and I didn't have anything to expect, but it was pleasant. The musicians looked like they really loved what they wwere doing, and the passion the had for music was completely obvious."
For a building that was designed on a napkin, the Walt Disney Concert Hall has come a long way to perform and deliver some of the best and most eloquent music the world has to offer.
If you would like to attend one of Walt Disney Concert Hall's upcoming events this 2016 season, view their calendar here: http://goo.gl/waMBw4.
Christopher, who is from Los Angeles, is a senior in high school with the A Better Chance of Westport program.