By Eileen Ogintz
COLORADO SPRINGS, CO — What a shopping list: 375 lobs of flour; 482 lbs. of sugar; 100 lobs of honey, 400 lbs. of chocolate….
The list went on and on for the creation of the Broadmoor Special Holiday Express, the historic resort's 2019 Gingerbread display that is a tribute to founder Spencer Penrose.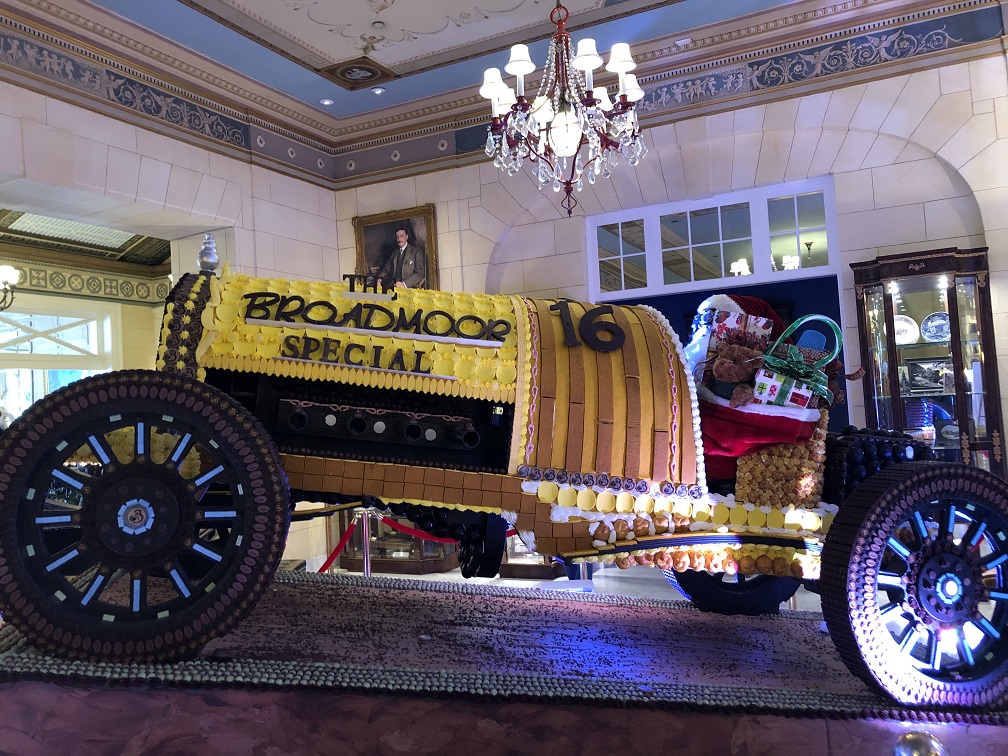 Penrose is credited with building tourism here in Colorado Springs and the Rockies in the early 20th Century and he used a converted 1918 Pierce Arrow Touring Car to promote the region, the Pikes Peak International Hill Climb and The Broadmoor.
The Gingerbread display has been a longstanding tradition for families who visit during the holidays and as we did, for the spectacular holiday brunch—more than 3000 were served on Christmas Day, so large that in now has to be held in two rooms, the Lake Terrace Dining Room and the Broadmoor Hall in another building. But most everyone makes their way over to take selfies at he the roadster outside the Lake Terrace Dining Room , marveling at the chocolate wheel covers, the crank, all of the colored fondant… with who else but a nearly life-sized Santa in the driver's seat with his sack of brightly wrapped gifts—all made out of candy, chocolate and gingerbread, of course. A few years ago, we got a lesson in gingerbread making from the Broadmoor chefs – a months long project from conception to creation to construction.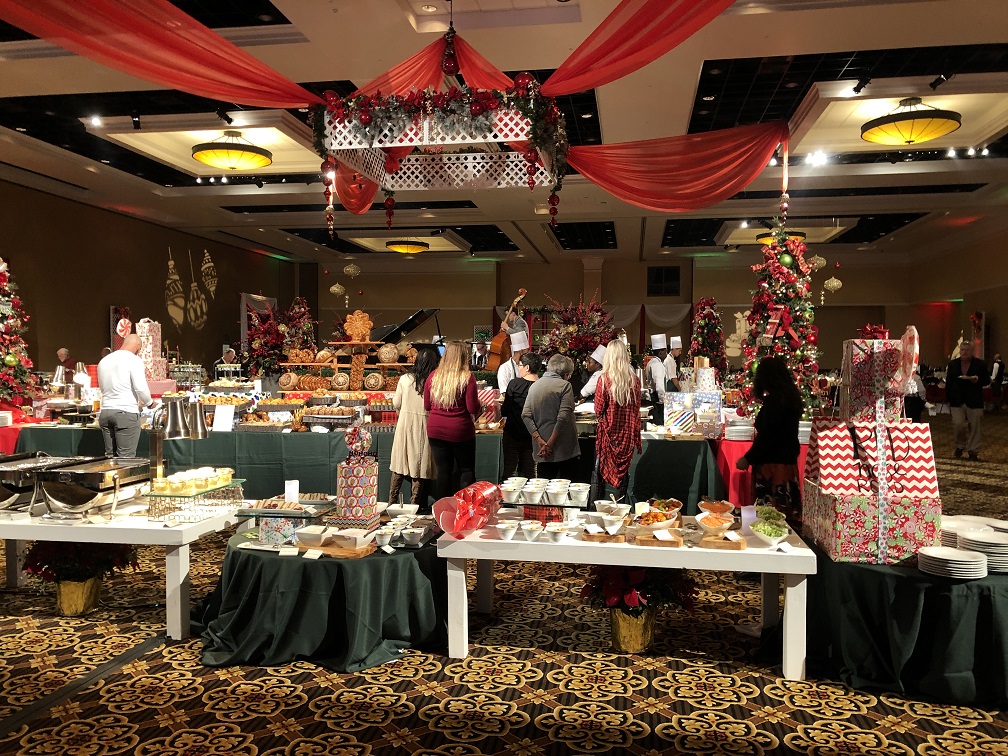 The Broadmoor Christmas brunch also takes tremendous effort—from the kids-sized buffet (individual mac and cheese jars! Burger sliders! PB&J, grilled hot dogs, mashed potatoes, fruit salad and chocolate cake pops and the always popular Worms (gummy) in dirt (chocolate), among the offerings. The denouement: The huge chocolate fountain just waiting for strawberries or marshmallows.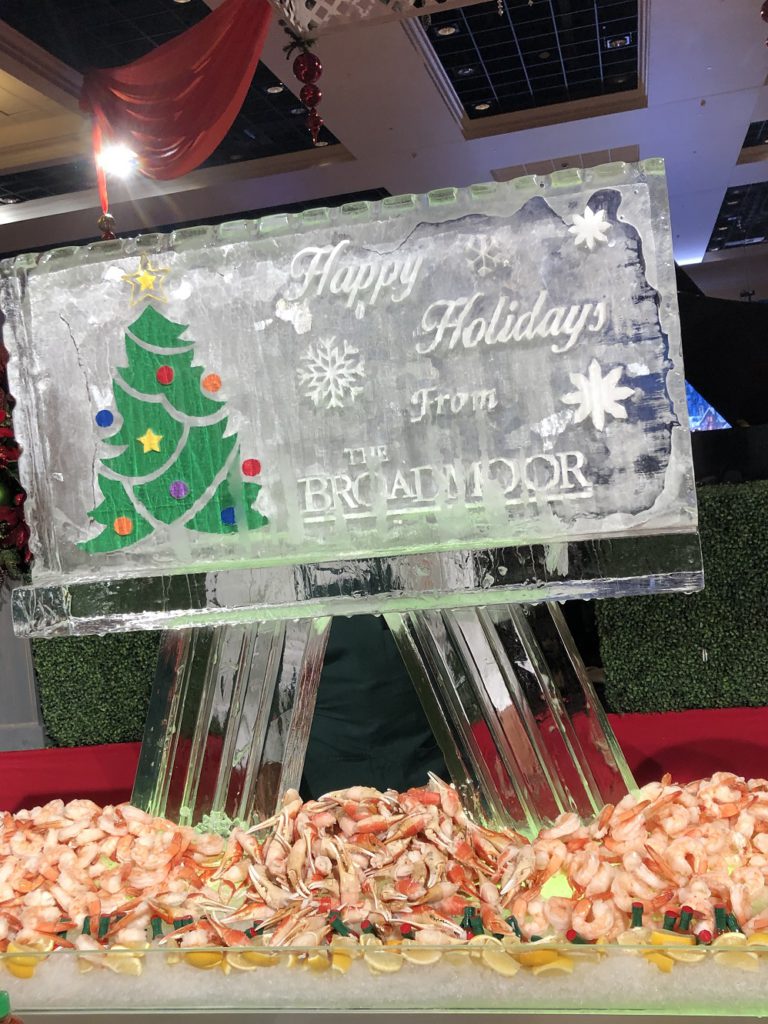 As for the rest of us, it's difficult to decide where to start—the fresh seafood (just-shucked oysters, crab legs, shrimp) smoked fish (including house made smoked trout and gravlax) or soup (smoked cheddar?) Little girls are in their holiday best, some clutching new dolls that likely were under the tree, as are some of the moms and grandmas but this being Colorado, there were plenty of folks in jeans and cowboy boots sipping Mimosas and champagne, all glad someone else had done all the work, was doing the serving and would do the clean-up. (Well worth the $75 tab for adults and kids 11 and older, $22 for kids 10 and under.)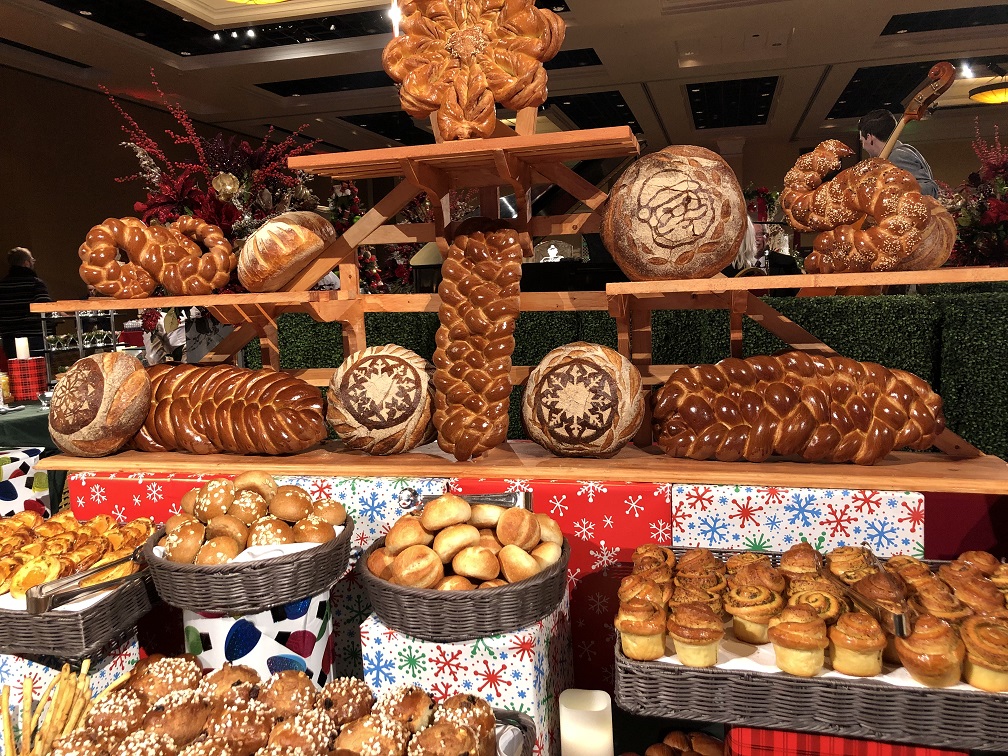 Maybe a bite of prosciutto di Parma or cheese (blueberry Stilton, perhaps, accompanied by house-made preserves and pickled vegetables…a Roasted Heirloom Beet Salad or a Caesar Salad. Of course, there was a salad bar too.
You could start with breakfast offerings—French toast or pancakes (how about some chocolate chips?) a made to order omelet or Eggs Benedict complete with sausage, bacon and freshly baked buttermilk biscuits. I never have seen so many breads—chocolate sourdough and holiday panettone, onion and Blue Cheese muffins, Apple Spice turnovers, sticky buns, double chocolate and carrot muffins…..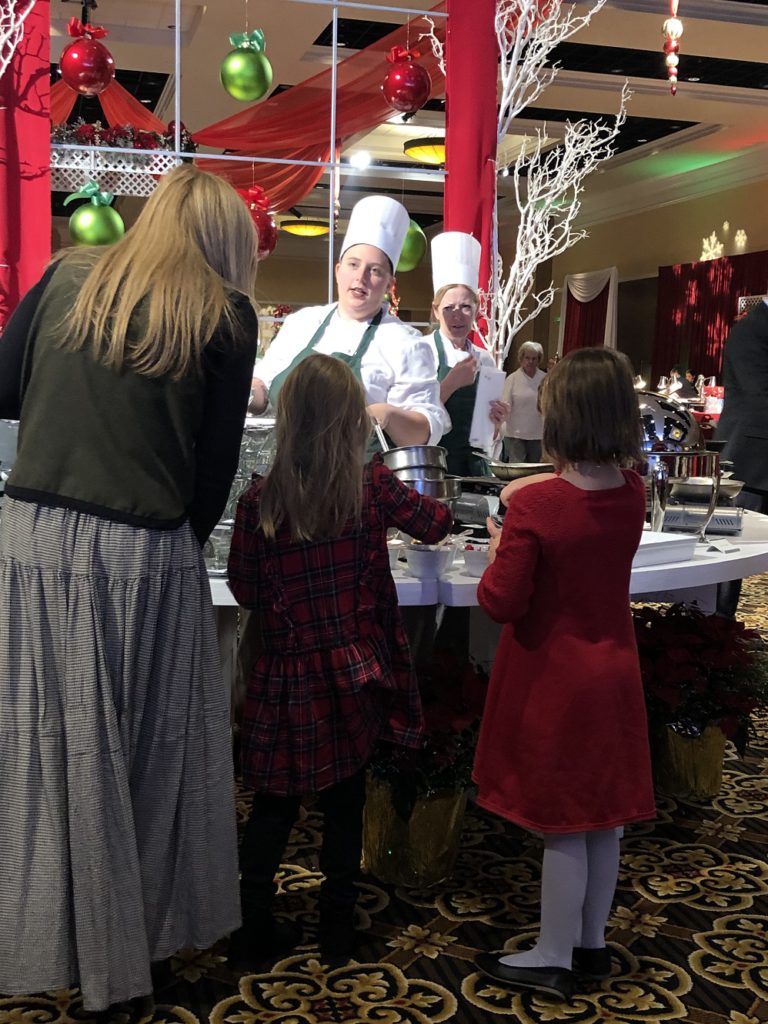 "You've really got to pace yourself," said my daughter Mel as she dug into the oysters and smoked trout.
She was right but I figured you can have breakfast any time—how about honey glazed ham with Bourbon pineapple glaze, sale rubbed turkey legs or turkey breakfast with whipped mashed potatoes and apple sage stuffing, Colorado lamb chops with house-made mint jelly, braised short ribs and plenty of sides- wild mushroom Risotto, creamy cheddar grits, asparagus and green beans, creamed spinach…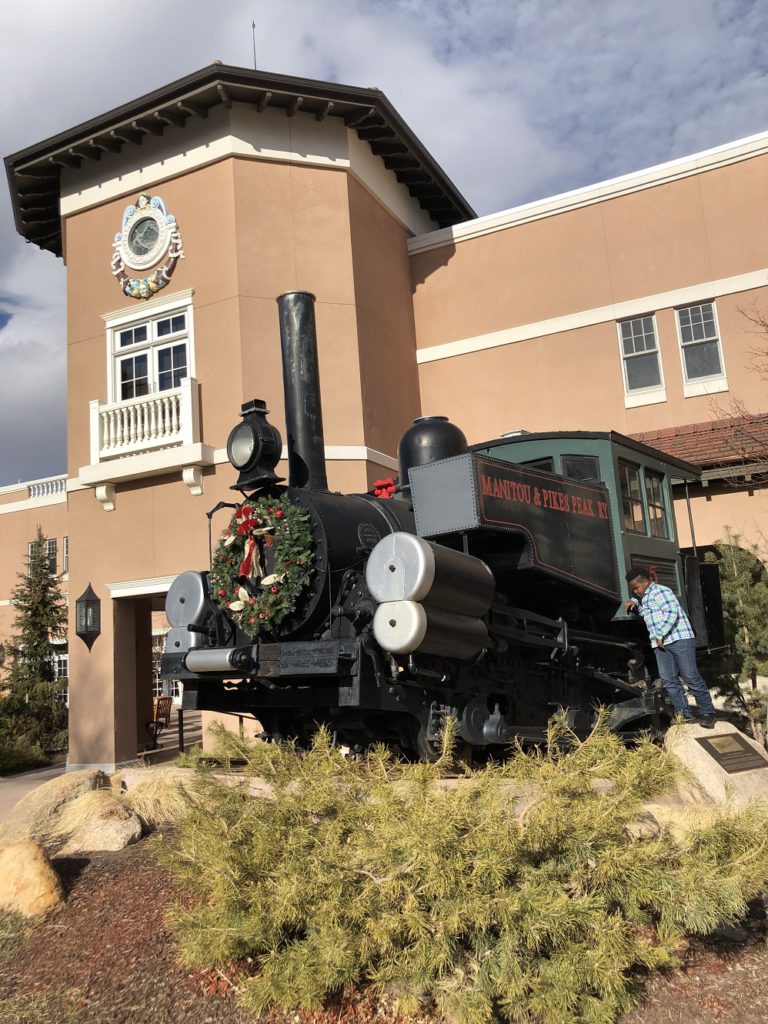 Of course, we had to leave room for dessert! More than 30 options from Vegan Chocolate Mouse to Apricot Marmalade Bars (my daughter's favorite) Orange Cranberry Cheese Cake, White Chocolate Peppermint cupcakes, all varieties of cookies, Pumpkin Pot de Crème and Pumpkin Bread Pudding, all varieties of Christmas cookies and chefs making Banana Fosters(my favorite ) Crepe Suzette and dishing up ice cream for Sundaes.
"Best Christmas Brunch ever!" my daughter said as we were leaving, a long line of smiling brunch-goers waiting to enter.