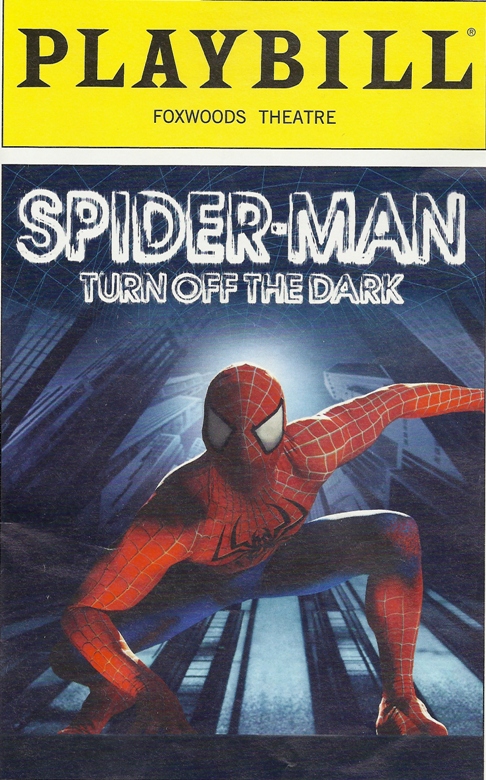 How much would you pay for a memory?
I was thinking about that looking around at the parents, grandparents and hoards of young children—especially little boys—at the Foxwoods Theater on Broadway where  Spider-Man: Turn Off The Dark, the most expensive production ever mounted and one fraught with problems and delays, has recently opened.
Any little boy who loves Spider Man—and we've had some in our family—will love it and won't forget what likely would be his first Broadway experience. Sure there are balcony seats that  may be available for $67.50, but I think to really appreciate what's happening on stage, you need to be closer—and  pay more.
Judging by the enthusiastic audience on a recent Wednesday afternoon, no one was griping about the price—this  despite a  review  by New York Times Theater Critic Ben Brantley that soundly panned the production,  calling it "just a bore" and  "a lumpy package."
With it's amazing sets(imagine Manhattan from the top of the Chrysler Building, tiny cars on the streets below), spectacular costumes (especially loved the Green Goblin) and all of the flying above and around the audience, it's easy to see why the theater was packed with families, despite such negative reviews.
A little history:  Originally conceived by Lion King director Julie Taymor  and rock musicians Bono and the Edge, the production was not only fraught with difficulties and injuries, but was so panned by the critics that it took a three weeks to change the show. Taymor left, the story was streamlined (After being bitten by a radioactive spider, the high school boy acquires supernatural powers and fights crime, at the same time becoming a newspaper photographer  who photographs Spider Man and managing to keep his long-suffering girlfriend.)
Honestly, the kids in the audience don't care about the story or the music, which I didn't find especially memorable. They were there for the spectacle. And their parents and grandparents were there to see their smiles and excitement, heads craned to watch Spidey and The Green Goblin duke it out as they fly above us. (There is an entire corps Spider Man acrobats who take turns flying above us throughout.)
Broadway is expensive but so is going to a Major League Baseball game.  I really think if you can afford it, taking the kids to Broadway should be part of every family's first visit to New York.  And summer can be a good time  to visit with many hotel deals in every price point,  from the  chance to get a third night free at a Signature Collection of luxe properties or deals at Apple Core  Hotels, a  group of five budget-friendly properties  in central Manhattan that offer free breakfast, free WiFI, in-room video games and more.
Come July 11-24 and enjoy some of the city's best restaurants at a price that won't bust your vacation budget ($24.07 for lunch and just $35 for dinner)   during NYC Restaurant Week  .  Make a foray to Broadway even more memorable with a special meal.
There are plenty of  kid-friendly productions to choose from—Mary Poppins, Lion King ,  The Addams Family, Wicked, among them.  Teens will love Memphis and The Book of Mormon which just won nine Tony awards.  There is also the excellent New Victory Theater that mounts special productions for children.
Yes, you can see some of these musicals in other cities but it won't be the same, I don't think. And there are plenty of ways to save money on tickets.  TKTS Discount Booths offer tickets to Broadway and Off-Broadway musicals and plays at up to 50% off.  The downside: You have to wait in line and the Times Square Booth sells day-of-performance tickets only while the South Street Seaport Booth and Downtown Brooklyn booth sells tickets to evening performances on the day of the performance, and matinee tickets the day before.
Check other websites like Broadwaybox.com and Theatermania  which was touting 40 per cent off Spider Man tickets, among others.  Visit  The Broadway concierge at the Times Square Visitors Center, where you might find some discount coupons and can add your wish for the coming year at the  confetti Wishing Wall—to be added to the  two tons of confetti that falls on Times Square at midnight on New Year's Eve.
For those on a budget, bring your kids' school IDs and you might be able to grab "Student Rush" seats available for $25 at the box office the day of the performance. Many productions offer them — along with same-day lotteries for deeply discounted seats.
Check the website Ilovenytheater , the Broadway League's official on-line headquarters for Broadway tickets and information. Get tickets at all price points to every current and upcoming show, direct from the theatres' official ticketing offices without broker markups. The website also provides up-to-date show and theatre information,, as well as a guide to hotel and dining options in Manhattan's Theatre District.
The theater is one splurge worth making, I think, and other parents clearly agree, with growing numbers of kids and teens in the audience like at Spider Man.  Such experiences, we know, can encourage a life-long interest in the theater and arts—at the very least, you'll have a fun afternoon or evening.
See you at the theater.