By Eileen Ogintz
Pig or ape… witch or dog… is that a mom and her kids?
The famous Hoodoo rock formations in Bryce Canyon National Park in southern Utah look different to each person who oohs and aahs over them…the orange-red color! The height…the army of them stretching as far as we can see.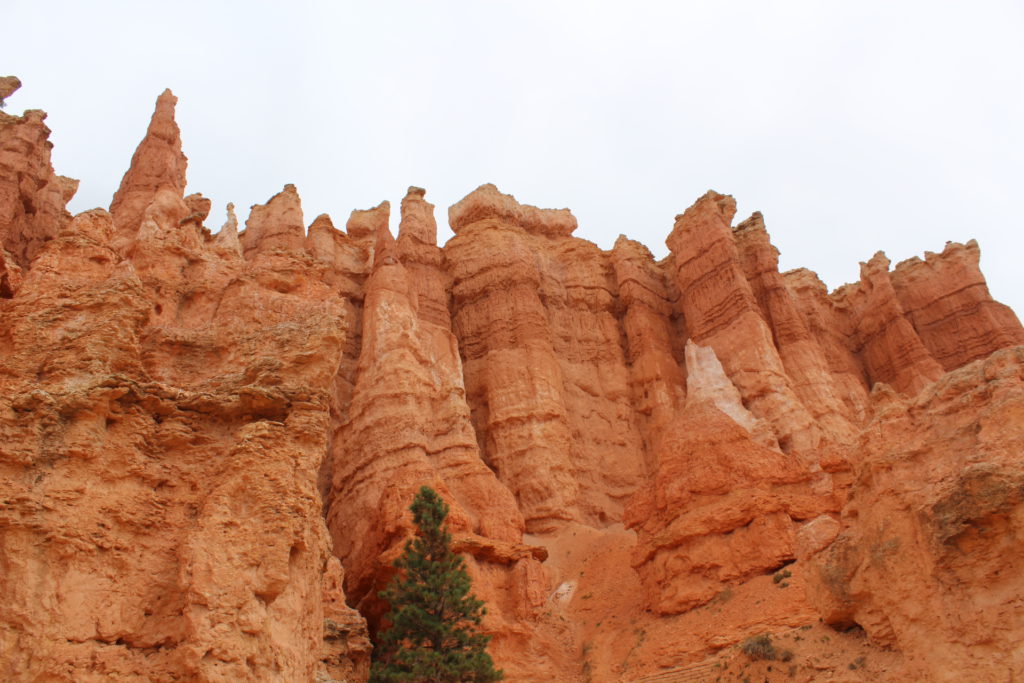 As we hike below the rim, taking the Ranger's advice to take the Queen's Garden/ Navajo Loop- about three miles that he said. Will offer the Canyon's "greatest hits." It was only 600 feet in elevation—easy, we thought, until we hit the steep switchbacks on the way back to the rim. According to our FitBits, we'd climbed 70 stories and every step was more than worth the effort. "It gets more beautiful around every curve," one woman exclaimed, as kids and adults alike stopped to pose for selfies, dwarfed by the spectacular "hoodoos."
By the way, the elevation here is between 7,000 and 9,000 feet above sea level, so it's best if you get acclimated before you visit.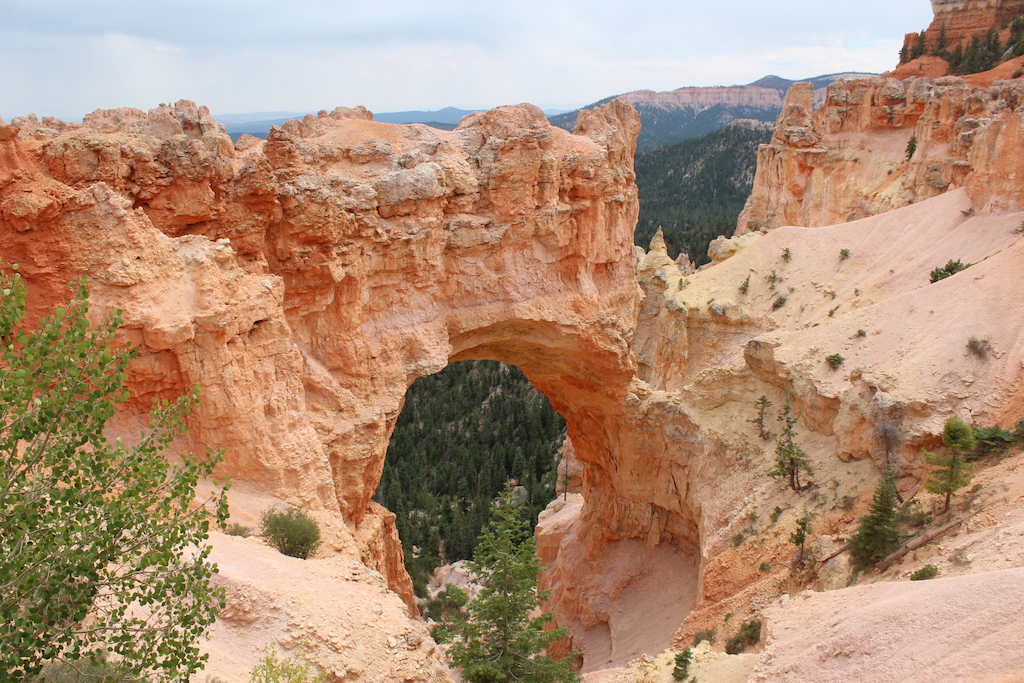 We learn that weathering and erosion shape these rock formations, but flowing water is just a small part of the plays just a small part. As snow and ice melt, water seeps into the fractures of the rock, expanding and cracking the rock around it. Apparently, this happens frequently here at Bryce Canyon where 180 days a year, temperatures swing between warm afternoons and freezing nights. Gravity and meltwater move the stone fragments downhill; summer thunderstorms further dissolve the limestone, generating just enough flowing water to remove debris.
Hoodoos actually have eroded out of cliffs, forming thin walls of rock called fins. The "frost-wedging" when the re-freezing water in the rocks crack the rock around it—creates big holes that are called windows. As they get larger, the tops eventually collapse, leaving a tall column. Rain sculpts them into the spires called hoodoos and the balance between snow and rain guarantees the new hoodoos will emerge when others become lumps of clay.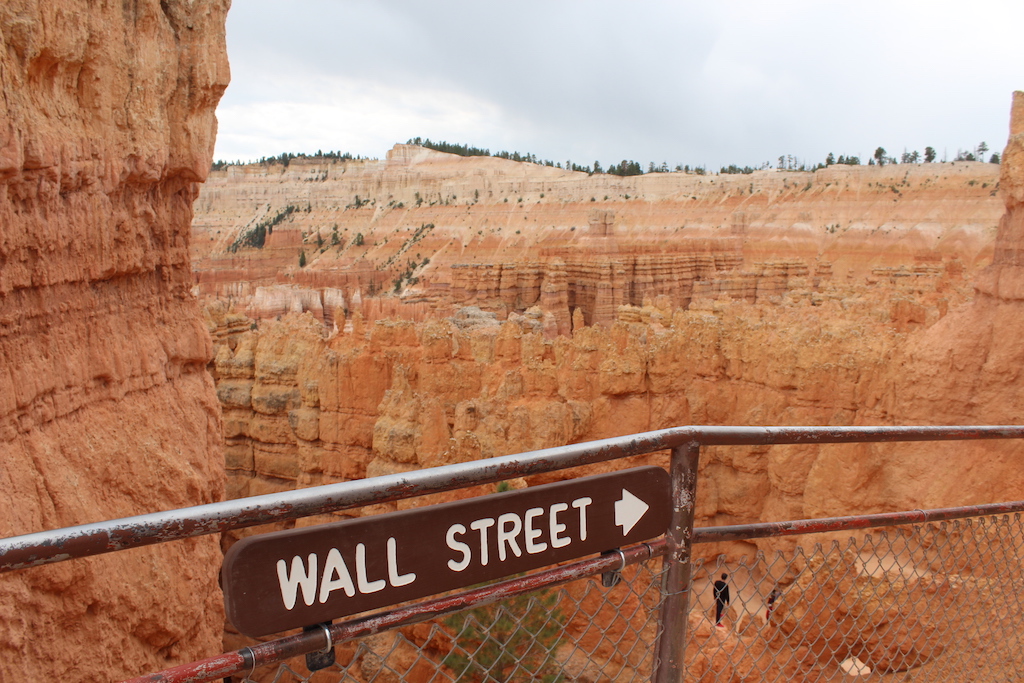 Isn't nature amazing?! Here at Bryce Canyon we are at the top of what is famously called "The Grand Staircase"–the world's most complete sequence of rock layers formed over hundreds of millions of years from sediment, uplifting and fracturing. The Grand Canyon is at the bottom and Zion National Park is in the middle with some of the rock at Bryce Canyon dating back 525 million years.
We are staying at the KOA Panguitch, about a half hour from Bryce and a bit farther to Zion as we make our way on a two-week road trip from Denver to the Grand Canyon for a Western River Expedition Raft Trip.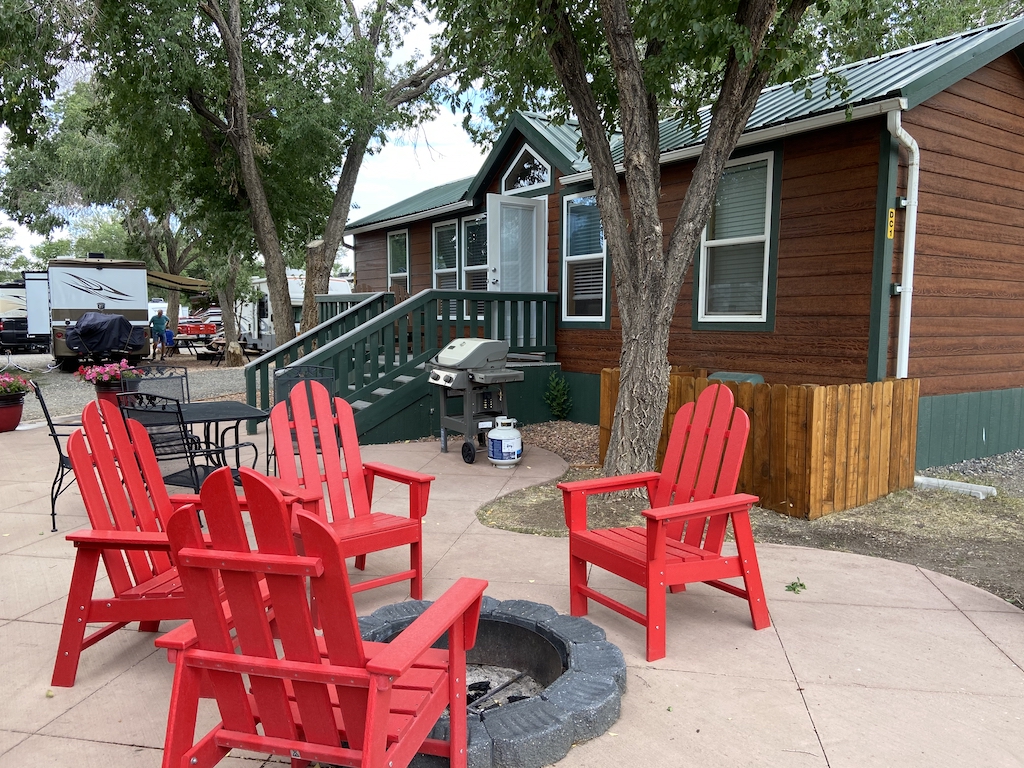 As is true many places this pandemic summer, the KOA is sold out while neighboring lodges and motels have space. We've opted for a cabin here so we would be able to cook our own meals and have our own bathroom; There is a firepit just outside, a gas grill, and bright red Adirondack Chairs alongside a couple of big pots of blooming flowers. This cabin would fit a family of four comfortably with two bedrooms and one and a half baths.
Visiting National Parks this summer is a somewhat surreal experience. Here at Bryce, the visitor center is open (unlike at other parks) but the interactive area where kids can crawl through a Prairie Dog home is shut. Who knew that Prairie Dogs construct their "homes" so that there is a certain clean, soft, dry chamber for a nursery–and another lower down for a bathroom? That keeps the rest of the burrow clean. Another fun prairie dog fact: A mother will nurse all the pups in her clan, whether they are hers or not. There's even a listening chamber below ground so the prairie dogs can hear if predators are coming. Better security than a lot of apartment buildings!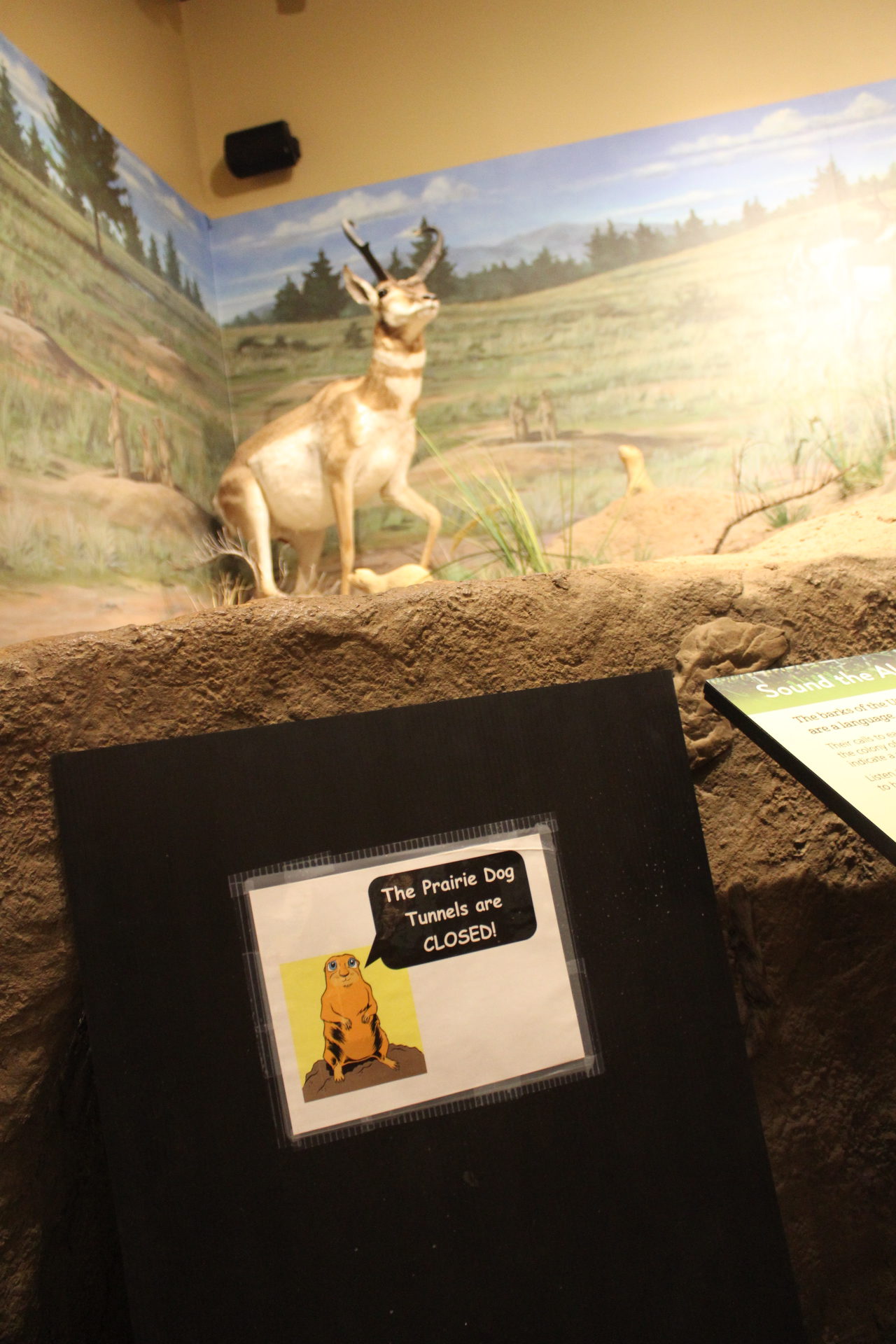 We also learn that many of the names in the park come from the language of the Southern Paiute people who still live here. The town of Panguitch for example, means fish water: Bryce Canyon translates to Unka Tumpi Wun-Nux Tungwatsini Xoopakichu Anax—Red Rock Standing Like a Man in a Hole.
On the trails, it is relatively easy to practice social distancing, but most people we encountered did not don masks when they are passing others on the trail, as would be safer. This is a place that appeals to all ages. For those who can't hike below the rim, the views from above are spectacular. And for those who can—whether a few miles or a far longer treks–are rewarded with narrow trails with fanciful Hoodoos everywhere you look.
Meet the challenge and either find three "benchmark" hoodoos or hike three miles on trails that have benchmarks on them, as was the hike we did. On one hike, in the Queen's Garden, a shape was named after a statue of Queen Victoria in London; another is Tower Bridge. Wondering. There is the highest point (over 9,000 feet) of the park called Rainbow Point, Sinking Ship, Mossy Cave and Fairland Point. Some of the hikes are less than a mile to see the Hoodoos and even the timidest hiker will be having so much fun gawking at what's around the corner that he'll be too excited to complain.
If you like stars, you will love Bryce as the high elevation, clean dry air, and lack of light pollution make this a wonderful place for stargazing.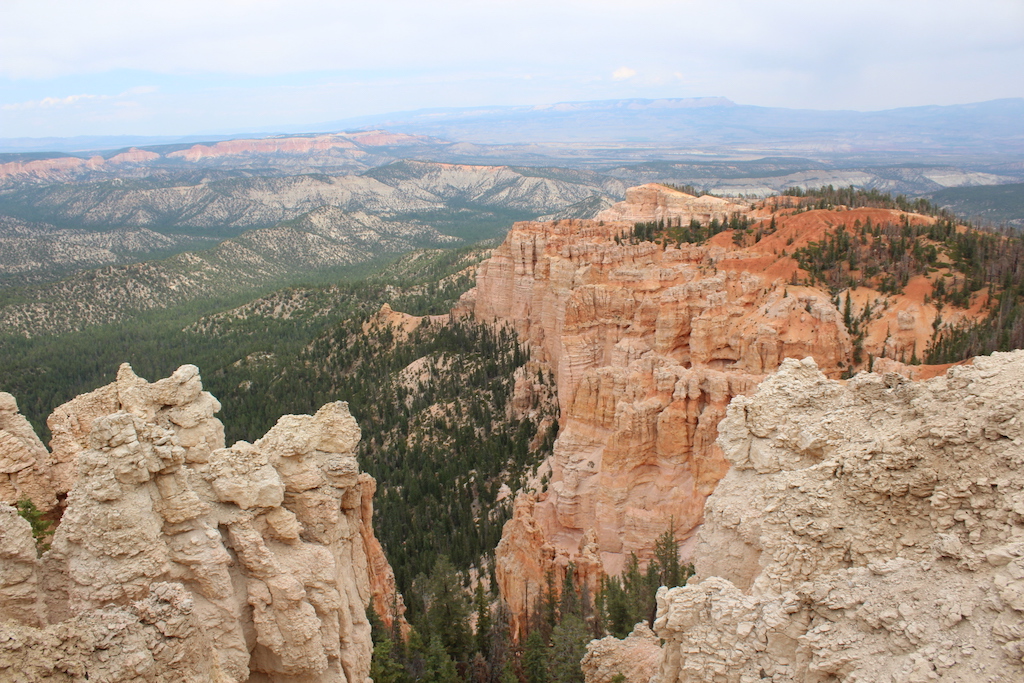 Come in the morning and the rocks will look different than at sunset. sAnd make sure to keep your eyes open for other wildlife and bird–the tiny Rufous Hummingbird; the Common Raven and Steller's Jay, among others. There are elk, mule deer, Desert Cottontails and Golden-mantled Ground Squirrels who tend to materialize when they think a visitor will drop a crumb or two.
Bryce Canyon was named for a settler in the mid nineteenth century named Ebenezer Bryce whose faith dictated we should all care for all the life on this planet.
We can all help to do that wherever we are—especially in our national parks.