By Marti Mayne
(Marti represents the Bed and Breakfast Inns and is this week's guest blogger)
When it comes to cookies, it's not just Sesame Street's Cookie Monster who's singing the praises. C is for cookies, candy and Christmas as twelve inns in New Hampshire's Mt Washington Valley open the doors to hundreds of holiday revelers. Each year, the Country Inns in the White Mountains, a collection of twelve distinctive inns, collectively bake or make more than 15,000 Christmas cookies and candies to serve at the annual Inn to Inn Cookie and Candy Tour, held the second week in December. This year, December 10-11, 2011, marks the 15th Annual Inn to Inn Cookie Tour.
The tour will also feature beautifully decorated and themed trees at each inn created to honor a different local non-profit group. Tourgoers can vote for their favorite trees, and the top three vote getters will receive donations to support their mission.
The annual Inn to Inn cookie tour attracts families, culinary travelers, and sweet tooths young and old. It's been named "New Hampshire's Best Sugar High" by New Hampshire Magazine. Original holiday cookies and candies – some recipes passed down through generations in innkeepers' families – along with exquisite decorations offer tour goers the bonus of taking home holiday decorating ideas as well as scrumptious cookie and candy recipes for themselves. The participating inns have developed original recipes for everything from sweet to savory holiday treats, and tour participants visiting all 12 properties will receive a keepsake brass snowflake ornament, in keeping with the "Let it Snow" theme for this year's tour. Kids will enjoy collecting stamps at each inn, and turning in their completed card for an ornament to hang on the tree.
Why not make a weekend of it? Bring the kids and while visions of sugarplums dance in their heads, Mom and Dad can plan their route for the most efficient cookie tasting. There are a number of family-friendly inns on the tour including the Bartlett Inn, the Brass Heart Inn and the Old Red Inn and Cottages, however availability for the 2011 tour is getting tight. All cookie tour packages include:
Two nights accommodations
Breakfast each morning
two Cookie Tour tickets (a $54 value)
Best of 15 Years Cookie Tour Cookbook
Discount voucher for Valley Originals 23 Restaurants
VIP pass for Settlers Green Shopping Outlets
Grand Prize – A chance to win a grand prize valued at over $1000 of gifts and prizes donated from Country Inns in the White Mountains, Basket Creations, Applebee's, Solar Fun 2010, Inn at Ellis River, Jackson Area Chamber of Commerce, Settlers' Green Outlet Village, White Mountain Café and Jewelry Store.
For a complete list of cookie tour packages, click here.
The 2011 Cookie Tour features a number of fabulous cookies and candies for tasting. Choco-lovers will have their fill with everything from Almond Mocha Cookie Bars and Chocolate Christmas Kiss Cookies to Chocolate Drizzlers. For those looking for something a little more savory, there are Lemon Basil Butter Cookies and of course a good ol' Fruitcake cookies offer something for more traditional tastes.
Can't make it? Try this recipes featured on the tour at home:
Darby Field Christmas Crinkles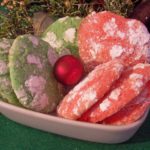 Created for the Darby Field Inn by Chef Waneeta Marquis
Ingredients:
½ cup butter
2 cups sugar
1 tbsp vanilla
4 eggs
3 cups all purpose flour
2 tsp baking powder
½ tsp salt
½ cup powdered sugar
red and/or green food coloring
Method:
Mix butter, sugar and vanilla in a large bowl. Stir in eggs, one at a time. Stir in flour, baking powder, and salt. Add food coloring until desired color is reached; you may divide dough beforehand to make two different colored cookies. Cover and refrigerate at least 1/2 hour.
Preheat the oven to 350. Line Cookie sheet with parchment paper & grease lightly with baking spray. Drop dough by teaspoonfuls into powdered sugar; roll around to coat and shape into balls. Place about 2 inches apart on cookie sheets. Bake 10 – 12 minutes, or until almost no imprint remains when touched lightly in center. Immediately remove from cookie sheets to cooling racks.
Yield: 4 dozen cookies
When you go
For more information visit the Cookie Tour website or call 800-338-1356 or 603-356-2642. Tickets are $27 per person, and limited tickets are still available