By Eileen Ogintz
Breckenridge, CO — Let's all give it up for ULLR!
It seems the entire town of Breckenridge CO is lining Main Street to celebrate the Norse god of snow, aka the patron saint of skiers.
Ullr Fest, started 58 years ago, is back after taking a break last year because of the pandemic as is the town bonfire, ice skating party and record-breaking "ShotSki," in which 1,333 people stretch down Main Street drinking shots of local Breckenridge Distillery bourbon whiskey—the cups velcroed onto 444 skis.
Ullr is recognized for being a skilled skier and hunter and is often depicted on skis with his bow. Some even suggest that the Aurora Borealis in the Northern hemisphere is the spray from Ullr's skis. There are statues of him at the Breckinridge Ski Resort and in town.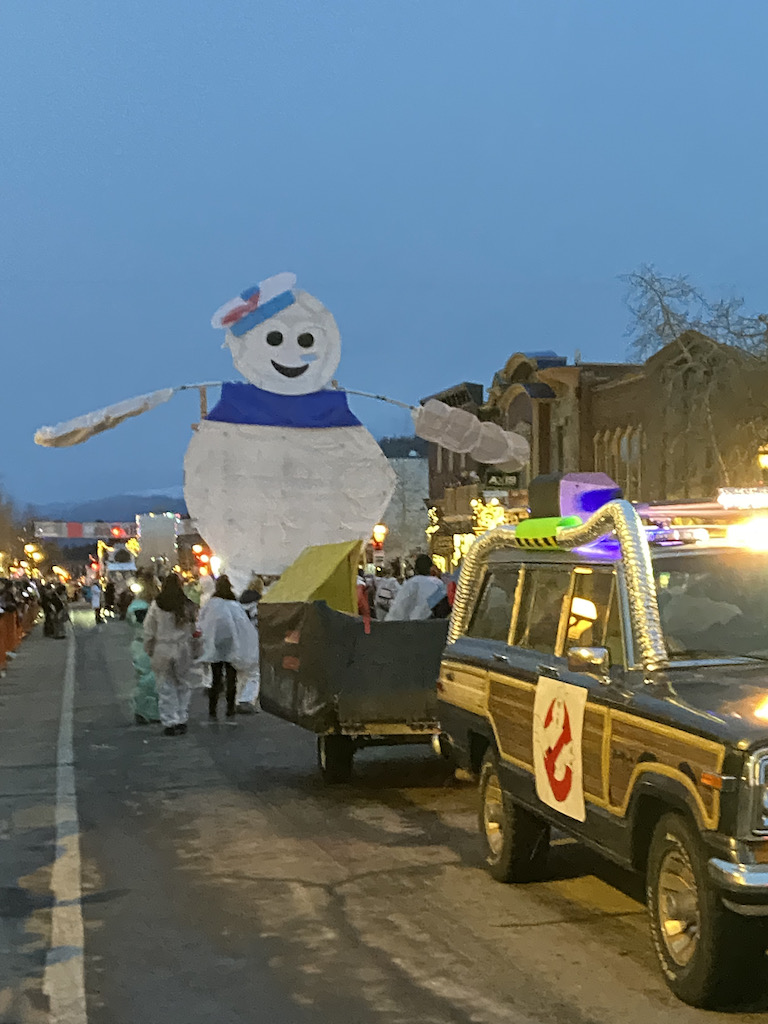 The Fest is part of the tradition, said Lisa Fackler, who is a local restauranteur. There is a float for Fatty's, her pizzeria that is the oldest in Summit County, in the parade as there are for many local businesses including a school bus (the district is looking for bus drivers), Breckenridge Ski Resort (celebrating its 60th Anniversary), Summit Lost Pet Recovery, The Children's Museum (reopening!), the Royal Order of Ullr, and more.
"It's a nice excuse to get out and see everyone you haven't seen. It's a local thing," says Lucy Kay, a long time Breck local who runs the tourism office and is decked out in an ULLR hat with horns. "And we need the snow!"
That's an understatement. Only about 5 per cent of the resort's 3000 acres are open but that hasn't deterred those on the slopes earlier in the day—including us.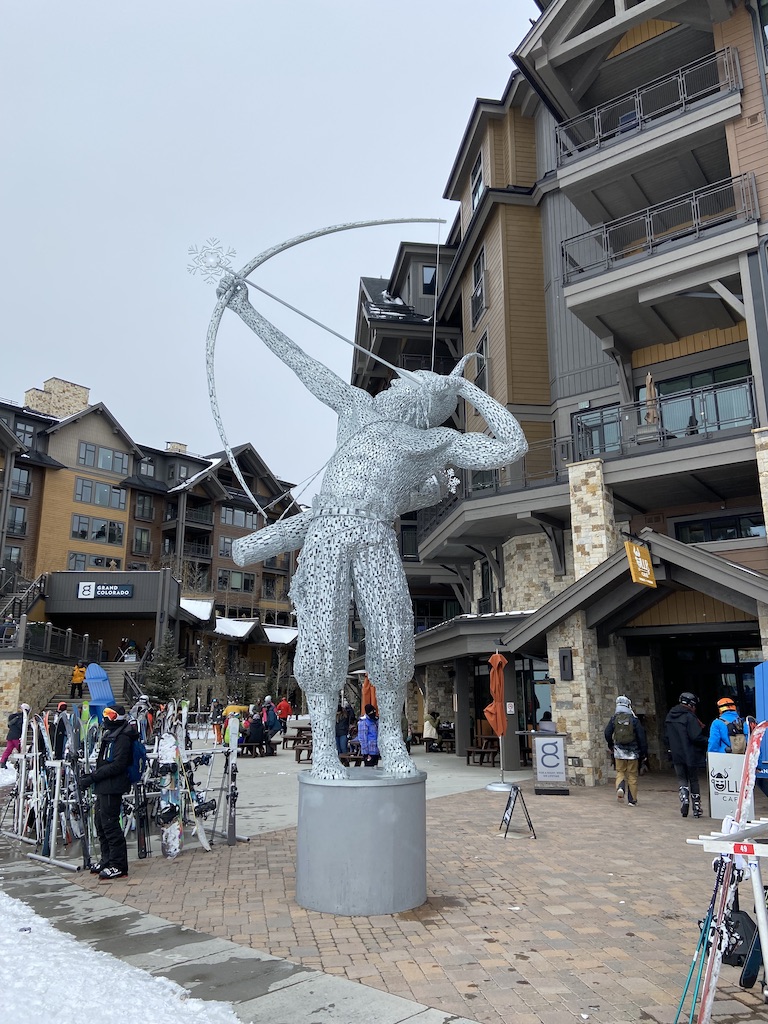 "It's not bad," said Andres Everaert here with his family from Mexico City. His son Lucas, 10, is just excited for snow—any snow. "The snow is enough when you don't live where there's snow," Lucas explained.
"All good," agreed Mike Baggett, from Nashville, here with his son and daughter-in-law who live in Birmingham, Ala. "When you are from the south, you're happy with any snow you can get… and it's always a good time."
That was certainly the case at ULLR Fest. "This is for anybody who enjoys a good time," says long time local and former Breckenridge Mayor John Warner before he marched in the parade. "We are a very welcoming community. If you want to put horns on your head," he jokes, "People will accept you."
Breckenridge was a prosperous mining town in the 1800s at more than 9,600 feet high where there are still some of the original miners' cabins—including a newly renovated one that houses the new Tin Plate, a pizza place serving up gourmet pies with sourdough crust (think fig and prosciutto or pineapple pancetta or butternut with goat cheese). "I was always a sucker for pizza and unusual combinations," said owner James Harris, a former pro snowboarder.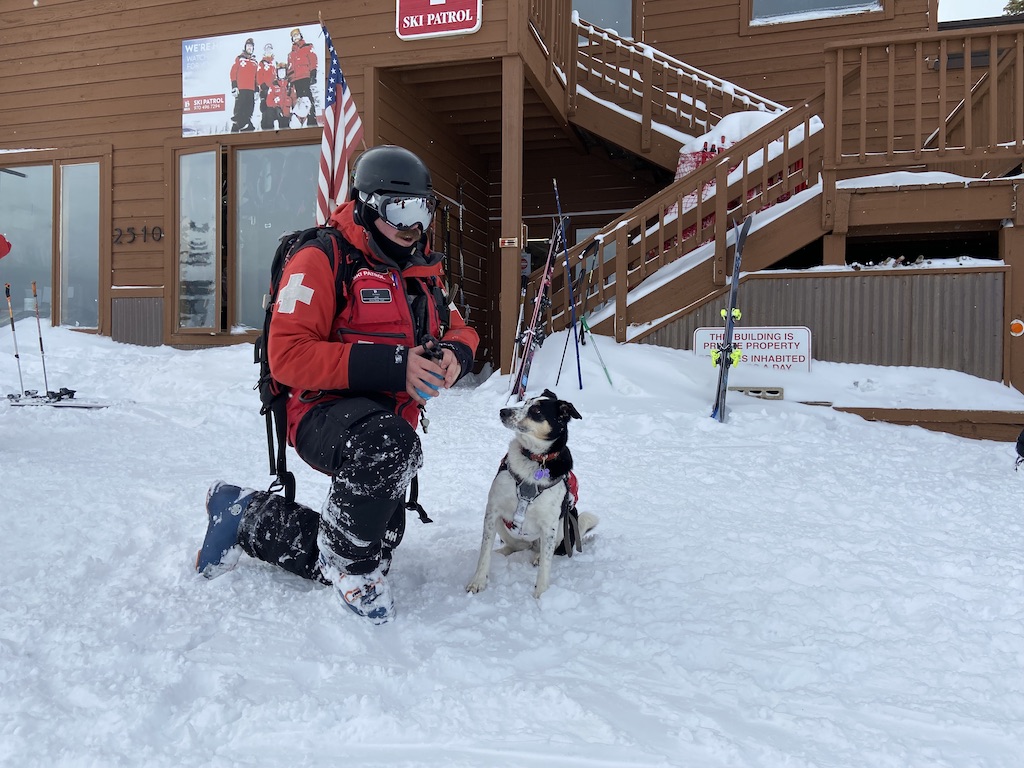 The ski area, opened 60 years ago and for many years now owned by Vail Resorts, has always been loved for its relaxed mountain-town vibe, and high alpine adventure across its five peaks. Fun Fact: Breck was the first major Colorado resort to welcome snowboarders in 1984. And because the resort is so high, it stays open until Memorial Day.
We are staying at one of the town's newest hotels, Gravity Haus, which is just steps from the ski area and Main Street with its restaurants and shops. It has a hip vibe—it's lobby and coffee shop, in fact, draw locals for its cozy atmosphere and its hotel is dog friendly.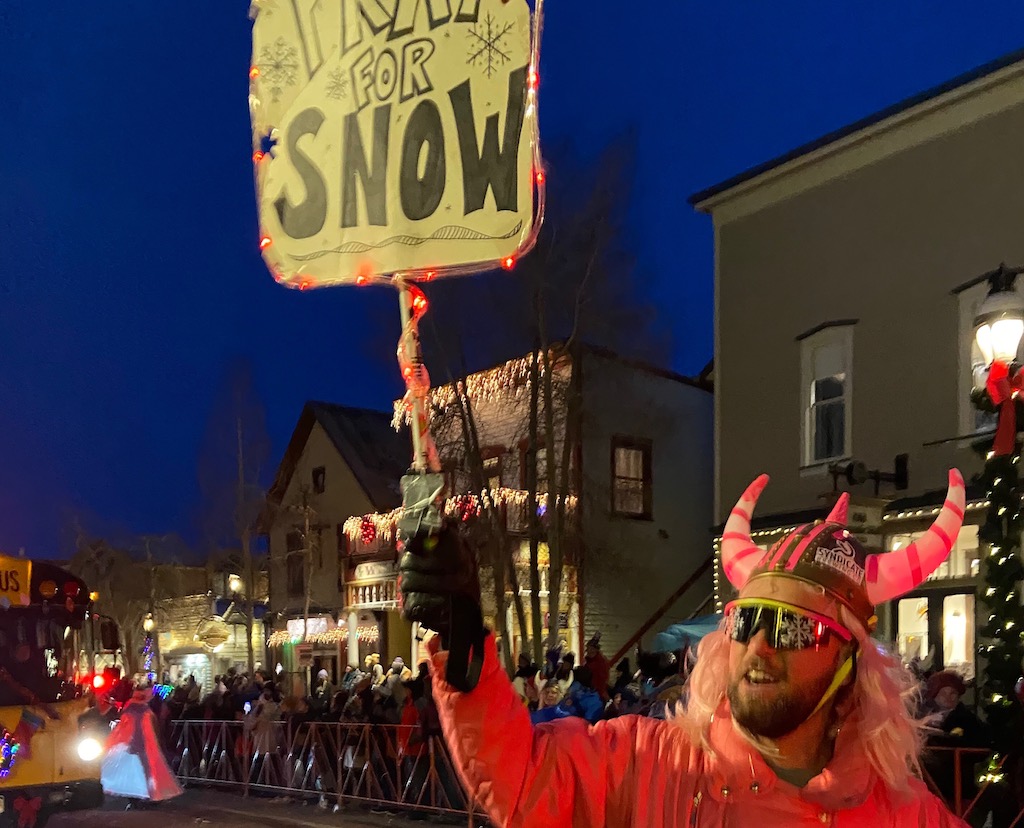 "There really is something for everyone here," said Patrick Guilbert who found a second career as a private ski guide here after retiring from the corporate world. He explains there are places adventurers can go "where no man has been before," as well as plenty for novices and intermediates. A little known fact: Because the ski resort has so many north facing slopes, they get "loaded" with snow from southwest loaded winds that keep the deep snow for days. "That makes so much of our skiing so good," he said.
"We love Breck," said Andrea Faros, who lives in CO, and is here with her two sons Gregory and Ryan, who were busy trying to catch the candy being thrown from the parade floats. "It's very chill, very relaxed," she said, explaining it was her East Coast parents first foray here.
"Let's hope the festival does its job," she joked.
It seems it has—as the Mountain got a good dumping of snow overnight. Thanks Ullr!