Exploring the Chianti Appellation and Vineyards of Italy …even with your kids!
Chianti is easily one of the most fascinating regions in Tuscany, Italy, famous for its landscapes, history and artistic legacy. Chianti's rolling hills, vineyards and olive groves form an exquisite canvas of natural beauty punctuated by charming villages, castles and farmhouses.
If you're a wine enthusiast or an all-round foodie, Chianti offers an amazing opportunity to sample renowned red wines, tour vineyards with your family and experience wine tastings that showcase the artistry and passion of local winemakers.
Getting Around the Chianti Region
Exploring the enchanting expanse of Chianti Classico is a journey that beckons adventurers along the iconic state road known as SR222, affectionately referred to as la Chiantigiana. This historic route winds through the heart of the region, an embodiment of time-honored beauty.
For those eager to immerse themselves in this captivating landscape, a diverse array of accommodation options awaits. From charming hotels to agriturismo stays and fragrant olive groves, there's something nice for you and your family.
Most people exploring Chianti choose to travel by car. The main road, SR222, runs through the center of the region and offers beautiful views. The roads are mostly two-lane and wind through Tuscany's iconic landscapes with twists and turns.
Trains don't go directly through the Chianti towns, but you can take a train to Siena or Florence and then join a group or private tour to visit the Chianti wineries and smaller towns in Chianti.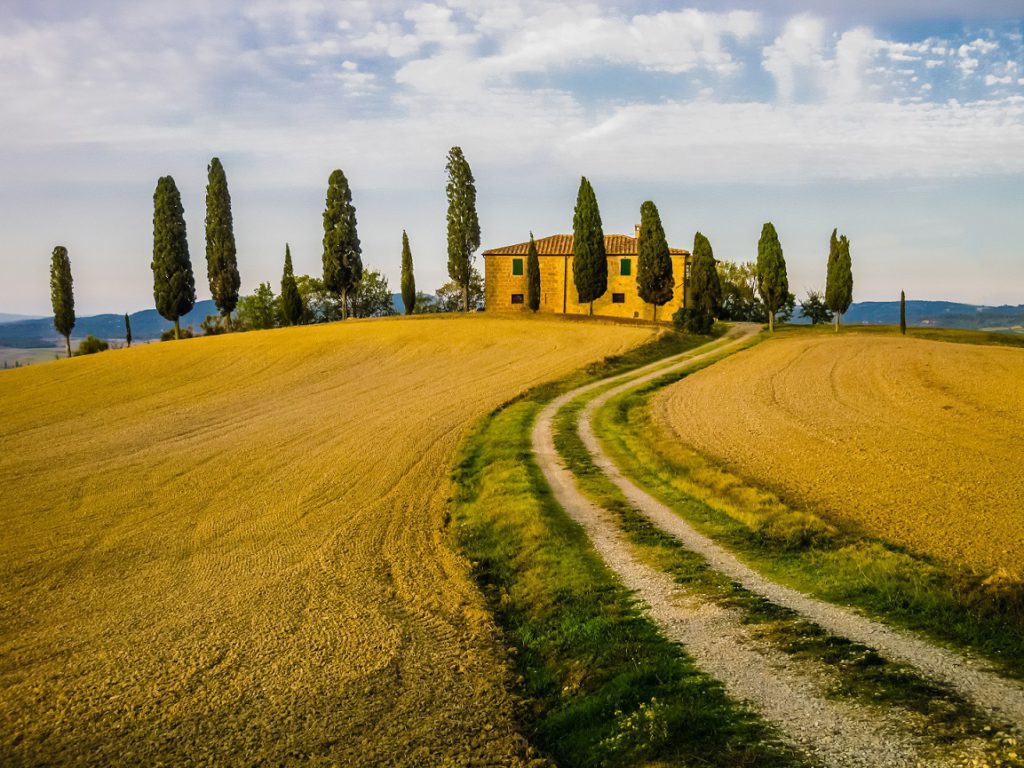 Experiences to Enjoy in Chianti
Villa Machiavelli
A short distance from San Casciano in Val di Pesa, tucked away in the quaint village of Sant'Andrea in Percussina, you'll discover Villa Machiavelli. This historical tavern served as Machiavelli's retreat for card games and wine indulgence, offering delectable cuisine, fine wines and idyllic rural surroundings. Nearby, Villa Mangicane has transformed into a luxurious hotel, offering an enticing option for accommodation.
Magical Panzano
In Panzano, an extraordinary butcher, Dario Cecchini, presides over a restaurant named SoloCiccia, translating to "only meat." For enthusiasts of authentic Italian cuisine, Cecchini's establishment is an absolute must-visit.
Visit Piazza
As you head south of Panzano, you'll come across the charming town of Piazza. Here, you'll find a true treasure — Osteria Alla Piazza. Despite its small size, visiting Piazza is a rewarding experience, offering the chance to enjoy delicious food and wine while surrounded by the stunning Chianti vineyards.
Barone Ricasoli
The expansive Barone Ricasoli winery is the largest in the Chianti region and is a big part of the best Tuscany wine tour. This destination offers an excellent setting for wine tastings, exploration of the castle's gardens and a delightful lunch at Osteria del Castello. Situated in Madonna a Brolio, merely 5 kilometers south of Gaiole in Chianti and approximately 25 kilometers northeast of Siena, Barone Ricasoli presents a captivating experience.
Grapes and Games: Kid-Friendly Winery Tours
The Chianti experience is not just for adults. Your kids can embark on grape-harvesting adventures, join interactive workshops and even enjoy grape juice tastings — an experience that turns learning into pure joy.
Into the Vineyards: A Family Expedition
Chianti offers an array of activities that the whole family can enjoy. Many vineyards open their doors to families, offering guided tours that engage kids with captivating stories of winemaking magic. Strolling through the vineyards, you'll witness firsthand the harmony between nature and viticulture, a lesson that transcends generations.
Your journey through Tuscany's heart is a celebration of life, family and the simple joys of discovering new horizons. As the day draws to a close, raise a glass