By: Joanna Mazewski, Taking the Kids Correspondent
When you think of Atlanta and the surrounding areas, many different things come to mind: family fun, aquariums, a refreshing, sizzling glass of one of the world's most iconic brands and of course, a restaurant chain where the cows continually campaign against the rights of chickens (or so it seems). But look a little further to the north and Sandy Springs might seem like a world away from the hustle, bustle and non-stop traffic of the southeast's most Metropolitan city.
Sandy Springs is a destination within a destination. It's also a place where you can unwind, relax and go offline for several hours at a time. One great opportunity to do so is with the help of Nantahala Outdoor Center's Chattahoochee River Outpost. My two children and I got to spend several hours tubing down the Chattahoochee river while not only spending quality time with one another, but making memories in the process, too. After all, when else do my kids get to burst from laughter after seeing their mother struggle to get on – and off – her tube in the most unladylike fashion ever? Definitely not at home and during the school year. And when else do my kids have my complete and uninterrupted attention? Definitely not at home, either.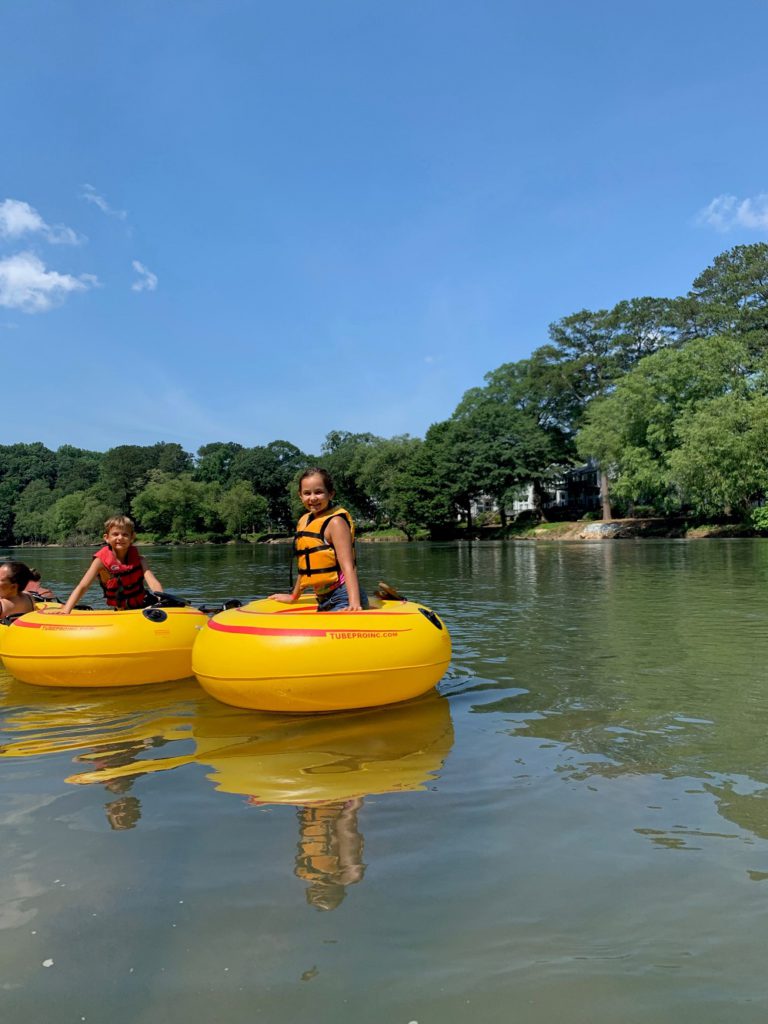 During our four-hour journey down the river, we laughed, we sang songs, we talked about the good times and we might even cried a little, especially after struggling to get past some of the rocks and currents. But we worked as a team and navigated ourselves through the ebb and flow of the current.
Sure, I might have worried about not applying enough sunscreen before we began our adventure. And yes, I did think about the emails and notifications I might have been missing from my phone, which was safely stored back at the outpost. But did I love being unplugged in the middle of day and in the week no less? Absolutely. I also loved being immersed in the beautiful natural setting that you can only get from the Peach State. You can't help but pinch yourself as you are surrounded by the pristine beauty of rock formations and rich green trees that are set off by the vibrant blue sky canvas from above.
If you have just one option or day to explore while in Atlanta and Sandy Springs, then do this. It will truly take you back to a time when iPhones didn't exist and when you talked to one another, rather than texted each other.
Of course, there are a few things that you will need to plan before your trip. Bring plenty of water, sunscreen and make sure that no one in your party goes hungry for the three to four hours that you will be tubing. The Nantahala Outdoor Center has two different outposts in the Chattahoochee River National Recreation Area: Powers Island and Johnson Ferry. The Powers Island unit in Sandy Springs is the most popular one as this location offers weekday rentals. They also offer river trips and rentals for tubing, kayaking, stand-up paddleboarding (SUP), rafting and inflatable kayaks. With half-day and full-day rentals available, you and your group can explore up to 8 miles of flatwater and Class I-II whitewater. Keep in mind that reservations aren't necessary on weekends but are recommended on weekdays, and the last reservation is at 2pm daily.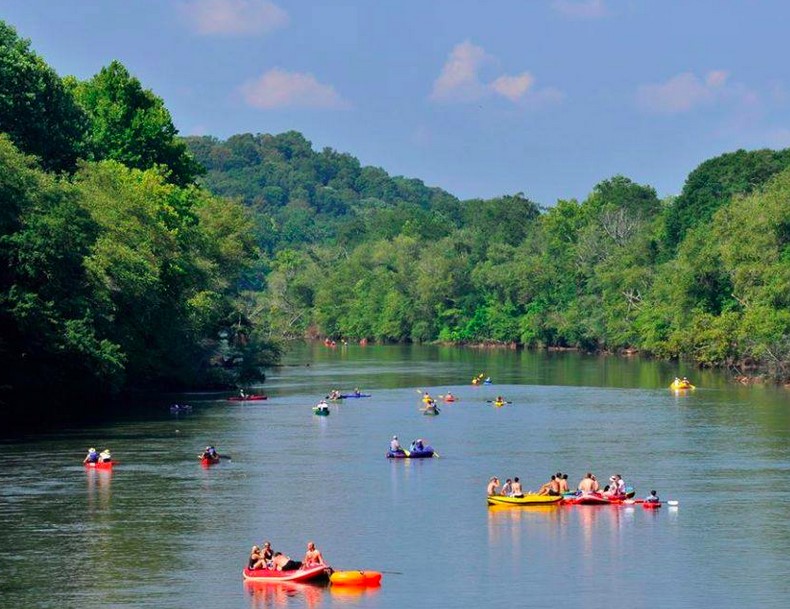 Know Before You Go:
5450 Interstate N Pkwy
Sandy Springs, GA 30328
(404) 596-7517