By Eileen Ogintz
If you want to get the true sense of Curacao, you've got to meet locals—local families to be specific. Try a cooking class with Krris Kierindongo.
Kierindongo introduces us to his mom and aunt as they are busy chopping herbs, squeezing juice and readying lettuce on the patio of their home overlooking the lights of Willemstad, the capitol of this small island between Bonaire and Arbuba, home to just 150,000 people and part of the kingdom of the Netherlands.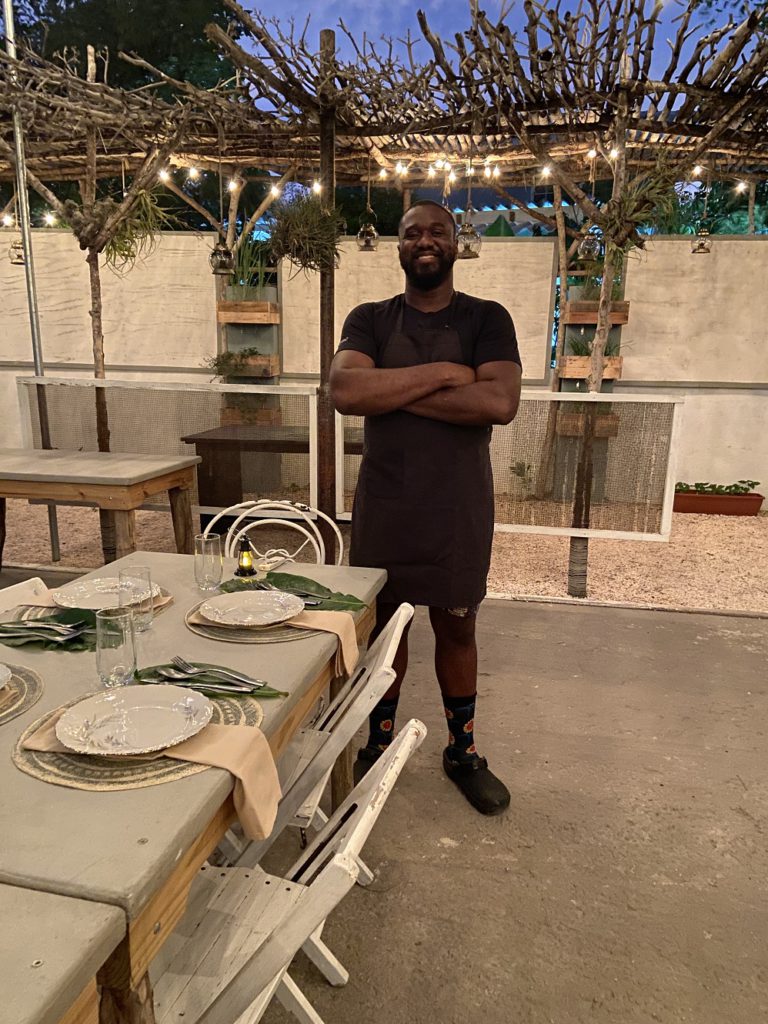 Kierindongo, a software consultant, has just started Vittle Art, a business designed to help visitors better appreciate local culture and cuisine. He invites visitors to come help cook a meal; share bites or sit down for fine dining, each course paired with drinks made with local juices and cocktails. (Workshops typically cost $80, $20 for kids, though a taxi from the harbor where the cruise ships dock could be expensive).
He shows us his big garden with papaya, yucca, sweet and hot peppers, tamarind, sweet potato, pumpkin, apple, peas, Various herbs—everything from basil and chives to mint and tarragon– and yes calabash. Kierindongo had used calabash syrup, among other ingredients, for a marinade that we slathered on ribs and chicken satay that incidentally were on a tree stick that would enhance the flavor, he promised.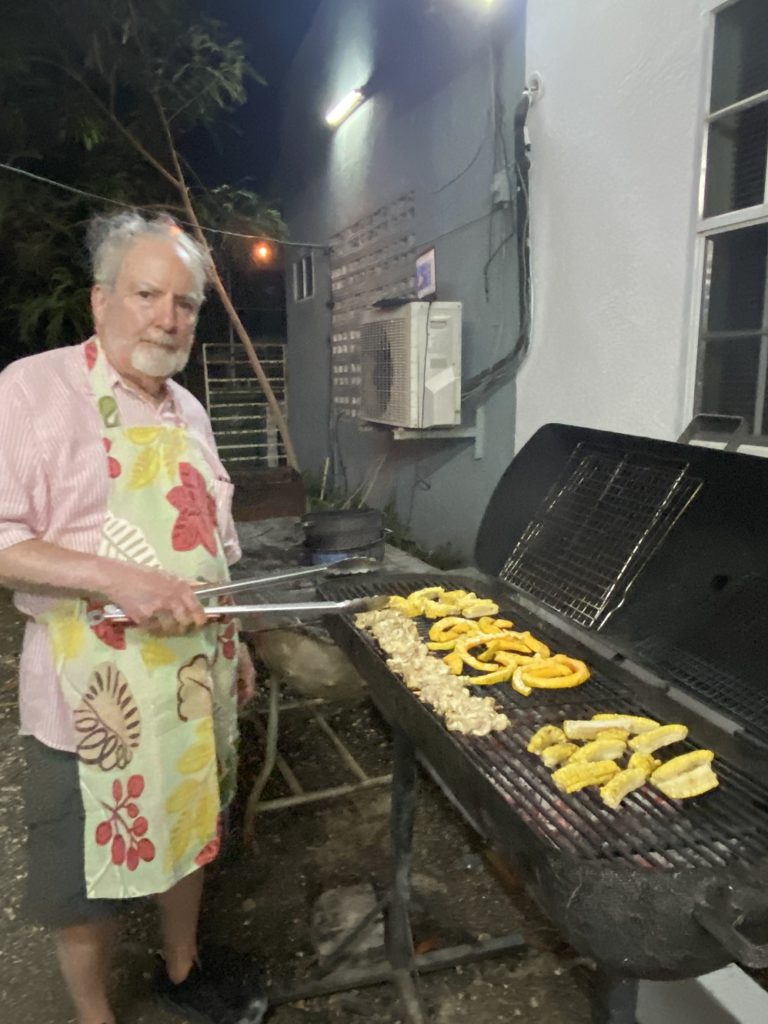 There was grilled pumpkin and corn, potato salad, stuffed local cucumbers and drinks made with pomolo juice (a cross between grapefruit and lemon) lemon grass, basil, Bay Rum leaf and honey. The local pineapple I cut is sprinkled with sugar and cinnamon, grilled and then drizzled with mulberry jam for desert.
"A healthy menu with local ingredients is delicious," he said.
During the pandemic, Kierindongo's family helped create the covered eating space that was built on his childhood basketball court. His dad, he explained, built him the court he had promised if Kierindongo got his grades up. He pointed out the pole that held the basket, left to honor his late father who always urged him to do his best and to enjoy life.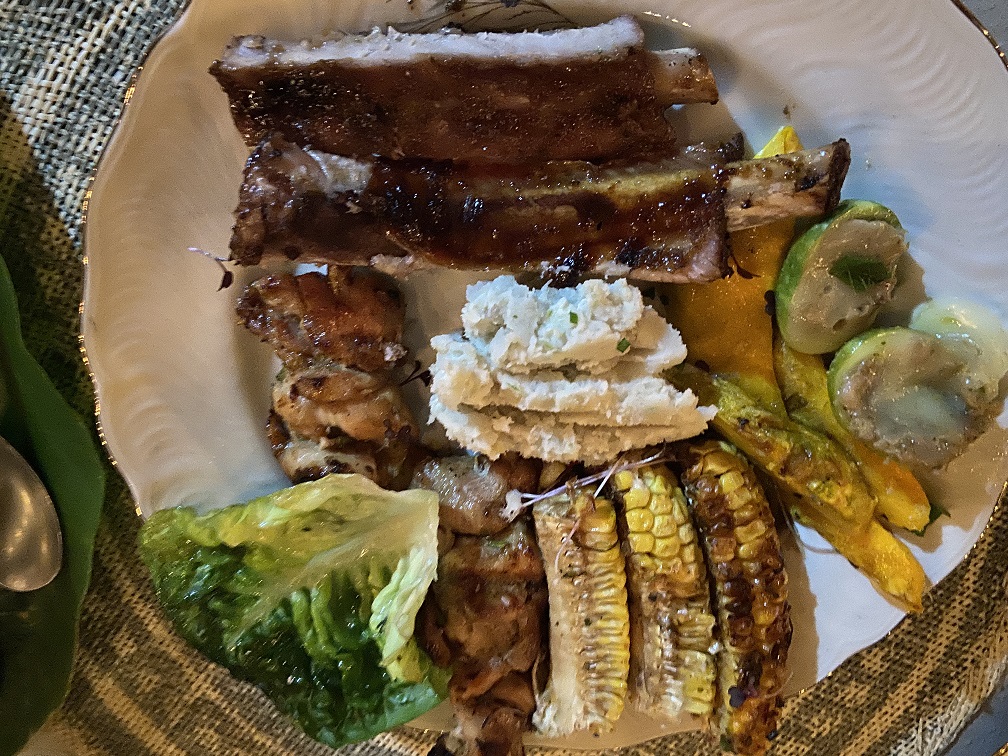 Elsa Hato, 95, advised her grandson that he didn't need to go to culinary school. Every great chef, she opined, learned from their grandmother. Hato, incidentally, still prepares Sunday dinner for her family of 35+ every Sunday.
We savor our mill, looking out at the twinkling city lights and the big garden. "The simplest things," said Kierindongo, "Improve your quality of life."
We got a different insight into family here at SAL The Kitchen, a hip Willemstad restaurant run by two brothers- Dimitri and Mauro Nataf whose father is a restauranteur on Curaco. Dimitri works the front of the house; Mauro,26, is the chef.
The walls of the restaurant , they explain, were built of coral. "The coral contains salt that slowly leaks out of the building.. Hence: Sal. What our kitchen lives and breathes.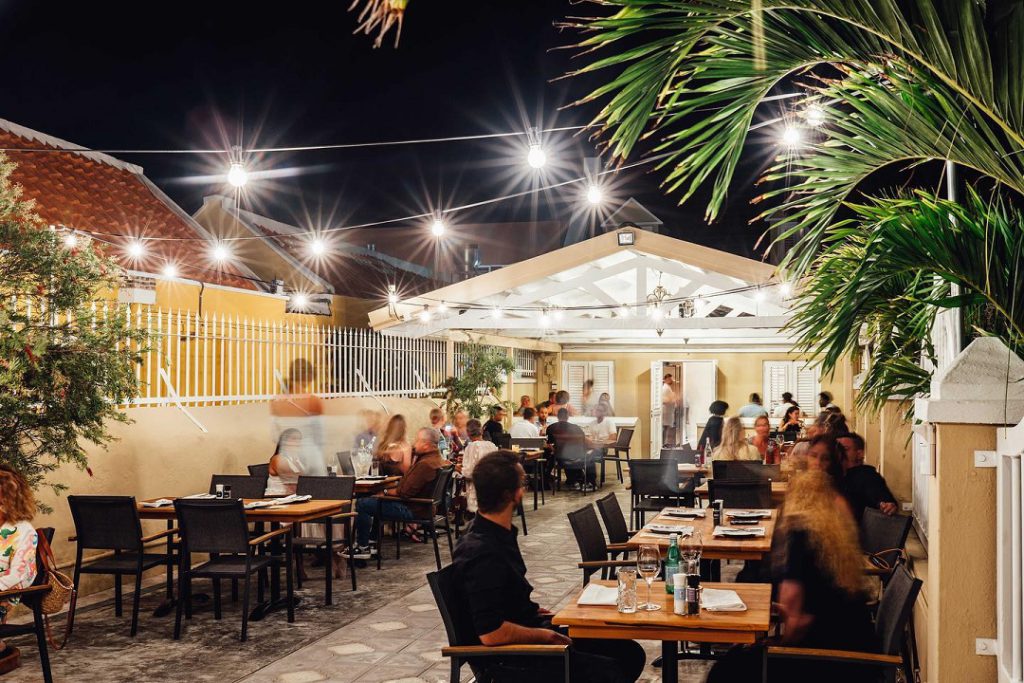 Sitting in a lovely patio. We eat a delicious dinner starting with G.O.A.T salad with locally sourced cheese and served with a fennel and charred grape salad, tuna sashimi, a rib-eye steak more than large enough for two and a marinated white fish with miso and sake served with crunchy rice cakes. Yum! But if you come back in three months, these dishes likely will be replaced by other choices as the menu changes.
"Don't ask what the concept is here," said Dimitri. "We don't have a specific cuisine. We want to cook what we want."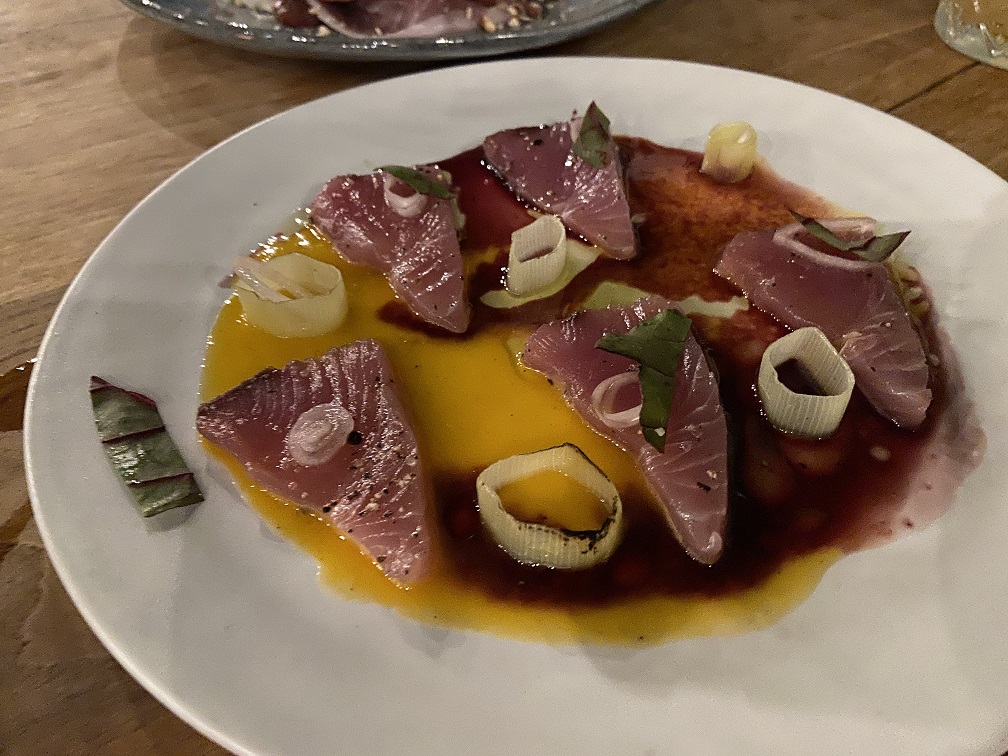 Let's hope they continue to do exactly that! The next morning, I'm thinking about the Nataf brothers as we tour Kas di Pal'i Maishu, an outdoor museum enabling us to get a glimpse of how difficult life was for newly freed enslaved people in the second half of the nineteenth century where everything was done by hand with handmade wooden tools—everything from grounding cornmeal, baking bread in an outdoor oven, making their own charcoal and clothes from used rice sacks.
Even today, locals hang and upside-down aloe vera plant at their door to protect against those entering with bad vibes, said our guide Ryan Quinland. Though not as interactive as Americans have come to expect at living history museums, this is very popular, especially those interested in the history of slavery in the Caribbean and what happened afterward. (Slavery was abolished here July 4, 1863). "It was a very harsh life," said Quinland, "especially for women."
What would they make of all the modern conveniences?