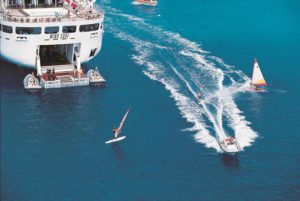 By Eileen Ogintz
Tribune Media Services
Wow!
The lava glows bright orange in the black sky and we're so close we can hear it as it spews down.
Luckily, our viewing platform is offshore. It's late in the evening aboard the sailing yacht Wind Surf. We're on deck off the coast of Italy; wine glasses in hand, our eyes on the island of Stromboli. Because this ship is so small (maximum 312 passengers) we're privileged to sail so near the lava cone.
That amazing sight is just one of the many pluses to sailing on a small ship on a cruise line that is ideal for parents seeking that elusive guilt-free, grown-up getaway without the kids. 
"By the end of the week, you'll feel like this is your personal yacht," promised Captain Maurits Groothuis. At the very least, the crew knows our names and strangers have become fast friends. In the evening, we can make believe we're on "our" yacht when dining on deck as areas are retooled as intimate venues with white tablecloths, the waiters attentive to every desire and the sails billowing in the wind. We're free to dress the way we like too. (No fancy duds required.)
Besides the Wind Surf, Windstar Cruise Line has two smaller ships, the Wind Star and Wind Spirit, which carry only 148 guests. This fall, all the ships are scheduled for improvements. The last time we sailed Windstar 11 years ago, the cruise from Athens to Istanbul proved a much-needed and rare break from our three rambunctious kids. This time on a cruise that began in Venice and took us through Croatia, Sicily and the Amalfi Coast, ending in Rome, we'd just packed our youngest off for a semester abroad.
According to American Express, it seems a lot of empty nesters are indulging in second honeymoons with many — like us — heading off on Mediterranean cruises. American Express consumer travel data shows a 57 percent increase since last year. (Whether you want to cruise the Med, Scandinavia, Panama or the Caribbean, Windstar has got new itineraries and the lowest introductory pricing in years, including an early bookings savings of 15 percent.)
I met many other couples seeking an adult respite on the Wind Surf, including several who were new empty nesters, having just sent their last child to college. "We dropped our son at college and then immediately left for Europe," laughed Janet Wagner, who lives in Savannah.
Steve and Lynnette Strobel, celebrating their 25th anniversary, as well as being new empty nesters, were hard-pressed to remember the last "adult" vacation they'd had. "We would always take vacations to visit the family in Montana," said Lynnette Strobel, a nurse from Connecticut.
Onboard the Wind Surf, it's easy to see the appeal of such cruises. Sure you likely will pay more than on a megaship, but you won't wait in line for anything or fight for a deck chair. You'll visit smaller ports (we especially loved the Croatian island of Korcula with its tiny walled town) and can jump in the water straight from the ship's water platform, where you could also water ski, kayak, windsurf or snorkel — all complimentary, of course. You'll slowly remember why you became a couple in the first place.
In Rovinj, Croatia, our first port, we joined Executive Chef Ronald Waasdrop to tromp to the local outdoor market, tagging along as he bought squash blossoms, truffles and honey. We stroll past tables with brightly colored strings of red, yellow and green peppers, pumpkin oil, berries and plump juicy figs. Honey flavored with truffles, Waasdorp told us, mixed wonderfully well with goat cheese, which he suggested we'd enjoy later onboard.
Did I mention this "excursion" is complimentary? Nothing like this could happen on a megaship. Nor could we visit the bridge without special permission (this ship has an open bridge policy where we learn from the officers exactly how they raise and lower all of the sails — 26,881 square feet on five masts 164 feet high!)
"So mellow," one guest sighed, looking around at people on deck playing Scrabble, reading and playing cards. After we'd finished a terrific lunch, we casually joined others at their table, which led to lively discussion. Later, waiters come around with frozen grapes. "I'm sold on smaller boats now," said New York publishing executive Joe Valentino, a veteran megaship cruiser.
There are drawbacks, of course. No balconies in the cabins, tiny pools, limited late-night entertainment. "I miss that," acknowledged Linda Cooke, cruising with her husband and friends from Canada. Many onboard were disappointed in the pedestrian and pricey shore excursions offered on a line that bills itself as "180 degrees from ordinary."
But that didn't put a damper on anyone's trip — not for the kids onboard either. You wouldn't think Windstar would cater to kids but there were several, including four ranging in age from 11 to 17, traveling from California with their grandparents and one of their moms. They didn't miss the kids' clubs and waterslides they'd have had on a big ship, they said. "This is a great vacation," declared 13-year-old Sophie Bonin, sipping a Virgin Colada. "I like being treated like a grown-up!"
Sophie's grandfather, Al Palazzo, who had wanted to show his grandchildren some of Italy's great sites, was a bit disappointed the kids were more interested in shopping than history but he's glad everyone is enjoying themselves and more importantly, he's not shepherding them all — and their bags — from city to city. "I wanted the trip to be as laid-back and stress free as possible, and this was my best idea," explained Palazzo, who has cruised Windstar many times before.
The 240-plus adults onboard the Wind Surf being attended by 187 crewmembers certainly would agree on this spectacularly sunny day at sea. The ship takes us from port to port while we relax as we go, deciding what we will do once we arrive rather than hassling with rental cars or trains. There's no packing and unpacking, no wondering whether we need a dinner reservation or deciphering a menu in a foreign language, much less worrying whether we're going over budget because the cruise cost, of course, covers meals, transportation and lodging.
Our last day aboard the Wind Surf, we docked in Sorrento along the Amalfi Coast. Our only complaint: We had just six hours! We took an hour boat cruise to Positano with its candy-colored houses, marching up the hills as others went to Pompeii and Herculaneum to see the famous ruins. Some, including the Bonin kids, opted to tool around Sorrento just so they could have enough time for one last visit to the water platform.
"A trip like this is just a sampler," sighed Dr. Anh Vu, a pediatrician from Houston. "You see where you'll want to come back."
And stay longer.
(For more on Eileen's cruise aboard Wind Surf, read her Travel Diaries)
© 2011 EILEEN OGINTZ, DISTRIBUTED BY TRIBUNE MEDIA SERVICES, INC.