By Eileen Ogintz
DID YOU KNOW: The Colorado River may reach speeds of 10-15 mph at steeper rapids, though average smooth water speed is 3-4 mph. It drops a total of 1,709 feet during its 278-mile journey through the Grand Canyon.
BREAKFAST: Eggs to order, bacon, fruit, freshly baked blueberry and poppyseed coffee cake
LUNCH: Tortilla cones with bean salad, cheese, fruit, cookies Martha's Kitchen, Mile 40
DINNER: Hamburgers, bratwurst, beans and potato salad—birthday cake (mine!)
CAMP: Nankoweap, Mile 52
MEMORABLE RAPID: Georgie Rapid
OTHER RAPIDS include Hansbrough-Richards Rapid, Tiger Wash Rapid, President Harding Rapid
SITE: Redwall Cavern, vast natural chamber carved by the river
HIKE: To the ancient Granaries dating to 1100 AD
"With no distractions on a rafting trip in the Grand Canyon, you really have the ability to be present, to take in the beauty, the geology, the history…the stars at night." Kris Anderson, Chicago Sept. 2020
I wake up soon after sunrise. "Coffee?" my husband asks.
I sit up in my sleeping bag and look around. We are steps from the Colorado River in the Grand Canyon. The light on the multi-hued rock—pink, orange, brown is spectacular as the sun comes up. This is day two of a week-long Western River Expedition rafting trip through the Grand Canyon and it is my birthday.
What a birthday! "How would you like your eggs," our guide Andy Dicus asks.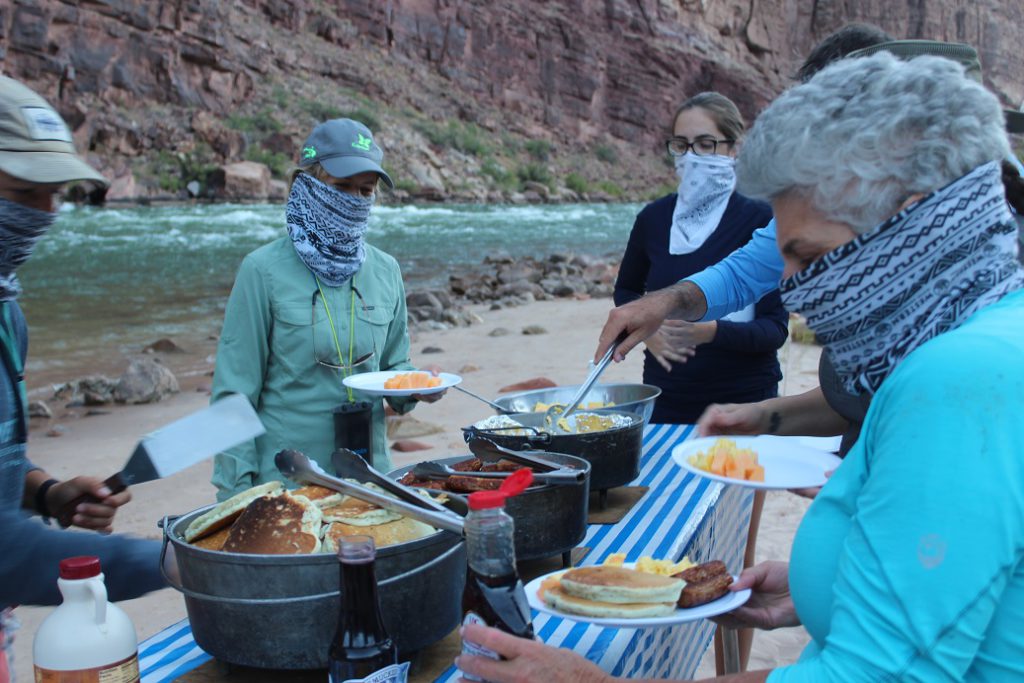 Our four guides are preparing breakfast for themselves and the 32 in our group on the river front. Besides the eggs, there's fresh melon, hash browns, bacon and just-baked poppy seed and blueberry cake. How do they do it so seamlessly? We are all impressed!
By the way, if you like coffee on the go, this is a great way to go.
By day two, we're getting used to peeing in the river (cold!) and using the two "groovers" for solid waste. And we're getting comfortable with the relative the lack of privacy. "You have to have no shame about being nearly naked in front of other people," laughed Chelsea Milko, who is from Washington DC, in her thirties and traveling with an old friend.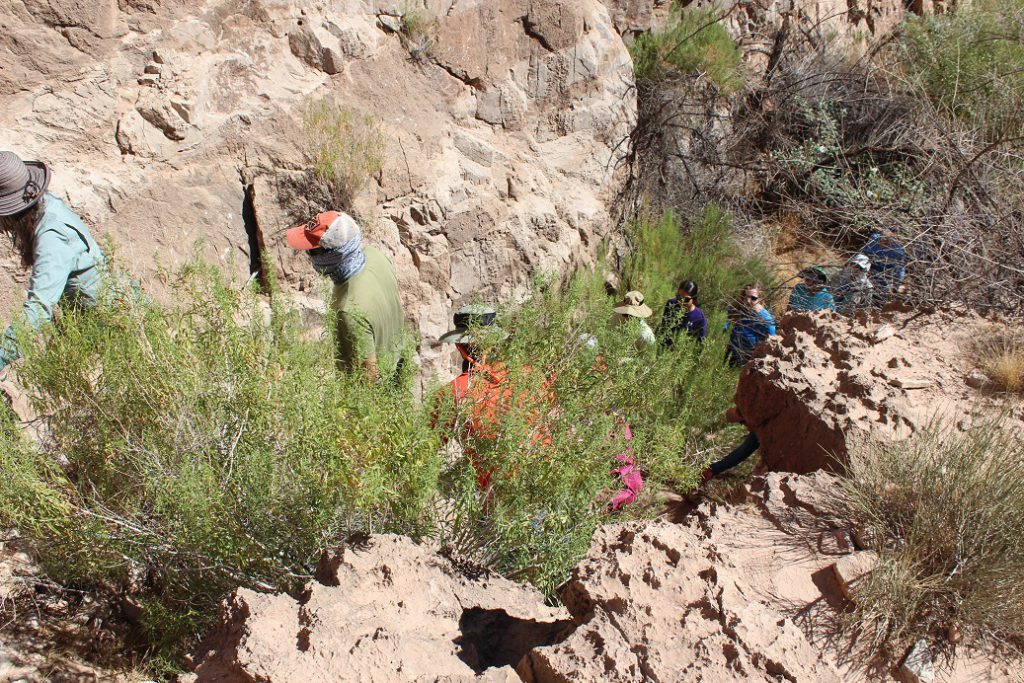 We talk about the gear we are glad we've brought—neoprene socks to wear under water sandals—and what we wished we had (PJs), and the right gear with us in our day packs the first day. "I wasn't prepared… I didn't know how cold it would be (when the water from the rapids hit us)," said Jenni Buchanan, an experienced backpacker.
And we have begun to form a community, together helping to hoist bags, share sunscreen, offer band aids.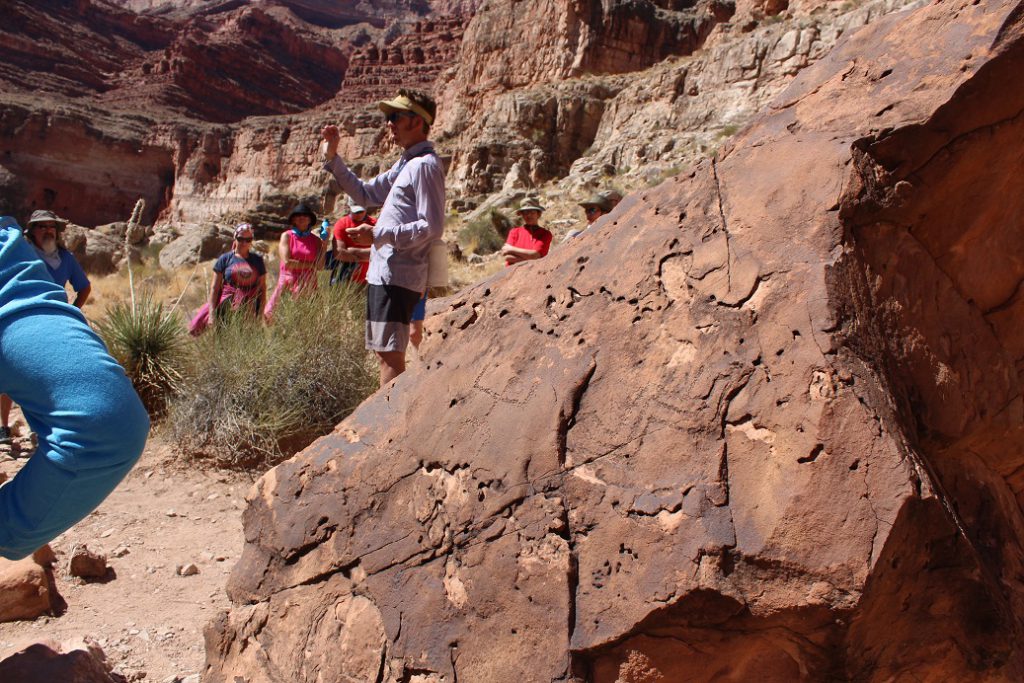 And is often the case, I've found, when strangers find themselves together, we seem freer to talk about subjects we might not with family or friends—losses, divorces; having children–or not; what's ahead after retirement… old love interests, career choices among them. Of course, people talk about adventures past—and those to come.
"I didn't have a picture of how friendly and helpful people would be," said Dr. Dayton Young, an ENT surgeon from Houston. "You don't expect that when everyone is so polarized in this country."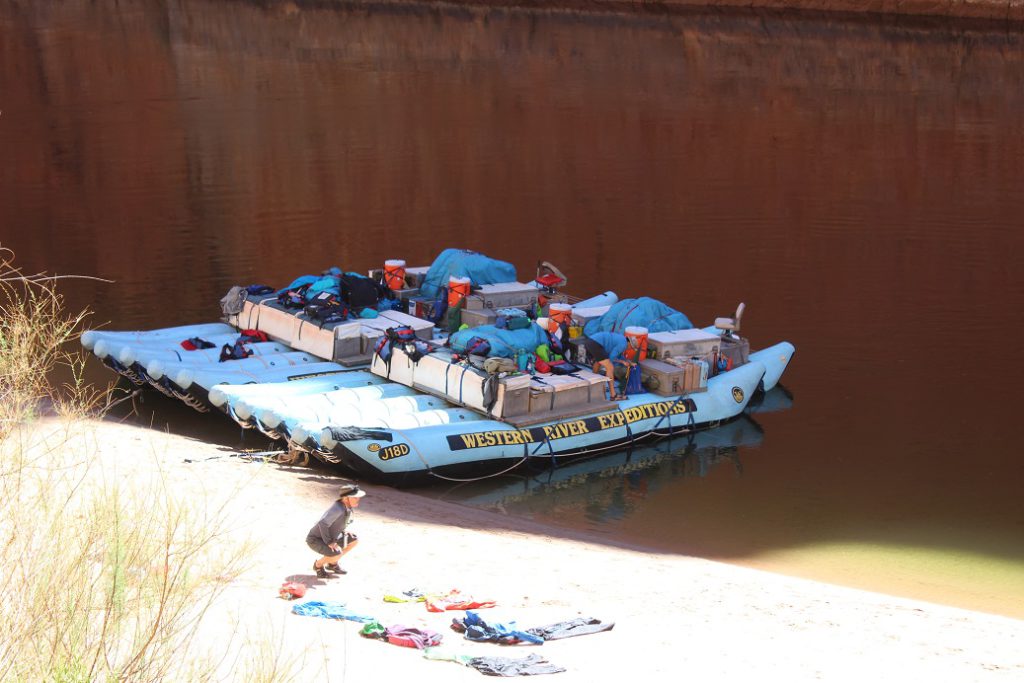 Everyone is glad to be here, in such a spectacular locale, in the midst of the pandemic and away from news, email, texting (we are totally off the grid here).
"It's been two years since we've all been together. It's really hard with jobs and living in different states," said Jessica Evans, a 29-year-old pilot, here with her brother, sister and parents celebrating their dad's retirement as a Delta Airlines captain.
Talk about the opportunity for remote learning! We time travel back more than 1,000 years in South Canyon—scrambling up rocks to see Anasazi ruins, even fragments of pottery with the decorations –made with fingernails—still visible.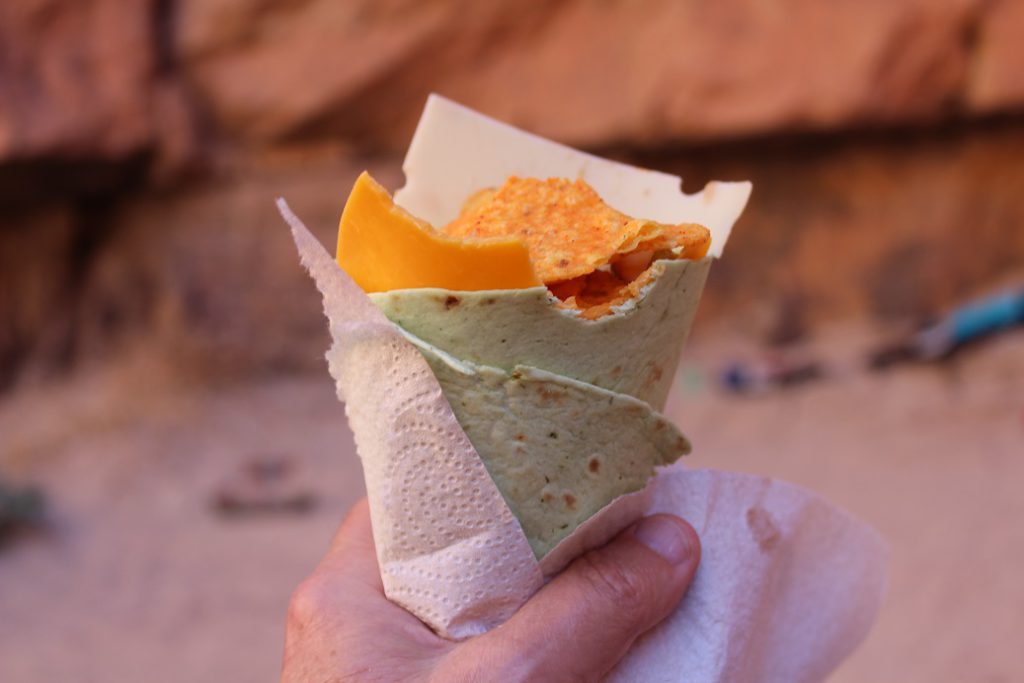 We go through Georgie Rapid, named for Georgie White, a legendary figure in Grand Canyon rafting. She was the first woman to own a rafting company and known for her leopard printed bikini (complete with a tail) and always having a Coors can beer in her hand. Shortly after my trip in 1980, I had the opportunity to talk to her for a Chicago Tribune story.
We stop to contemplate Red Wall Cavern—a natural amphitheater that John Wesley Powell believed could comfortably seat 50,000… maybe not. "I've seen this hundreds of times in my mind since I was first here… it's spiritual for me," said Dr. Harold Pine, on his third rafting trip through the Grand Canyon, the first with his dad when he was 12.
We pass a natural bridge named the Bridge of Sighs, after the famous one in Venice.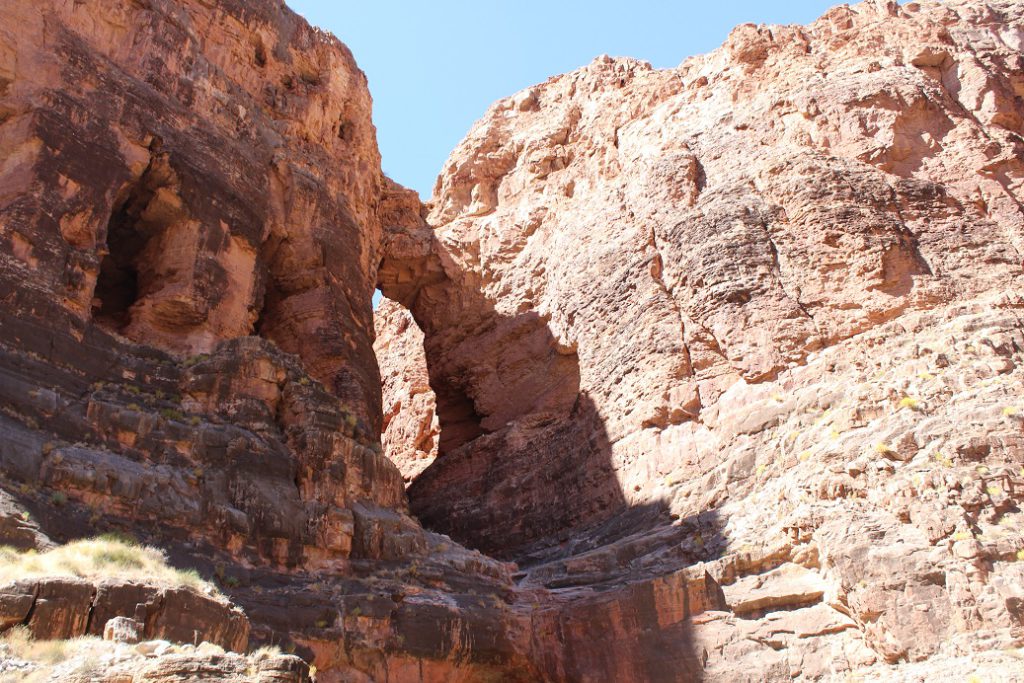 "With no distractions, " observes Kris Anderson, who is from Chicago, "you really have the ability to be present, to take in the beauty, the geology, the history… the stars at night."
"So many of our friends have been all over the world," said her husband Tom Coonan. "But they haven't been here. Coming to the Grand Canyon should be a must!"
We get a recent history lesson as we float through Marble Canyon where the fledgling Sierra Club succeeded prevented two dams from being built in the 1960s. Because the dams would have flooded a large part of the Grand Canyon, Sierra Club galvanized opposition and created a new public interest in the environment in the process.
Lunch was cone creations we make out of half tortillas—easier to eat without plates than sandwiches, we think, as we fill them with cheese, olives, bean salad and topped with chips.
As I write this late in the afternoon, we've set up our overnight camp and managed an icy clean-up dip in the river. Some folks hiked to ancient granaries high above the river at Nankoweap that date back to 1100… incredible that seeds from that era were preserved here in a series of stone and mortar storage bins high in the cliffs, the placement and design protecting the seeds from animals and the weather. Kevin Paulsen, here with his sister and family friends, said he was amazed at their ingenuity. "I'm trying to pickle things at home," he explained, "So I've been thinking a lot about preserving food," he said, adding that the view from the top was well worth the hike to get there.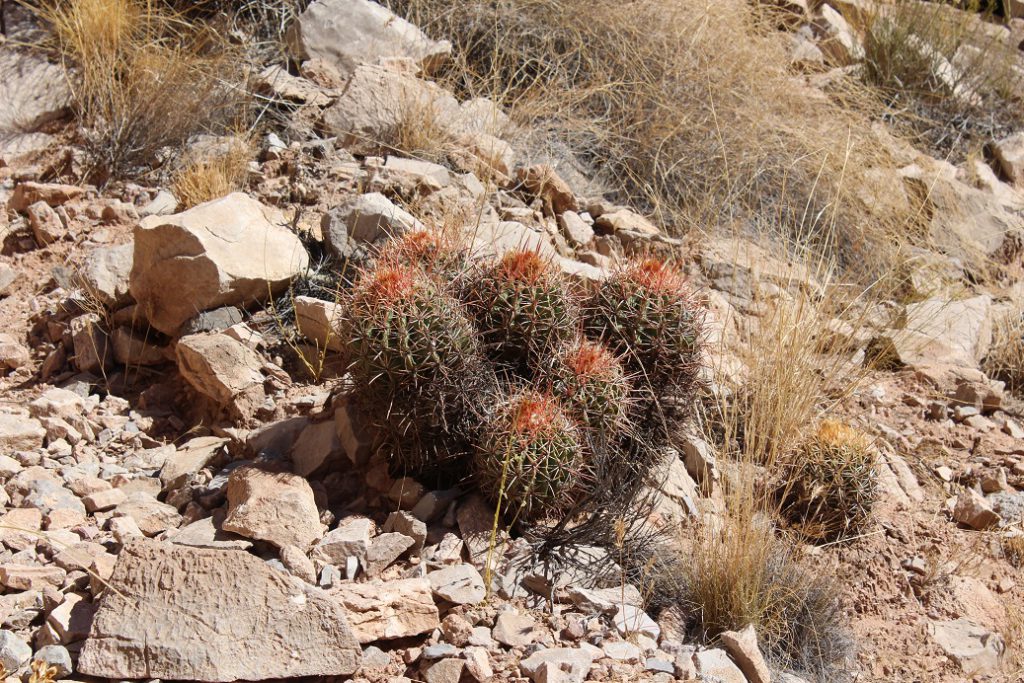 We all wonder how difficult life must have been for those ancient families–hunting, gathering, and farming. Beginning about 1000 AD, dwellings were built in nearly every farmable area within the canyon—more than a thousand like the Nankoweap Granary have been found according to the 2020 Belknap's waterproof Grand Canyon River Guide that is more than 50 years in print–updated yearly and with the Read-as-you-Run format. We are able to learn more about what we are seeing as we are on the river.
Time for my birthday dinner… which ends with not one but two freshly baked birthday cakes—one yellow and one chocolate—and a round of everyone singing me happy birthday.