By Eileen Ogintz
DID YOU KNOW: Nearly 6 million people visit the Grand Canyon each year but only about 18,000 raft the Colorado River on commercial trips. There are 16 official concessioners of the National Park Service,  authorized to provide professionally guided river trips. Family-owned Western River Expeditions helped pioneer rafting vacations nearly 60 years ago and today is one of the largest.
BREAKFAST: scrambled eggs, sausage, hash browns, fruit
LUNCH Deli sandwiches, fruit, chips, cookies, Lava Chuar Mile 64
DINNER: Grilled Pink Trout, rice pilaf, asparagus, carrot cake
CAMP: Neville's Camp Mile 75
BEST EXPERIENCE: Floating in the Little Colorado River
"The Little Colorado was definitely a high point for me–I loved how beautiful and blue it was, riding down the rapids and floating part way back to the rafts—the ultimate lazy river!" Jessica Evans, Pittsburgh, PA Sept. 2020
Will the hike never end? It is hot in the Grand Canyon this first week in September and our Western River Expedition group is scrambling up and down the rocks to reach the Little Colorado River, a perfect turquoise color because of the dissolved limestone bottom. Not only is it beautiful, but significantly warmer than the 50-degree Colorado River into which it runs.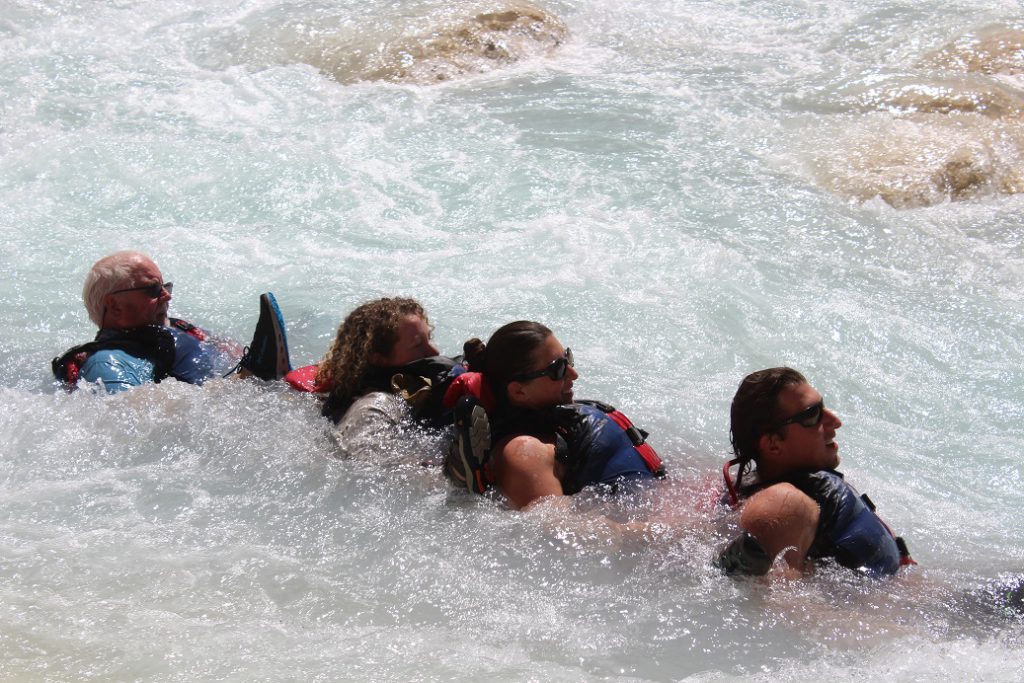 Even better, we can "run" the rapids on our backs wearing life jackets —so fun! Some in the group form a Conga Line and race down together snaking back and forth. Some fly down time after time, laughing as they go. Some have Go Pro cameras strapped to their heads or in their hands.
"My jaw literally dropped when I saw it, so beautiful and blue," said Jessica Evans, 27, a pilot from Pittsburgh here with her family.
The hot hike is soon forgotten. We all consider how privileged we are to be playing in a place few Grand Canyon visitors ever see.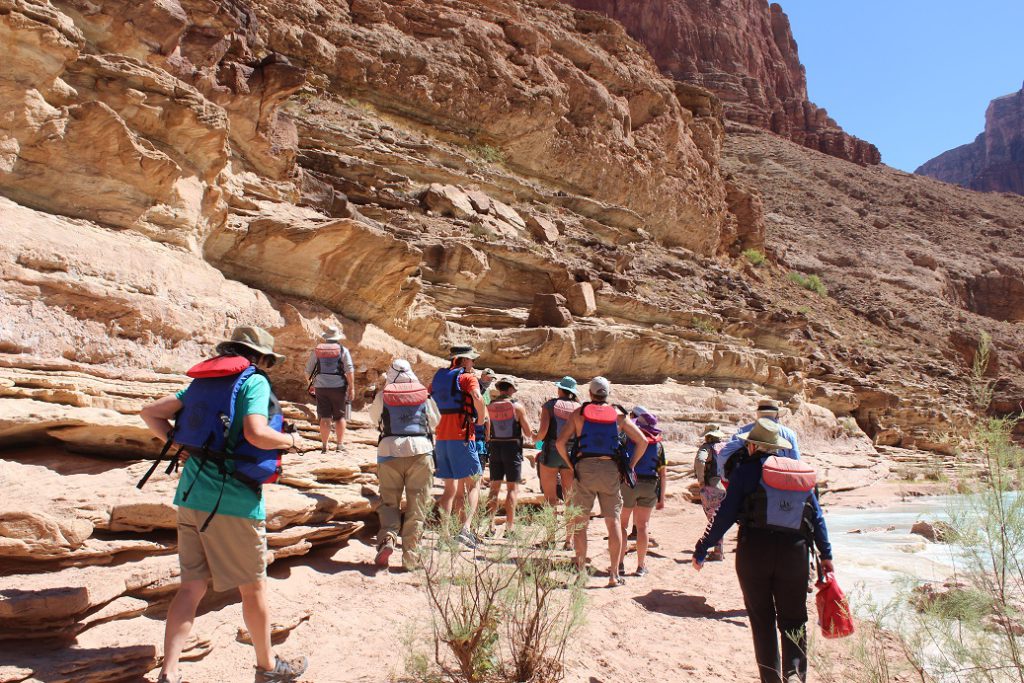 "The Little Colorado was definitely a high point for me," said Chelsea Malko, who lives in Washington, DC. "We had it all to ourselves and we could just float, not be rushed!"
"The Little Colorado was so different from anything I'd ever seen, and so warm," said Ginny Nelson, here with her husband from Raleigh, NC after their dude ranch vacation was cancelled because of the pandemic. Now in her early 30s, Nelson first rafted the Colorado when she graduated from high school but "with the water level changing, it always looks different… it's all new," she said.
"The best part for me," says our 43 year-old Expedition Leader Ben Bressler, observing the scene, "is to see people able to disconnect, get away from it all and have the opportunity to talk face to face to each other—especially this summer with COVID.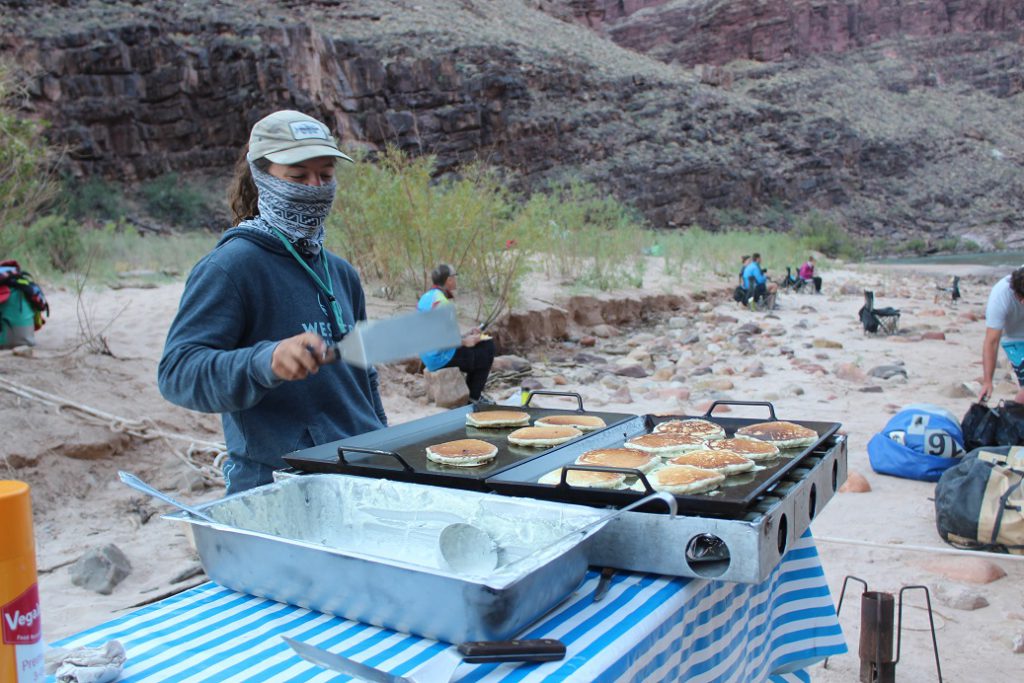 This was our second hike of the day; the first was to the site of a famous 1956 plane crash—a mid-air collision between a TWA and United flight that killed 128 people and spurred the modernization of the airline industry and the establishment of the Federal Aviation Administration.
Throughout the week, there are many side hikes—to hidden waterfalls and swimming holes, ancient Anasazi sites and panoramic viewpoints. "I love it all but I look forward to the hikes the most," said Jenni Buchanan, a California writer in her 40s who left her husband and two daughters behind for this adventure with her brother and old family friends.
At the site of the crash, we see a piece of the United plane; Bressler recounts the story, to which the six pilots on the trip—including two just-retired Delta pilots—explain how each and every crash has led to new safety protocols through the years, which makes commercial aviation very safe today.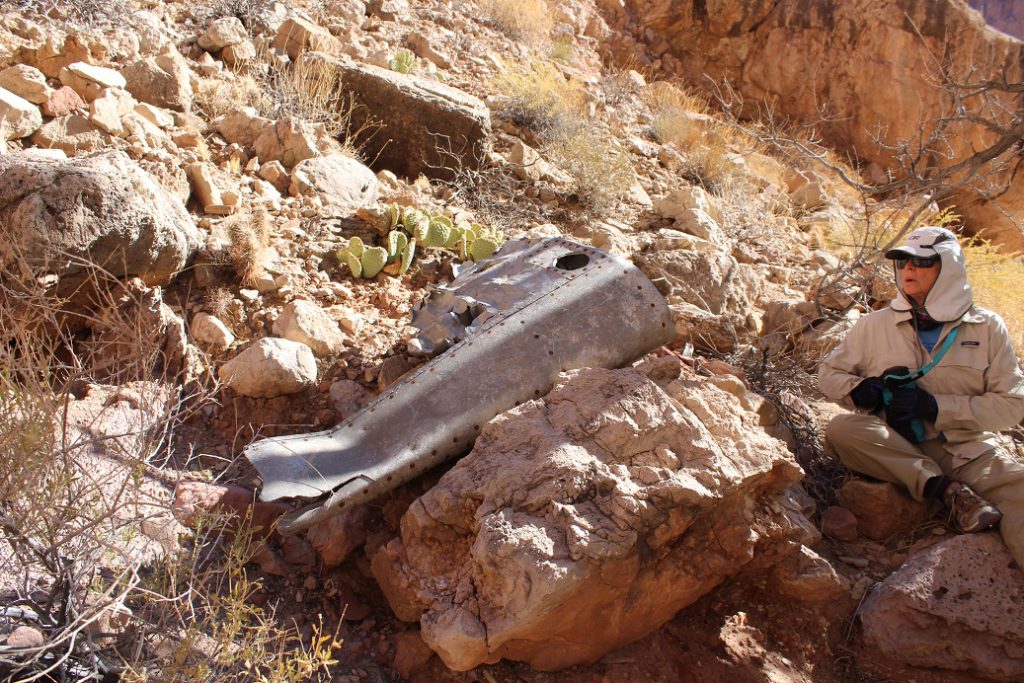 Today is the third day of this week-long adventure and this group of 32 are no longer strangers. We are camping on beaches side-by-side, peeing in the river, and peeling clothes on and off without much privacy.
"If you are a female, you have to be comfortable being almost naked in front of other people," laughed Ginny Nelson.
The twenty and thirty somethings help older rafters up and down the rocks and on and off the big rafts, joking as if they were old family friends. We gather in a circle or along the beach after making camp, sharing spirits and beer we have packed along. It's nice to see such a sense of community—especially right now when wearing a mask can provoke a heated debate in some places.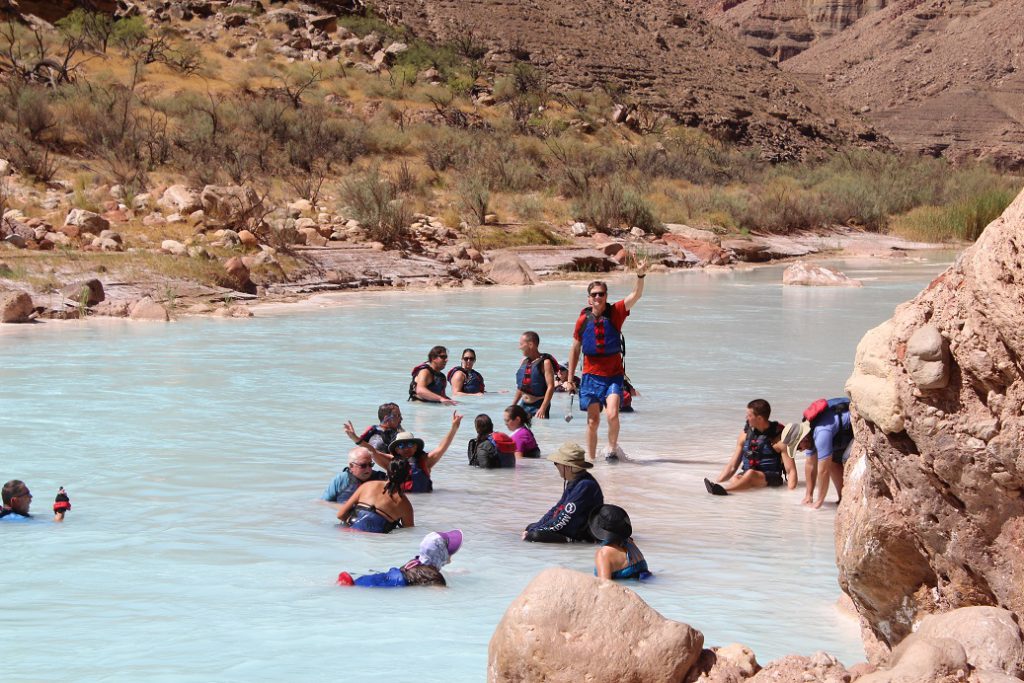 "People want to get away from all of that," Bressler said, adding that if someone raises the subject, others quickly shut the conversation down saying there is no reason to "go there," not here in the Grand Canyon.
As the trip progresses, our estimation of our guides grows. It is a tough job. Their days are long, starting as soon as it gets light—around 5:20 a.m. now the first week of September, earlier in the middle of the summer, and lasts until dark at 7:00 p.m. or so. If they aren't navigating the boats through the rapids—which requires a lot of skill—they are offering commentary on everything from geology to history to the stories of early explorers and how the rapids came to be made, "I love the stories," said Tom Coonan, from Chicago.
Then there is the scouting for a place for lunch and to camp, unloading the boats, cooking up superb feasts and then loading up and heading down river the next day.
"The guests sometimes are more impressed with what we cook outdoors than with us navigating the rapids," says Stephanie Devisser, at 31 an eight-year veteran, adding that she never expected to be a river guide this long.
"It's hard to leave," she said. "It's the Grand Canyon… there is so much magic! "
So much so that Andy Dicus, 47, and well established in a medical services career in Oregon, returns once or twice a year to guide trips. He had worked for Western River Expeditions for four seasons, he said, leaving in 2001 to return to school.
Bressler, for one, misses his wife and son but takes solace in that "there is value for him seeing his dad do something he loves."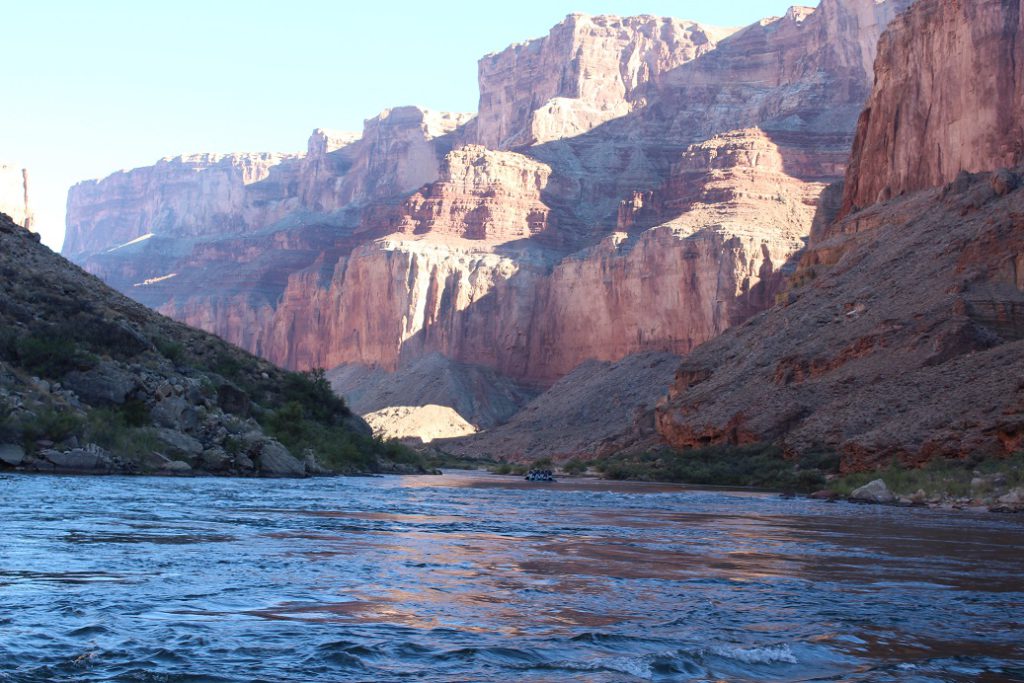 The biggest challenge, the guides agree, is always the people part—helping the group to coalesce, helping those who are struggling with living without most creature comforts. A few times over the years, Bressler said, a guest has come to him and said they can't hack it, that they want to leave. But unless a guest is injured or very ill (requiring a rare helicopter evacuation), there is no easy way out.
"There aren't a lot of experiences left where you can't quit," said Bressler. "You have to keep going…. and in the end, they were glad they did."
"We help people overcome challenges and share a unique experience," he said. "It really brings people together."
Thanks, Ben , Steph, Andy and Alexis for making that happen.