Allianz Partners USA's Vacation Confidence Index shows why Americans prioritize leisure time
By Eileen Ogintz
Finally, some good travel news.
Despite airline woes and concerns about the economy, Americans are taking vacation in droves.
The 15th annual Allianz Partners USA's Vacation Confidence Index underscores the paradigm shift that started during the pandemic around the importance of taking an annual vacation, as Americans continue to prioritize leisure travel time. More Americans have already taken a vacation this year than any other time during the survey's history.
"Americans are ranking a vacation as a top priority in 2023, and we're seeing record-breaking sentiment around vacation importance and confidence in taking an annual vacation," said Daniel Durazo, director of external communications at Allianz Partners USA.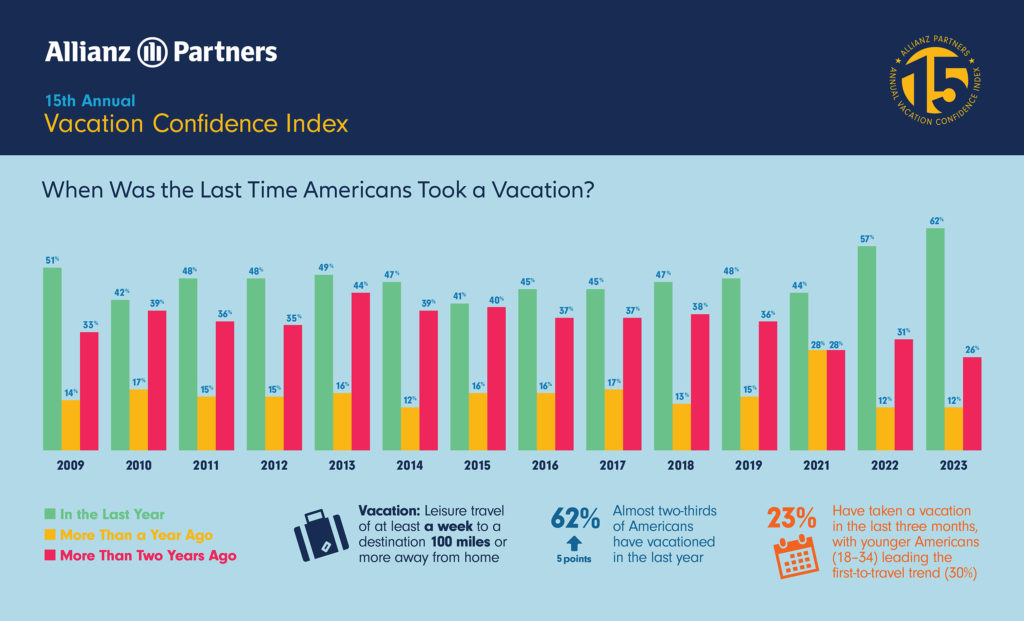 You will see them at theme parks, summer festivals, at mountain towns and beach resorts, on cruise ships and at theme parks. Flights are full. It can be hard to park in mountain towns like Park City, Utah. Hundreds of thousands of travelers from all 50 states gathered the last week in July in Cheyenne WY for Frontier Days, the country's largest outdoor rodeo and Western festival. Dude Ranches are sold out. Tiny tourist towns like McCall, ID were commanding over $300 a night at what typically are budget hotels. And despite the record heat, European cities have been packed with tourists.
According to the travel insurance and assistance's company's latest survey, almost two-thirds (62%) of Americans have taken a vacation in the last year, a five-point increase from last year and up from 48% in pre-pandemic 2019.
The Vacation Confidence Index reveals the stated importance (74%) of an annual vacation is higher and the confidence (66%) or positive intentions to vacation this year is higher and well above what was observed prior to the pandemic.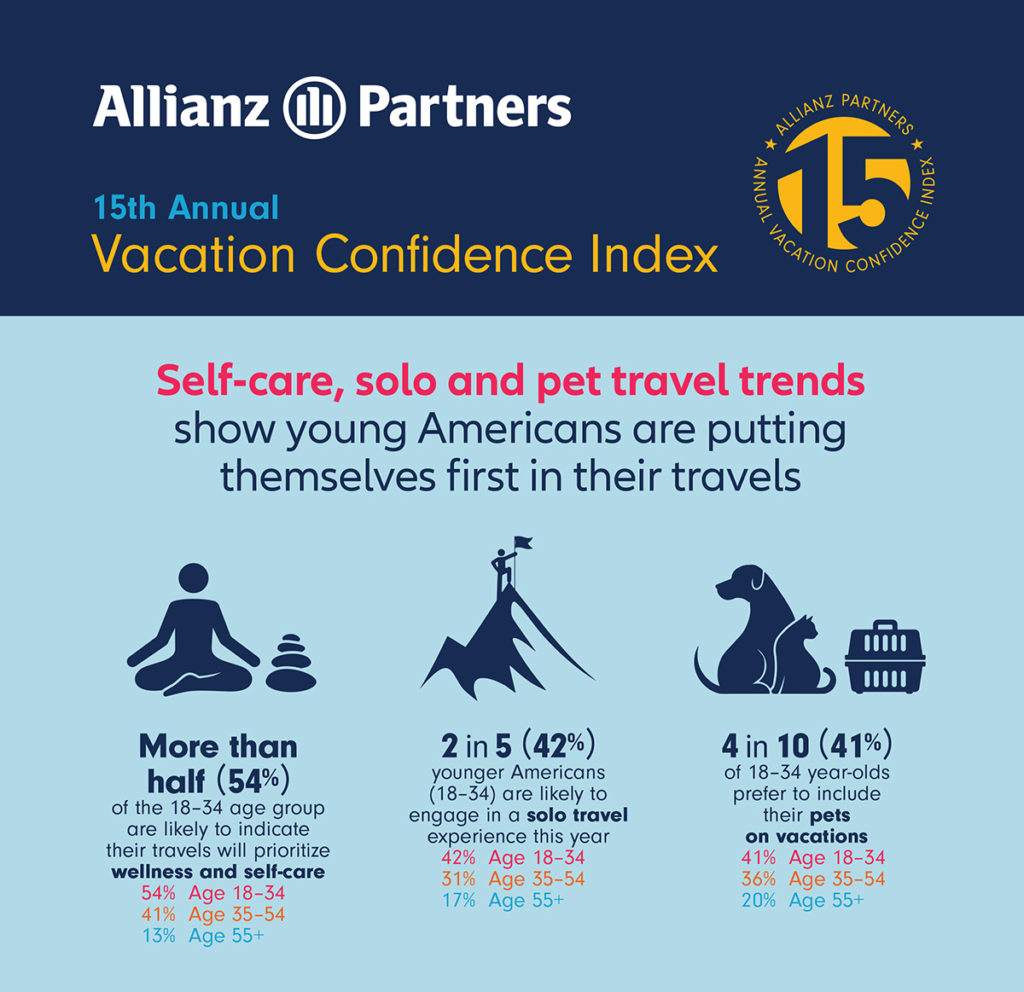 Almost a fourth of those surveyed noted they already took a vacation in the three months leading up to this year's survey, the second highest point since the survey started in 2009. The 18- to 34-year-old demographic continues to take the lead position: 30% of this age set have already taken a vacation this year, versus 21% of 35- to 54-year-olds and 19% of 55-year-olds.
The percentage of those who aren't confident they will take a vacation this year—what Allianz Partners USA have identified as "the vacation deficit" is nearing a record low. Nineteen percent report that while they consider vacations important, they aren't sure they will take one this year. The all-time low was 18 percent in 2012.
Certainly, with remote work, it is easier for many to schedule travel. At the same time, Americans, especially those under 55, have put a newfound priority on vacation despite much publicized weather issues that have wreaked havoc with flights and vacation plans.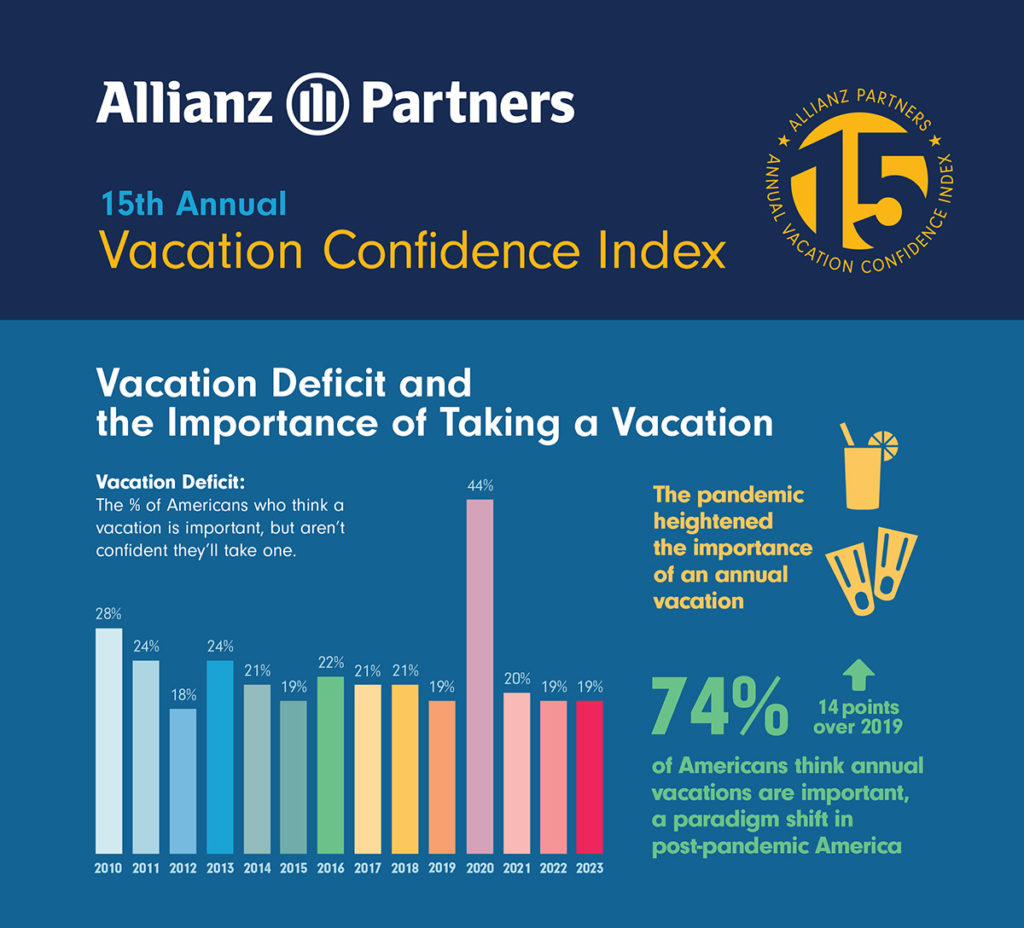 "With an elevated number of travelers, the possibility of a travel delay looms, which some travelers have already experienced this year. "One way to successfully navigate that type of unexpected mishap is to invest in a travel insurance policy, which can really save the day by reimbursing costs for a covered delay," Durazo said.
Some policies insure children traveling with their parents free. Travel insurance can cover costs when flight delays and cancellations require extra hotel nights or when you miss a cruise ship, when luggage is lost, when an illness—including Covid- either prevents travel or strands travelers away from home Should you or someone in your family need to be medically evacuated, travel insurance can save thousands of dollars.
Just make sure to read the fine print so you know what will be covered.
Happy travels!
This "Travel Powered By" post is sponsored by Allianz Partners USA.