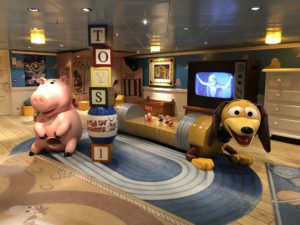 By Eileen Ogintz
PORT CANAVERAL, FL — The Disney Cruise hasn't even left the dock yet and the teens are busy playing video games, sipping soft drinks and getting to know one another. There is not a sulky teen in sight.
Who says Disney is just for little kids? Of course, aboard the Disney Fantasy there are state of the art kids' programs, including the chance to interact with BB8 at the Star Wars Command Post ("Are You Ready to Join the Resistance?" the Resistance Fighter Pilot asks), play in Andy's Room (with its oversized Toy Story toys), attend Super Hero Academy (everyone loves the "magical doors") and join a Super Sloppy Science experiment or an Anyone Can Cook Activity.
The nursery, for cruisers as young as six months (be forewarned there is an upcharge–$9 an hour for those under three), is better equipped than many preschools.
And there are separate clubs–The Edge for 11-14-year olds and VIBE for teens 14-17, complete with their own sun deck and splash pools as well as a Smoothie station.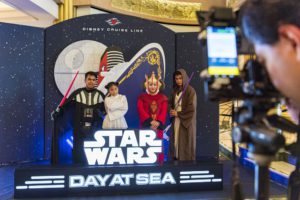 No wonder, says Fantasy Youth Activities Brad Yared, many parents opt to leave the younger kids when they grab some adult time on shore excursions and especially on board. They are happy to avoid those long bus rides in Europe, for example, for fun time on board.
The youth staff feed the kids lunch and dinner. There is also a terrific "dine and play" option so the family can eat together—but the children are served first and then the youth staff whisk them away for evening activities while parents linger over desert and maybe another glass of wine.
Yes, there is plenty for adults on board a Disney cruise–an entire deck of bars and entertainment, a spa, and two popular specialty restaurants, the French Remi (think the beloved Ratatouille movie) and Palo, a nod to Venice where the Fantasy was built. Remi is pricey ($95 for the minimum seven courses, another $105 for wine pairing), but a bargain when you consider the ambiance, the service and the gourmet French food. There is also a less expensive Champagne Brunch, the chance to sample different dishes on the first night (Petit Asiettes) and a Desert Experience.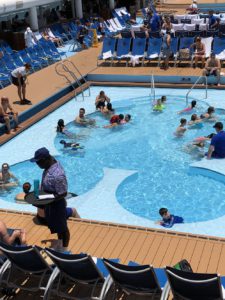 Palo is far easier on the wallet–$30 whether you opt for dinner or brunch. Be forewarned that however sophisticated your teen, she won't be admitted unless she's 18. "This is all about the adults, great wines, great food, in an intimate setting, explained Remi executive Chef Fabrice Leshauries.
There are thoughtful touches in the cabins too—though small, as most cruise cabins are, there is extra storage space because the beds have been raised so suitcases can fit underneath. Bathrooms are split—shower and sink in one half, toilet and sink in another to make it easier for families to freshen up.
Families also love that while they rotate dining rooms. Animators Palate is an especially big hit where each guest's drawing "magically" becomes part of an animated cartoon in front of them during dinner. The wait staff rotates with them so that by the second day, they will know the kids' names, what everyone wants to drink, and even food preferences (chicken noodle soup at every meal!).
The families boarding for an 11-day cruise to the southern Caribbean weren't wasting time getting their vacation started—some of the adults having a beer in the pub; families in the Micky Shaped pool, kids lining up for the water slide, adults enjoying their (albeit small) pool, drinks in hand. Everyone was enjoying the buffet- complete with shrimp and crab legs and the ice-cream and treats at the new "Sweet on You" shop—where the extra charge, though modest ($2.50 for a scoop) could add up fast because the cupcakes and ice-cream flavors are so irresistible.
Did I mention the 24-hour room service? Castaway Cay, the private Caribbean island? The Broadway-caliber shows?
"It's so hard to leave the ship when the cruise is done," sighed one 24-year-old veteran Disney Cruiser.
Luckily there is always another one—and plenty of new itineraries.