By, Susan Finch
ORLANDO, Fl (Day One) — Ask a busy parent what they're biggest headache with going to Disney World is, and they'll assuredly tell you two things. One: The kids incessantly whine that they want it to be Disney day. Two: Dealing with airports, kids, luggage and security checks is only welcomed by another wave of airport stress once you're in Orlando.
Let the free MagicalExpress take care of all the little details for you. Book your trip in advance, and roughly two weeks before departure, Disney resort luggage tags arrived at our front door. Attach it to your luggage, check-in your bags curbside at your home airport and forget about your luggage. Once you're in Orlando, guests just follow signs to the MagicalExpress and your bags magically appear in your room up to three hours after your arrival.
Key for generational vacation goers, Magical Express allows you to just meet-up with your party at the resort or park without coordinating baggage claim issues and transportation. It's also ideal if you have less than mobile relatives or grandparents who need to focus on getting around instead of where their luggage is.
The checkout process to leave Disney behind and go home proves just as easy. Disney Resort hotels have a complimentary airline check-in desk where they can print boarding passes, check your luggage and have it all arrive at your final destination. Too bad your luggage can't magically arrive inside your home.
MagicBands 
I expected to deal with park tickets and cameras, but was pleasantly surprised by what's changed since I was last at Disney (a lot). I admit I've been sorely missing out and haven't been to Orlando in nearly two decades, so was unfamiliar with their MagicBands system. My 2 1/2 year old daughter was delighted by her colorful wristband that just needed to be pressed against our hotel room lock to open.
—————————————————————————————–
Sponsored note by Southwest Vacations: Book a flight + Disneyland Resort Hotel vacation package, and save up to 20% on your hotel stay. Book by Nov 19.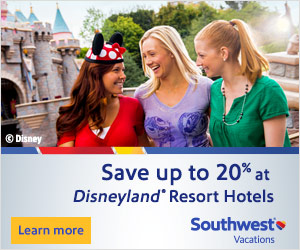 ——————————————————————————————
She loved sorting out our bands and knew which color belonged to whom. We hooked up our park admission to the bands, making it easy to buzz through the gates. We also opted to have our resort's concierge hook-up a credit card to the band and picked a pin number for it. This meant no worrying over wallets, cash and cards. We just used our bands at the park for lunch and souvenirs.
MagicBands are complimentary for annual pass holders and those staying at the resort. Otherwise, you can purchase one at one of Disney's theme parks or Downtown Disney for $12. Bands are yours to keep and make a fun souvenir. My daughter proudly showed hers off at preschool when we returned.
Never get stuck playing photographer
Unlike my Dad (Pappy to my daughter), I'm not a shutterbug and would rather enjoy the day than get behind the lens. The PhotoPass package worked great for us and we also hooked up the service to our MagicBands. Stop to have your photo taken by one of Disney properties many professional photographers at various points around the parks. They scan your band after your photos are taken and everything goes into you account for easy download.
If you're on the fence about purchasing, ask one of the photographers for a PhotoPass card. There's no charge for the card, or to have your photo taken, but you'll have to register online to view and order photos for a fee. PhotoPass is available for $69.96 if you purchase at least 2 weeks in advance. Otherwise, it's $99 when you arrive. The package comes with unlimited PhotoPass photos in your online account, customization options and opportunity to buy prints online.
Key for family reunions, grandparent travel and generational vacations, PhotoPass can take photos without it becoming one giant selfie or photographer Mom always being absent from family vacation photos. Disney's photographers can also scan multiple people's cards or bands so the whole family can go online and view or download.
FastPass your way to the front of the lines
Waits for rides for grandparents and kids can be long (not to mention for Mom and Dad), so download the My Disney Experience app and schedule yourself for limited Disney FastPass options.
Check the wait times for rides on the app before scheduling. There's no point in using FastPass for a ride like "It's a Small World" with lines shorter than 10 minutes. In our experience, lining up to meet Frozen Princesses Anna and Elsa followed by Cinderella ("Unabuna" as my daughter calls her) and Rapunzel was going to take 80 minutes per Princess duo. This is when FastPass is crucial and means the difference between missing a ride or experience altogether or waiting a mere 5 minutes.
FastPass is free, but it's essential to book your experience in advance. Guests get three options per day at one theme park with one additional option (after you used up all three) based on availability. You can change your FastPass requests on the go, but be aware it's not always possible to get all three that you want in one day.
For example, if you pick a character greeting with Elsa and Anna, your app will find a spot for you attached to two other ride options for the day. You'll typically have four scenarios to choose from. But you might end up with FastPass options to see Elsa and Anna and then ride Dumbo and Splash Mountain—even if the latter ride wasn't on the top of your list. Regardless of ending up being scheduled for a ride you might not want, you'll save tons of time finding a time slot for your most coveted Disney experiences.
High tech with a personal touch
Everything at Disney runs so seamlessly, it really felt that everything was a high-tech experience. But usually that type of technical integration means some distance between staff and guests. Not so in Disney's case. We found the parks were experts at blending the best of both worlds. We spoke with a 10-year-old who celebrated her birthday at Disney. She was so thrilled that every time she scanned her band, the cast members greeted her by name and wished her a happy birthday.
We were also hard pressed not to find a helping hand and in-depth information, whether it was the woman tidying up the outdoor tables by the Main Street Plaza Ice Cream Parlor or the photographers ready to snap a photo with Snow White. And if you've got a 2 1/2 year-old with you, high-tech princess photos that instantly get scanned to her MagicBand is a truly magical experience.
Susan Finch is a freelance writer specializing in family travel and works with Family Travel Forum, guidebook publishers, Global Traveler and numerous other outlets. She blogs about breaking into freelance to live a flexible and rewarding lifestyle at FreelanceParenthood.com.