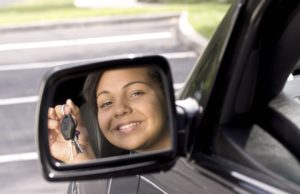 By Eileen Ogintz
Tribune Media Services
Got the bag of kitty litter in the car?
It should be there along with the suitcases and goodies you're bringing to relatives this holiday season, along with whatever you've got to amuse the kids along the way (snacks, DVDs, iPads and books on tape. Get a favorite holiday tale from the library and you can all listen together on the way!)
The kitty litter is in case you get stuck in snow or ice, says John Nielsen, AAA's automotive guru. It works as well as sand or salt and weighs a lot less. A small shovel is a good bet, too, as is a flashlight. "I keep them in the car all winter long," Nielsen said.
AAA forecasted that 42.5 million Americans traveled 50 miles or more from home over the Thanksgiving holiday weekend, a 4 percent increase from the 40.9 million people who traveled over Thanksgiving last year and the first significant increase in any holiday travel this year. Despite the economy, AAA says, we're not giving up traveling to our holiday gatherings, though we may opt to bring the family pooch along rather than board her, bunk with the relatives or drive rather than fly. Expect the highways to be crowded for Christmas: Ninety percent of Thanksgiving travelers drove and stayed closer to home than last year. AAA says over the entire holiday season we'll travel an average of 706 miles — down 13.5 percent from 2010.
"Americans feel like they are giving up everything else in this economy," said AAA spokesman Yolanda Cade. This holiday season, when it comes to gathering with family, "The heartstrings are outweighing the purse strings." (If you want to avoid sleeping on the couch, one new option to check out is www.airbnb.com where you might find a unique place to stay listed by an owner at a price that won't break the bank.)
But the weather can wreak havoc with our best-laid travel plans — as we learned last Christmas with the blizzard that derailed travel across the country and the freak snowstorm those of us in the northeast endured just a few weeks ago.
The best thing we can do when taking to the road this winter, especially with kids in the back, is be prepared. Make sure your cellphone is charged and the relatives know what time to expect you. (They can call for help if they don't hear from you on time.) Don't leave the car if you get stuck or stranded either.
If you are using a GPS, make sure it is the latest version. And if the GPS is taking you away from major routes, don't just follow blindly. "You've got to use common sense," says Nielsen. In any event, you're better off on major, better-maintained routes, even if it appears that the trip will take longer. It likely won't in bad weather.
(AAA has a mobile app AAA FindMe, as well as a fuel cost calculator and a TripTik travel planner that you can download from aaa.com that will tell you where gas stations are along your route and how much you can expect to pay.
Have blankets and pillows for the kids, as well as plenty of warm clothes. Ditto for food — a few treats helps too. In our case, it was always cherry Tootsie Pops — and water in case you get stuck. And make sure your wiper blades are in good shape and that you've got wiper fluid that won't freeze.
Keep medicines in the car, not the trunk. (If you should have an accident, you may not be able to get inside the trunk.)
Make sure to inflate your tires. As temperatures falls, so will the tire pressure. (Look for the correct tire pressure in your owner's manual.) But most important, Nielsen says, is to make sure your tires are in good shape. "It is shocking how much less distance you have to get a worn-out tire to stop," he says. Nielsen demonstrated, using a penny, that the distance between Lincoln's head and the top of a penny is 2/32nds of an inch. If that's all the tread you have, your tire is worn out. (On a quarter, the distance between Washington's head and the top is 3/32nds of an inch.)
Get those safety seats checked to make sure they are installed correctly. (Are you listening, grandma, if you're putting one in your car for the holiday visit? Don't use that neighbor's old safety seat either, unless you are certain it hasn't been in a crash and you have all of the parts. Seats that are six years old or older should never be used.)
Motor vehicle crashes are the number one killer of kids, reports the National Highway Traffic Safety Administration — deaths that can be prevented through the proper use of child safety seats. But NHTSA research shows that seven out of 10 children are improperly restrained without parents or grandparents even realizing it. SeatCheck is a national campaign through which you can make sure your safety seat is installed properly at more than 4,000 inspection locations across the country staffed by trained and certified child safety seat inspectors.
Got teens instead of toddlers? Let those with permits or new driver's licenses drive part of the way. "You don't want them to have their first experience on an interstate, or in snow, three hours from home alone," suggests AAA's Justin McNaull, an expert on teen driving safety. "Holiday trips can be a real opportunity for teens to get more practice," he adds.
Of course, we all know the potentially deadly combination of teen drivers and cellphones. McNaull urges parents to set a good example this holiday season. Let your "co-pilot" field the calls and let the relatives know you are running late, even if you have a hands-free device. It will keep you more focused (tips on helping your teen drive more safely).
Whoever is driving and wherever you are going, "Slow down and have patience," urges Nielsen.
That's good advice, of course, whenever you're taking the kids.
© 2011 EILEEN OGINTZ, DISTRIBUTED BY TRIBUNE MEDIA SERVICES, INC.