By Eileen Ogintz 
Tribune Media Services  
How much longer?
It's the familiar lament heard by parents as their cars crawl along in traffic on the roads in Yellowstone National Park — some 466 miles — as vehicles slow to gawk at the wildlife. 
But we're not driving. Along with our Austin Adventures  guides, Matty Kirkland and Katie Gugliotta, we're kayaking on Yellowstone Lake to a wilderness camp called 7M7. We paddle five miles from the point where a fishing boat dropped us off and spy osprey and deer along the way, but no other people. We'll spend the next two nights in tents with outdoor pottys, no showers and no Internet or cell service, and we can't wait, especially since we don't have to set up the tents or cook. Is that a bald eagle flying overhead? Wow!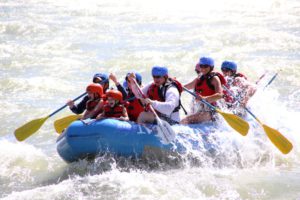 There are many remote campsites along the huge lake, which stretches 20 miles north to south and 14 miles east to west and offers 141 miles of shoreline — and we are heading as far from the crowds as we can get. Last year, Yellowstone had a record-breaking 3.6 million visitors, setting visitation records for the third time in four years. The National Park Service recorded 906,935 visitors this July — the second highest monthly visitation level ever recorded, though down slightly from last summer — making reservations in the park lodges (www.yellowstonenationalparklodges.com) sometimes hard to get. 
When we visit the last week in July, the park is packed with families — especially around Old Faithful (just one of the park's 300 geysers) and in the new children's discovery area at the Old Faithful Visitor Center. And despite plenty of room to get away from the crowds — Yellowstone stretches for 3,472 square miles in Wyoming, Montana and Idaho with 1,000 miles of trails — the National Park Service says the vast majority of visitors don't get more than a quarter-mile from the road though only about 3 percent of the vast park can be seen from that vantage point. That was why we opted to let Austin-Lehman lead the way. The company has been guiding families in Yellowstone for 25 years — several hundred a summer — and though they offer trips around the world, including many specifically for families, Montana and Yellowstone remain their most popular trips (look for an additional Montana family itinerary next summer to include more camping) whether you sign on to tour with other families or organize a trip just for your family alone, as we have. Our family trip included my cousins Jayme and Mike Sitzman from Denver and their kids, Ethan, 9, and Hannah, 6. 
"The guides were able to take us places that we would not even have noticed if we were alone," said Katherine Shatrau, visiting from suburban Chicago. She was just finishing a Austin-Lehman trip with her husband and 7-year-old son at the Chico Hot Springs Resort and Day Spa (www.chicohotsprings.com) just outside Yellowstone. 
"This trip had no stress whatsoever," Shatrau added. "No worries about where to get gas, whether we were lost. All we had to do was wake up and bring our camera/water bottle/sense of adventure!" 
Mike Sitzman agreed. The guides meant he could focus on having fun with his kids in such an iconic and memorable place instead of sweating the details. "And that was huge," he said. Just as significant, with the amiable guides leading the way, the kids didn't whine or bicker (much anyway), nor did they seem to want the electronics they can't live without at home. 
When we spied a bear from the road, Matty Kirkland made a U-turn (no small feat with a van and trailer), parked and raced up the hill to set up a scope so we could watch from a safe distance (park rangers say visitors should be at least a football field away) while he chowed down on greens in a field of wildflowers. When it was time for the kids to be sworn in as Junior Rangers (www.nps.gov/yell/forkids/beajuniorranger.htm), Gugliotta and Kirkland whispered into the ranger's ear to "make a production" of it, thrilling the kids and making everyone around us smile, as they were handed their coveted ranger badges. 
Our guides knew exactly where to hunt for frogs and fashioned balloon animals for a scavenger hunt at our campsite; they had magnifying glasses at the ready for nature walks so they could look close up at bugs and flowers and they helped the kids construct a bona-fide arch from rock along one trail and snapped pictures all along the way, putting them together on a CD they gave us at the end of the trip to chronicle our adventure. 
"With kids, it's always about the journey, not the destination," explained Matty Kirkland, who has been guiding families for Austin Adventure for 15 years. 
Sure it costs more to tour the park this way (typically $400 a person per day, less for the kids), but that includes everything — accommodations (no worries here about getting rooms at park lodges), stellar meals (how about a taco picnic while the kids bang away at a pinata in a picnic area?), activities (we ended the trip with a whitewater raft trip down the Yellowstone River) and most important knowledgeable guides who not only interpret what we are seeing (did you know pine sap makes good chewing gum?) but also entertain the kids with a never-ending supply of jokes, riddles, songs , piggyback rides and snacks.  
Of course, there were glitches. The mosquitoes were terrible at our campsite. The crew that set up our camp didn't bring the promised fishing poles for the kids. A hot springs where we planned to swim in the park was closed because of high water. But because our guides were always ready with a plan B (ready to fly a kite instead of fish) things that might have derailed another trip proved to be just minor annoyances and the adults could relax rather than scramble for alternatives.  
Other thoughtful touches made us all smile. Think homemade ice cream made with a special REI gadget and served in cones at the top of a hiking trail with the bright turquoise Grand Prismatic Spring — the third largest hot spring in the world — spread out in all its glory below us or yogurt parfaits presented on a silver platter underneath a waterfall. 
"Absolutely worth the money," said Atlantan Tim Mast, whose Austin-Lehman family trip also overlapped ours. His wife and three daughters had such a good time — their first on such a group trip — that they are already thinking about next summer. 
Our last morning in Yellowstone, 9-year-old Ethan declared, "It's better than DisneyWorld! I don't want to leave." 
Me either. 
 © 2011 EILEEN OGINTZ, DISTRIBUTED BY TRIBUNE MEDIA SERVICES, INC.