Children from Bancroft Elementary School in Washington, D.C. help First Lady Michelle Obama plant the White House Vegetable Garden, April 9, 2009. (Official White House Photo by Samantha Appleton)
By Eileen Ogintz
Tribune Media Services
How do you think the first lady does it?
I'm not talking about how she easily converses with heads of state or military families or how she always looks perfectly turned out no matter what kind of day she's had.
I'm talking about a more mundane concern we all face, especially in summer — keeping our kids happy and eating healthy on vacation. We've all watched the first daughters, Malia, 14, and Sasha, 10, crisscross the world with their parents.
Sure, they travel a lot differently than the rest of us, but one thing is the same whenever you travel with kids: You all are going to be tempted to eat too much junk food.
"I know it can be tough to make sure your family is eating right, particularly when you're on the move or in a new place and don't know where to look for healthy options," first lady Michelle Obama said in an email this week.
Mrs. Obama, of course, has made combating childhood obesity and encouraging families — including her own — to eat healthier and get more active her signature White House initiative by way of her Let's Move! campaign. But she doesn't often talk about eating healthy on vacation, a subject that increasingly concerns American families.  We were glad that she took the time to respond to questions for Taking The Kids.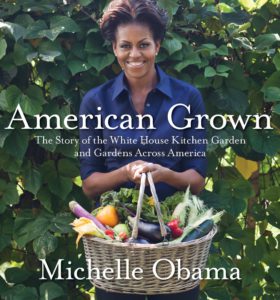 The White House garden, in fact, the largest ever planted at the president's residence, was inspired by her concern for her daughters who weren't eating enough nutritious meals. Now her new book, "American Grown" tells the story of the garden, which offers 55 varieties of vegetables and fruits, and other gardens across the country, hoping to inspire all of us to eat fresh and local foods wherever we are. (Read what I wrote about how hotels are changing their kids' menus.)
The Let's Move Outside Junior Ranger program encourages kids and their families to engage in outdoor activity that will get hearts pumping and bodies moving during a visit to national parks. Kids who complete at least one physical activity in pursuit of their Junior Ranger badge receive a sticker that designates them as a Let's Move Outside Junior Ranger. Thousands of kids have earned the title.
With so many families heading off this month to the beach, theme parks and the mountains — AAA reported that some 42 million of us traveled over the July 4th holiday, the most in the last five years, we asked Mrs. Obama how she encourages her family to eat healthier when they travel and what tips she might have for the rest of us:
Q. What can parents do to prevent a steady diet of chicken fingers and fries when away from home?
A. Planning ahead and packing nutritious snacks whenever possible is a good way to avoid resorting to less healthy options. Simple steps like spending time with your kids in the kitchen to write out a grocery list or to make healthy snacks together are also chances to talk about healthy choices. And more and more, companies are working to provide healthier options.
For example, in 2006, Disney pioneered new, well-balanced kids' meals served at its parks and resorts, which automatically include nutritious sides and beverages like carrots and low-fat milk, unless parents opt out. Of the more than 12 million kids' meals served last year at Disney parks and resorts in the United States, parents stuck with the healthier options six out of 10 times. Last month, I joined the Walt Disney Company to announce that, among other things, Disney will enhance its efforts to encourage healthy eating by further reducing sodium in kids' meals and introducing new well-balanced kids' breakfast meals.
And last fall I also joined Darden Restaurants, which owns the Olive Garden, Red Lobster and others, to announce changes to their menus, which include healthier options for kids.
As parents, we can choose to frequent places like these that give us healthier options and call on other businesses to make similar changes.
Q. How can parents encourage kids to try new foods, especially veggies?
A. In any setting, parents set a powerful example for their kids. If as a mom, I'm excited about trying a new fruit or vegetable, I'm showing my kids that it can be fun to venture out of your comfort zone when it comes to eating. I can't expect my girls to be trying the spinach or broccoli dishes at a restaurant if I'm not setting that example. And most of the time, it takes more than one try, so I can't get discouraged if they don't like new foods right away. It can take a dozen tries before children accept new tastes. And children's taste buds actually change over time, so it's also important to try reintroducing healthy foods they may have refused to eat previously.
You can also get your kids involved in cooking the food you serve them — you'd be amazed at how much more willing kids are to try foods which they've helped prepare themselves. You can even get them involved in buying the food your family eats — at the grocery store or a farmer's market you can let them pick out any three vegetables they want, and then plan dinner around those.
Q. How can parents use the opportunity of being away from home to expand a kids' palate?
A. I think parents can use these opportunities to talk about local food cultures and traditions, and specifically about local fruits and vegetables that kids may not have access to in their own homes or communities. We can get our kids thinking about vacation as an adventure for their taste buds as much as a chance to explore new places.
Q. How can families get more active on vacation?
A. Summer is an ideal time for families to enjoy the outdoors. Our national parks are some of the best places to get active and learn about our country's great landscapes and historical sites. From Yellowstone and the Great Smoky Mountains to Gettysburg National Military Park and Mesa Verde, our country is full of spectacular places to explore. All of these places offer free, family-friendly activities such as hiking, biking, paddling, and even horseback riding. One great option for young kids is the Junior Ranger program, which provides fun, ranger-led activities in dozens of parks across the country.
Just remember, wherever you go on vacation, Mrs. Obama said, "Vacation is a time for fun — and as I always say, if you're eating healthy most of the time, it's OK to enjoy a special treat once in a while.
Pass the ice cream, please.
© 2012 EILEEN OGINTZ, DISTRIBUTED BY TRIBUNE MEDIA SERVICES, INC.