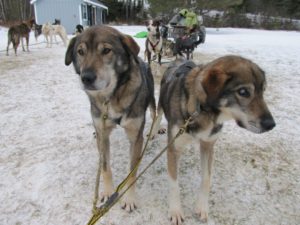 By Eileen Ogintz
Tribune Media Services
If only all young brothers could be like Poncho and Gonzo on family trips to the snow. They never fight or bicker, and couldn't be kinder to each other on the road.
Of course, it helps that this duo are sled dogs, rescue pups, in fact, that are part of a team from Dogsled New Hampshire that lead us on a spirited ride in the snow at the historic Omni Mount Washington Resort at the base of New England's tallest peak. Gonzo has been totally blind since he was a pup, and Poncho helps him on the sled team and off, their handlers say. You can't help but fall in love with these two energetic fellows.
Dog sledding, is just one of the ways you might not have thought of to have fun in the snow here in New Hampshire's Mount Washington Valley that includes 27 towns surrounding Mount Washington, the pinnacle of the 6,288-foot White Mountains, widely considered one of the country's most affordable ski destinations. Bretton Woods, part of the Mount Washington Resort, is New Hampshire's largest snow sports area. Nearby is the Appalachian Mountain Club's Highland Center, which families liken to "a college dorm for families" with communal meals, bathrooms and activities indoors and out.
No worries if you don't downhill ski or snowboard. There are still plenty of options for fun in the snow, here and around the country — inside (spa anyone? Climbing wall?), as well as outside from alpine coasters (try Jiminy Peak in Vermont or Park City Mountain Resort in Utah). There are ice castles (Keystone Resort in Colorado) and even an Ice Age Discovery Center in Snowmass, Colo., near the site of one of the world's largest Mastodon fossil finds. For more options, check out our Fun in the Snow section.
There are plenty of programs for those with physical and mental challenges too. (Check out the National Ability Center in Park City, the National Sports Center for the Disabled, at Winter Park, Colo., Vermont Adaptive Ski and Sports) or here at Bretton Woods.)
Here in New Hampshire, the big, white 200-room Omni Mt. Washington Resort has been a fixture since 1902 when wealthy families would come by train from New York and Boston for the entire summer. (The resort has only been open in the winter since 2000.) I can't think of a better place for a scavenger hunt — or to turn cartwheels — than in the cavernous lobby where you can cozy up in front of a roaring fire, sip a hot chocolate, play checkers or read a story. We saw families doing all that and more when we visited recently. "We're just relaxing," said Cathy Cormier, here for a few days with her family from Massachusetts. There is also a 50-room lodge and 70 townhomes, some with five bedrooms, for rent, as well as the recently renovated 34-room Bretton Arms Inn, built in 1896 and used as a home at one point by Joseph Stickney, who built the Mount Washington Hotel.
In recent years, the resort has undergone a $70 million renovation, including the 25,000-square-foot spa. (Look for great deals in January: Receive two complimentary lift tickets per room, per night. Rates range from $209 per night, based on double occupancy.)
Amuse the kids — and yourselves with everything from 21st-century mini snowmobiles to rides in an old-fashioned horse-driven sleigh, tubing and indoor and outdoor (heated) pools. Weather permitting, there are back-country custom adventures (ready to go ice climbing or back-country skiing?)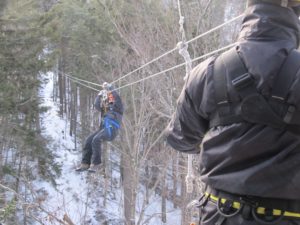 If the kids are 12, how about a three-hour canopy tour in the snow that includes not only nine zip lines (the longest is more than 800 feet and 145 feet above the ground!) but also three rappels and two sky bridges.
"People have such a sense of accomplishment when they are through," said Heather McKendry, who oversees the program. Most people, she added, don't realize you can even zip line in the winter (do it here for $99 and they throw in a free lift ticket). Have you ever tried zip lining in the snow 145 feet above the ground?
My family, along with 14-year-old Enesi Domi, a young friend of ours who lives in the Bronx, certainly thought it was the highlight of our recent weekend in the Mt. Washington Valley. The rappelling, including one that required a 70-foot descent, my husband reported afterward, "was what really tested our mettle."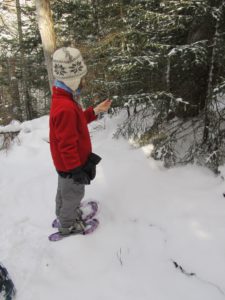 There's also the chance to introduce the kids to snowshoeing or cross-country skiing — there are 100 kilometers of trails, half of which are in the White Mountain National Forest. The trails connect with the Bretton Woods alpine area to the west and the Appalachian Mountain Club to the east.
We spent part of our time in the Mt. Washington Valley at the Appalachian Mountain Club. (Read more about our visit there in my travel diary.) and joined a morning guided hike in the snow to a waterfall — micro crampons on our feet on the Crawford Trail, the oldest continuously used trail in the country.
Did I mention that you can borrow whatever gear you need — crampons, snowshoes, an extra layer, snow pants or boots for the kids and even carriers for toddlers — thanks to a partnership with L.L. Bean and the Appalachian Mountain Club? That's no small thing when you don't own any winter gear, said Diane Kane, visiting with her husband and two sons from Florida who were especially enthusiastic about the night snowball fights and making "snow cream," ice cream made from snow.
"We never get to see snow at home," said 9-year-old Ryland Cane. "I really like the snow!"
Us too.
© 2013 EILEEN OGINTZ, DISTRIBUTED BY TRIBUNE MEDIA SERVICES, INC.